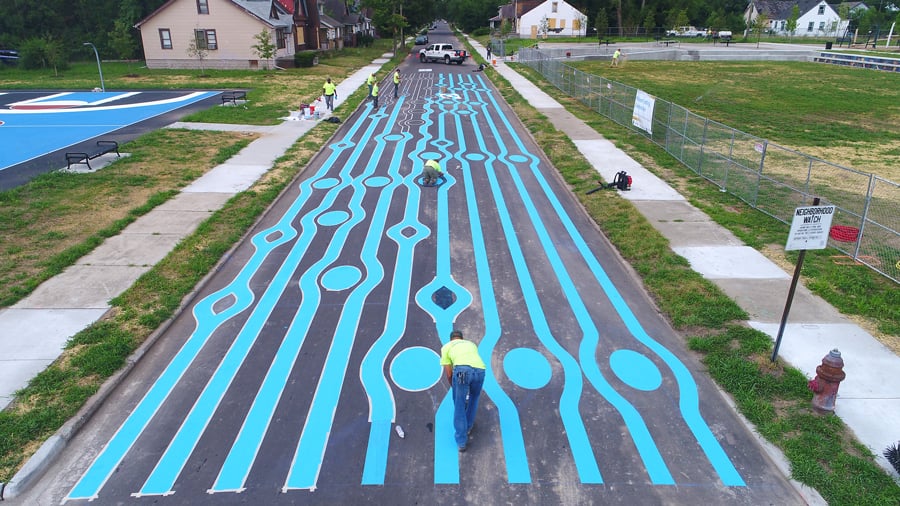 June 24, 2019
In Detroit, Empty Lots Become Parks, Helping to Rebuild Lost Social Equity
An ongoing plan by landscape architects Spackman Mossop Michaels (SMM) is tying together the neighborhood of Fitzgerald, which has been atomized by vacancy and foreclosure.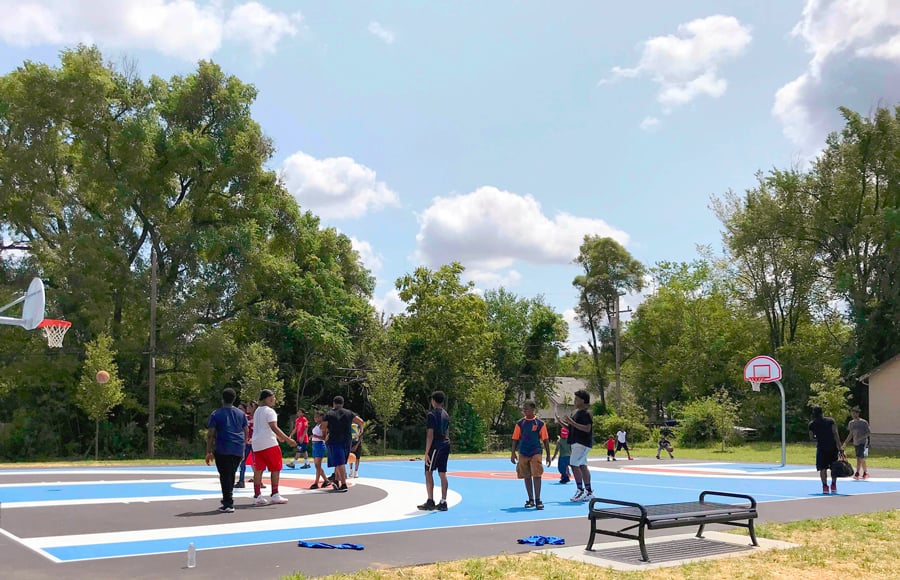 ---
Stephanie Harbin has lived in the Detroit neighborhood of Fitzgerald since 1969, and is president of the San Juan Drive block club. When she was a child, she remembers, there were 75 houses packed onto an extraordinarily long block of San Juan. And in a story that's been repeated across many sections of Detroit, only 42 homes remain.
But now, she says, "I see change is happening." Some homes are coming back. But perhaps the biggest change under way is what's happening in the long-wallowing landscapes.
An ongoing plan by landscape architects Spackman Mossop Michaels (SMM) is tying together this neighborhood, which has been atomized by vacancy and foreclosure. The Fitzgerald Neighborhood Revitalization Plan weaves together refurbished single-family homes within a network of productive and amenity landscapes centered on an axial greenway. The hopscotch of sagging husks surrounded by overgrown weeds is being replaced by orchards, native meadows, and rows of cash crops. It's a unique model for Detroit—or anywhere else—because it rebuilds equity not only by restoring what was taken but also by deepening residents' relationships through the new landscapes.
---
More from Metropolis
---
The Fitzgerald Greenway converges on the two-and-a-half-acre Ella Fitzgerald Park, pieced together from 26 lots. As part of the plan, native meadows and larger orchards could be planted in areas indicated by SMM. Cash crop parcels might grow fruit, hops, or micro-greens. The city is working with the nonprofit The Greening of Detroit to offer green-collar job training, so the landscapes can become sustainable economic engines and keep money in the community.
This "mosaic of uses," as Alexa Bush, design director for the eastern region of the City of Detroit, calls it, grew in response to the neighborhood's somewhat peculiar street grid. In Fitzgerald, a single north-south block might be half a mile long, making for roundabout circulation. But the greenways provide shortcuts.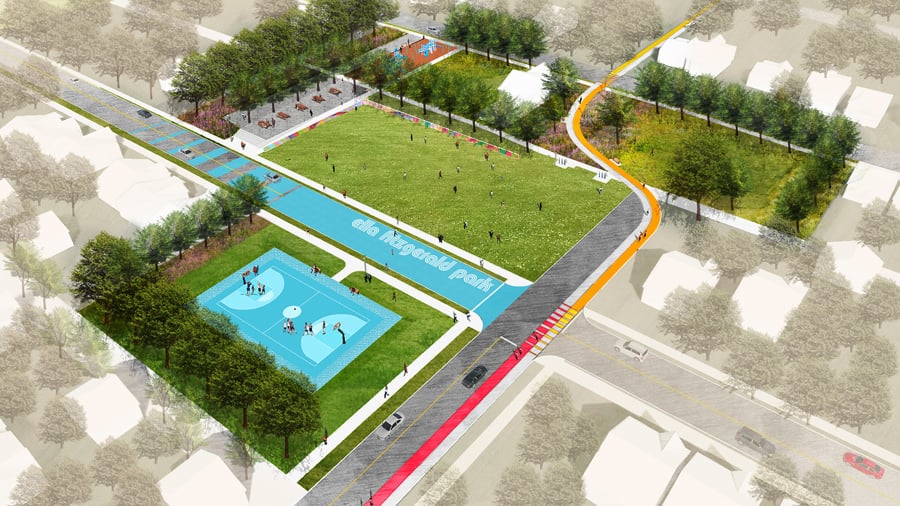 ---
For SMM founding principal Wes Michaels, the project was a matter of formalizing how residents were already using the vacant land. The new landscapes will radically alter the spatial patterns of the neighborhood, he says, but won't disrupt its intimate and steadfastly residential character. As the greenway winds through a formerly vacant lot between two houses now filled cheek by jowl with flowers, there's a sense of discovery and whimsy, the feeling that the next lot could host an apiary or berry bushes. Throughout, Michaels wanted to cultivate some of the "mystery of childhood," he says.
Between 2004 and 2014, Detroit lost 244,000 residents, enough to form Michigan's second-largest city. So it might be a surprise that the plan's developer, Fitz Forward, intends to add housing. Composed of Century Partners and The Platform—both social mission–oriented developers based in Detroit—the team demolished the most dilapidated homes and is rehabilitating others. Despite the city's hollowing out, there's an acute lack of move-in-ready homes at entry-level prices, which the Fitzgerald plan aims to address. Additionally, a handful of homes will be subsidized for purchase.
"What we're really focused on is creating wealth opportunities for Detroiters," says David Alade, a founding partner at Century. "Oftentimes, when development happens, the folks that [lived] there during tougher times don't get to economically participate in the revitalization."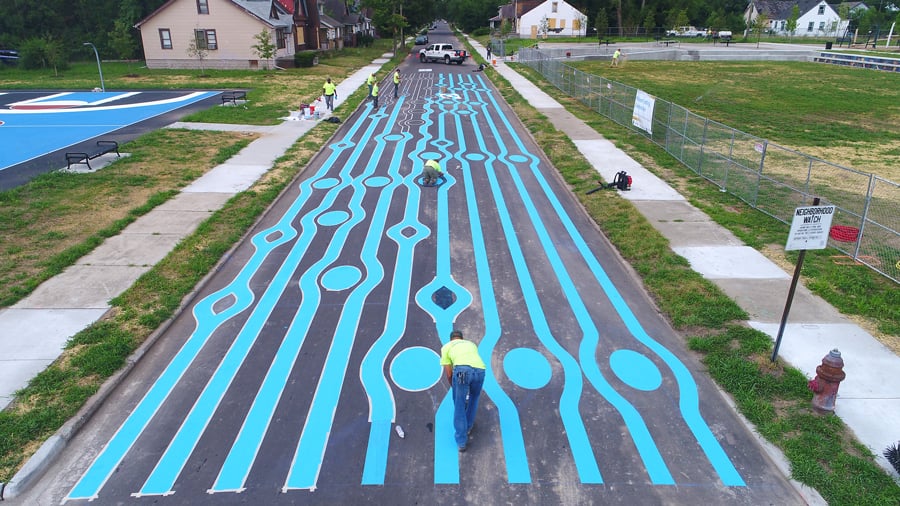 But "participating in the revitalization" isn't always simple. Maintaining such an extensive suite of landscapes is no small burden for any neighborhood. "We're looking at strategies that maybe have a little bit more up-front cost, but long-term, are lower-maintenance," says Michaels.
If residents are to develop any sort of enduring relationship with these landscapes, the city must overcome a legacy of public mistrust. "Decades of federal policy [and] urban renewal have created tons of friction between government units at all levels and citizens in the community," says Bush. The completion of Ella Fitzgerald Park is a step toward showing residents the depth of the city's and developers' commitment.
Perhaps the greatest benefit these landscapes offer, then, will be facilitating autonomy and economic development, so that Fitzgerald is less vulnerable to whatever indifference comes next.
You may also enjoy "A Public Park in Montreal Aims to Right the Wrongs of Past Development Schemes."
Would you like to comment on this article? Send your thoughts to: [email protected]