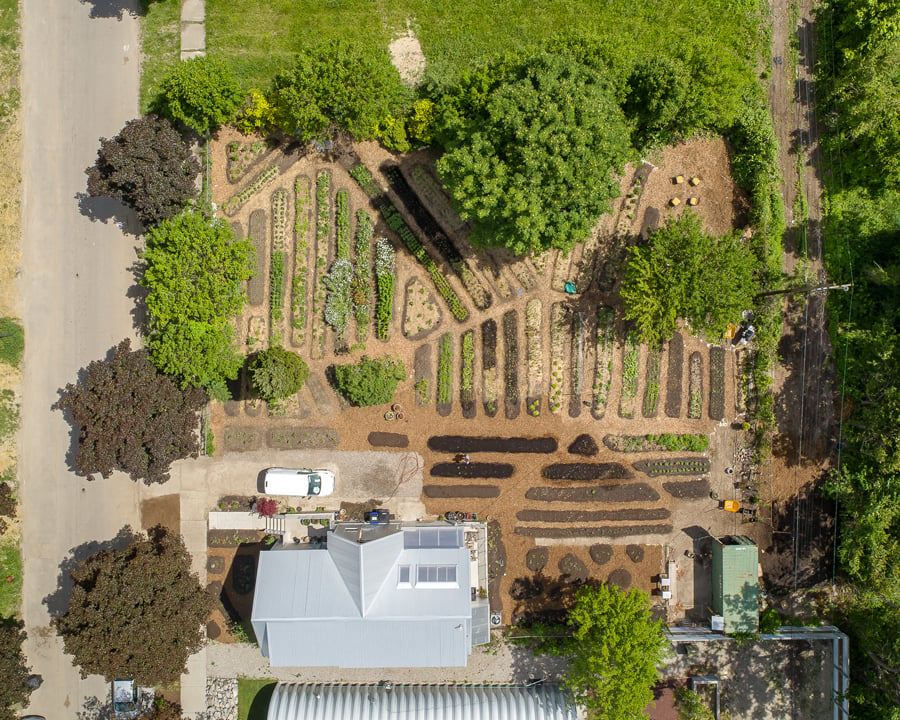 March 30, 2020
This Home for a Detroit Floral Designer Elevates the Everyday
The structure lets materials like plywood and corrugated metal take center stage, complementing its True North neighbors.
Philip Kafka, a Detroit real estate developer with Prince Concepts, usually works alongside architects. But to renovate a neglected, two-bedroom house in the town's Core City neighborhood (It's a stone's throw from his previous development, the Quonset hut live-work community True North) , he got to try on the designer's role for size. With plans to rent the 2,000-square-foot structure and surrounding property to a flower farm, Kafka used the same materials that give the nearby development its industrial-bohemian character. The renovated house doesn't just share aesthetic details with the new-builds next door, however: It adopts their new program of open-plan, creative living inside the existing residence.  
Kafka, who is not formally trained as an architect, grew up in Texas, studied philosophy, and became an entrepreneur in New York City. "Design isn't the most interesting thing in the world to me, and I'm not really interested in materials," he says. "I'm interested in what you can do with simple things. It's a philosophy instead of a set of design principles."
Kafka's professed lack of interest in design, nonetheless, has imbued the Core City renovation with a unique aesthetic—one that reflects his philosophy on simple things. The project celebrates simplicity, reifying space, water, and light through two ordinary materials: plywood and corrugated metal. That restraint had the added virtue of making it easier to manage the trades. 
---
More from Metropolis
---
Throughout the interiors—across floors, walls, ceilings—he used well-sanded, marine-grade Douglas fir AC plywood "with tons of grain and grooves patched in," sealing the surface with polyurethane, but no paint or stain. "There's absolutely no investment in any luxury materials whatsoever," he explains. "This wasn't a project about design. It was an attempt to avoid any design at all."  And yet, the juxtaposition, repetition, or contrast of his pedestrian materials—the whorled, fleshy-looking plywood foregrounding harder fields of tile, polycarbonate, or metal—elevates them.  
Even in instances when Kafka had to shift to a different material for practical reasons—such as waterproofing in showers or around a skylight—he opted to clad the space in a single material. Showers are wet rooms, without glass or curtain partitions to screen off the sink. One upstairs is monolithically tiled in a black-grouted grid of two-by-two inch matte white tile from Home Depot; another on the ground floor features transparent polycarbonate walls and ceiling. Its window-walls diffuse light and blur views into the space while also suggesting, aptly, a greenhouse. 
Outside in tiny rows, tenant Julia Griffin of Willa Rose Floral has planted perennials, natives, and annuals like Fritillaria, Acanthus, and Shirley Poppies, which she harvests for her business. A passerby would never guess at the radical change that has taken place indoors. Once nearly derelict, the property has been transformed into something contemplative. But Kafka's renovation preserves (and reuses) the original function, scale, and form that has made Core City a community. Once a mixed residential and commercial neighborhood that had not seen commercial development since the 1960s, the area's empty lots were sown with broken glass, used bullet casings, needles, and weeds. Today, its property prices, amenities, and tree count are trending upward again: "We need the past to remind people of what existed here before," he says. "Detroit is a place that allows you to think beyond a return. The acquisition and property costs are lower, so you can invest in an idea, not just the real estate. If the work is inspired, the place will come back. If it's not, it won't."
You may also enjoy "How One Designer Built and Furnished His Tropical Island House in Taiwan."