March 16, 2018
Take a Sneak Peek Inside the Brooklyn Navy Yard's New Dock 72
Renderings of the 675,000-square-foot office building, which will boast amenities designed by Fogarty Finger Architecture, show that it will pull out the stops to entice tenants to the Navy Yard.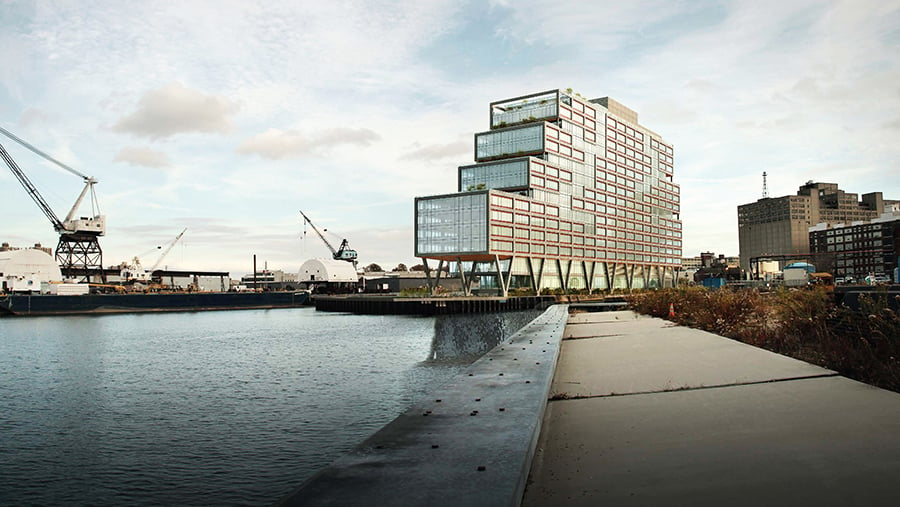 ---
Rising 17 stories above the Brooklyn Navy Yard, Dock 72's glass facade and angular steel easily stand out against the industrial landscape behind it. But the building's interiors will be equally remarkable: 35,000 square feet of carefully-crafted tenant amenities that developers Boston Properties and Rudin Development are hoping will attract Manhattan's top businesses to a burgeoning area mostly known for its light manufacturing. "They are going after the class A office tenant, which is not the traditional model for Brooklyn, north of the Navy Yard," says Robert Finger, founding partner of Fogarty Finger Architecture, the firm designing Dock 72's interiors. At a time when competition for talent among tech and financial companies is fierce, Finger says tenants are "relying more on landlords to provide an environment built for attracting the best."
That trend, Finger says, has led to a dizzying list of amenities at Dock 72: a 600-foot-long lobby, cafe, food and beverage market, gym and spa, juice bar, and no less than two bar/lounges—one on the ground floor, the other paired with the 16th floor conference center.
The developers tapped Fogarty Finger for Dock 72's interiors, in no small part due to the firm's experience designing high-end offices and multi-unit residential developments in New York City. Finger is aiming to bring that knowledge to Dock 72, but he says this design will have to strike a delicate balance: importing residential interiors' informality while creating a refined, enduring aesthetic that multinational companies find agreeable.
---
More from Metropolis
---
"How do you still appeal to a creative or technology, but also a financial firm?" Finger asks. "You need to hit the right note and take it a step further."
---
Taking cues from hospitality design as well, Fogarty Finger is carefully crafting the atmospheres of Dock 72's shared amenities. "We need a variety of spaces, ones that speak to a quiet or solo activity, or another where you want a bright and active environment where you're comfortable sitting alone [or] with a group of eight to 10 having a beer."
So, the lobby might be a setting where "you feel comfortable sitting for ten minutes or an hour,"Finger explains. "You expect some acoustic brightness." In the food hall, "you would never want a large space like that to feel empty." This means calibrating seating areas for "maintaining a kind of density all through the day" and installing the right acoustic treatments to sustain that buzz.
---
Striking this balance will be tough, but Finger cites one recent project that is helping guide the firm: a hedge fund office in the city's Flatiron Neighborhood. Parts of the project, which was a collaboration with interior design studio Dumais, could be easily mistaken for a high-end apartment, with a large kitchen, library, living room, as well as furniture and finishes that are distinctly residential. The hedge fund hopes this office will help them nab the best employees: "Google and the hedge fund, they're all competing for the same talent," says Finger.
Finger thinks Dock 72 is a sign of things to come: "The trend is only increasing pressure on landlords to provide greater and greater amenities…to provide more lifestyle-oriented [designs]. Within the tenant world, they need these spaces, which is driving the landlord ultimately."
You may also enjoy "How Patricia Urquiola Is Redesigning the Cassina Campus."