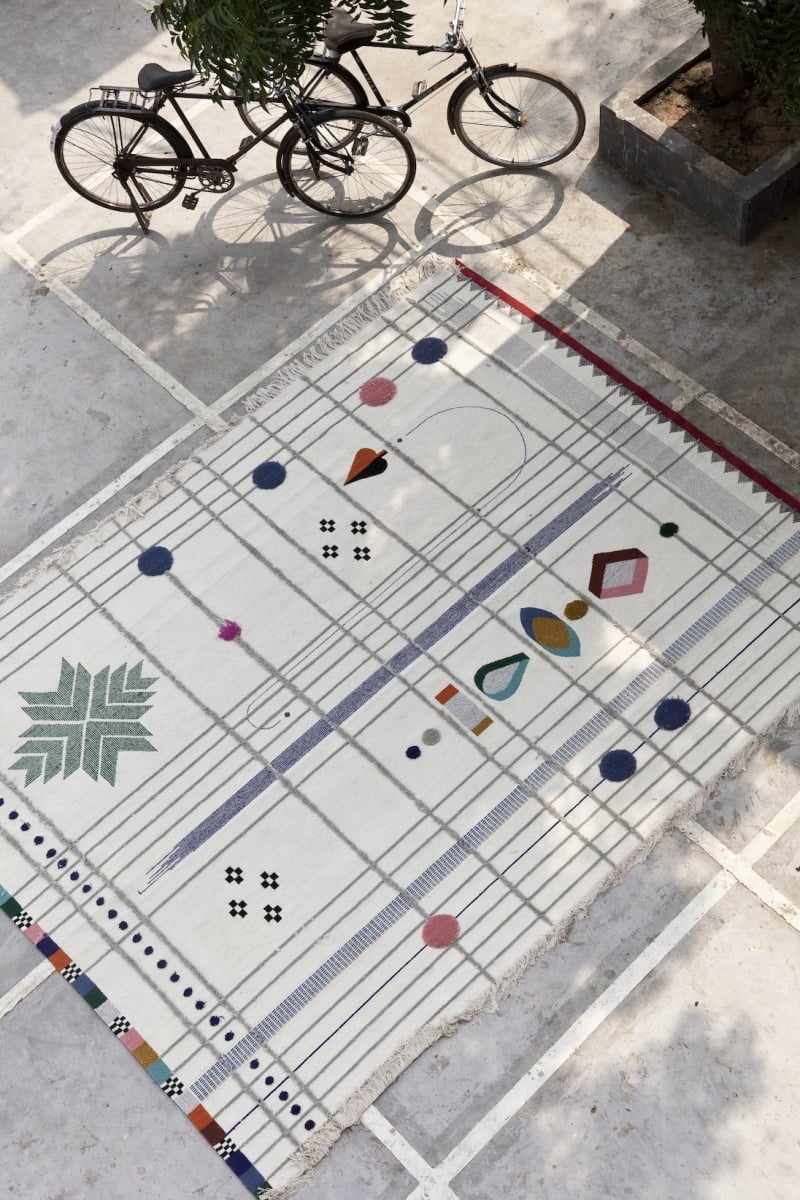 April 28, 2014
Doshi Levien's Rabari Rugs Play with Tradition
The designer duo's new flatweave rug collection is the result of a truly global process.
The Spanish rug maker Nanimarquina's latest trio of hand-knotted flat rugs, designed by London-based Doshi Levien and launched at the Salone del Mobile in Milan earlier this month, reflect the visual culture of a pastoral community from India on one hand yet defy belonging to any vernacular roots at all. Doshi Levien's work often walks this tightrope, balancing traditional craft with contemporary design.
The Rabari collection, named after a nomadic tribe, consists of two rugs with a beige backdrop and one in a striking black. The beige plays canvas to a sparse arrangement of discs, dots, diamonds, much like the motifs that typify the embroideries of the Rabari women of western India, who work tiny circular, rectangular, lozenge or almond shaped mirrors into textiles. The black rug is a mess of threads set against a few grid lines, a portrait of how loose warp and weft threads come together. There is an element of incompleteness in the compositions, as if they are still in the making. Nipa Doshi, one half of the husband-wife design team, over a phone conversation from London, admits to letting the process of design determine the product.
"I started by making sketches of different embroidery techniques used by the Rabari and the motifs that they use. The first was the Rabari 1, which has the diamond-shaped mirror and the almond-shaped eye. It was not supposed to be a design, more like little vignettes of different techniques, but somehow it became a composition. When I showed this to Nani [Marquina], I just wanted to show her my process and she said, 'Well, that's a rug design.' So Rabari 1 became the starting point for other rugs in the collection," says Doshi.
---
More from Metropolis
---
The designer recalls growing up in Gujarat, in western India, watching Rabari craftspeople at work. That memory informed her design of the Rabari rugs. "My aunt used to have a workshop with about with 50 master craftsmen. It's a very communal activity when they all sit together and work by hand. I wanted to capture the celebratory feeling of Rabaris at work and also the serendipity of a handmade piece. With every knot you can change the design, that's the kind of freedom that hand-craftsmanship can give you."
However, the Rabari women work only with cloth, so while Doshi Levien may be borrowing from their creative afternoon rituals, the rugs themselves have been produced in a different part of India. Nanimarquina has manufacturing connections in Varanasi, known for its carpet weaving skills and it was craftsmen there who hand-knotted Doshi Levien's sketches and prototypes into sumak rugs, a kind of flatweave. The rugs were almost two years in the making. "It took some time because its not an industrial process, its very much about getting the details right, because when you make things by hand it has to be made perfectly," Doshi says.
The process of trimming the pile on the rug, by hand.
Because the firm's design practice draws significantly from making-by-hand, it often borrows from traditional cultures. Doshi's cultural identity surfaces in her work extensively. The Charpoy for Moroso was inspired by daybeds that are ubiquitous in Indian households and the Chandlo dressing table for BD Barcelona bears reference to the bindi, a decorative dot that Indian women wear on their foreheads. Doshi reasons that "you can only draw from what you know," yet makes the distinction between "borrowing from my traditional culture and borrowing from a culture. For me its about using ingredients from other parts of the world, might be India in some cases, might be Brazil in others. I'm interested in looking at the visual culture, the way of living in different parts of the world, and saying, 'Hey, there's another way to do things, another aesthetic language—and look how beautiful it is,'" she says.
Designed in London, inspired by the visual culture of a community in western India, manufactured by a Spanish rugmaker with help from weavers in northern India, the Rabari collection does seamlessly weave together several cultural threads, and does it quite playfully. Yet the question remains if the designer is ever challenged by the politics of this designer-craftsman exchange.
For Doshi this is more or less a "redundant" question. Her clarity on the subject perhaps stems from a place of security for the artisan. "When I was working with master craftsmen in Gujarat, making the Charpoy for example, I kept asking them what they thought of the motifs and the design, what would they change? After a point they were fed up with me and said stop asking us. Just tell us what to do." Doshi believes in dwelling more on what the design language has to say rather than fetishizing the role of the makers. She continues: "There are times when there is an exchange of ideas but often we tend to assume that every craftsman is also a designer. Sometimes they are simply makers, and there is supreme knowledge in that, the ability to make something. I think we are more romantic about it than the makers themselves. The Rabari rugs have a spirit of the Rabari culture, they have a spirit of India and I think it's important for a design to capture that essence."
Above and below: A loom in Varanasi, with a Rabari rug in progress.
Doshi's sketch for the Rabari 1 rug.
Nipa Doshi, with the three Rabari rugs, and the Paper Planes chair designed for Moroso.