March 8, 2021
London Coworking Space Douglas House Packs a Gentle Punch
Note Design Studio transformed a nondescript postwar office building into a multifaceted workspace that stimulates the senses.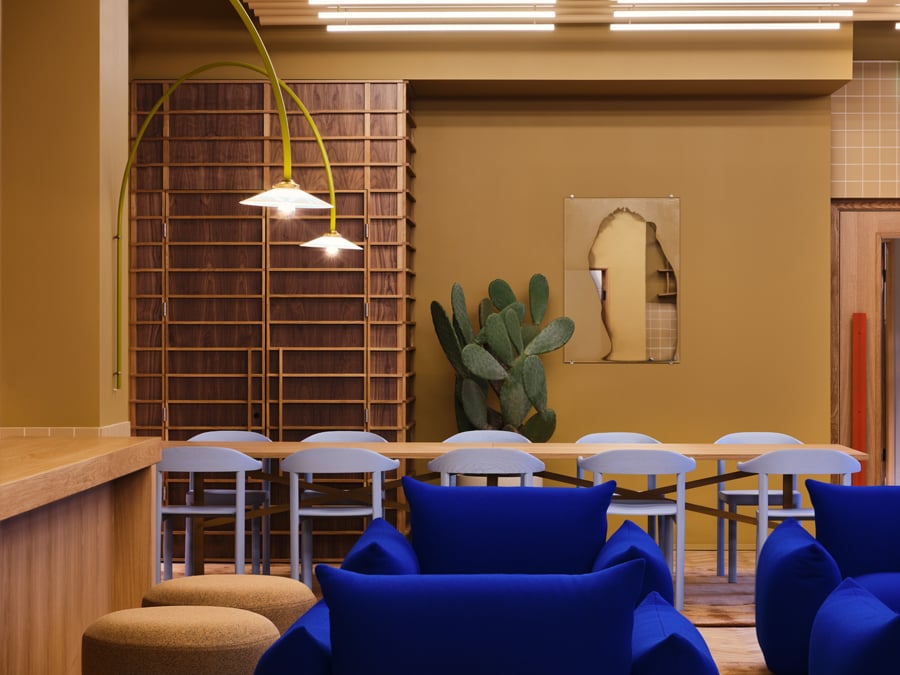 With a return to the office imminent for many, a new approach to designing these shared spaces has emerged. Architects and designers are shaking off the shackles of stylistic homogeneity and embracing schemes that promote workers' emotional wellbeing over the aesthetic convention of bland cubicles and  glass partition walls.
As hybrid working structures begin to replace the traditional nine-to-five, five-days-a-week schedule, many employers are choosing to forgo leases on dedicated brick-and-mortar workplaces, and opt instead for the ever-evolving coworking typology. A new crop of full-amenity boutique brands is giving giant chains like WeWork a run for their money. Among them is The Office Group (TOG), an early proponent of design-focused spaces, which challenge the one size fits all model. With locations around the London area, two in other U.K. cities, and soon-to-open properties elsewhere in Europe, this company provides clients like Facebook, Adobe, and Dropbox with flexible offices as well as workstations for individual professionals and startups.
---
More from Metropolis
---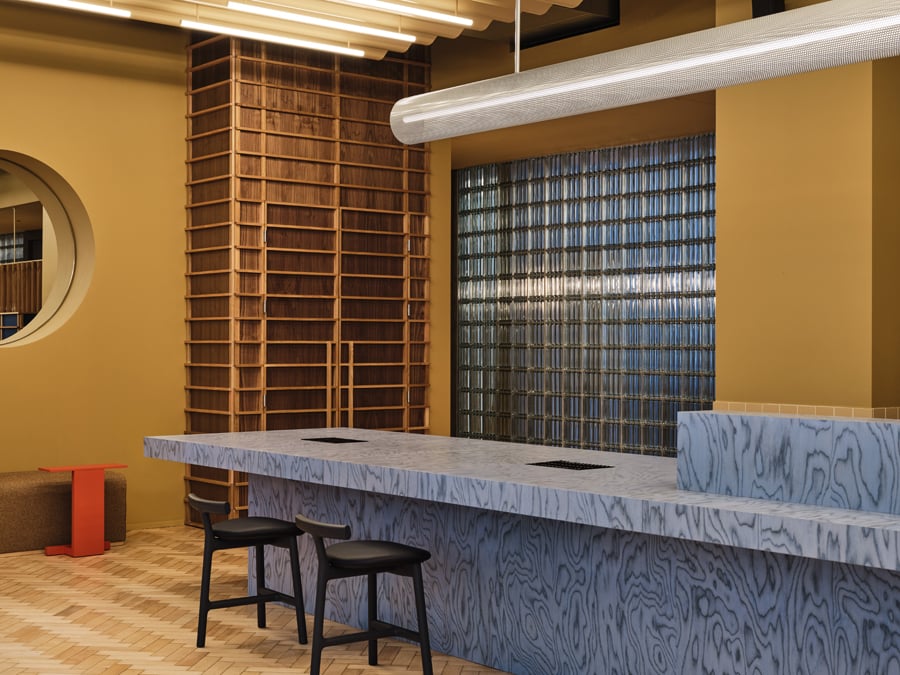 TOG often restores outdated buildings to their original glory. The recently opened Douglas House location, set in the heart of London, is no exception. The company called on Stockholm-based collective Note Design Studio to transform an uninspiring 47, 000-square-foot office block into a multifaceted environment, which could bolster productivity and support the mental wellbeing of its tenants. The dynamic practice had previously designed TOG's Art Deco-inspired Summit House and brought the same considered sense of detail to this project. With decorative and architectonic features ranging from exposed wood surfaces to bold pops of primary color and plush textiles, Note Design Studio administered a scheme that packs a punch. The aim was to introduce contrasting, not clashing, elements that could surprise and engage the brain through touch and visual sensation.
Riffing on the Grade-II listed building's gridded facade, the practice installed a curved glass brick wall. This central component runs the entire length of the ground floor and helps delineate between different areas while also flooding in ample natural light. "This was a way for us to be disruptive and to challenge the standards of an average refurbishment," said Note Design Studio cofounder Johannes Carlström. "[We wanted] to create a space within a space, a world of its own within the old building."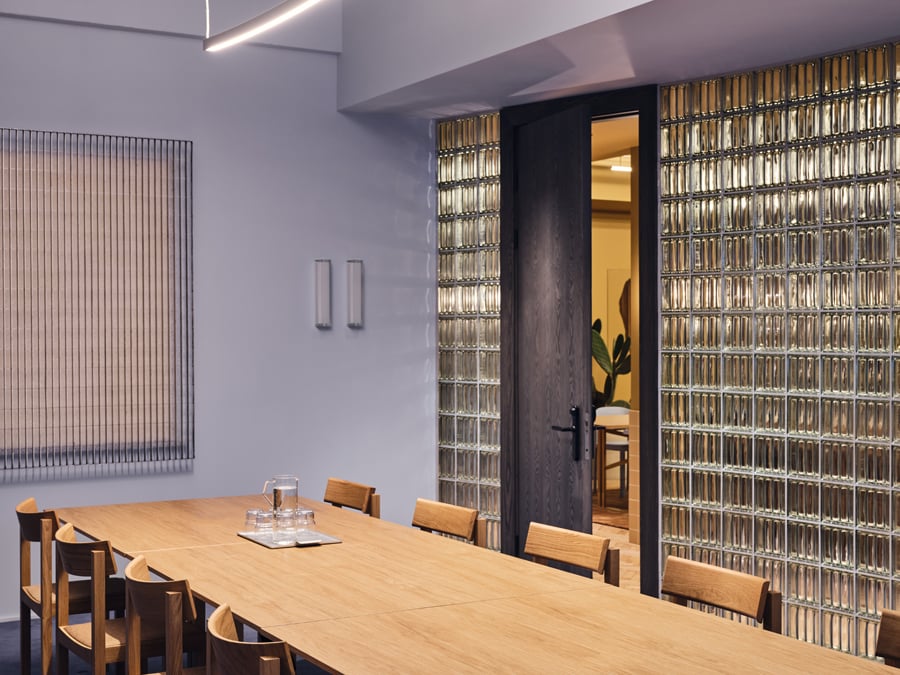 Emulating the articulation of a drawn line, the wall serves as a barrier between three courtyard-style meeting rooms and a communal space. While these uniquely shaped enclosures feature a more muted palette of soft blues, the main area is characteristic by its striking desert hue and warm wood built-ins. Ultramarine Marenco armchairs and Arthrex sofas play off of red and yellow powder-coated stools by Muller van Severen. The Belgian design duo's geometric hanging lamps illuminate the space. This juxtaposition denotes which rooms are intended for concentrated exchange and which are intended for intensive solo work.
Various shades of stained ash, terrazzo patterns, and colorful tile patterns feature prominently throughout the rest of Douglas House. Note Design Studio retained and revived as much of the building's original surfacing as possible, including the parquet flooring, which was meticulously restored. To keep this retrofit as sustainable as possible, the practice implemented the 100 percent recyclable Tarkett IQ range of wall and floor coverings. A resolute blue ALPI Sottsass veneer covers Douglas House's monolithic reception desk.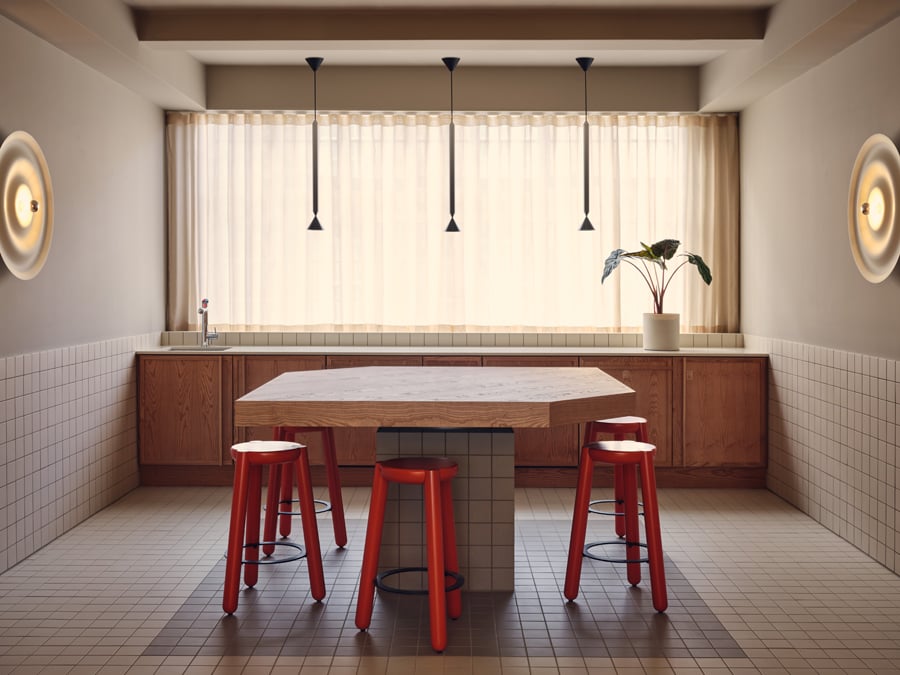 "It has a lot more expression than you normally see in a traditional office," said Note Design Studio interior architect Charlotte Ackemar. "Our ambition [was] to make something that communicates with you intuitively, so that when you enter the space, you can feel the interior almost physically." The unexpected combination and layered interaction of exposed grids, natural and synthetic grains, intricate textures, geometric and organic forms makes for a playful yet sophisticated mise-en-scene.
You may also enjoy "A Dermatology Office Beckons with the Allure of a Boutique Hotel"
Would you like to comment on this article? Send your thoughts to: [email protected]
---
Register here for Metropolis's Think Tank Thursdays and hear what leading firms across North America are thinking and working on today.