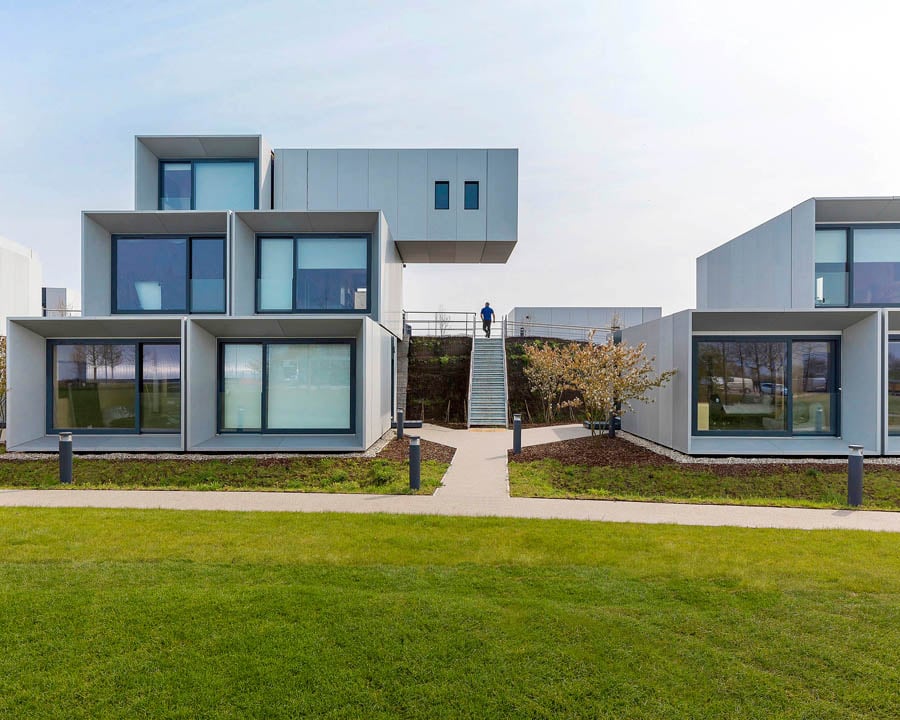 September 24, 2019
Step Inside the Habitat 67–Inspired Dorms at the Dyson Institute
Designed by WilkinsonEyre, the new lodgings feature massive windows and sustainable materials like CLT.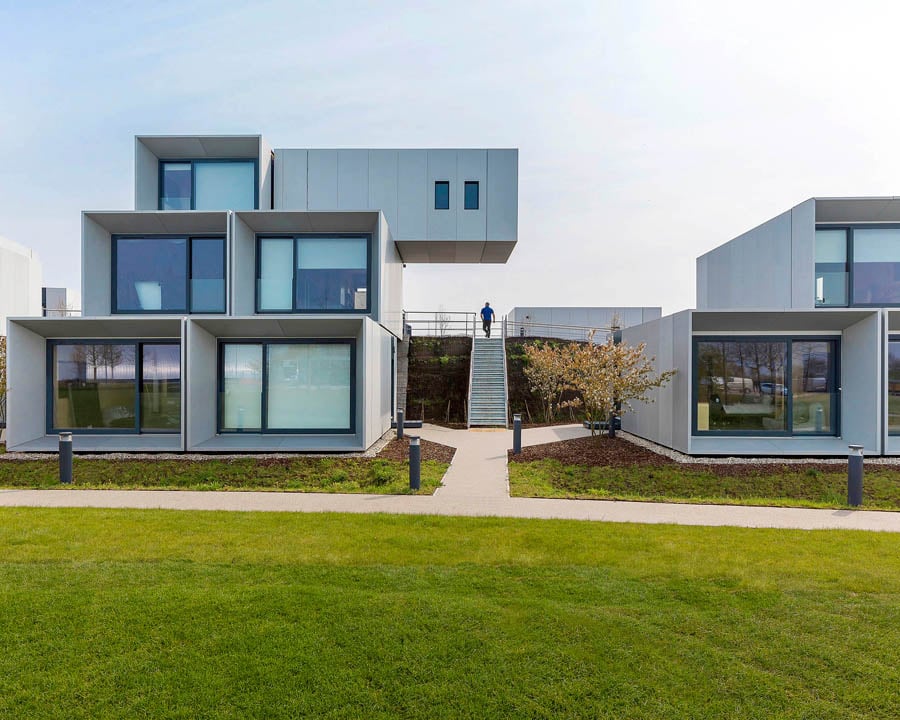 In the county of Wiltshire, England, a new student housing project feels like anything but a conventional dormitory. Designed by London firm WilkinsonEyre, the Dyson Institute of Engineering and Technology's undergraduate village aims to cultivate community among its engineering students.
Situated in the heart of Wiltshire's countryside, the village is in close proximity not only to academic buildings but also to restaurants and pubs. The wedge-shaped site is lined with clusters of modular housing pods made of cross-laminated timber (CLT), a sustainable and easily assemblable material. "Initially we thought we would paint it," remarks WilkinsonEyre director Yasmin Al-Ani Spence. "But [institute founder] James Dyson said, 'Don't paint it. I like the timber.'" This exposed CLT is a visual departure from the campus's mostly steel-and-concrete buildings.
Measuring a compact 344 square feet, each unit contains essential spaces for a single student: a bathroom, bedroom, and study area with triple-glazed windows. Each pod links to a communal kitchen and laundry room, as well as socially oriented recreation pods. Anchoring the site is the Roundhouse, a bustling communal hub for students and faculty alike.
---
More from Metropolis
---
According to Spence, the design was inspired by Moshe Safdie's Habitat 67, the high-density housing prototype in Montreal. WilkinsonEyre's plan incorporated Safdie's approach, which addressed a range of local conditions: In response to the sloped site, a raised embankment provides circulation, functioning as an external corridor.
"The community spirit is something we had hoped for, and has come true," Spence reflects. "We feel that we have really succeeded in making it into a village for these young undergrads."
You may also enjoy "A New Restaurant in the U.K. Experiments with Cross-Laminated Timber."
Would you like to comment on this article? Send your thoughts to: [email protected]