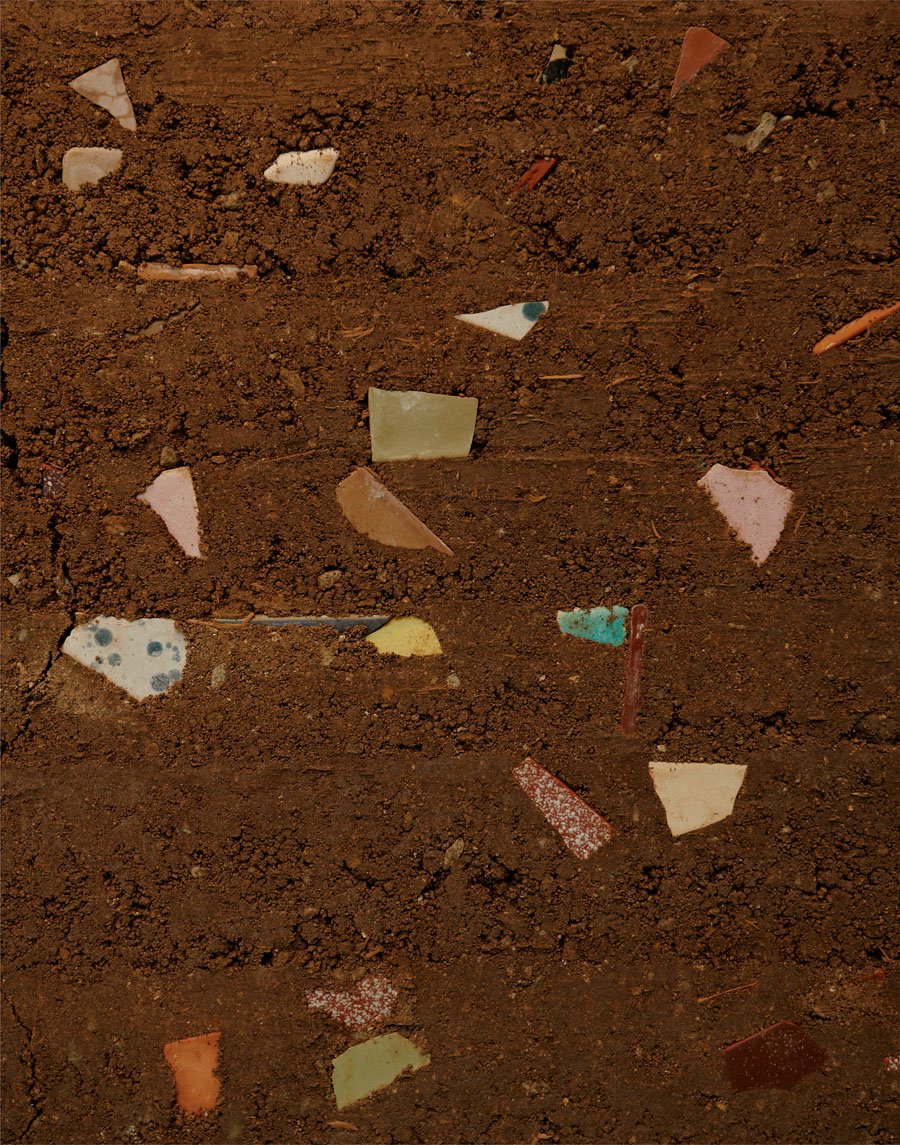 November 13, 2020
Earthy Luxury Is on Display at the Flamingo Estate Harvest Shop
Architectural designer Dutra Brown and ceramic artist Alex Reed's collaboration brings to life the vision of Richard Christiansen's buzzy L.A. property and lifestyle brand.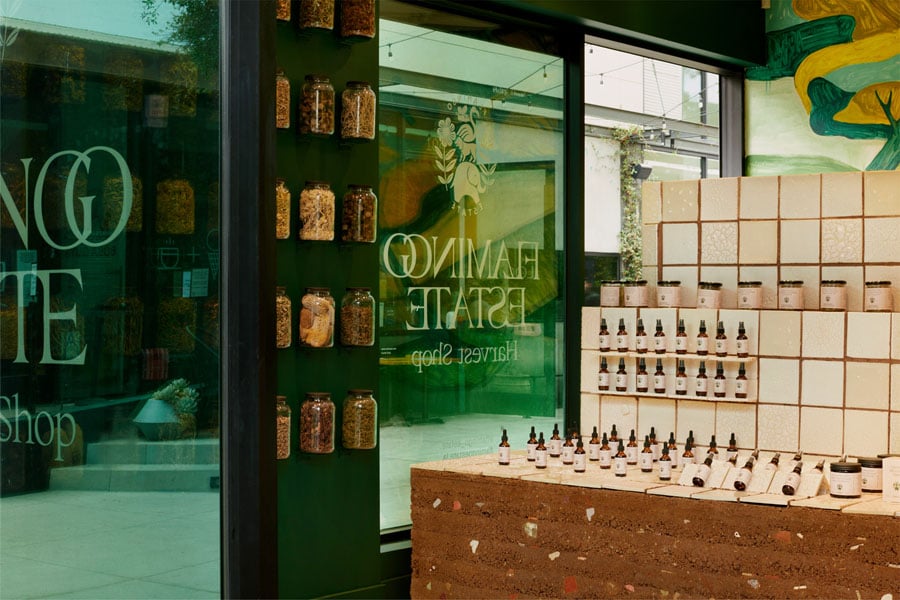 Seeing the Flamingo Estate Harvest Shop explains the logic of what might otherwise seem like a counterintuitive business move in this current climate. At the Platform development in Culver City on the westside of Los Angeles, the compact corner space opens up on two sides to outdoor plazas that are far livelier than most retail environments. A tiered tile-clad display made of rammed earth and featuring an abstract scagliola plaster sculpture catch the attention of passerby at eye-level. The lush scents from apothecary goods help entice potential customers who are comfortable entering the pop-up boutique where every carefully considered inch exudes a certain earthy chicness.
The project is a collaboration between two young Los Angeles design talents. Dutra Brown is a recent graduate of SCI-Arc and is currently enrolled in the Harvard University Graduate School of Design's Master in Architecture program. Ceramic artist Alex Reed is a Heath Ceramics L.A. studio alum whose own work is represented at The Future Perfect, and has exhibited in a variety of galleries and settings. Here, Flamingo Estate owner and Chandelier Creative agency founder Richard Christiansen commissioned them to give this evolving company an ephemeral physical expression and a more publicly accessible outpost approximately 20 miles away from the namesake historic property in Eagle Rock. The Harvest Shop is open for three months through the holiday season.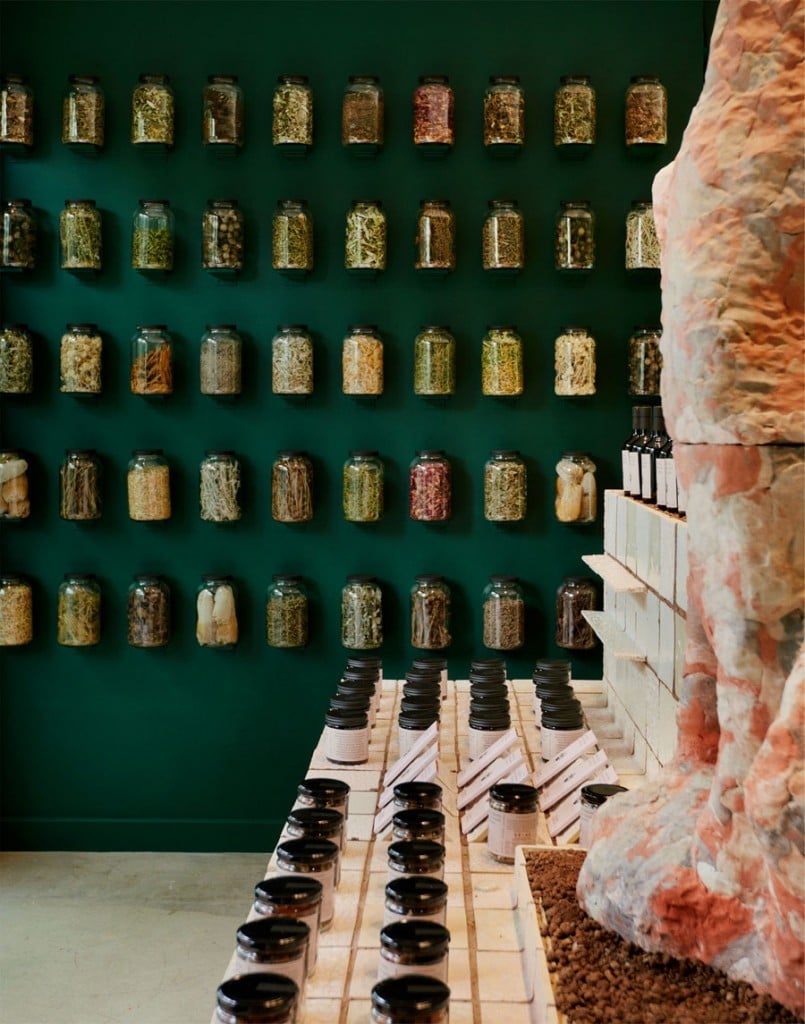 The Flamingo Estate initially received media attention and piqued local interest in late 2018 when its intensive overhaul designed by Paris-based Studio KO was revealed, along with Arnaud Casaus' landscape scheme that added over 150 plant varieties to the sprawling seven acres. The property dating from the 1940s already came with an unusual, storied history as an experimental compound with functions that included an erotic film location and queer creative escape. Then last year Christiansen opened the Owl Bureau bookstore and multipurpose space (including the Chandelier Creative L.A. office) in a former drugstore on Figueroa Boulevard in Highland Park.
---
More from Metropolis
---
Because Reed's ceramics studio is located at Owl Bureau, Reed introduced Brown to Christiansen when she and Reed were developing a series of tiles for two guest houses Brown is designing for a Southern California ranch. Meanwhile, Christiansen had been expanding the Flamingo Estate banner, partnering with local farms on an organic produce box subscription program this past summer, and more recently launching a lifestyle brand comprising luxurious apothecary and pantry products. Brown and Reed unwittingly had an intimate, behind the scenes understanding of Christiansen's vision and business plan, so he turned to them to create the brick-and-mortar Culver City undertaking. They had eight weeks to get the job done, from concept to opening in early October. (It was a real-world design-build seminar of sorts for Brown to complete just as she was starting her master's program.)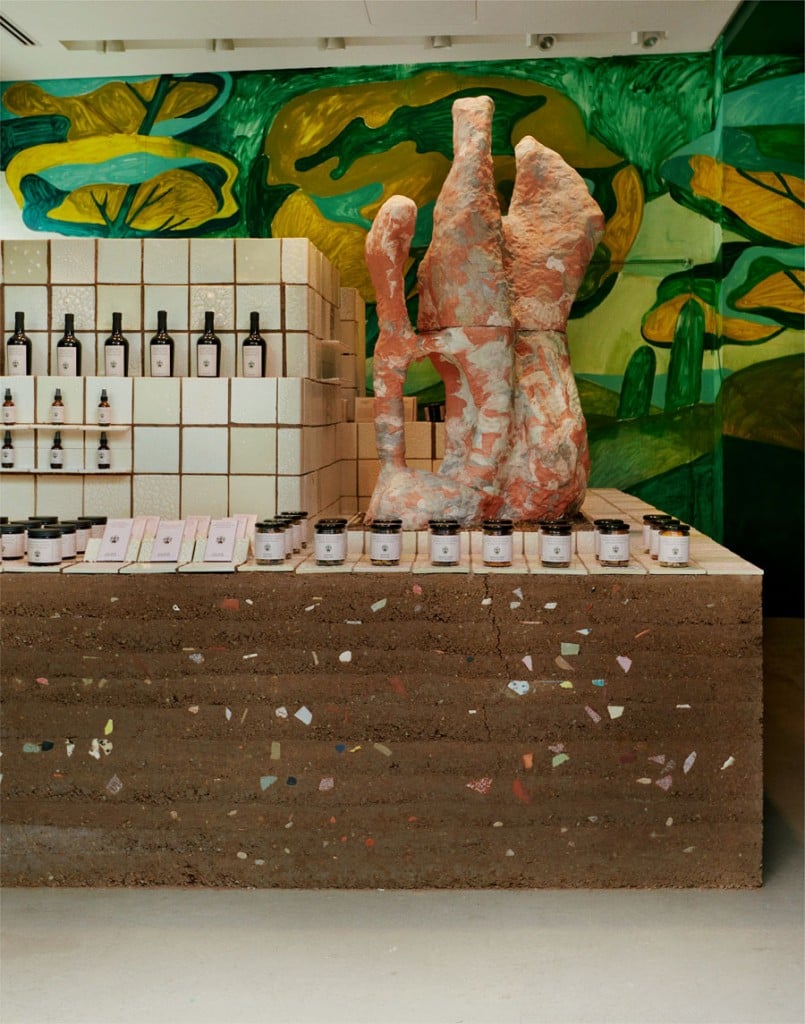 Long fascinated with rammed earth building methods, Brown and Reed explored the technique to construct the stepped central display finished with Reed's tiles, which eventually will be installed in the aforementioned guest houses. "This was so temporary, we wanted to do this without any unnatural additives," Brown explains. The 8-inch-thick walls of the display base were constructed on site using wood formwork and without any synthetic bonding components. The rammed earth mixture was carried in 50-pound bags, with Brown and Reed doing much of the hand-compacting work themselves. "We definitely maxed our capabilities. It wasn't glamorous at the end," Brown laughs. The multicolored aggregate comes from Reed's personal reserve of test tiles, which works "as a textural thing, but also a bit of storytelling [about] the history of my practice and the history of Flamingo Estate," he says. The gaps between the highly textured square tiles are finished with mud to keep the feature literally as earthy as possible.
The landscape mural by artist Abel Macias, whose work is also seen at Owl Bureau, is an immersive element awash in swirling greens and yellows. "We knew something would happen on that wall, but we didn't quite know what. It brings it to a fantastical place," Reed says. Christiansen's friend, interior designer Kelly Wearstler, suggested incorporating dried plants and herbs from the property into the Harvest Shop, hence the team installing shelving on available wall space to hold oversized jars filled with various specimens.
Despite the punishingly tight timeline, the familiarity and established level of trust between the client and the designers helped ensure its feasibility and success. "Knowing Richard, our point of view tries to forward his ethos of hard work, but being playful," Reed says. "In some ways, he didn't have to explain the point of view. It was just through osmosis."
You may also enjoy "John Wardle Renovates His Home to Reflect His Creative Process"
Would you like to comment on this article? Send your thoughts to: [email protected]
---
Register here for Metropolis's Think Tank Thursdays and hear what leading firms across North America are thinking and working on today.