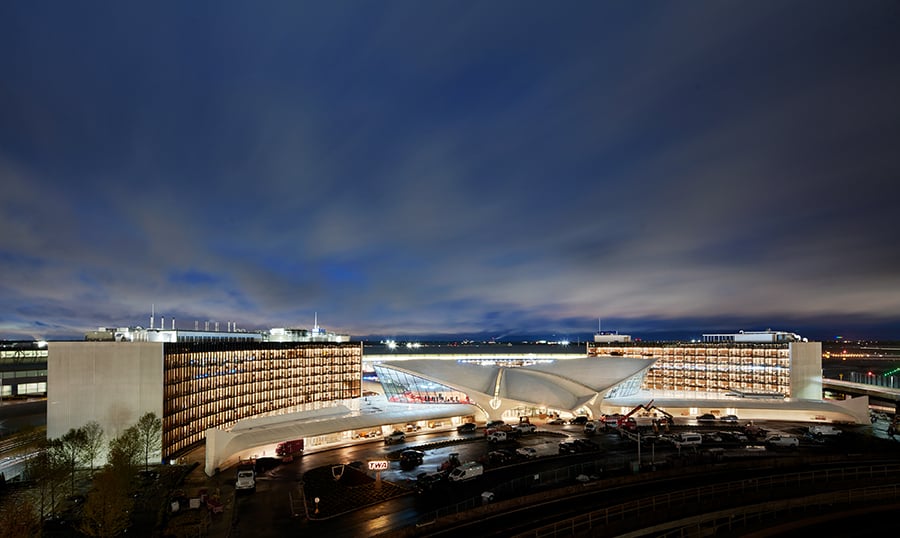 May 31, 2019
With Its Painstaking Restoration, Eero Saarinen's TWA Flight Center Gets a Second Life
Beyer Blinder Belle led the restoration, which included asbestos abatement, re-creating original architecture, adding ADA accessibility, and more.
By his own admission, historian Vincent Scully was critical of Eero Saarinen's TWA Flight Center when it was completed in 1962 at John F. Kennedy International Airport in Queens. In an introduction to Eero Saarinen: Shaping the Future, the catalogue that accompanied the first major exhibition of the architect's work in 2006, Scully admitted he had initially dismissed the building at what was then Idlewild Airport for its overtly bird-like form. In time, he changed his mind, deciding that the building was a dignified portal between two "tin cans"—the car and the plane. "[E]verything about Eero's TWA Terminal says, you can do it; it is going to be wonderful up there. The beautiful volutes of the plan sweep us up and forward and into space," wrote Scully.
The Flight Center was one of Eero Saarinen's last projects, commissioned in 1956. He died in 1961 before its completion. It is widely celebrated as one of the most iconic pieces of midcentury Modern architecture, but one that exploded Modernism's orthogonal rigidity, "blurring…the distinction between structural and expressive form," writes architecture scholar Eeva-Liisa Pelkonen. In hindsight, the building seems like an almost inevitable outcome of a revolutionary architect, Americans' embrace of corporate culture, and the "Golden Age" of passenger jet travel. The beautiful volutes that Scully referred to are capped by four concrete shells as thin as seven inches in some places, their seams connected by skylights. The central 51-foot-high, 322-by-222-foot vaulted lobby is supported by four Y-shaped columns. The upturned concrete lobes on the sides of the building are identical, while the front shell is narrower than the rear, privileging and suspending the view of what was the landing field. Two "flight tubes" extend from the main building and once led to departure terminals. Saarinen had to make a physical model of the Flight Center in order to understand how to draw it.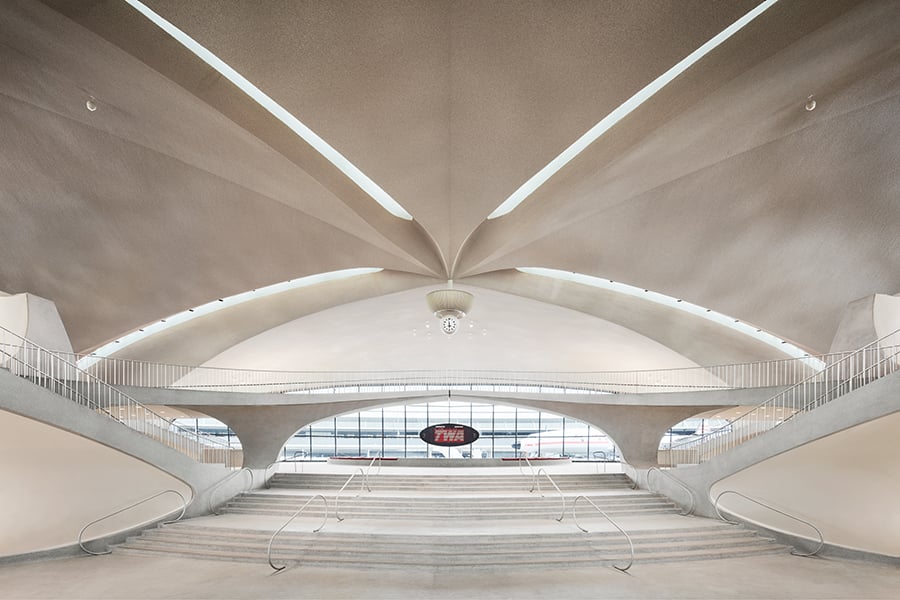 ---
Shuttered for nearly two decades, though it was designated a New York City Landmark in 1994, the Flight Center re-opened to the public this month as the lobby and star of a new airport hotel complex developed by Tyler Morse of MCR Development. Two new faceted, standalone seven-story hotel buildings flank the Flight Center to its north and south, creating a backdrop that makes the Saarinen building once again "a figure in the field," says Anne Marie Lubrano, a principal of Lubrano Ciavarra Architects, the design architect for the hotel buildings. The Flight Center originally sat on the axis of the airport entrance road with only the sky behind it.
---
More from Metropolis
---
To walk into the 129,000-square-foot Flight Center today is to find it, in many ways, largely as it was when it opened. The program of an airport terminal and a hotel lobby are similar—each has check-in desks, dining, shops, and waiting areas. The former baggage claim area has been transformed into a junior ballroom by INC Architecture & Design, whose team rounded its corners and wrapped it in Knoll tambour upholstery in TWA's Chili Pepper Red. That the Flight Center has been painstakingly restored, its concrete shell, curvaceous interior forms, and deliberate details respectfully shorn up, is largely thanks to Richard Southwick, director of historic preservation at Beyer Blinder Belle (BBB). He and BBB served as project and preservation architect for the hotel, but the Flight Center has also been Southwick's "baby" stretching back 25 years, to when he began advising the Port Authority of New York and New Jersey—the building's owner—in its efforts to preserve the building. He's seen it through feasibility studies, adaptive reuse reports, and more than one questionable redevelopment scheme. When Southwick arrived in New York City in the mid-'70s to attend Columbia University for his M.Arch, he immediately made a pilgrimage to see the Flight Center. He calls himself "an admirer, a user, and then an advocate."
---
Nostalgia is a thin argument for architecture preservation; in 1962, when the building opened, the Voting Rights Act had not been passed, oral contraceptives were still illegal in some states, and the environmental consequences of an unbridled enthusiasm for jet fuel were not in the news. So it's a good thing that there are technical, formal, and cultural arguments for the Flight Center's survival. It became obsolete by the mid-'70s because its design didn't anticipate and couldn't accommodate the proliferation of wide-body jets that could carry hundreds of passengers at a time. Enrique Ramirez, an architectural historian, calls the restoration "bittersweet," saying that "Saarinen's magisterial and soaring carapace-like form came at a time when commercial air travel was aspirational, a mode of contemporary life that envisioned architecture as a means to provide public access to new cultures and geographies. Seeing those fluid forms and carmine carpets once again—what is this but a kind of nostalgia for the idea that the TWA Terminal was a Grand Central Terminal for the Jet Age?"
The list of Southwick's and BBB's repairs, restoration measures, and stabilization efforts to the Flight Center is long and phased, going back to a period between 2002 and 2008 when, among other things, the firm removed asbestos, repaired the flight tubes, and ordered 3.5 million pieces of the 1.5-inch ceramic penny tile to match Saarinen's original interior surfacing. To prepare for the hotel, BBB added ADA-compliant circulation, removed two 1970s-era batwing additions to the building, and did extensive research in Saarinen's archives at Yale University to restore what was the Paris Café and Lisbon Lounge (originally outfitted by Raymond Loewy and brilliantly updated by Thomas Juul-Hansen) on the south mezzanine and the Ambassador's Club on the north (where Saarinen collaborated with Florence Knoll on custom furniture). Exhibitions throughout the Flight Center and the INC-designed conference center below the hotel feature collections of TWA artifacts.
It's hard not to feel goosebumps walking into the Flight Center today. It's a hotel lobby as hushed cathedral. (How long will it remain this way?) On a recent tour, three employees, dressed in Easter-egg-colored '60s-style uniforms, stood meditatively on the tile floor, their hands clasped behind their backs. The rhythmic clicking of a new Solari board announced imaginary flights on pretend airlines. Sunlight streamed through a new curtain wall made of heat-absorbing glass. BBB restored and re-created Saarinen's original sunken lounge, which had been covered with plywood in the 1990s. Several people sat in its crimson built-ins. One had a frosted glass of white wine. It suddenly felt as if restoring the Flight Center was an audacious act of hope and civility. As Scully wrote about the Flight Center: "Everything says go forward, have heart, it's possible; and we go."
You may also enjoy "The TWA Hotel's Interiors Aim to Recapture Midcentury Glam."
Would you like to comment on this article? Send your thoughts to: [email protected]