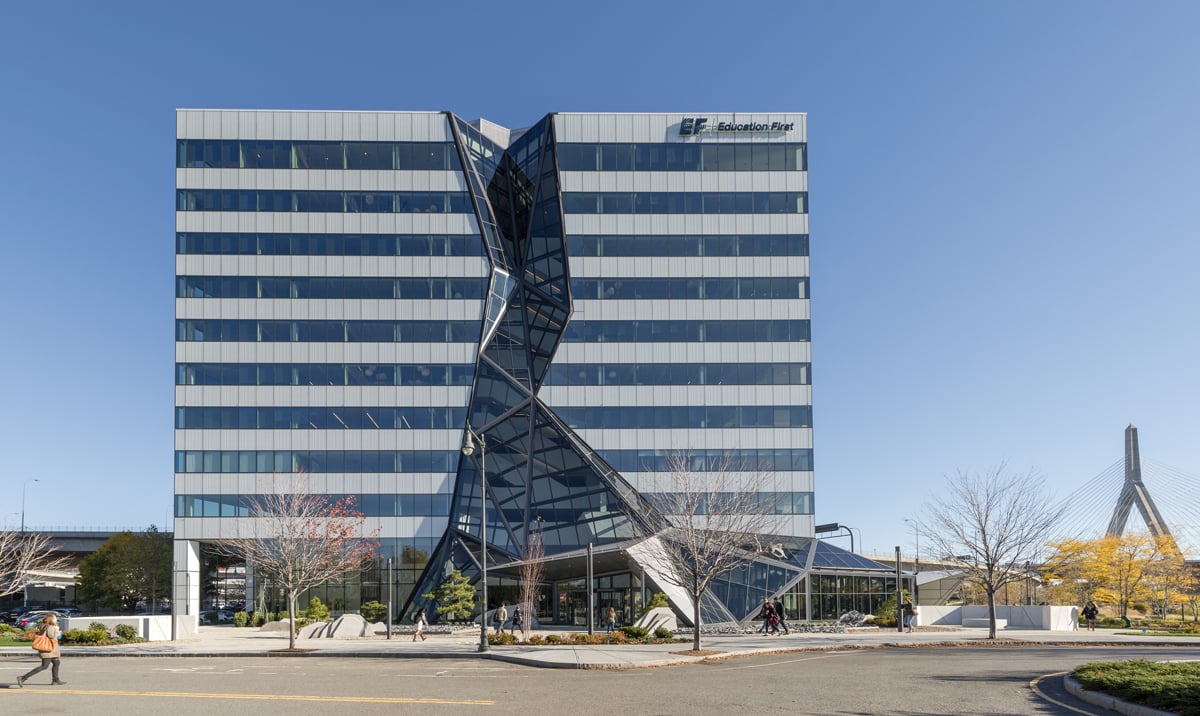 January 19, 2015
EF Education First's Cambridge Headquarters Sports a Ten-Story Glass "Waterfall"
Gert Wingårdh's building gives EF Education First a standout home in North America.
All photos courtesy Anton Grassl, Esto
In 1997, EF Education First broke ground in East Cambridge, Massachusetts, for its North American headquarters. The international education company—which facilitates educational travel, language training, and exchanges—had chosen a site in North Point, a 74-acre quilt of industrial decay tossed carelessly on the banks of the Charles River, just across from Boston. "When we first built here, there weren't many obstacles," says Martha Doyle, who—as personal assistant to EF's founder, Bertil Hult—helped the company realize its first Cambridge facility, a serviceable if unremarkable 265,000-square-foot office building. "No one seemed to really care what was happening here."
People do care about North Point today, especially after EF opened its stunning new North American headquarters there this past October. Once part of Cambridge's "lost half mile," North Point is in full ferment with a 5.2-million-square-foot mixed-use development that, on completion, will count close to two million square feet of office space, 150,000 square feet of retail, 2,800 residential units, and 11 acres of open space that already feature waterfront parks, bike paths, and a pedestrian bridge.
---
More from Metropolis
---
The "waterfall" running down the facade is made from double-laminated insulating glass from Oldcastle BuildingEnvelope, held in a steel frame engineered by Skanska USA Building. The engineers borrowed technology from the aerospace industry to analyze the stresses on the steel nodes.
"It was very different for us this time around," says Doyle, now the chief operating officer at EF Properties. "We had close to 100 stakeholders involved. At one point, the Cambridge Planning Committee even rejected an earlier, more modest design we submitted, and asked us to come up with something more compelling." Set just a few doors down from its first facility, EF's newest North American headquarters is already the signature feature of North Point, visible from the elevated streetcar trestle, the water, and even the on and off ramps to Interstate 93. Architect Gert Wingårdh's ten-story steel-and-glass structure dialogues effortlessly with the domes of the nearby Museum of Science, mirroring the white pylons and cables of the adjacent Leonard P. Zakim Bunker Hill suspension bridge, and reflecting the broad expanse of river that separates Cambridge from Boston.
The river is further represented in the building's most striking element, an abstract waterfall that zigzags down its southeastern facade. "When we visited the site, we were immediately struck by the Charles River," says Wingårdh, a Swedish architect known for creating "organic" buildings that harmonize with their surroundings. "The sheer amount of reflective surface on the water was amazing. The river became our major driver."
The two-story entrance lobby exemplifies the building's transparency.
Inside, the EF headquarters offers open workspaces, three two-story atriums on alternating floors, and breathtaking views from every level. Graphite-colored cladding on the central stairway echoes the dark, custom-cast steel nodes that were specially engineered by Skanska USA Building to frame the waterfall's 4,000 panes of glass.
"As an international company, our challenge is to design an interior that reflects the local context, but that also lets people know they're at EF," says Fiona Kennedy, the company's London-based head of architecture and interior design. "Boston is one project where we were able to do it all very well. With the views of the river and the Zakim Bridge, you know you're in Boston. And the openness and seamless flow between workspaces, social spaces, and the stairway illustrate the bottom-up culture of EF. Everyone is visible. Everyone is approachable."
London-based Fiona Kennedy designed the interior, which is the largest open-plan office in Massachusetts.
Along with adorning Boston's waterfront, EF's headquarters is also expected to beef up its bottom line. Not that the firm is struggling. Founded 50 years ago in the basement of Bertil Hult's college dorm room in Lund, Sweden, it now counts more than 500 schools in 52 countries in its network, and employs more than 37,000 people. "We don't make a product," says co-chairman Philip Hult. "We provide a service. Our ability to retain people is everything for us. Everything we do or build has to reflect our culture."