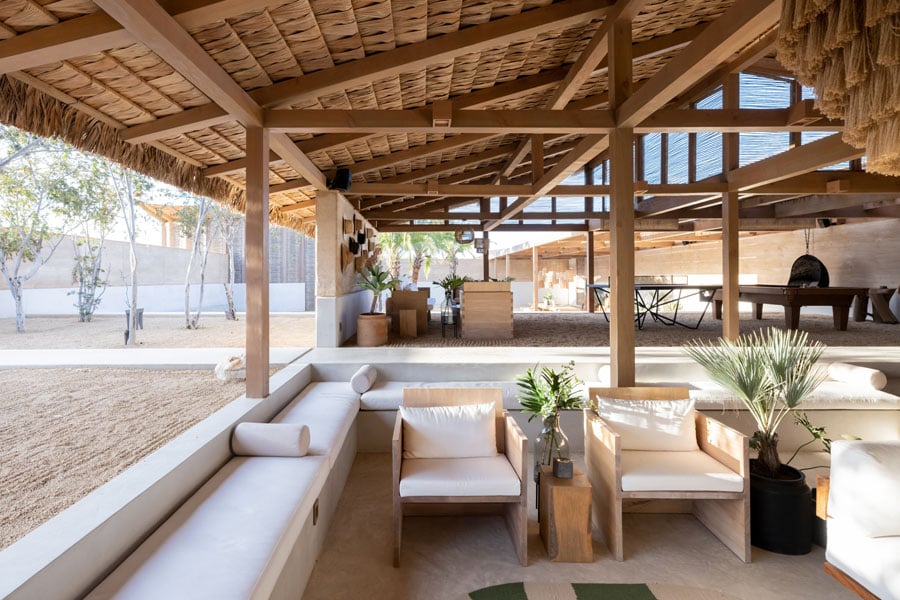 September 7, 2021
El Perdido Hotel Highlights Agricultural Ties Amid Escalating Development
Courtesy Iwan Baan
The design of El Perdido fully embraces its location through materiality and classic construction techniques. Time-honored materials like rammed earth, thatched roofs, and Palo de Arco wood were used throughout. By choosing only locally sourced materials and working with local artisans, Fernández has made sure that the guest experience is fully enveloped by the distinct beauty and heritage of Baja California Sur. "It provides a glimpse to the past while suggesting potential design language for the future," she says.
---
More from Metropolis
---
While the private guest villas and more public central house capture indoor/outdoor living at its best, the restaurant, Coyote Canyon, sunken courtyard, chapel, and other amenities are carefully placed within the vegetation—a mix of native plants and cacti, ideal for El Pescadero's arid desert climate and fluctuating temperatures. Each walk "is specifically calibrated to connect guests to the regional contexts in which El Perdido is located," Fernández adds.
Courtesy Iwan Baan
Finally, guests can enjoy panoramic views from the observatory. Originally, guest villas were intended to be two-story, but to keep the architecture quiet and as unobtrusive as possible, a separate spiraling observation platform was built with views from the agricultural valley to the mountains and the ocean. "El Perdido is a full experience—an architecture that blends with the surroundings. It is all about engagement with the context. It is about options: being with people, with yourself, visiting the area, and understanding the culture. To give and not to take," she concludes.
Would you like to comment on this article? Send your thoughts to: [email protected]