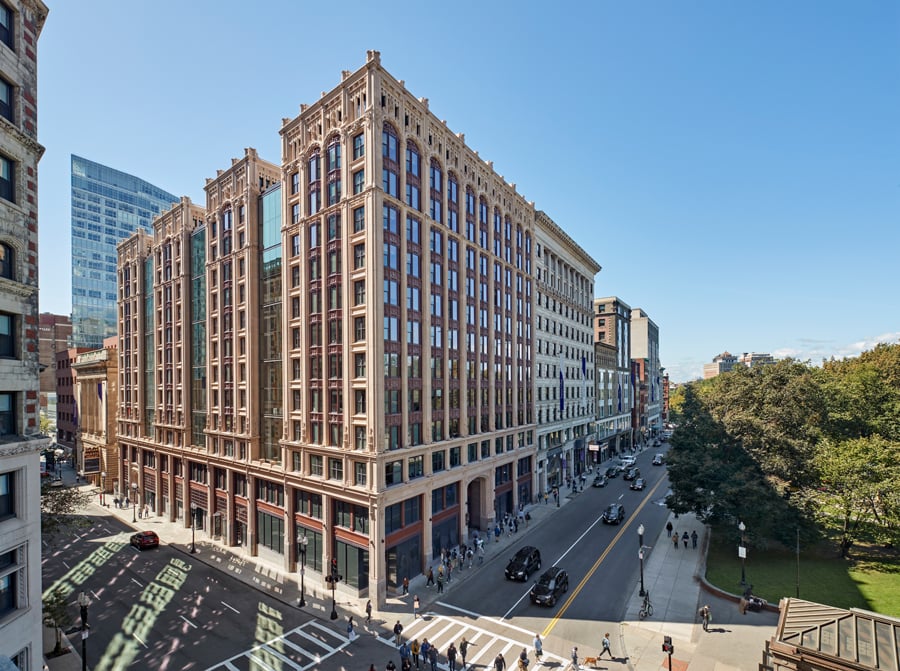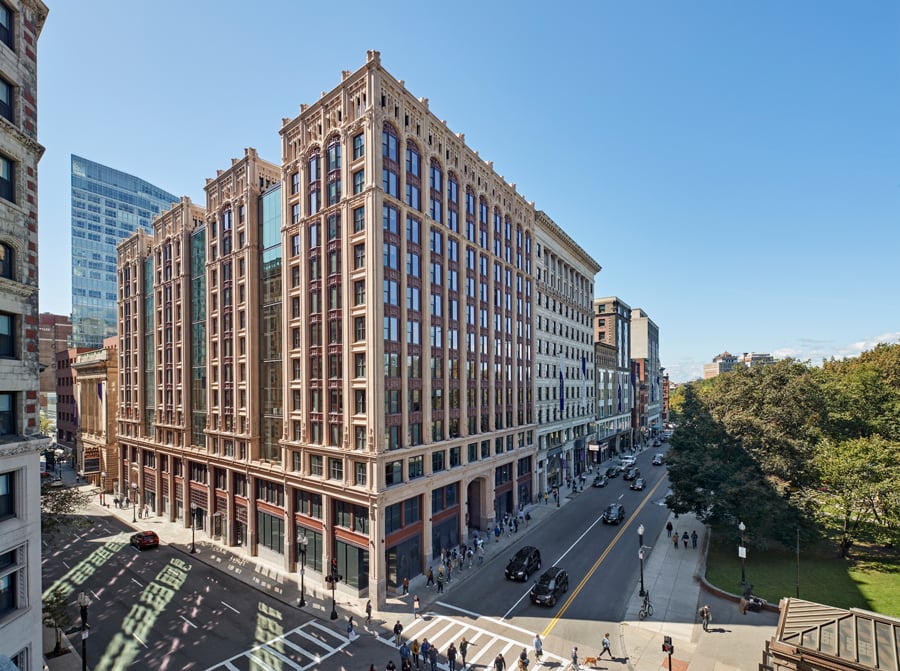 March 19, 2020
Elkus Manfredi Architects' Glass Insertions Restore and Update Emerson College's Little Building
The Boston firm uses glazing between the iconic finger-like towers to add contemporary style as well as critical space for students.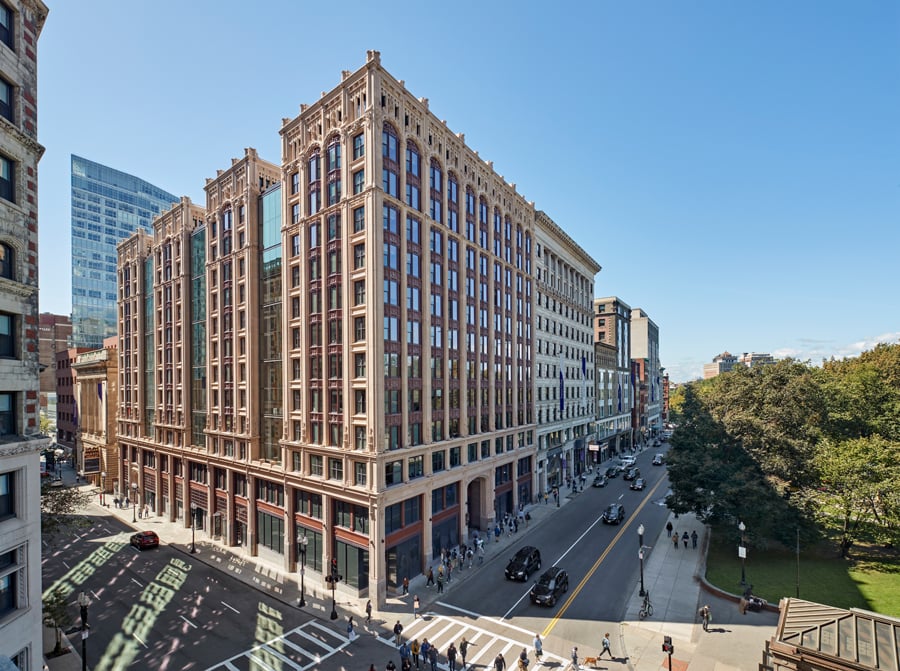 How can a facade simultaneously reflect cutting-edge academics and the 100-plus-years history of building that contains the programs? For Elkus Manfredi Architects, the firm that recently completed a comprehensive restoration of Emerson College's residential hall, overlooking Boston Common across from the iconic golden-domed Massachusetts State House, the key is to strike a balance between Emerson's character and the venerable landmarks which surround it.
Nestled in Boston's historic theater district, the performing arts and communications school "always presents us with challenges," says Ross Cameron, lead architect at Elkus Manfredi, adding that they're "the type of challenges we love to take on."
Originally designed by Clarence Blackall and named for real estate investor John Mason Little, the building was constructed in 1917 as an early experiment in mixed-use development. Designed to hold retail and office spaces, and has served as Emerson's main hub since it moved to the theater district in the 1980s. Its Modern Gothic design—innovative for the early 20th century—featured four towers, finger-like volumes, with ornate details on building's Tremont street-facing elevation.
---
More from Metropolis
---
Over the years, those elements had deteriorated. "It was in pretty rough shape. We had been monitoring the facade for more than a decade," says Cameron, who joined Elkus Manfredi in 2005, leading restoration of Emerson's Art Deco Paramount Theater.
In 2015, when the Boston Planning and Redevelopment Agency approved Emerson's amended Master Plan, Cameron's team turned their attention to the Little Building. They restored the facade, they transformed existing common spaces into dormitory bedrooms and added a 13th floor behind the roof's parapet. But their main gesture was to insert three two-story, glass-walled common areas between the four finger-like towers. The contrast—long, slender expanses of glass between the concrete volumes—seems to mark a marriage of the school's historic past and progressive future.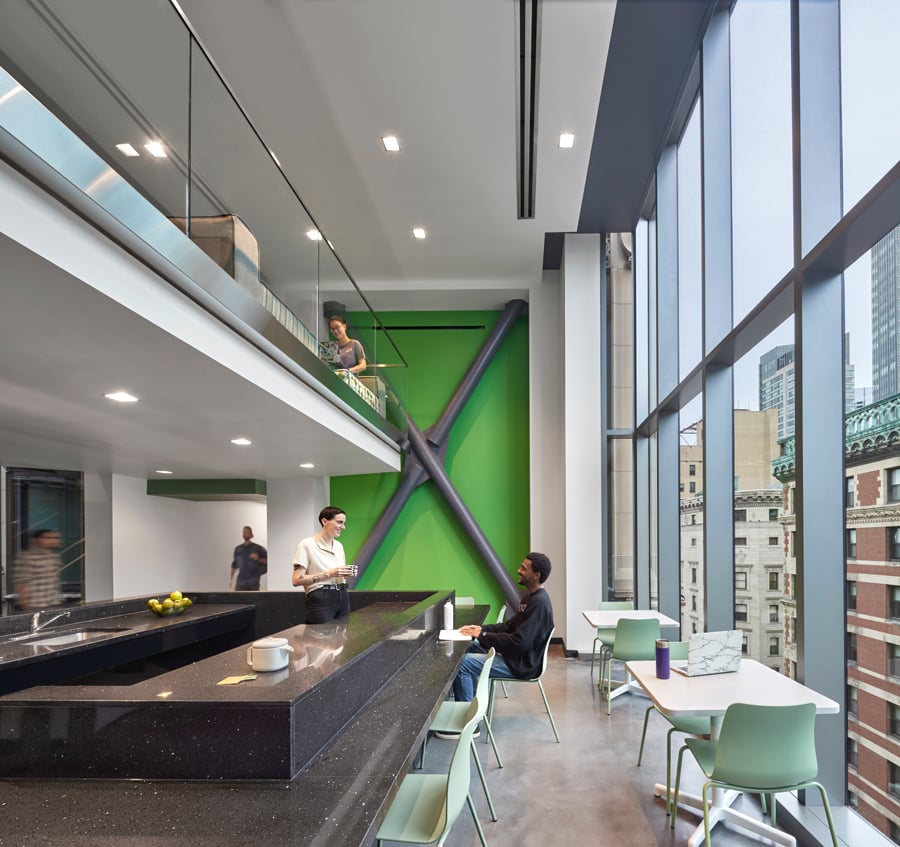 In all, Elkus Manfredi created more than 27,000 square feet of usable space and expanded the building's bed count from 750 to 1,035. The work on the facade was particularly intriguing. Collaborating with Autodesk Technology Center—Elkus Manfredi's neighbor in Boston's Seaport District—the team performed a digital laser scan on the entire facade. They then converted the scans into 3D models. Once perfected, these digital models were sent to Breton Prefabrique in Montreal, which reproduced the decorative elements in an engineered concrete polymer that provided three times the tensile strength and weighed half as much as the original facade. Cameron's team preserved the original building envelope and foundation, both for aesthetics and for the carbon savings. "Everyone at Emerson loves this building," he says. "We were pleased that we could give it a new lease on life."
You may also enjoy "At Columbia College Chicago, Gensler Turns the Atrium Building Inside Out"
Would you like to comment on this article? Send your thoughts to: [email protected]