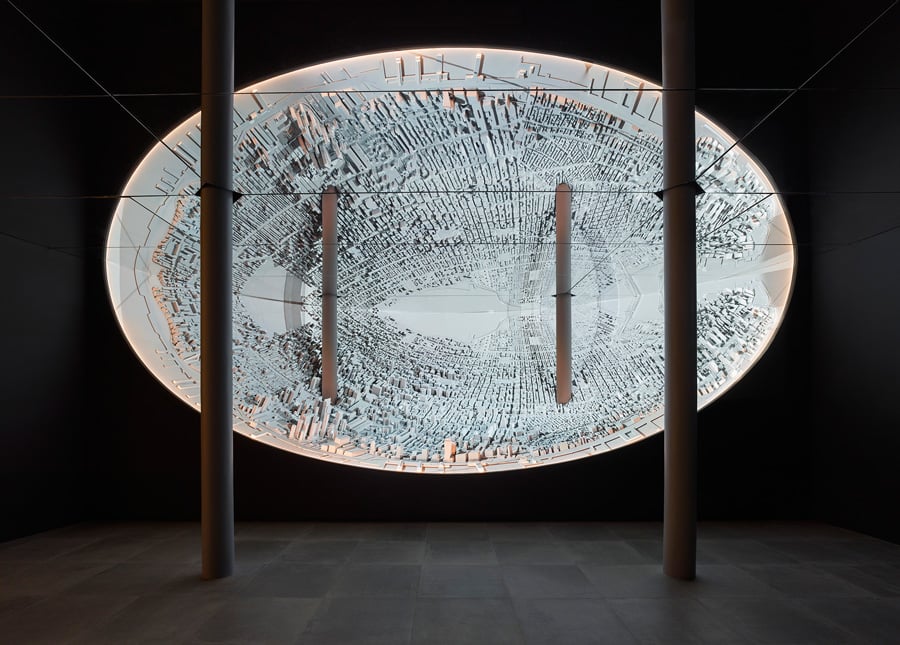 April 24, 2018
Famed Set Designer Puts Artsy Gloss on BIG's New Chelsea Towers
Es Devlin, the multi-disciplinary artist renowned for her stage designs for Kanye West, U2, and Beyoncé, has teamed up with Bjarke Ingels for a special installation in advance of his new mixed-use project in Manhattan.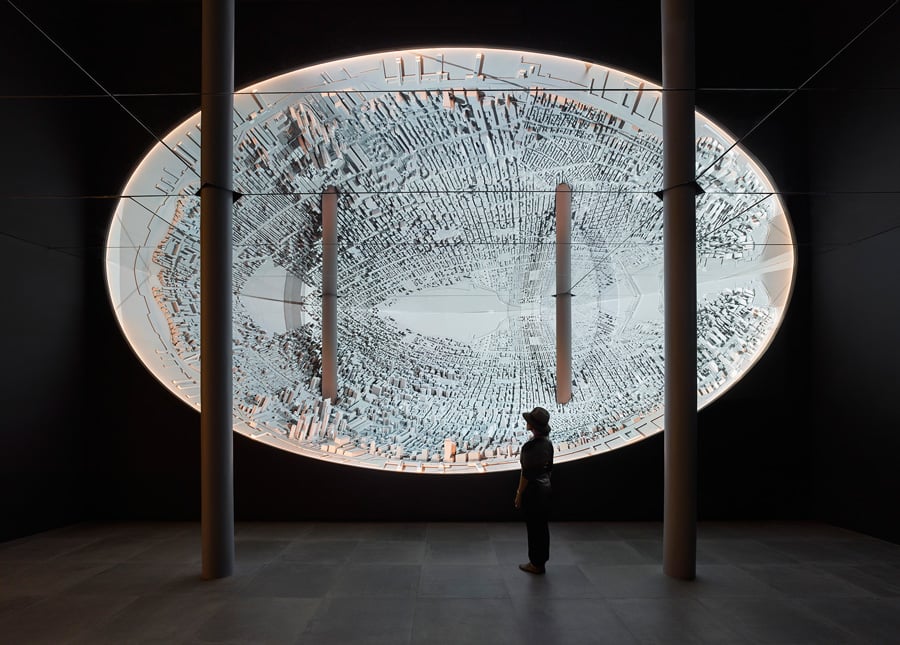 ---
Designer Es Devlin has a keen talent for translating an abstract concept into a larger-than-life production. Very often, that feat is literal: For a lakeside staging of Carmen in Bergenz, Austria, she fashioned a fantastical proscenium out of two 80-foot hands seductively scattering a deck of cards. For Kanye West's epically proportioned Yeezus tour, she erected Mount Yeezus, whose towering summit only rivaled West's ego.
Recently, Devlin has partnered with a star of a different kind—the Danish architect Bjarke Ingels of the firm BIG. Today in New York, the multidisciplinary British artist unveiled Series XI, a three-part installation created in response to Ingels's latest project, a pair of torquing mixed-use towers in Manhattan.
"I am an outsider in this world," Devlin admits. "I don't know architecture, I don't know the rules of developing land into architecture. But what I learned is that these objects that we're presenting today have to be tools, they have to help you see things that are yet to be visible."
---
More from Metropolis
---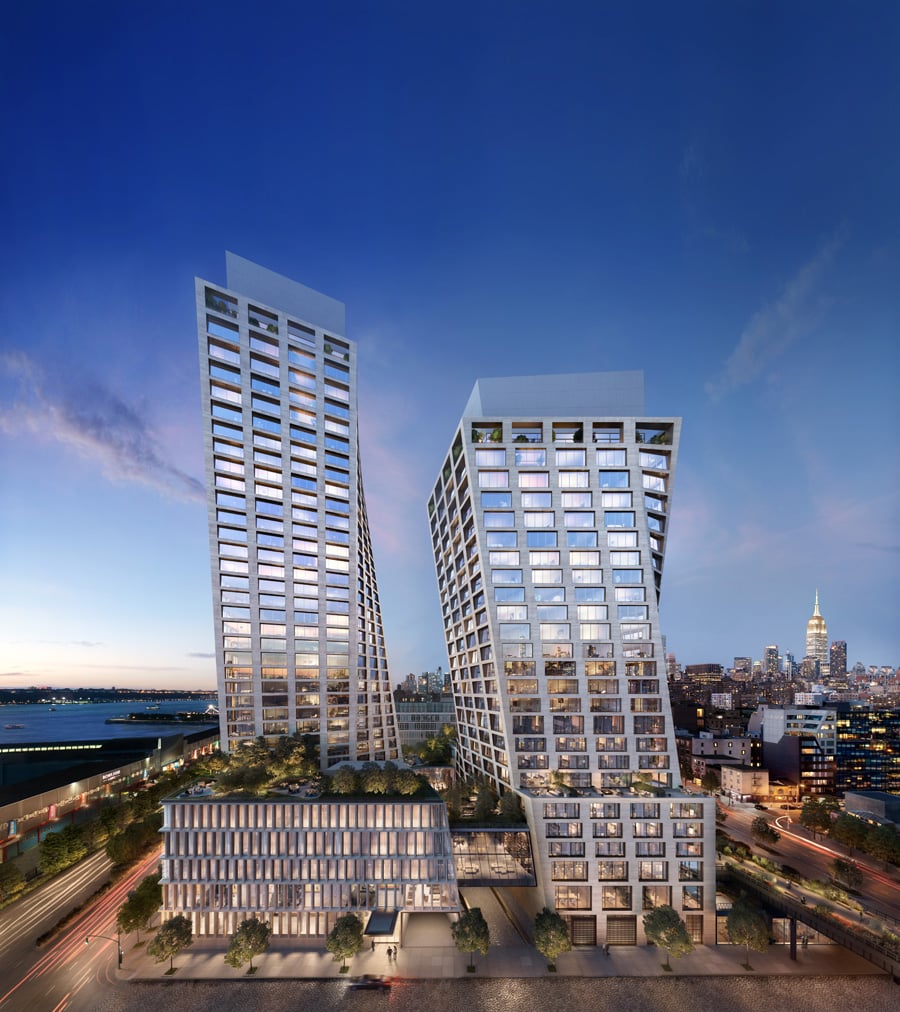 ---
In the case of Series XI, Devlin sought to lend clarity to the ideas underscoring BIG's project, the XI (pronounced "the Eleventh"), which, when completed in 2019, will be the tallest building in the West Chelsea neighborhood. To drum up interest, the project's developer, HFZ Capital Group, created a purpose-built art gallery a few blocks south of the building site, and tapped Devlin for the installation.
Devlin started with the visual materials that developers employ when promoting their projects, such as models, films, brochures—"all really weird things," Devlin tells Metropolis. 
For the installation, she took those tropes and reconceived of them as a sort of developer triptych. The archetypal urban-scale model in Devlin's universe became a work she calls Egg, a large-scale, semi-circular diorama of Manhattan inset into the gallery wall, doubled through ceiling mirrors. Light projections—a Devlin signature—traverse the city's grid.
"I wanted to present it as a world," she says. From Egg it's clear that this is a world in which BIG is literally the center: The XI will be one bead on a string of major BIG projects along Manhattan's west edge, which include the ziggurat-like Spiral in Hudson Yards and the pyramidal Via 57 West in Hell's Kitchen.
The second work is a film in an infinity-mirrored, horseshoe-shaped space—a stand-in for the typical real estate promotional film. In it, Ingels appears, surrounded by torquing travertine marble volumes and chunks of raw bronze, as he explains the logic behind the twisting towers meant to maximize views. Devlin's final work, located in a light-filled double-height gallery, is the most straightforward: an architectural model of the XI, spinning on a pedestal in the midst of an elevated reflecting pool.
In some ways, Devlin's work is equal parts installation and crystal ball. According to Ingels, such an exhibition has the potential to shape how his building might be accepted by the surrounding neighborhood and the city at large.
"Once the building is built, it is like a public artwork, and everyone has an opinion about it," he says. "What Es has tended to do is almost preemptively instill some of the myths or interpretations that will eventually happen once the building is built, and bring it to life."
You might also like, "Li Edelkoort is Teaming up with Eileen Fisher to Change How The World Uses Textiles."