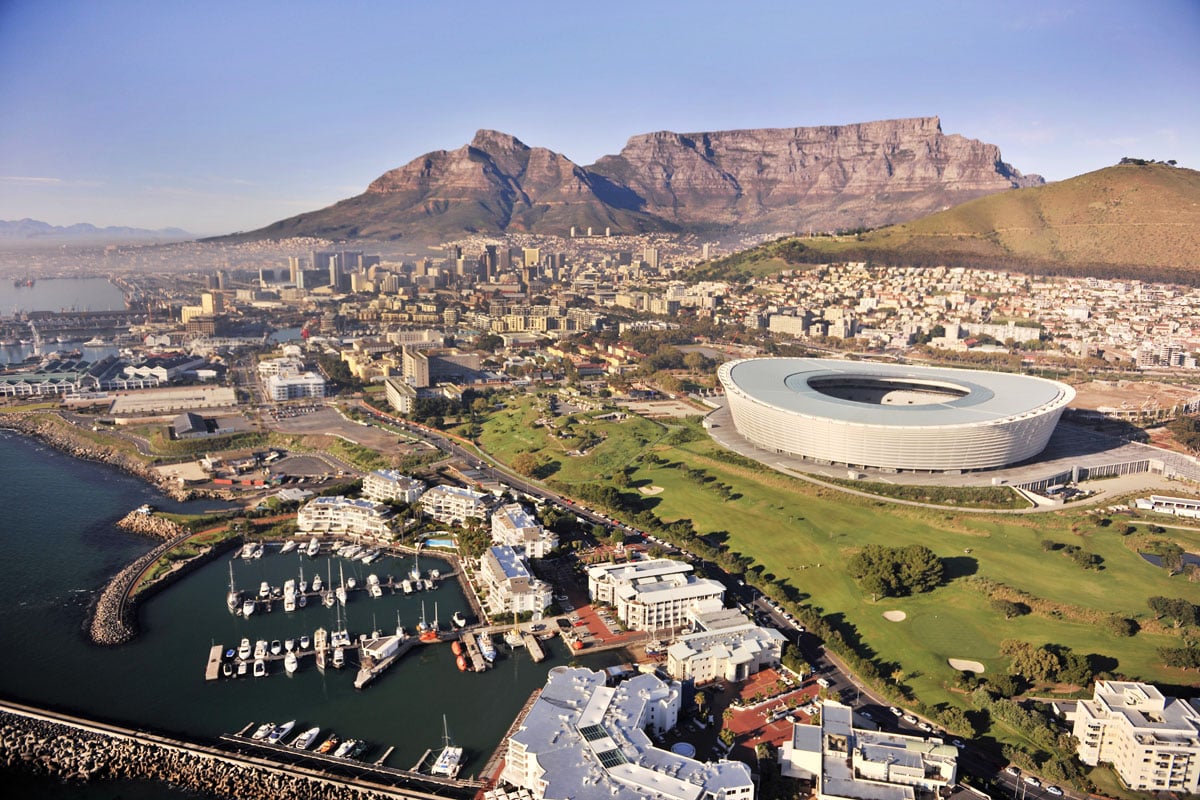 July 15, 2014
All Eyes on Cape Town: A New Design Destination for South Africa and the World
This year's World Design Capital—the first in Africa— is bursting with energy, creativity, and reinvention.
Cape Town Stadium, built in time for the 2010 FIFA World Cup, is a proud symbol of the last time the city had the world's attention.
Courtesy Bruce Sutherland
Alayne Reesberg's challenge for Cape Town is to show how design works in the service of citizens. "When you hear the word 'design,' you often think about expensive things or haute couture," says the CEO of Cape Town's year as World Design Capital 2014 (WDC2014). "It turns out that it's not so much about the pretty things and more about the gritty things: hard waste, sewage, infrastructure, how people get to work. It's a different way of telling the Cape Town design story." The aim of this World Design Capital program—the theme is "Live Design. Transform Life."— isn't as much about attracting tourists as it is about having a new vision for sustainable African cities.
---
More from Metropolis
---
WDC2014 has been spotlighting more than 460 initiatives (from a new museum by Thomas Heatherwick to Bicycle Cape Town, a community platform for urban cycling) with many new collaborations that will go beyond 2014. "We have four themes about beautiful things such as urban spaces, architecture, food and wine, and the natural beauty of Cape Town," says Reesberg. "The others are around technology and innovations in the medical and software field. And we're putting reconciliation very firmly back on the agenda. It's not just the sociopolitical and deeply personal reconciliation, but also looking at how Cape Town was planned. which often had the consequence of keeping neighborhoods apart." We've highlighted a number of the design initiatives and places to visit, and selected some talented designers whom we think show promise. As South Africa celebrates 20 years of democracy this year, its burgeoning design community—and Cape Town itself—is ready to take its turn in the global spotlight.
Continue to the next page to see all the best design Cape Town has to offer.
Courtesy Heatherwick Studio
During the kickoff week for WDC2014 in February, the media buzz was around Thomas Heatherwick's ambitious plans for converting a massive and historic grain silo on the city's Victoria & Albert waterfront into the Zeitz Museum of Contemporary Art Africa (Zeitz MOCAA). It will be the first major museum of contemporary African art on the continent—and Heatherwick's first building in Africa. "How do you turn forty-two vertical concrete tubes into a place to experience contemporary culture?" Heatherwick asks. "Rather than strip out the evidence of the building's industrial heritage, we wanted to find a way to celebrate it. We could either fight a building made of concrete tubes, or enjoy its tubeness." Zeitz MOCAA will include 80 galleries, education rooms, a restaurant, a coffee shop, bookstores, and a rooftop sculpture garden with spectacular views of Cape Town. The museum is scheduled to open in 2016.
---
Courtesy David Harrison
The design competition is a part of the Western Cape Government's 110% Green initiative, which focuses on green-economy solutions for the poor. Due to population growth, the city is currently experiencing a housing shortage that far outstrips the government's capacity to provide new homes. Interim solutions are needed. The Better Living Challenge calls for sustainable, affordable home-improvement solutions for low-income households. (The winter floods in the informal settlements of Khayelitsha, shown here, are clearly in need of a design solution.) Winners will receive almost $50,000 in prize and development money. "The challenge differs from the usual design contests," says Jenny Cargill, who leads 110% Green. "It encompasses innovative marketing to test consumer acceptance of the designs and products." The winners will be announced in December.
---
---
Courtesy Paul Makovsky
To reduce crime in the sprawling suburb of Khayelitsha—a township with roughly one million inhabitants, about 18 miles from the center of Cape Town—city officials and the German Development Bank created the Violence Prevention Through Urban Upgrading (VPUU) program. Using detailed crime mapping and consultation with the community, four "safe nodes" were created with physical, social, and institutional improvements, such as enhanced streetscapes and recreational facilities, leading from the railway station to Harare Square—a vibrant area of houses, stores, trading stalls, and the Carnegie Corporation–funded Harare Public Library, designed by Charlotte Chamberlain and Nicola Irving Architects. While the city says its crime-prevention efforts are working—estimating that since the $55.6 million project began, crime is down 24 percent in Khayelitsha—some community activists remain skeptical of its long-term effectiveness.
The enhances streetscapes (above) and the new recreational facilities (below) created by the VPUU program
Photos courtesy Bruce Sutherland
Courtesy Design Indaba/Interactive Africa
The globally acclaimed creative cross-disciplinary experience has put Cape Town on the world map as an international hotbed of innovation. Established in 1995 by Ravi Naidoo, the annual gathering was inspired by a need to confront social issues, and driven by the idea of promoting design as an essential form of communication and a formidable tool for industry. The event includes a conference; simulcast (a live broadcast is screened in five locations in South Africa); trade show with more than 300 local exhibitors; film festival; and music fair; as well as a host of community initiatives, training workshops, design projects, and publications. This year the documentary Cutie and the Boxer premiered at the Design Indaba FilmFest at the Castle of Good Hope (above), in a spectacular outdoor setting for this one-night-only premiere.
---
---
Above and below courtesy Paul Makovsky
Once a lower-middle-class neighborhood of crumbling Victorian cottages just outside Cape Town's center, Woodstock is emerging as the city's new creative district. The revival started when two friends, Cameron Munro from Zimbabwe and Justin Rhodes from New York, started a weekly outdoor food market on the grounds of a derelict biscuit factory. Next, two of South Africa's biggest art-world galleries, Goodman Gallery and Stevenson, moved to the area. The more recent opening of the Woodstock Exchange (below), a collection of boutiques, workshops, and cafés all occupied by young entrepreneurs, has brought even more fashion, design, and art to the area. The mural Because the Sun Belongs to You is by the artist Guillaume Alby, who also goes by the name Remed. Bronze Age (above) is a local art foundry specializing in the casting of bronze sculpture.
Courtesy Woodstock Exchange
---
Courtesy Dook
Babylonstoren—a seventeenth-century Cape Dutch farm that is one of the region's oldest properties—is now a hotel, restaurant, and spa, about an hour's drive from Cape Town. Located in Drakensten Valley within the heart of South Africa's wine country, the estate—until a decade ago—was exclusively a fruit farm. Then former magazine editor Karen Roos transformed it into a 250-hectare working fruit farm and luxury hotel, where guests can enjoy the pleasure of picking their own food. An old cowshed has been converted into a milk-white restaurant, Babel (above and below), with a menu focused on the fruits and vegetables gathered daily from the garden and the region. Roos says, "We hope they'll enjoy the moun- tains as much as our team does, eat a simple fresh dish at the restaurant, enjoy a sun-downer [cocktail] of wine, slip in between sheets of crisp linen, and drift away."
Courtesy Africandy
"Too many people associate South African design with African curios," explains Van Niekerk, the founder of Africandy, a retail and online store that showcases contemporary design. "We want to change this misconception. Our store is as much an attempt to galvanize the current state of product design as it is a commercial venture. We're particularly interested in showing why our product design is different than its European or American counterparts." Africandy currently has a roster of 70 designers, from established names to emerging designers. Van Niekerk is particularly excited about the novel ways that young designers are combining craft and technology. "We would like to be part of this process and assist in the growth of the industry," he says.
---
Last May when four young designers—Lucie de Moyencourt, Charl Edwards, Kara Furter, and Renée Rossouw—started work on a WDC2014 project, they set out to address a social need. Out of that desire came Yenza, an organization dedicated to promoting makers and designers in the townships who don't necessarily have the means or the networking tools to promote themselves. "We don't act as a middleman, but rather we direct focus and attention on small businesses in the rural areas, hoping to steer business towards them and also start a real conversation on the entire scope of African design," Rossouw says. "Many of the township makers work within an economy of means, so their designs are very functional." The two unnamed pieces (above), debuted at this year's Design Indaba.
---
---
Courtesy Yenza
Debuting in February, the inaugural event was billed as "Africa's first design fair." Founded by Trevyn and Julian McGowan— leading proponents of African design through their Southern Guild and Design Network Africa platforms—the 11-day event (the Southern Guild booth is shown above) attracted more than 8,500 visitors. It brought together a unique selection of limited-edition design from five commercial galleries— among them Milan's Rossana Orlandi and New York's R & Company—as well as several cultural organizations, including London's V&A Museum and the British Council partnership project, Design Network Africa, and a joint project involving Southern Guild and the Danish Centre for Culture and Development. The McGowans plan on making the fair an annual event. Trevyn will also be curating Watershed, a new space for the V&A Waterfront's Blue Shed and Craft Market that is set to open in September.