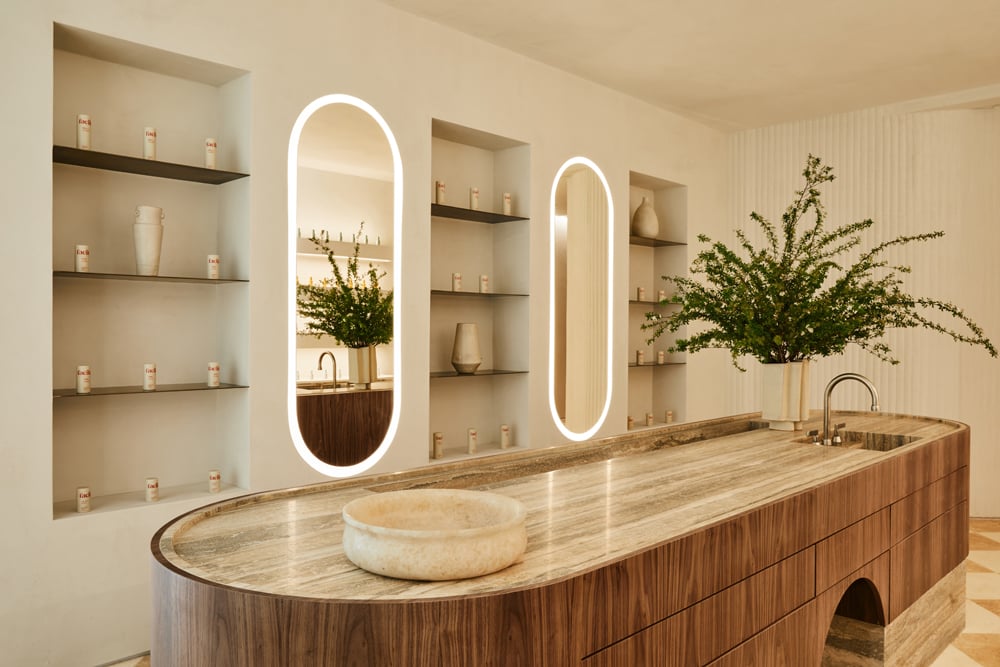 July 1, 2021
A Los Angeles Skincare Destination Grows Up
Studio Life/Style designs a mature flagship for Facile, a dermatological and facial spa on West Hollywood's famed Melrose Place.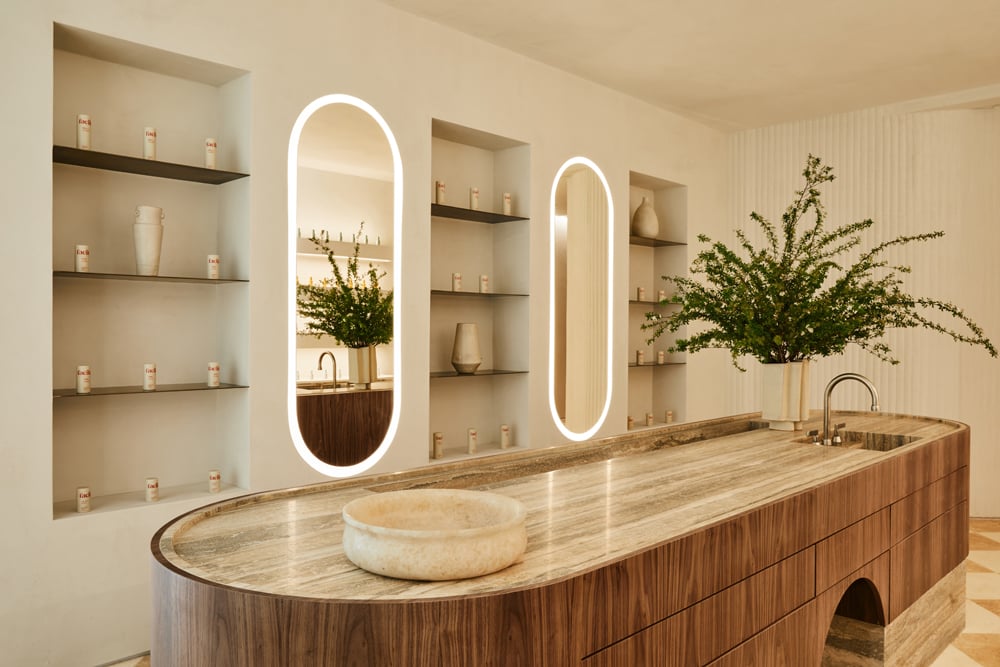 For a business that overtly and tacitly deals with questions of time and age, it's fitting that Facile needed to address its own evolution.
"We've grown over the years, and we wanted a space to represent that maturity," says Facile cofounder Danielle Nadick Levy, who launched the dermatology and facial services destination with Dr. Nancy Samolitis in 2016. Its first style-conscious presence was on Robertson Boulevard in West Hollywood in a complex where Studio Life/Style was both Facile's immediate neighbor and its interior designer. A second location in Pasadena followed in 2018.
The original graphics and youthful interior decor were in need of an update to better "represent the growth of the brand, and where we were at and where we're going," Nadick Levy says. When a two-story venue on the tony Melrose Place that had been the Frédéric Fekkai salon became available, they began to plot a move, working again with Studio Life/Style and Luxe Remodel contractors. While some treatments could continue at a much lower volume during the pandemic, Facile new's flagship is now ready to meet the sudden surging demand for aesthetician and dermatological services now that face-to-face interactions off screens are again becoming the norm.
---
More from Metropolis
---
"We wanted it to be really chic but also comfortable," says Brittany Zwickl, Studio Life/Style partner who founded the firm with Shannon Wollack. Given the reality of the market, "we didn't want it to be too overly feminine," since Facile's clientele isn't limited to women. It's no small feat to distinguish oneself in this competitive field in L.A., and also factor in other specific logistical needs, like celebrity discretion. (A complete rebrand and a Pasadena location refresh are still in the works.)
"The building itself is a little more traditional, so we looked at Celine and different stores in Europe that been able to put a little more of a modern twist" on older architectural settings, Zwickl notes. A visit to EN Salon in Paris was a key inspiration. Centuries-old subterranean stone walls and ceilings aren't an option in L.A., but features like integrated indirect lighting and barrel vaulted ceilings reflect this influence. Los Angeles and New York City-based Kamp Studios completed custom plaster work in most of the spaces.
Studio Life/Style had to establish four zones for the Melrose Place facility, which is almost twice the size of the now-shuttered Robertson Boulevard Facile. A retail boutique occupies the storefront at the ground level and gives Facile a notable street presence. Two aesthetician rooms are located at the rear of the first floor. The dermatology treatment rooms are situated upstairs, along with offices and a staff kitchen. Reeded plaster and wood surfaces, plus stone flooring and sumptuous travertine help "the space feel elevated and a little more 'old world,' if possible," Zwickl says. These luxurious, earthy materials and strategic lighting create a moody and relaxing atmosphere, but the upstairs treatment rooms are brightly lit when needed. Built-in seating in the waiting areas both up and downstairs efficiently uses tight square footage.
One clear aesthetic break—and fun opportunity for the design team—is the dramatic red downstairs bathroom, which is covered in square zellige tile from Clé in a deep red color. Amy Morgenstern of Kamp Studios matched the shade to coat the ceiling and an untiled wall in plaster in order to chromatically saturate the room. "In the end we all decided go all out," Zwickl observes. "It's a departure from the serene rest of the space."
After a highly unpredictable period, completing this project proved to be a deeply satisfying next step for Nadick Levy and crew. "I'm so grateful. To be here after that roller coaster is kind of surreal," she says.
You may also enjoy "Materiality in a Post-COVID-19 World"
Would you like to comment on this article? Send your thoughts to: [email protected]
---
Register here for Metropolis's Think Tank Thursdays and hear what leading firms across North America are thinking and working on today.