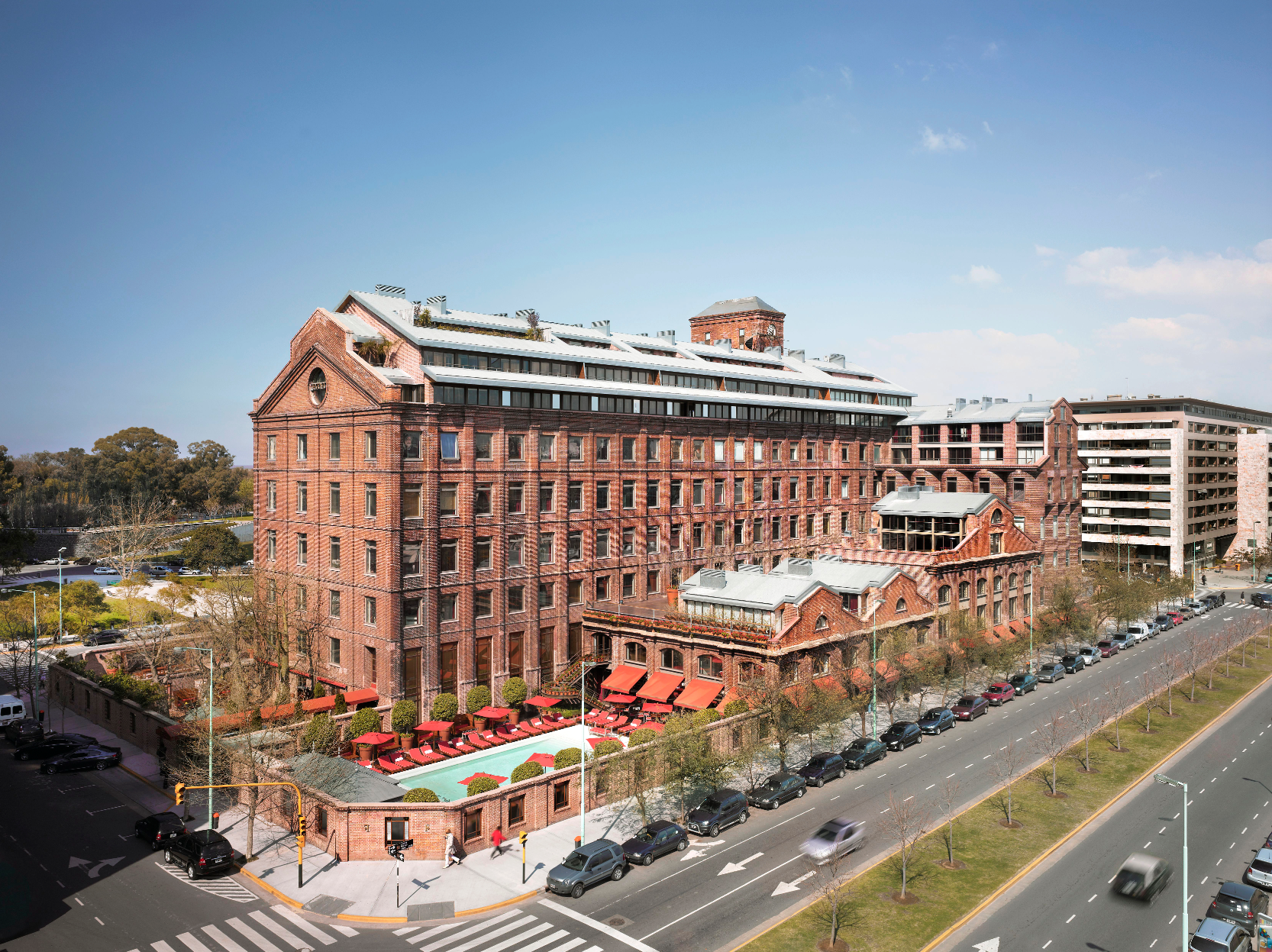 May 20, 2013
Will the Faena Arts Center Really Renew Miami?
Argentinean developer Alan Faena likes to add culture to his large and glitzy real estate ventures. Will it work in Miami?
Buenos Aires: The five-star Faena Hotel—with interior design by Philippe Starck—is part of a larger arts  and cultural district in Buenos Aires, developed by Alan Faena. The district includes the hotel (a former grain warehouse), an arts center located across the street, and a luxury apartment building.
Image courtesy Faena Group
---
More from Metropolis
---
In late March, it was announced that the plan for a performing arts venue at New York City's new World Trade Center complex was being trimmed back for the fourth time in the last decade. The venue, designed by Frank Gehry, has seen one organizational partner after another drop out, while its program, size, and even its name have been changed in response to political and budgetary pressures. An unspecified arts complex, originally billed as an "International Freedom Center" devoted to human rights, is now struggling to raise funds—and this in a city where other major artistic institutions have been undertaking expansion plans of their own, several of them also in tandem with large-scale private developments.
In New York City and elsewhere, theaters, museums, and event spaces have increasingly become recurring ingredients in mixed-use residential and office projects. As a sweetener to prospective tenants, as a sop to city-planning officials, or simply as a PR gesture, developers have been using cultural programming as a tool to turn otherwise prosaic or even forbidding commercial ensembles into bustling urban hubs. The phenomenon is hardly new: One can reach at least as far back as Rockefeller Center's Radio City Music Hall to find a precedent for cultural capital being deployed in the service of raising property values. But now the trend seems to be taking a new, very global tack.
Leading the charge is Argentinean developer Alan Faena. Born and raised in Buenos Aires, Faena did not begin his career in real estate: As the scion of a prominent textile family, Faena started out in the fashion world, establishing a successful label of his own, Via Vai, in the 1980s, and managing it for more than a decade. It was only in the early 2000s that the now 48-year-old Faena struck upon the idea of going into development, when he began buying lots in the long-neglected Puerto Madera section of his hometown.
"I felt I wanted to give my city a gift," Faena says, "an international hub for arts and culture, for the best architects and talented minds to push the limits and work towards redefining the way we live." Forging a partnership with designer Philippe Starck, the newly minted developer began the process of converting the former industrial zone into a thriving neighborhood, the Faena District, replete with a hotel, nightlife venues, a suite of residential buildings­—­including a nine-story apartment block by architecture firm Foster + Partners—and an airy arts space lodged in a former flour mill.
Buenos Aires: The Faena Suite, designed by Starck.
Image courtesy Faena Group
According to Faena, the combination of private and public uses has been key to the popularity of the project. "We had tremendous success in developing the Puerto Madero district," he says, turning the area from "an abandoned stretch of property into one of the most valuable pieces of real estate in Buenos Aires." The effect on the local arts community has been no less profound, according to artist Manuel Ameztoy, who exhibited a site-specific installation in the district's exhibition hall last year. The area's new cultural venue "enriches the artistic life of our city," he says, "and opens an international window that makes Argentinean art more visible around the world."
Buenos Aires: For the Faena Arts Center, the artist Manuel Ameztoy created a site-specific piece entitled Pop-Up Paradise, a 2,066-square-foot installation made of cut and non-woven fabrics. Since opening in 2011, the center (once a flour mill) has successfully promoted Argentinean artists.
Image courtesy Faena Group
So successful, in fact, was Faena's Buenos Aires enterprise that he is now taking his show on the road. In Miami Beach, the Argentine entrepreneur has embarked on the $550 million redevelopment of a set of adjacent lots centered on the historic Saxony Hotel. The first of Miami Beach's great luxury resorts, the 55-year-old Saxony will be re-dubbed Faena Hotel and receive a thorough face-lift inside and out from New York City–based design firm Roman and Williams. Right next to it, in the Mid-Beach neighborhood, a vacant property will become Faena House, a 62,000-square-foot, 19-floor residential tower, again from Foster + Partners. And just as in Buenos Aires, the development will include as its main attraction a large cultural component, the Faena Arts Center, in a bid to lure the arty verve that's taken hold elsewhere in Miami to this somewhat moribund stretch of Mid-Beach.
Miami, Florida: Completed in 1948, the original Saxony Hotel was one of the first luxury resorts on Miami Beach. Below: a site plan for the new development. The old hotel (building 4) will be restored by Roman and Williams. Buildings 1, 2, and 3 will be designed by OMA.
Archive Saxony Hotel image, Bettmann/Corbis
"It was a very smart move to pick that site," says Terence Riley, former director of the Miami Art Museum and a prominent architect in the city. The new Faena District and its arts center, he notes, will be a natural part of the Miami Beach cultural scene that's sprung up since the arrival of the annual Art Basel Miami art fair in 2002. Riley also observes that other Miami developers have been including cultural venues in their projects, a signal that the city is moving away from its superficial sun-and-fun image to something more substantive. "The town is attracting a higher profile, more sophisticated clientele," Riley says. "Even developers with waterfront property now recognize that just having a great view isn't working anymore."
To design an arts complex that would help make his development stand out, Faena turned to the New York branch of Office of Metropolitan Architecture (OMA), headed by Shohei Shigematsu. The structure that emerged from the firm's design process is, like the development as a whole, a bit of a mixture, appearing from the exterior as two large volumes, cylinder and cube, reflecting its dual function as a public venue and an artist-in-residence center. It's a formal solution that bears the direct imprimatur of Faena himself, who worked closely with the designers from the outset. "Alan is the decision maker," Shigematsu says. "He just said yes, no, yes, no, and we came to this shape in like the second week." (OMA's brief also includes a high-tech parking structure to the north of the arts building. It will join others by Zaha Hadid and Herzog & de Meuron, in Miami's growing portfolio of starchitect-designed garages.)
Faena Arts Center, OMA: The Arts Center—the cylindrical structure on the left—will anchor a trio of cultural buildings designed by the New York office of OMA.
Image courtesy Faena Group
Faena's prominent role in designing the Arts Center clearly illustrates his commitment to culture as a catalyst for urban renewal—"Culture is at the heart of all of our projects," he says, "it is simply where we come from"—yet the Mid-Beach development is also very much a commercial one. Unlike in Buenos Aires, where Foster + Partners directed the master plan for the overall district, the Miami project has proceeded in a more catch-as-catch-can fashion, with the developer acquiring the ocean-facing lots for the hotel and residential buildings first and then adding the additional property for the arts center (across Collins Avenue, backing up against Indian Creek) in a subsequent deal. In Faena's view, both the Argentinean project and the new initiative in Miami feature "culture as an anchor." But in Mid-Beach, culture does seem, if not exactly an afterthought, then at least a kind of add-on.
What it's adding onto, chiefly, is the extraordinarily deluxe condominium apartments of the Foster-designed Faena House. There, the rooftop penthouse with sweeping views of the Atlantic Ocean is reported to be on offer for an astounding $50 million. Foster + Partners' Brandon Haw, who is overseeing the tower project, says that the residential design, like the Arts Center, was the product of direct conversations with Faena. "We were talking about the lifestyle of living on a beach," Haw says. In particular, it was Faena's own beach lifestyle the architects had in mind, as they'd observed it on visits to the developer's oceanfront home in Argentina's Punto del Este. At the new Faena House, "Each room sort of has its own portion of the balcony," explains Haw, "and you can circulate via the balconies from each room of the apartment." The Foster team subjected its post-tension concrete structure to extensive wind-tunnel testing, ensuring that the wrap-around verandas took the best possible advantage of the balmy sea breezes. "It's a project that's highly technological," Haw says, "but at the same time it's a continuation of the layering of architectural styles in Miami Beach."
Faena House, Foster + Partners: The luxury condominium will include a rooftop penthouse that is reported to be on offer for $50 million.
Image courtesy Faena Group
Emblematic of Miami Beach's architectural heritage is the other prime commercial element of the ensemble, the Faena (née Saxony) Hotel. Originally designed by local architect Roy F. France, the building—a slightly jazzy specimen of mid-century modernism—is poised to get back a bit of its lost jet-age glamour, in keeping with Roman and Williams's modus operandi in other hotel renovations, such as Manhattan's Ace Hotel. Preserving and restoring the old structure will no doubt help make Faena's new city-within-a-city feel a legitimate part of its urban context; intriguingly, the old hotel is also essential to the cultural side of the development. In a peculiar twist of local city planning ordinances, the Arts Center is technically not zoned as an events space of its own but simply as an annex of the hotel. "Its official name is Saxony South, because it functions as a ballroom," says OMA's Shigematsu. "None of us really like that name." Unquestion-ably, "ballroom" doesn't quite have the same ring, or the prospective cachet, as "Arts Center."
And cachet, after all, is what Faena's strategy is all about. What makes his approach unique is the worldwide scale on which the developer appears to be operating. Faena says he hopes the Miami project will be "an international nexus for culture and leisure." Not only that, but he sees his brand of culture-and-commerce urbanism as replicable and exportable. "It's a model that can be applied to other cities around the world," he says, "keeping in mind that every city has its own terroir and the project must be city-specific." If it proves as successful in America as it did in Argentina, Miami's Faena District could make its creator the world's foremost supplier of ready-made, sophisticated city living.
Yet the story of the World Trade Center project might give him pause. It raises the question: Where will the audience and patrons for Faena's special exhibitions, dance companies, and movie screenings come from, if not from the crowds attending other, existing institutions in Miami? Beth Dunlop, for many years the Miami Herald's architecture critic, is skeptical that Faena's new venue can have the impact he's envisioning. "There's already so much going on here that you don't have time to do it all," she says. "What kind of culture is he [Faena] adding to Miami? What's he bringing?" The city, Dunlop notes, has world-class venues for theater, dance, and art. One can't help but wonder whether, in crowded cultural marketplaces such as Miami and Manhattan, the culture-and-commerce model of development may prove more effective in giving developers a quick burst of good publicity than in making lasting contributions to the city's cultural life. For his part, however, Alan Faena remains undaunted. He even says he'd love to try his luck in New York City.
Buenos Aires: For an exhibition last year at the Faena Arts Center, the Cuba art collective Los Carpinteros created Avión, a Piper Comanche B pierced with arrows.
Image courtesy Faena Group