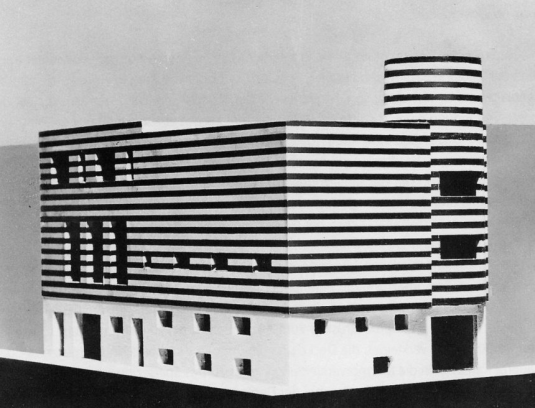 April 27, 2013
Famous Unbuilt Buildings by Koolhaas, Loos, and Chernikov
Looking at the vast cities of the never built
Any kid with an architectural bent—and many a grown designer—has dreamed up elaborate and maybe-crazy buildings, made from materials that don't exist with anti-gravity properties that make soaring heights a cinch. And while it's not to say that some pretty extraordinary (La Sagrada Familia) and experimental (Fonthill) buildings don't get built, vast cities of the never built remain in our collective unconscious. Dreams aside, there are plenty of examples of interesting buildings that got to the sketch or model stage from some well-known architects, but were never constructed (see some dramatically interesting examples from Los Angeles history in City of Angels examples in this month's story, "Dreams Unfulfilled.") Seeing what they didn't build can give us (almost) as much insight into these architects' work and method as those that were. First up, Smithsonian magazine's feature about Rem Koolhaas and OMA's residential high-rise that was designed for 23 East 22nd St. in Manhattan (near Madison Park and the Metropolis office), which was never realized (topmost image). This design, completed in 2008, wasn't built due to the recession, but it's a fascinating look at what might be constructed on a plot just 33 feet wide. According to OMA's site , "…the tower above had to respond to a number of complex demands: in addition to the zoning law and neighbors, it had to avoid blocking the view of One Madison Park, its 60-story neighbor to the north. Using the complexity — even strangeness — of the site, unusual qualities were introduced to the apartments: irregular ceiling heights, views around the tower to the north, and overhangs with windows to the city below."
Knibb Design's excellent coverage of possibly one of the most famous unbuilts ever, early modernist Adolf Loos' home for 22-year-old ex-pat jazz singer Josephine Baker, is nothing short of fascinating. Loos met Baker in Paris and named her his muse, and called the dream home he created in her honor, "La Bakaire." But as successful as she was (and as adoring as he was) the real world still does exist: "How in her youth, even as a sensation, she'd be able to afford a palace clad in black and white marble, split into three levels with spiraling staircases, a cylindrical tower, and an interior second floor pool is a mystery. Baker's response to either the design or designer is unknown." Scroll down in the Knibb post to check out Loos' other famous never-constructed design, a giant Doric column of a building for the Chicago Tribune.
---
More from Metropolis
---
FastCoDesign's gathering of Soviet constructivist models is an exercise in fun as well as the design of the 1920's, when Constructivism flourished. The model building came about as a university assignment, but it gives us a glimpse at buildings that had (mostly) only previously been seen in hand-drawn renderings,"Fifth years at University of Western Australia's School of Architecture were tasked with creating models of the movement's touchstone buildings in a history and criticism course offered by professor Charles Mann back in 2010. Mann asked his students to pick a building, and build a scale model to accompany a written investigation of its conceptual underpinnings." The model pictured above is from a single illustration in Yakov Chernikov's 101 Architectural Fantasies (you can see the original colorful and dynamic drawing for the building here.