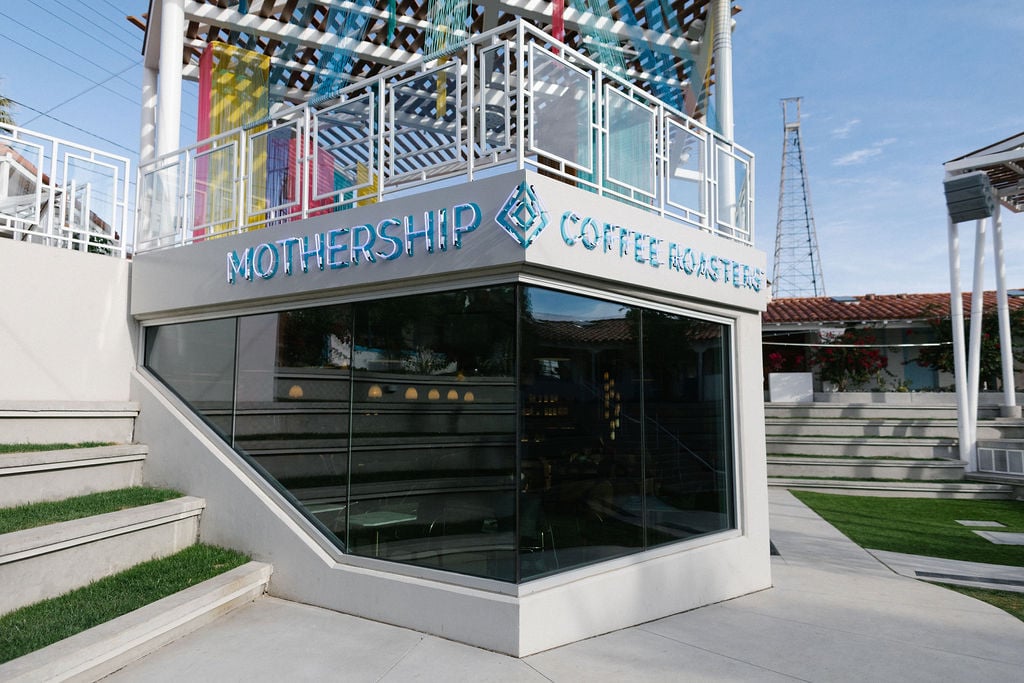 April 2, 2020
A 1940s-Era Motel in Vegas Offers a Lesson in Historic Preservation and Human Resilience
Former motel, Fergusons Downtown, has been transformed into a retail and community hub boasting shops, event spaces, and restaurants. But how can a community stay intact in times of social distancing?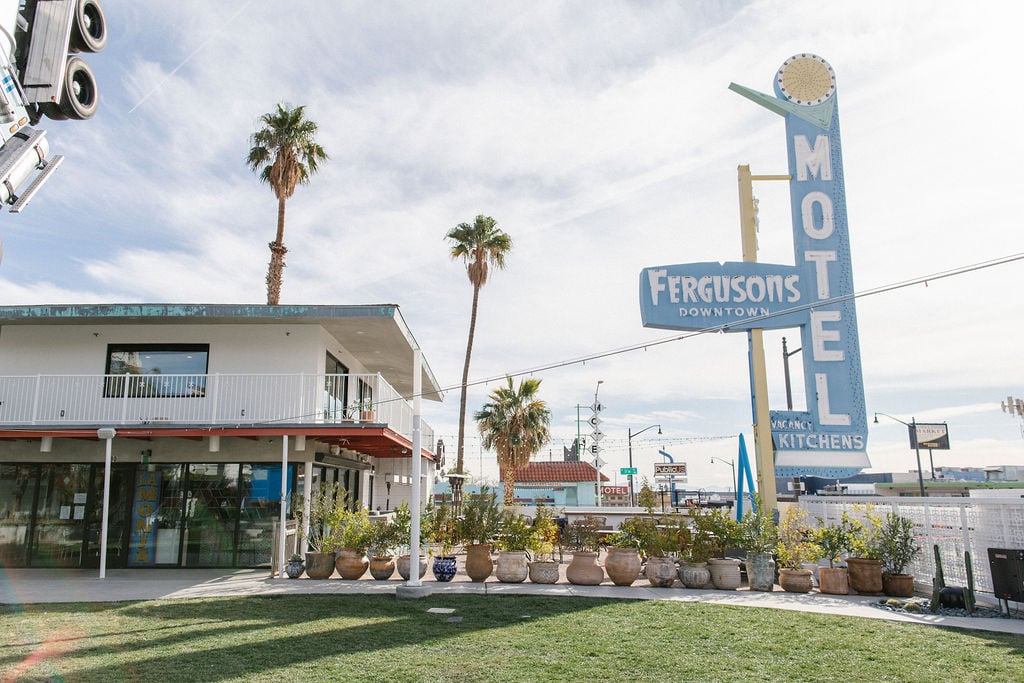 Away from the usually throbbing Las Vegas Strip, where COVID-19 has caused casinos to close and the Fountains of Bellagio to stop dancing, there lies Fergusons Downtown, a 1940s-era motel turned retail and community space. In its own significant way, Fergusons tells a story of historic preservation in one of the country's newest cities—as well as a story of human resilience in the age of a pandemic. 
First opened as the family-owned Franklin Motel, the traditional, U-shaped building changed hands to the Fergusons family in the 1960s. "The way that we went about revitalizing and building our business model and connectivity is embracing that family mentality and model, just at a bigger scale," says co-founder and creative strategist Jen Taler, who launched Fergusons Downtown in December 2019, six years after business partner Tony Hsieh purchased the property.    
Complete with local makers' shops, restaurants, and a robust events program, Fergusons Downtown dubs itself a "city block rooted in community." But how do you sustain a community in a time of social distancing? "Our goals currently are: how do we create this experience digitally, but in a very mindful, sensitive way, also knowing that there are billions of people without jobs right now?" says Taler.  
---
More from Metropolis
---
The Fergusons team has a lot of ideas, but for now, the biggest adjustment can be found in 'Market in the Alley', an event Fergusons has been running for three years, in a back alley across the street. Since the closure of non-essential businesses in Vegas, the monthly event has become 'Virtual Market in the Alley', taking over social media with the likes of online sales, talks, musical performances, and guided meditations.  
Taler's efforts to preserve the community spirit fall right in line with her desire to preserve as much of the motel's original architecture as possible. "Vegas is relatively still a young city, so we don't really have as many old buildings or traditional, old downtown models that you can start building into," she explains. "Preserving as much as we could was very important."  
Working with local firms MOSER architecture studio and Bunnyfish, Taler preserved the U-shaped motel structure, along with 95% of the building's bones. For the color palette—a blend of pastel blue, yellow and pink that is most prominent in the refurbished bathrooms—the team drew inspiration from the original Fergusons Motel marquee, still in use today. "One of the things with the design was to not get myself pigeon-holed into a whole entire recreation of this building of the 1940s or the 1960s," says Taler, who focused on distilling, rather than replicating, the spirit of midcentury design.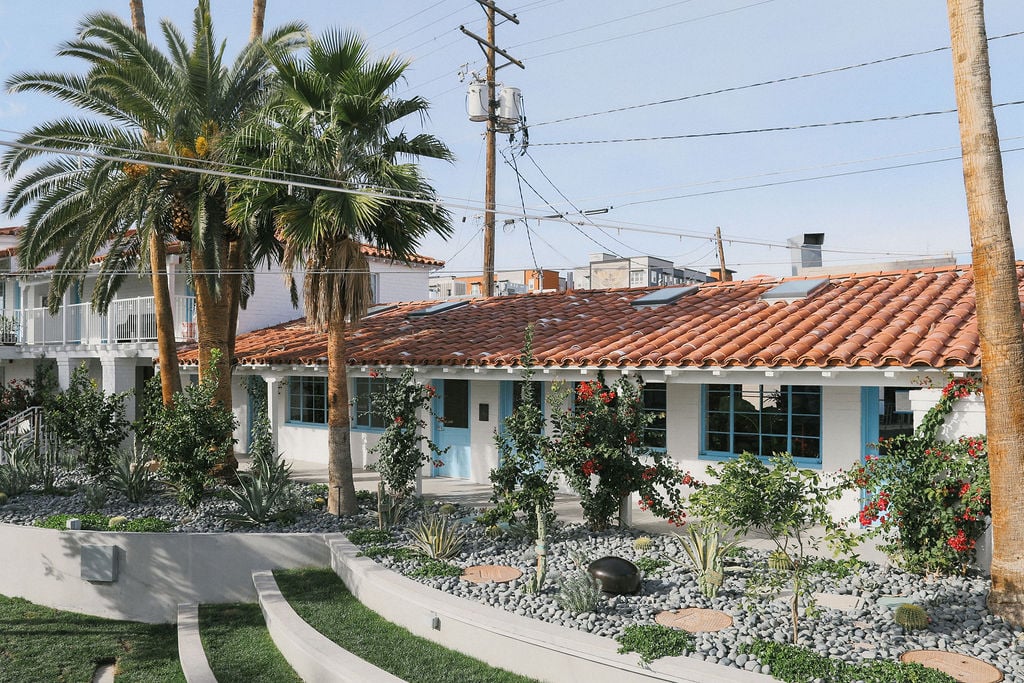 A fine example of the adaptive reuse at play here is the conversion of the motel rooms into individual brick and mortar shops. But what really steals the show is the way in which the old, central parking lot has been metamorphosed into a 10-foot deep, sunken gathering space. Complete with a stage for performances and a local coffee shop buildout, what was once a necessity for a roadside motel has now become the heart of a vibrant community. 
So, how will Fergusons Downtown adapt and stay connected to the city over the coming months? "We're not pushing an agenda of buy, buy, buy," says Taler, conscious of providing free experiences for all. "So, there's a place to go. Don't feel like you're isolated," she explains, "And then there's the opportunity to support, if you're capable and able to, any of these small businesses." Ultimately, she says, the goal remains to support and showcase local talent. "For the longest time, it's always been 'what happens in Vegas stays in Vegas', 'there's no culture'…all of those things aren't true," she says. "There's crazy culture, amazing talent and great people here." 
You may also enjoy "A Historic Portland Building Turns Over a New Leaf—as a Stylish Hostel"
Would you like to comment on this article? Send your thoughts to: [email protected]