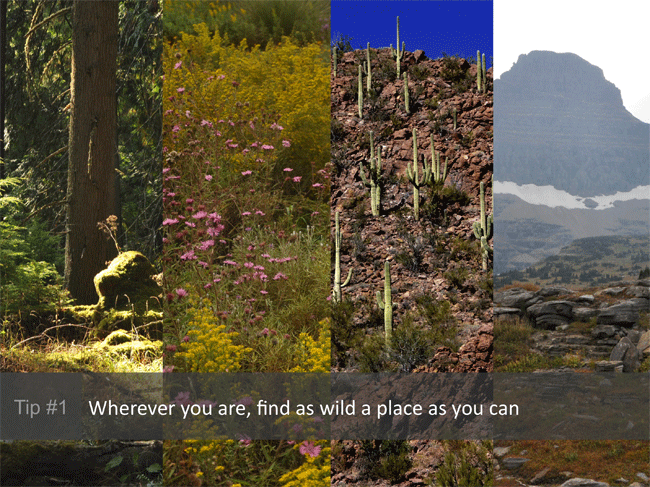 May 30, 2013
Creativity in the Wild: Finding Design Insights Outside
Biomimicry Education Summit brings professionals close to nature and its lessons
Amid the crunching of dry leaves underfoot and fallen branches, the soft crumble of a decaying log, and the creaking of trees shifting in the wind, a small team of textile designers takes a walk in one of Georgia's temperate deciduous forests. They hold on to rough tree trunks as they navigate off the beaten path, feel the soft fuzziness of moss as it cushions their fingers, and slightly sink into the moist soil with each step. With the wild scent of mushrooms in their noses and cool humidity goose-pimpling their skin, one by one they begin to quiet the cleverness they carry into the office with them each day and come into contact with a curiosity and appreciation for the natural world in which they find themselves. This is not an escape from work – this is work.
The team is from David Oakey Designs; they are the talent behind the carpet patterns of Interface, the largest carpet tile company in the world. The insight they discovered on their walk, non-directional pattern, is the design concept behind Interface's Entropy carpet tile product that, since its release in 2000, has become one of firm's most specified products. Non-directional pattern is a visual phenomenon that occurs on the forest floor. Though each square meter of the forest is distinct from any other, when a large area is looked upon as a whole surface, it appears unified and consistent. By designing a floor covering textile with non-directional pattern, replacing a single tile in a floor or installing tiles from different dye lots no longer results in a visual mismatch. The new tile simply blends into the surface of the whole floor as though it were a unique square meter in the forest.
Going outside and spending time in nature is not just a romantic notion; it actually triggers a cognitive shift that transitions us from distracted and linear know-it-alls to focused and inquisitive systems thinkers.  And, the longer you spend outdoors the more significant that shift will become. In a recent study by Ruth Ann Atchley, David L. Strayer, and Paul Atchley, Creativity in the Wild: Improving Creative Reasoning through Immersion in Natural Settings, researchers found that "four days of immersion in nature, and the corresponding disconnection from multi-media and technology, increases performance on a creative problem-solving task by a full 50%."
---
More from Metropolis
---
Dayna Baumeister, Biomimicry 3.8 co-founder, has been bringing adult learners and clients out into wild places for the last 15 years as part of the bio-inspired design methodology. "In all my years of teaching and facilitating biomimicry for hundreds of designers, engineers, businessmen and women, every single 'ah-ha' has followed a close encounter with nature," says Baumeister. "Time spent outside engaging with nature is so effective at creating the conditions for creative problem solving that we've designed the bulk of the curriculum for the Biomimicry Professional certification program to revolve around outdoor experiences. Engaging in in-depth connections with nature is both the crux and the pretext for radical innovations." This June, Biomimicry 3.8 is hosting the first ever Biomimicry Education Summit and Global Conference attended by innovative scientists, educators, designers, and entrepreneurs from around the world to exchange ideas about, and build a community of professionals interested in, bringing this new way of viewing and valuing nature into their offices, classrooms, and laboratories.
In most office settings, it seems that outdoor exploration is typically reserved for annual retreats which is really too infrequent to sustain a creative culture.  Consider the creative problem solving potential by mixing it up and holding your next ideation session or quarterly meeting outside.
Here are some ideas from the biomimicry design methodology for planning your next team meeting outside:
For some, driving time will be required, rain jackets will be required, a little aerobic activity will be required – it's worth the effort! Put priority on places that are protected and functioning as living, breathing ecosystems, such a state parks.  Many communities have wonderful botanical gardens and city parks that can be more accessible to urbanites, though they lack the full sensory experience of a wild place.
Don't forget to include a portion of time early in the exploration to allow your team to get attuned to this new environment.  Jumping right in to facilitated group activities defeats the purpose. Individuals will need at least 30 minutes to go sit by themselves, still the mind, and begin to open their senses to the outdoors.
As any non-biologist biomimic will tell you, it is an absolutely invaluable experience to have a biologist with you when you are getting inquisitive on your outdoor exploration. Having a local expert on the biology and ecology with you on site brings depth to the experience and catalyzes critical connections for your team. Contacting the park office will usually result in leads to local experts.
What is it that your team is trying to do? Transport goods? Communicate with customers? Optimize resources? Have your team keep this question in the back of their mind as they spend time outside and ask them to take note and comment each time they discover even a glimpse into the way nature does it.
By building a collection of natural artifacts (e.g. shells, seeds, bones) over time, you can prepare your meeting table with a delightfully tactile and peculiar centerpiece. With a natural artifact collection on the table, it is inevitable for your team to get curious, playful, and more creative.  But don't wait too long before you start conspiring about the next time you can invite your crew outside.
Biomimicry Education Summit and Global Conference
June 21-23
University of Massachusetts Boston Campus Center
100 Morrissey Blvd. Boston, MA
Erin Leitch has a background in architecture and sustainable design and is now the director of the Biomimicry Specialist certification program, design instructor for the Biomimicry Professional certfication program, and a biomimetic designer for Biomimicry 3.8's clientele. She graduated with the inaugural cohort of the Biomimicry Professional Certification Program in 2010 and is one of the first in a growing global community of Certified Biomimicry Professionals.