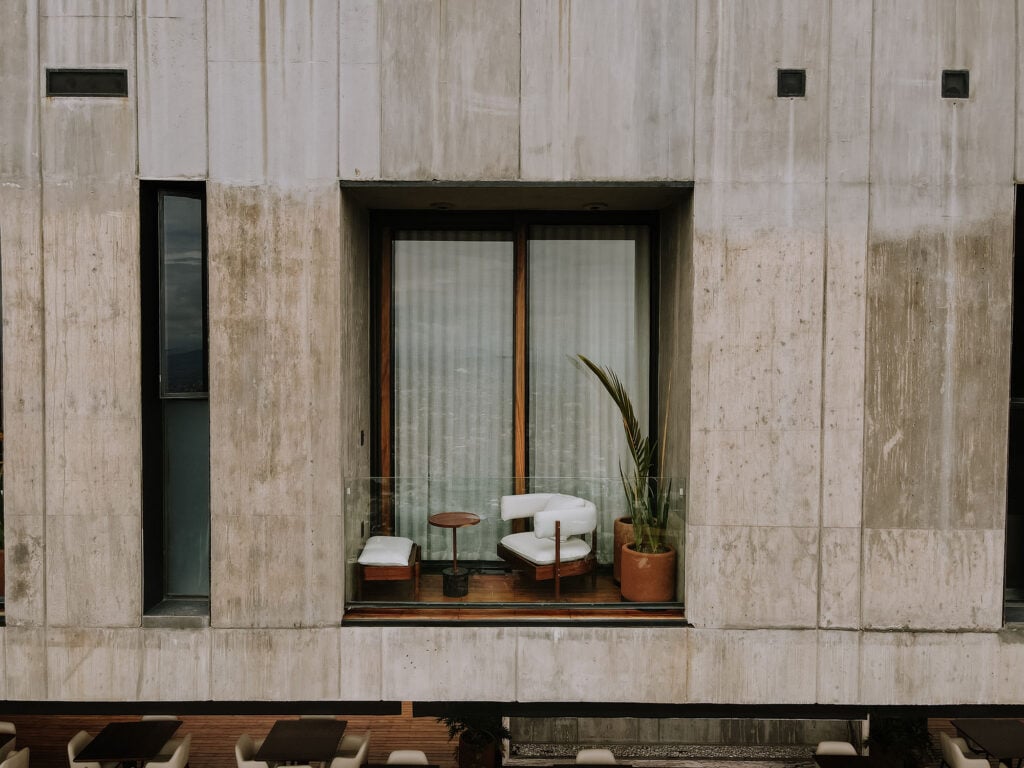 August 30, 2022
Flavia Hotel is a Harmonious, Habitable Sculpture in Oaxaca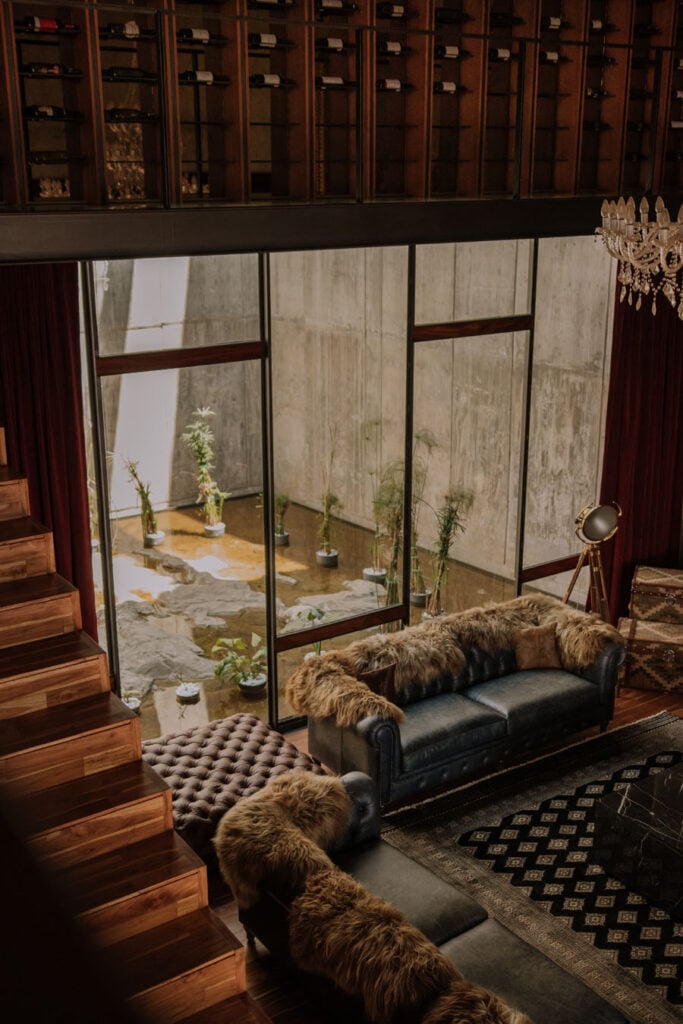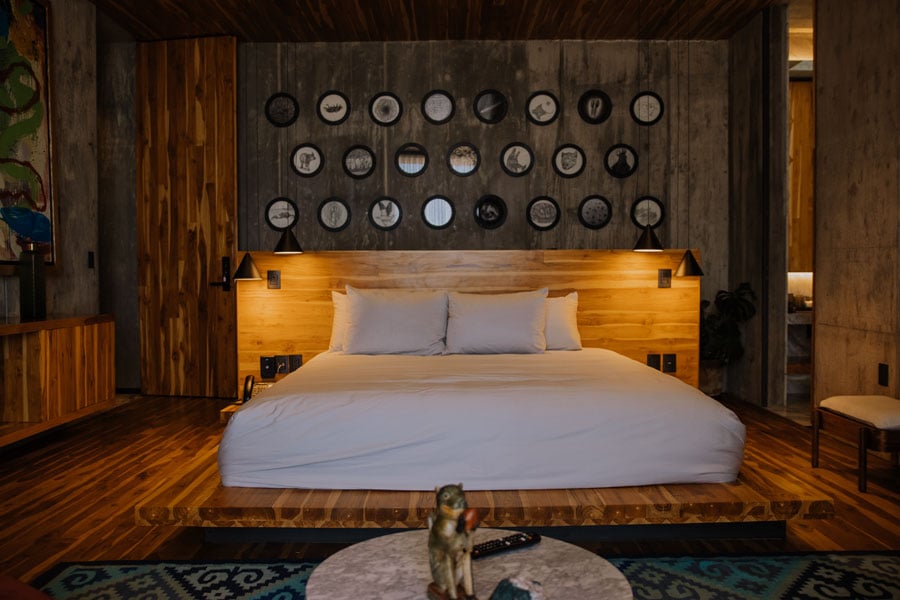 The structure exists in easy harmony with the surrounding environment, while the design emphasizes stark contrasts between its harsh exterior and the unconventional details of its highly sensory interior. In the lobby, warm, locally-sourced teak wood wall panels meet the cool marble floors of the entryway, lined with LED lights to highlight the translucence of the stone. "Our goal was to seek a contrast between brutalism and shelter: a sculpture that becomes habitable," Cæiro says. The severe, raw concrete exterior gives no indication of the plush, texturally eclectic interior that lies within its gently sloped gray walls.
Originally conceived as a residential home, the project evolved mid-process into an avant-garde hotel concept: Several of the guest rooms were named after what would have been living spaces inside the house. Each is totally singular in form and function, though all are connected in dialogue with each other—more like parts of a body than identical pieces of a collection.
---
More from Metropolis
---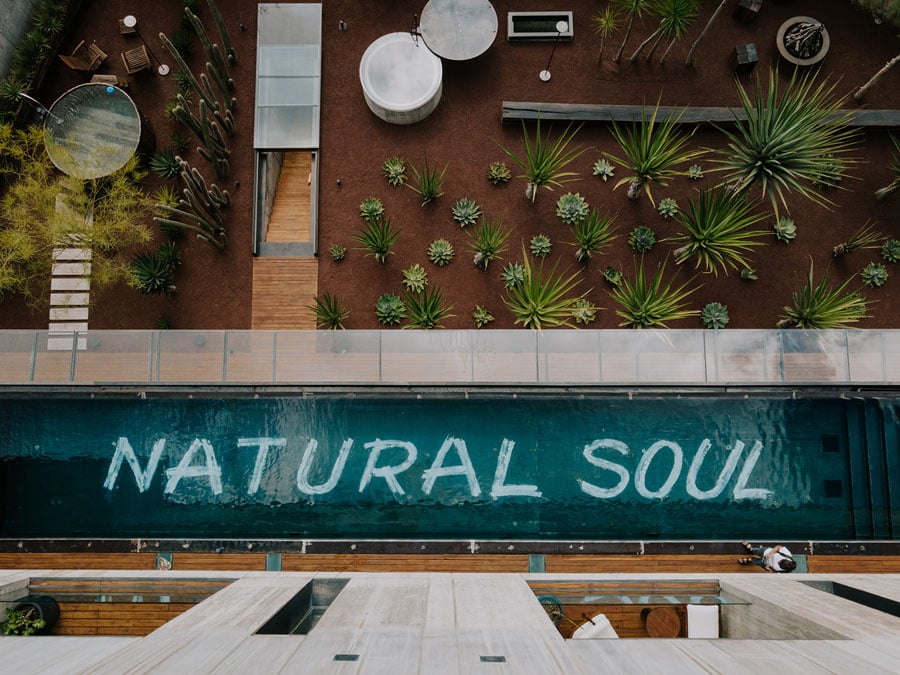 The pervading theme of stark contrast informs the interior design of the guest rooms as well: An underground "Bunker Room," located beneath the cactus garden, is so well-lit from above it feels like the antithesis of an actual bunker—complete with a cozy "tunnel" where guests can lounge in a narrow, fur-lined passage that leads to a window overlooking the mountain valley. Artwork by local artist Sabino Guisu adds an atmospheric touch of neon blue light to the subterranean space. (Local artists Adán Paredes, Dali Nieto, Jesús Cuevas, Rolando Rojas, Francisco López Monterrosa, and Lucio Santiago also have work featured throughout the rooms.) Another underground suite, Cuarto de Maquinas, or the "Machine Room," has its own sleek private sauna built into one of the walls. Other rooms embrace the warmth of wood panels peppered with botanical greenery, with large, modern concrete bathtubs in the center of the room, or direct access to the outdoor gardens. Upstairs, the guest rooms feature large, open picture windows, cut-away balconies, and sprawling city views: In "Nube" (named after the Spanish word for "cloud"), a compact balcony opens skyward from the solid, right angles of concrete.
On the roof, the Flavia hotel bar offers 360-degree views of evening city lights and the valleys and greenery of the San Felipe Nature Reserve. Intricately arranged, endemic landscaping by Luis Zárate animates the raw concrete walls with a range of cacti, pochote trees, pitayas, and aquatic plants, forming various gardens, courtyards, terraces, and an organic vegetable garden from which guests are invited to experience the region's beauty on yet another sensory level.
Would you like to comment on this article? Send your thoughts to: [email protected]