August 14, 2020
Fogarty Finger Integrates Art and Craft into Rockefeller Group's New HQ
Moving away from a more traditional office setup, the New York City workplace takes a warm and hospitable approach.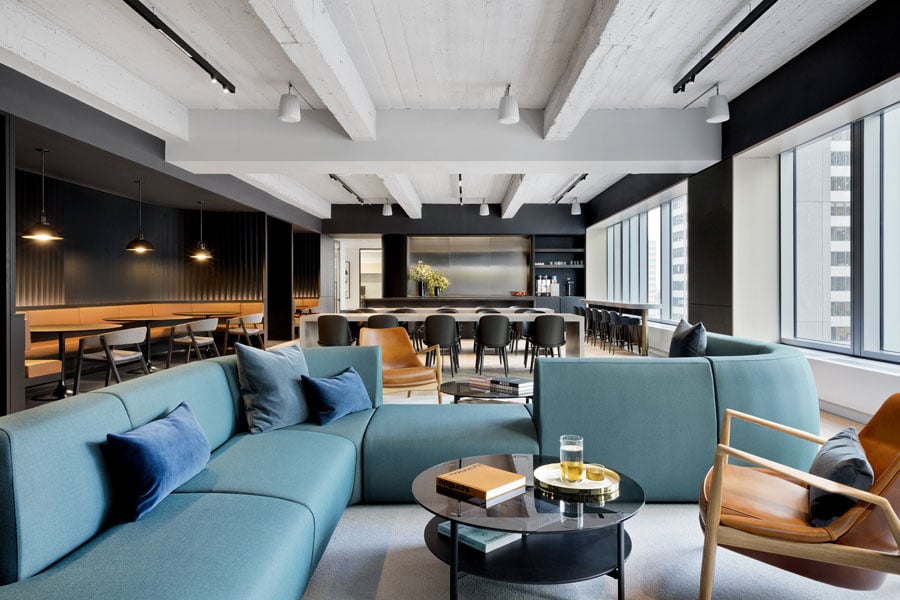 ---
The relationship between Rockefeller Group and New York-based architecture firm Fogarty Finger, which recently renovated the real estate developer's new headquarters at its 1271 Avenue of the Americas property, was fostered by a mutual fondness for art, according to architect Robert Finger. Throughout the 40,000-square-foot space, a refined material palette of both light and dark wood, exposed concrete, and extensive glazing—as well as thoughtfully crafted built-ins and surfaces, soft curves, and ethereal lighting—create a nurturing environment for artworks by McArthur Binion, Squeak Carnwath, and Suzanne Caporael. But, more importantly, the space "supports people to do their very best work," Finger says.
Previously, Rockefeller was located at 1221 Avenue of the Americas, a midcentury office tower also owned by the developer. The recent recladding and repositioning of 1271—the former Time & Life building—by Pei Cobb Freed & Partners presented an opportunity to rebrand, and to create a more seamless and democratized work environment for its employees. "Rockefeller wanted to demonstrate that they are the best of the best, and to attract and retain talent," says Finger. Whereas the former headquarters were very traditional, with high panels between workstations, neutral colors, and a lack of diverse spaces, the new office has a quality of hospitality that warmly accommodates employees and clients alike.
---
Critical to the design process was negotiating a hierarchy of spaces that would cater to myriad scenarios, from formal town hall sessions to intimate, casual meetings with clients. The architects at Fogarty Finger manipulated materiality to create subtle cues about each room's function: For instance, common areas are identified by dark wood finishes and furniture pieces that add a pop of color for a lounge-like feel; the conference room, on the other hand, is distinguished by blonde wood surfaces; the natural light-infused primary work zone, which wrap the floor's perimeter, feature a mix of open desks and fully glazed huddle and meeting rooms.
---
More from Metropolis
---
Clear circulation and ample seating arrangements—from cafe counter stools to banquets and sofas—motivate people to occupy different areas throughout the day. Unique programmed spaces such as a meditation room and a wellness room provide places for respite, and common areas can easily serve functions that fall beyond the traditional work structure, inspiring a more laid back, yet still somewhat formal atmosphere: "Employees discovered that they could enjoy taking a break at the coffee bar, or going to a sponsored wine tasting event there, and not feel bad about it, because these types of situations are encouraged by design," Finger says.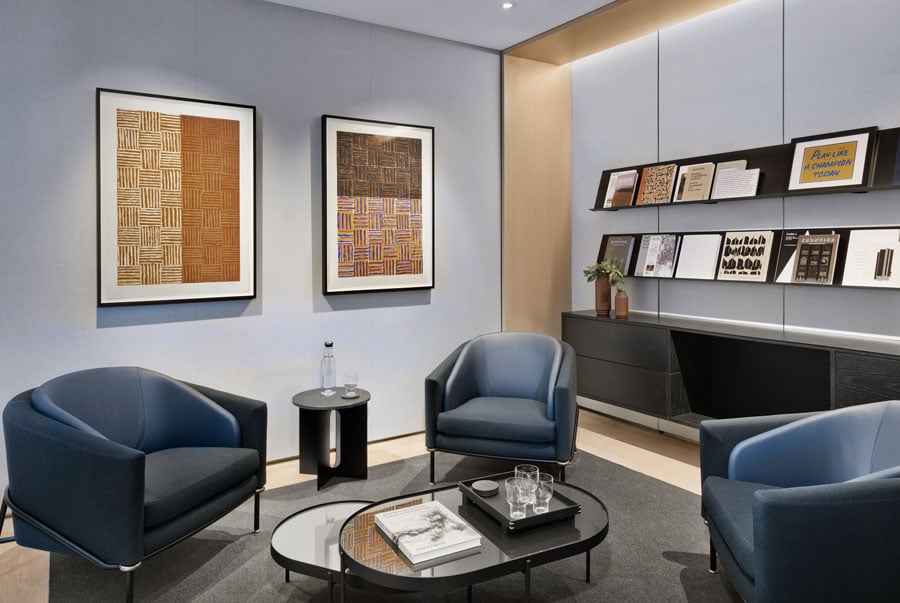 ---
Finger acknowledges that the project's success leans heavily on the ambition and thoughtfulness of Rockefeller's CEO, who was very active in the design process. From the layout down to the craft—which manifests in the millwork of partitions and furniture, and in the various lighting fixtures—every detail was considered. The attention to craft is particularly remarkable, says the architect, for the added texture, which gives each space a robust sense of place while simultaneously tying everything together.
As New Yorkers continue to adapt to the repercussions of COVID-19, Rockefeller, like many other companies, plans to send employees back to the office in alternating populations. And while temporary adjustments, such as plastic partitions and hand sanitizer stations, will certainly become the norm in office culture for the foreseeable future, more permanent measures are being less explored, says Finger. "Generally speaking, I haven't seen an investment in architectural changes to workplaces," he says. "Everyone wants to understand their options and have the flexibility to move ahead."
You may also enjoy "An East Austin Fabrication Shop Is Transformed Into a Refined Beer Hall."
Would you like to comment on this article? Send your thoughts to: [email protected]
---
Register here for Metropolis Webinars
Connect with experts and design leaders on the most important conversations of the day.