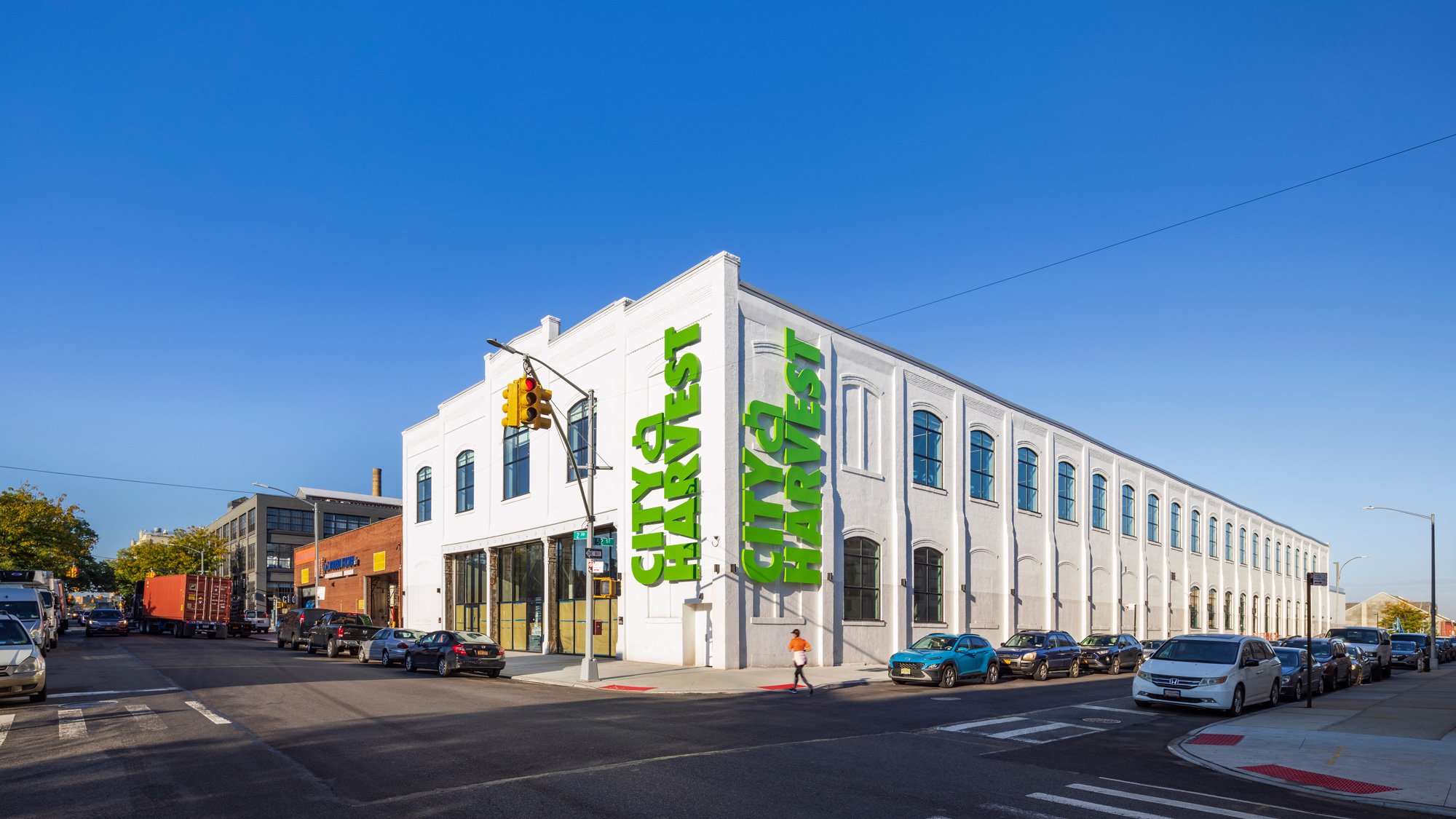 January 20, 2023
This Food Rescue Nonprofit's HQ Offers Beauty During a Crisis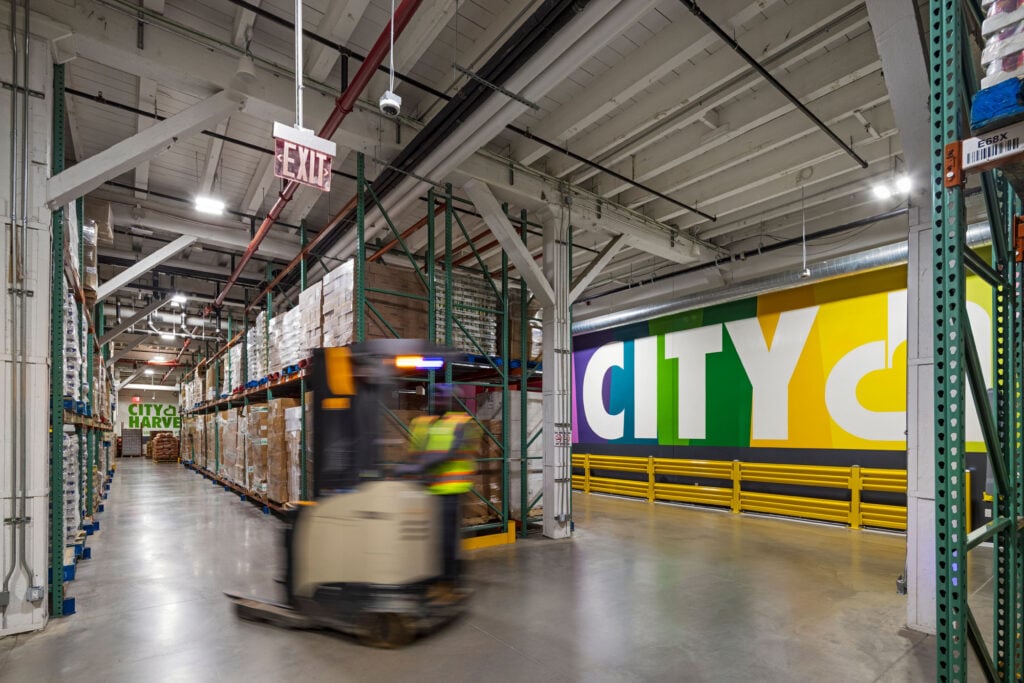 It's been a tumultuous time for City Harvest, and the opening of the Cohen Community Food Rescue Center couldn't be better timed. Designed by Ennead Architects and Rockwell Group, with Ware Malcomb as the architect of record handling the logistics spaces, the headquarters brings together workplace, hospitality, and warehousing in an 150,000 square-foot, 1890s building in Sunset Park, Brooklyn. Targeting LEED Gold certification—an impressive feat for an adaptive reuse project—the Center embodies the spirit of City Harvest's mission while equipping it to meet the needs of a city that is more food insecure than ever before.
A Food Rescue Facility with No Room for Waste
According to an analysis by Feeding America, 1.5 million New Yorkers struggled to feed themselves and their families in 2021—a 36 percent increase over pre-pandemic numbers. That struggle was felt keenly at City Harvest. "All our food is [usually] donated, we only buy food in disaster response mode," Stephens says. "For the pandemic, we've been in disaster response mode for two years." (That's why the Thanksgiving turkeys needed to be purchased in the summer, rather than being donated in the fall.) The situation has put a keen edge on the nonprofit's operations, which put out 125 million pounds of food in 2022, double the amount it moved in 2021.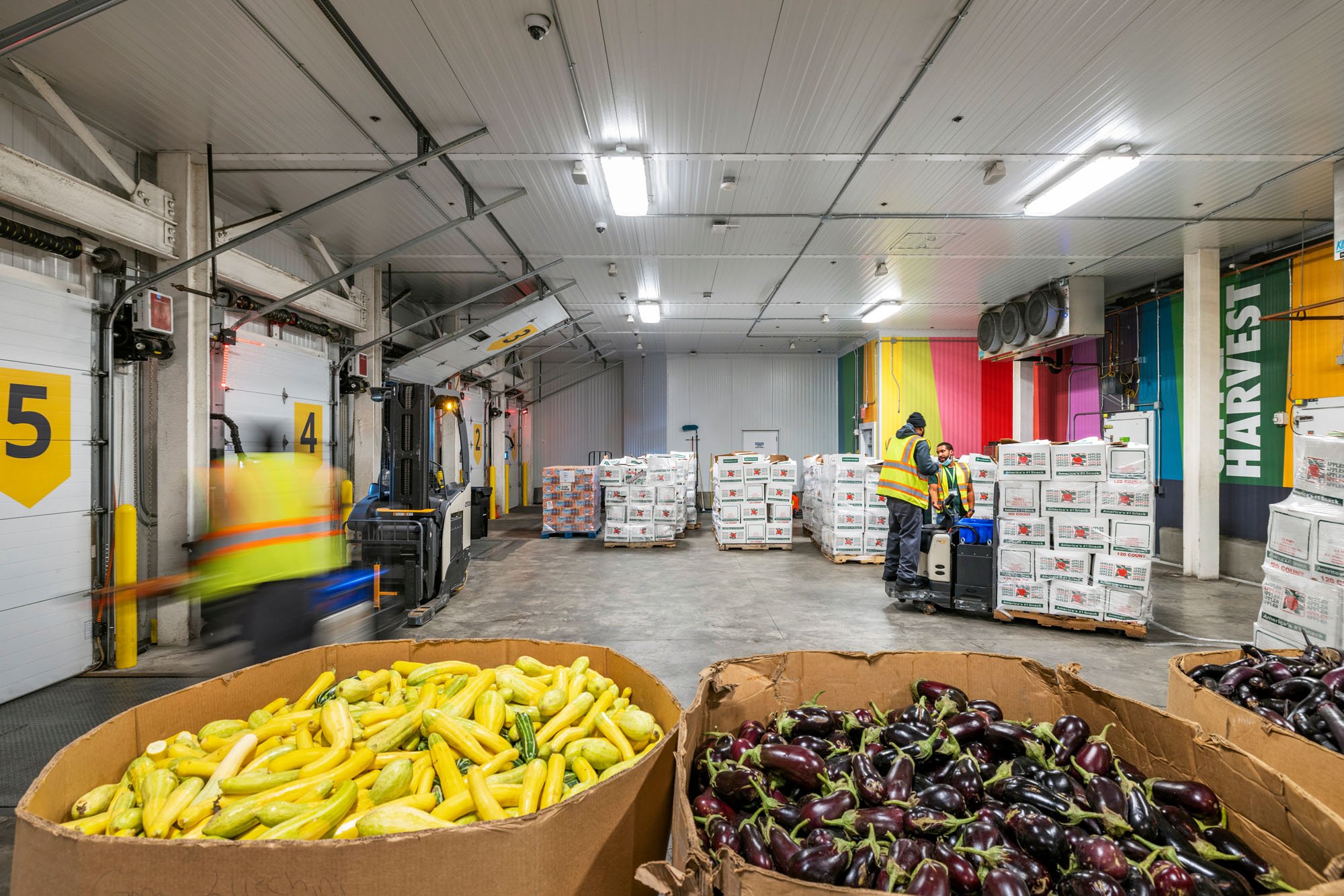 Any kind of wastefulness would be a crime in the face of such dire circumstances, so Ennead Architects and Rockwell Group sought every opportunity to reuse materials, divert from the landfill, and optimize the use of resources. "That was absolutely a driver for them, to be as sustainable as possible," says Richard Olcott, partner at Ennead Architects.
Driving for energy efficiency in a 19th-century building, while accommodating a complex program, was no small feat. At street level, three food storage facilities have flexible temperature regulation—allowing for different foods to be kept at different temperatures. "Onions don't need to be at the same temperature as softer foods," Stephens says, so her organization doesn't need to waste energy and money on freezing hardy produce and can instead keep just one or two spaces cold enough for, say, turkeys.
---
More from Metropolis
---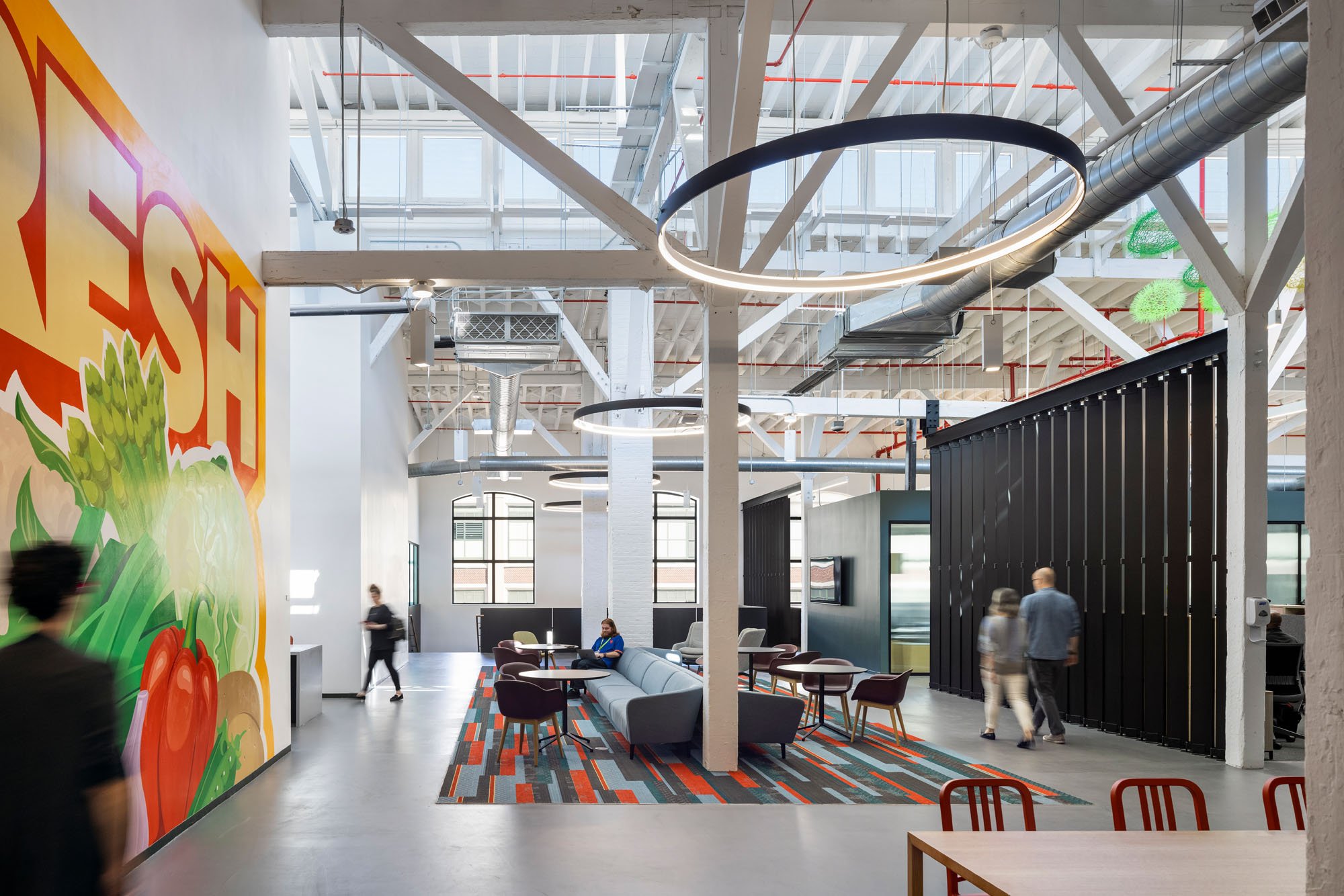 On the upper level, Ennead Architects advocated for doing as little as possible to the original building's timber structures, to dramatic effect. "It's like a basilica up here," Olcott muses, "with all of these wood tree columns that are totally remarkable." The firm did open up and enhance the building's twin clerestories that had been covered over for decades. Running along the length of the building, they flood the second-floor office spaces with sunlight. This inspired a perfect floor plan for an egalitarian organization—private offices run in two rows just below the clerestories, with open-plan desking between them, leaving the periphery of the workplace floor for gathering and social spaces. "You don't get a corner office here, you get a clerestory," Stephens jokes.
Other sustainable design features in the facility include radiant heating and cooling, composting and recycling stations, and a planned solar array to meet the building's energy needs. The architects and designers incorporated recycled materials throughout the building, including brick, concrete masonry units, paving, and decorative metals.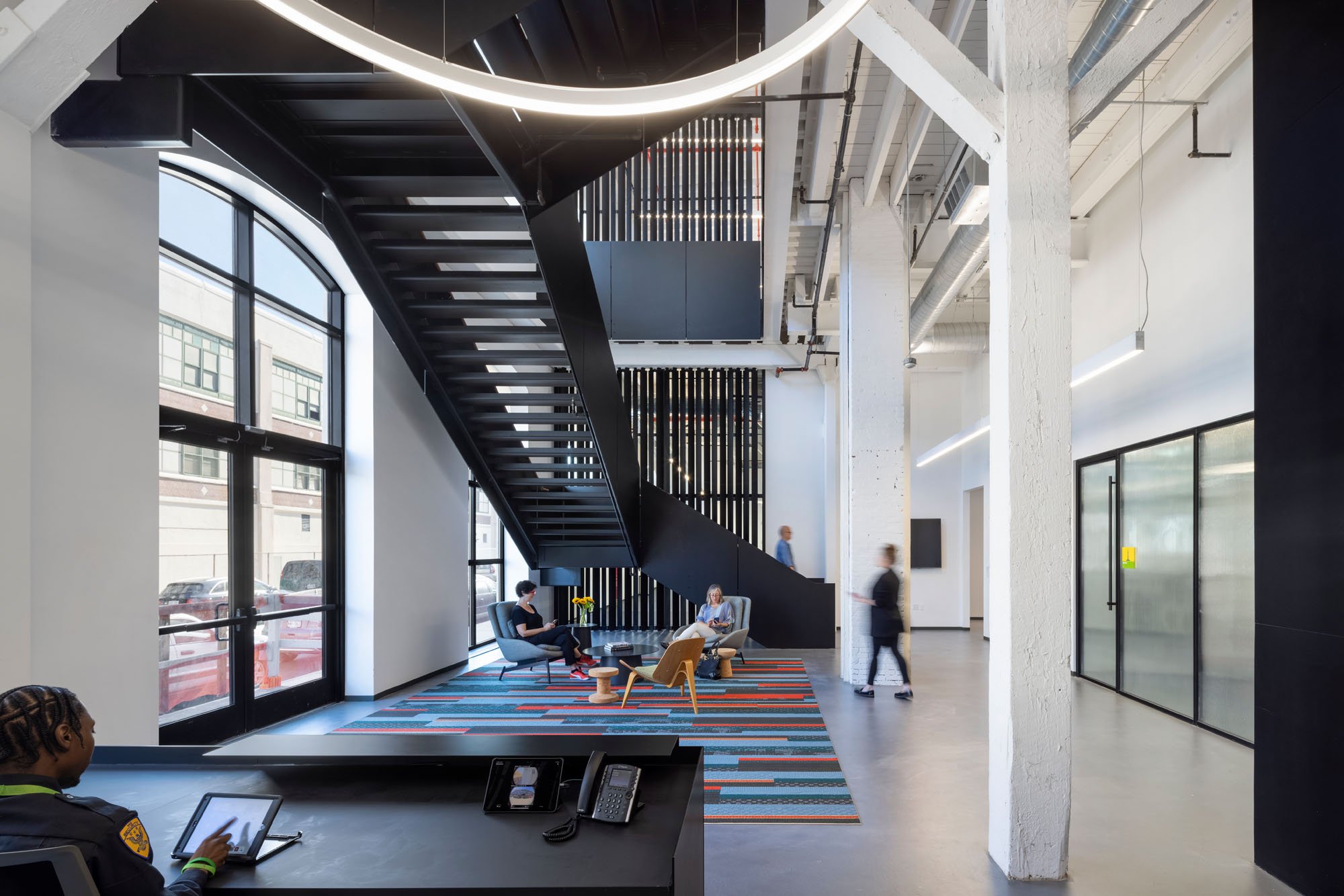 Building Community Around Food
Some of the most beautiful recycled and repurposed elements at the Center, however, are in the event space and demonstration kitchen designed by Rockwell Group.
City Harvest has a number of chefs on their board, and they pushed the organization to create an area to celebrate food, eating, and gathering. The space would also be a source of revenue for the organization when it is rented out for private events and activation. "What a perfect assignment for us, to bring our hospitality expertise to bear to give City Harvest their first demonstration kitchen and event space," says David Rockwell, founder and president of Rockwell Group. "It was an amazing opportunity to celebrate the theatricality of food and the way that it unites people."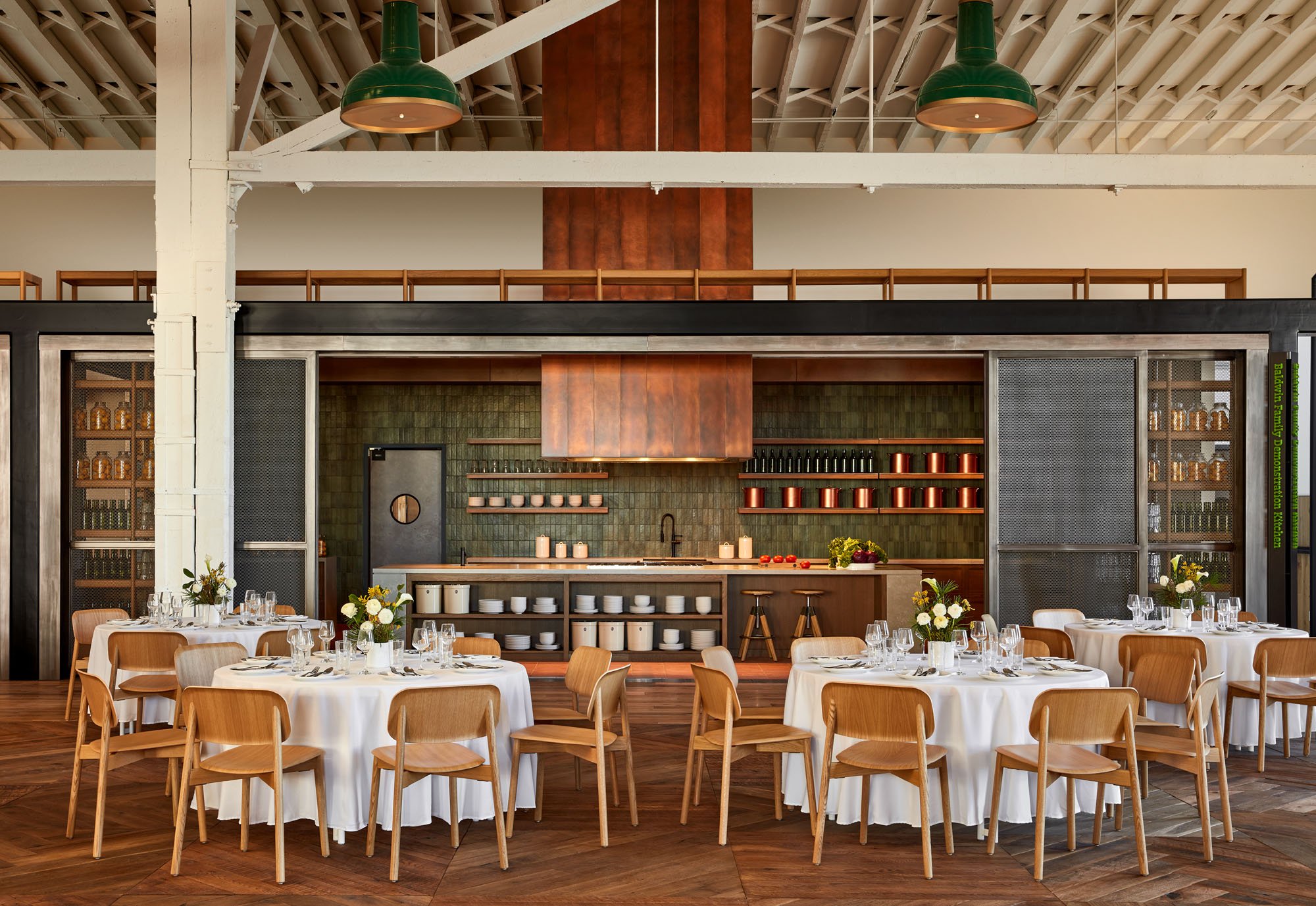 Visitors enter the space through a reception area, where the walls are lined with reclaimed wood and the floor is covered by a rug created by ABC Carpet out of over-dyed fragments of older floor coverings. "There was never really an option but to leave the ceiling as it is," says Matthew Winter, studio leader at Rockwell Group. "The question was, how do we reclaim some warmth at the level where people are?"
The reception area leads into a test kitchen, beautifully outfitted by Rockwell Group with reclaimed tiles and countertops and dramatic copper chimney. The kitchen then opens out onto an expansive hall and a terrace that offers magnificent views out to the Bay and the Statue of Liberty. Competing with that view, however, is an intricate reclaimed-wood floor, pieced together painstakingly from materials salvaged from the demolition of barns across the Northeastern United States—a subtle nod, perhaps, to our broken agriculture sector and inequitable food system that necessitate the existence of organizations like City Harvest.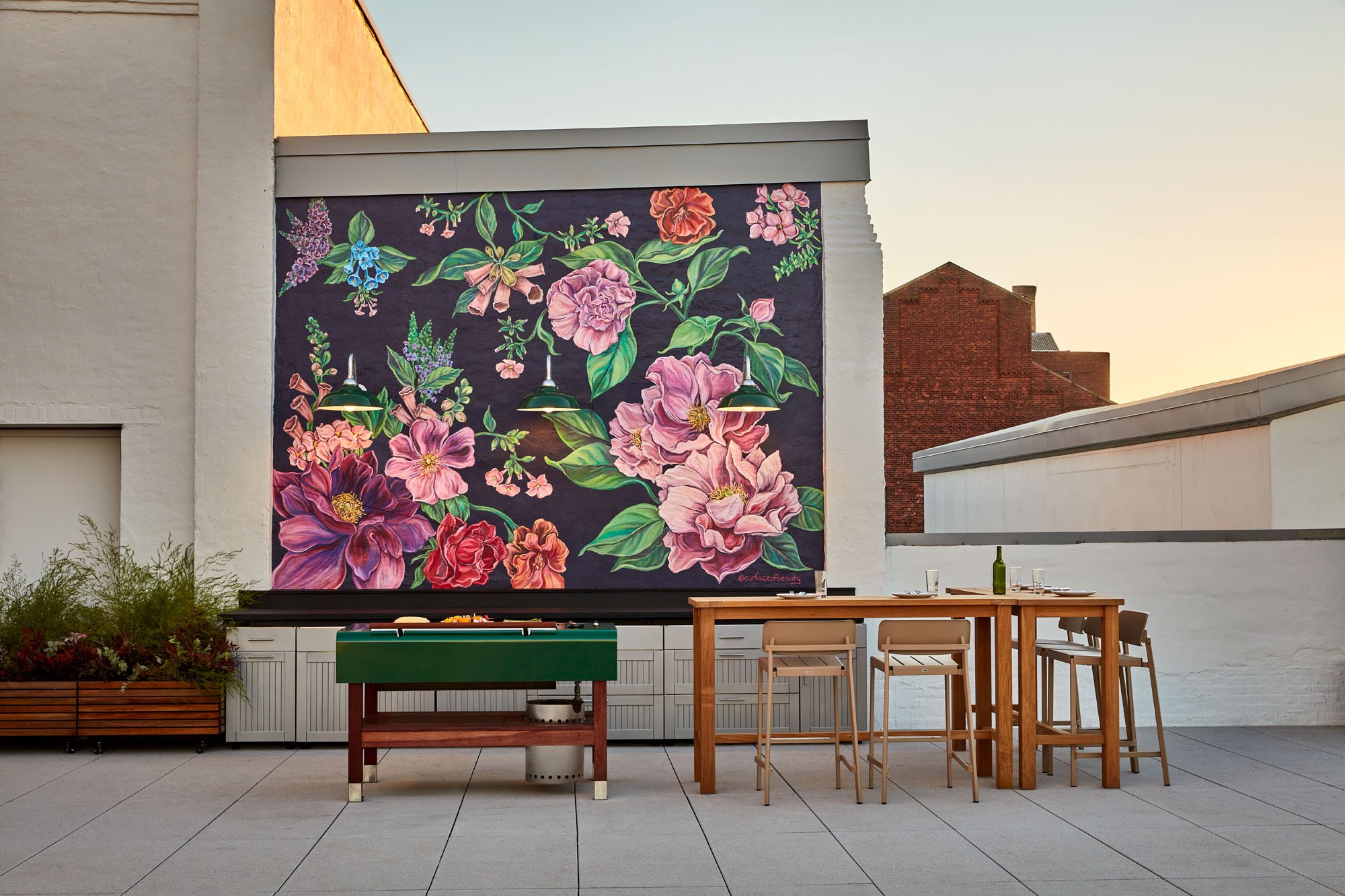 "The throughline is community and empathy," Rockwell says, and that's certainly palpable throughout the new headquarters—from the break rooms where truck drivers can get a warm drink or a snack before they head back out, to the generously proportioned outdoor furniture on the terrace that is made out of recycled milk jugs by Loll Designs. As a responsible architectural solution for an organization serving a city in crisis, the Cohen Community Food Rescue Center makes room for grace and beauty, uplifting the hard work of those helping to keep New Yorkers fed.