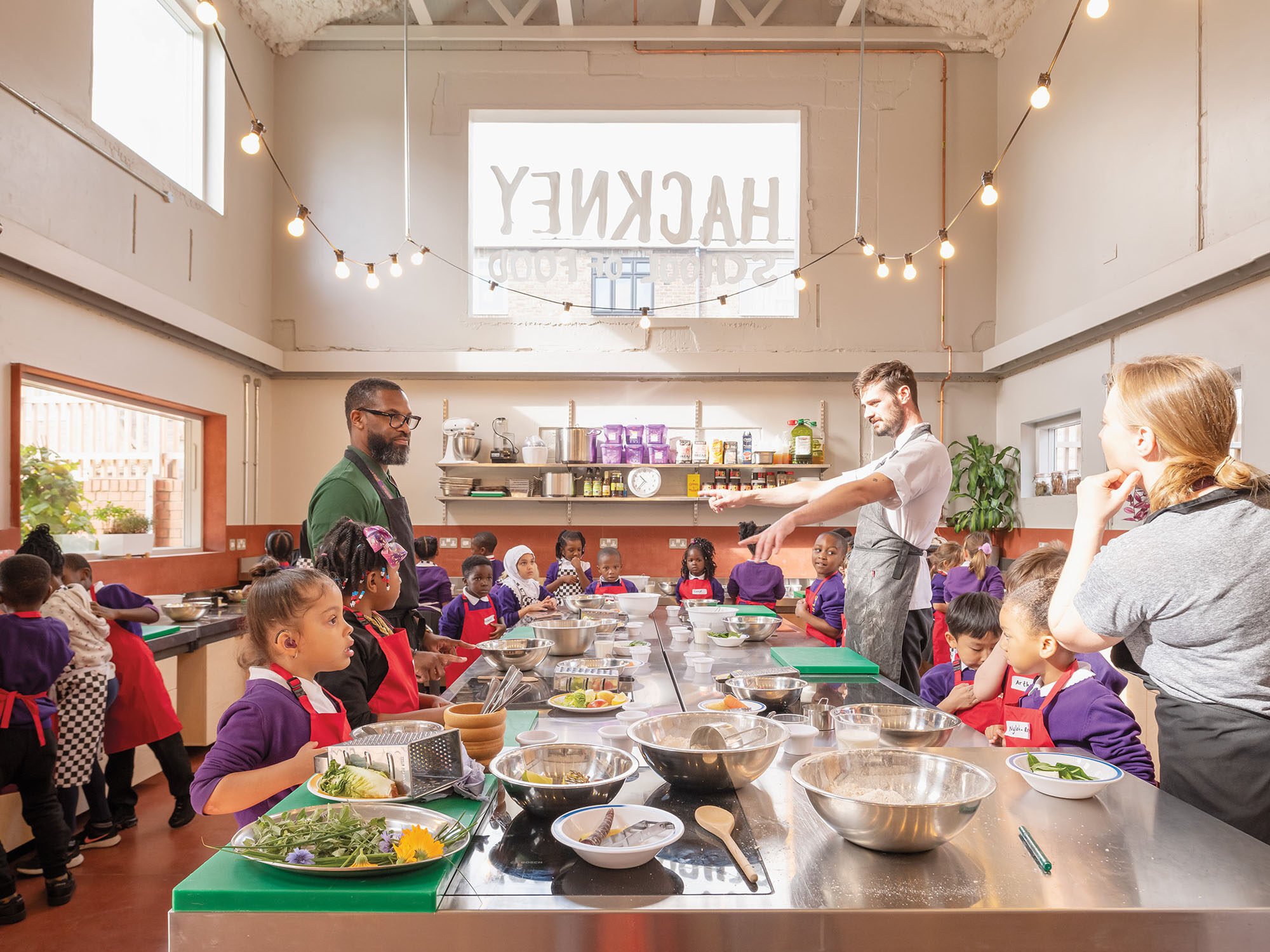 October 17, 2022
2 Restaurants, 1 School Serve Up More Inclusive Visions for Dining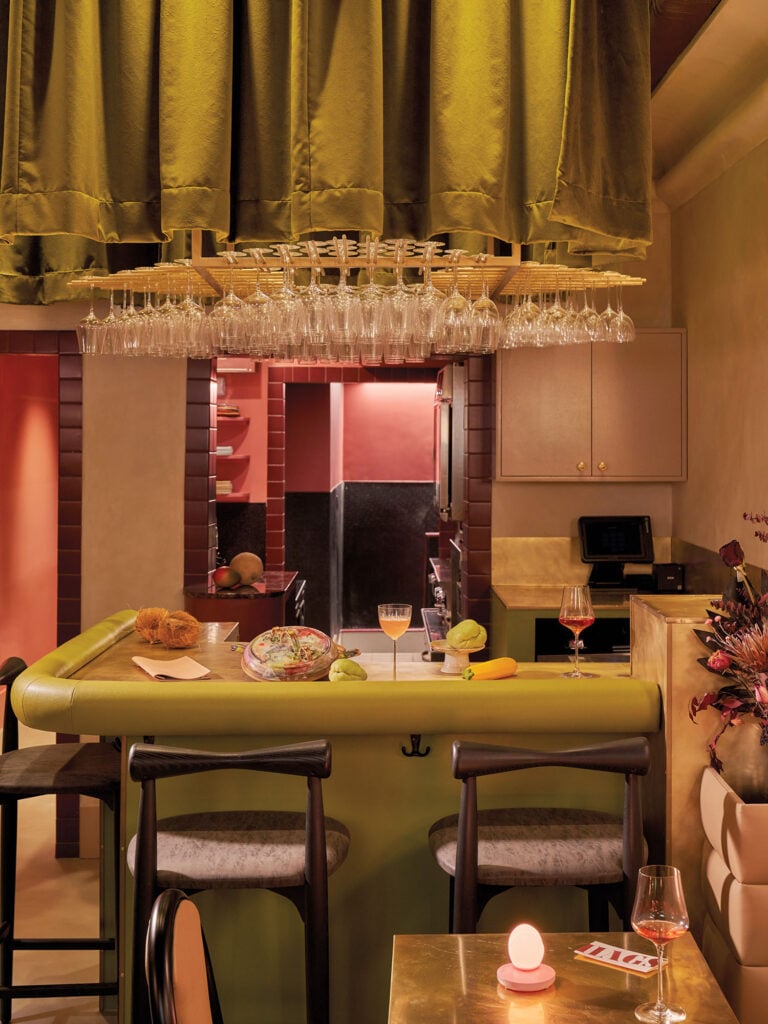 With one natural source of light from the front windows, the dining room (ADA-compliant like the rest of the space) feels like a subterranean mother ship; its earthy taupe banquettes contrast with an electrifying chartreuse bar and matching velvet curtains overhead that enclose a chandelier of wineglasses stored vertically.
Widened for wheelchair accessibility, the inky, maroon-painted bathroom is a place for every kind of person to "feel cared for," says Justice. Open shelves are stocked with complimentary mints, condoms, menstrual products, and fentanyl test strips. A fun-house mirror over the sink invites play instead of intense reflection, especially for those with body dysmorphia. "It's democratizing in how silly everybody looks in it. You never feel dehumanized by your image reflected back at you," she says.
Informed by the specific trauma of working in fine dining, Justice and Lindsley wanted an interior in step with their labor practices, which are also designed to minimize the most stressful aspects of restaurant work: low wages, understaffing, overbooking, and the triggering churn of a kitchen order ticket machine. By crafting a five-course tasting menu, they avoided the perceived uncertainty that accompanies à la carte dining. Seasonal ingredients are sourced from farmers' markets and other small mission-driven purveyors, and dietary restrictions are happily accommodated. Only the core components of daily prep and service are typical.
---
More from Metropolis
---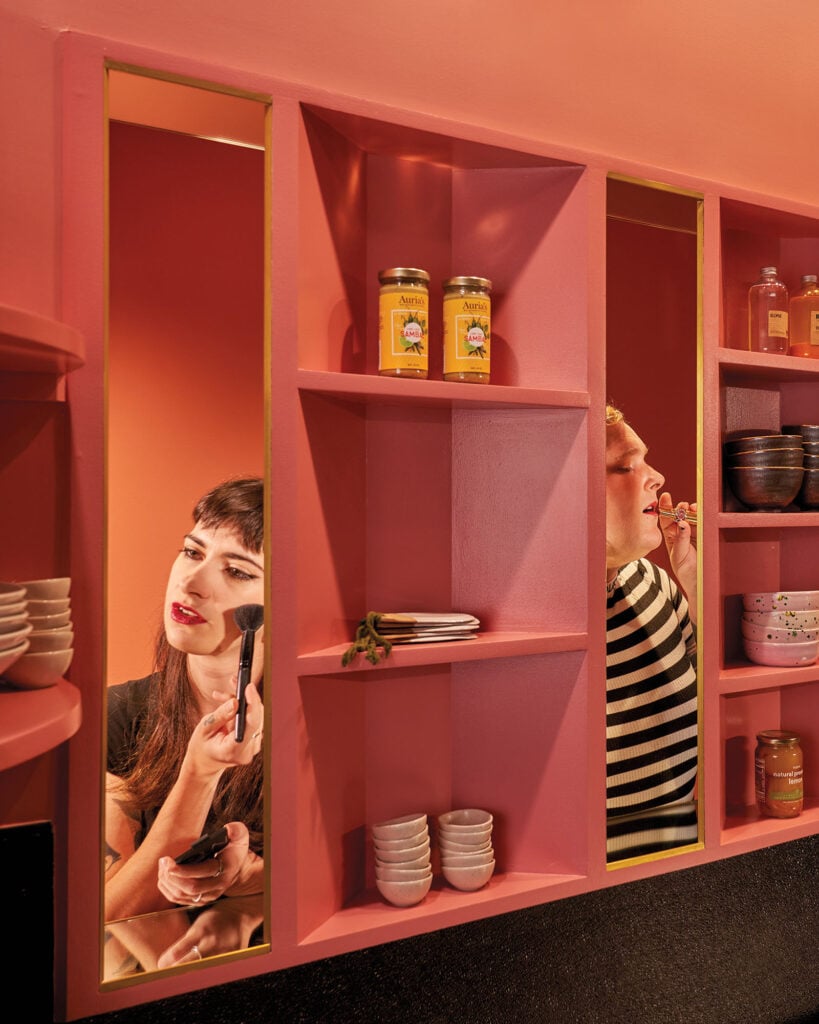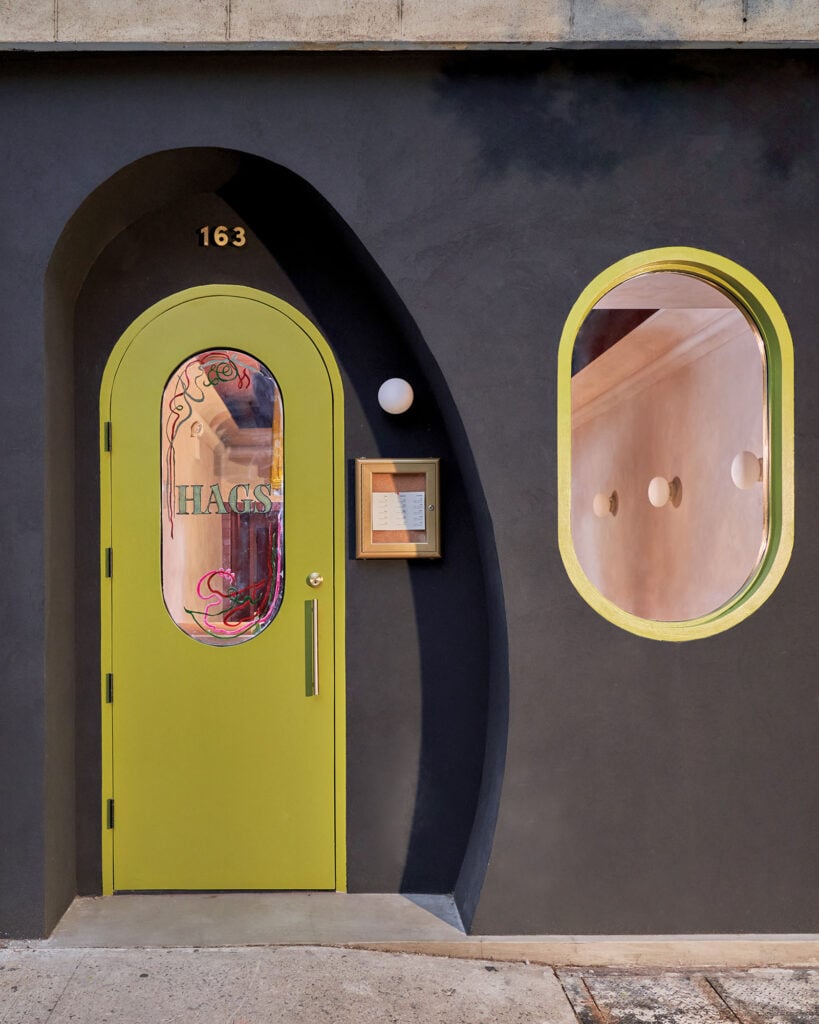 Prioritizing workers' needs over guests' budgets has drawn scrutiny from some, but it allows Justice and Lindsley to overstaff shifts, encourage breaks, and normalize care in an industry known for abuse. The behavior they model within their walls has been mirrored by neighbors who check in on them to "make sure that we're feeding ourselves," Justice says with a smile. "They want to keep the neighborhood a place for people like them and us. It's really cool to be a part of the East Village lineage of keeping it weird."
Collaboration with neighbors is practically built into the layout of The Art Room in Downtown Los Angeles, a 7,750-square-foot combination restaurant, art gallery, and office space that also houses the project's design firm AUX Architecture, helmed by Brian Wickersham. The project came together during the pandemic lockdown when Wickersham repositioned it as a collective arts and hospitality venue, with veteran chef D. Brandon Walker running the restaurant and Seasons LA curating the gallery space. Like HAGS, their retrofitted building is more than a century old. Preserving that amount of embodied carbon is "the single biggest thing that we could do" in terms of sustainability, Wickersham explains.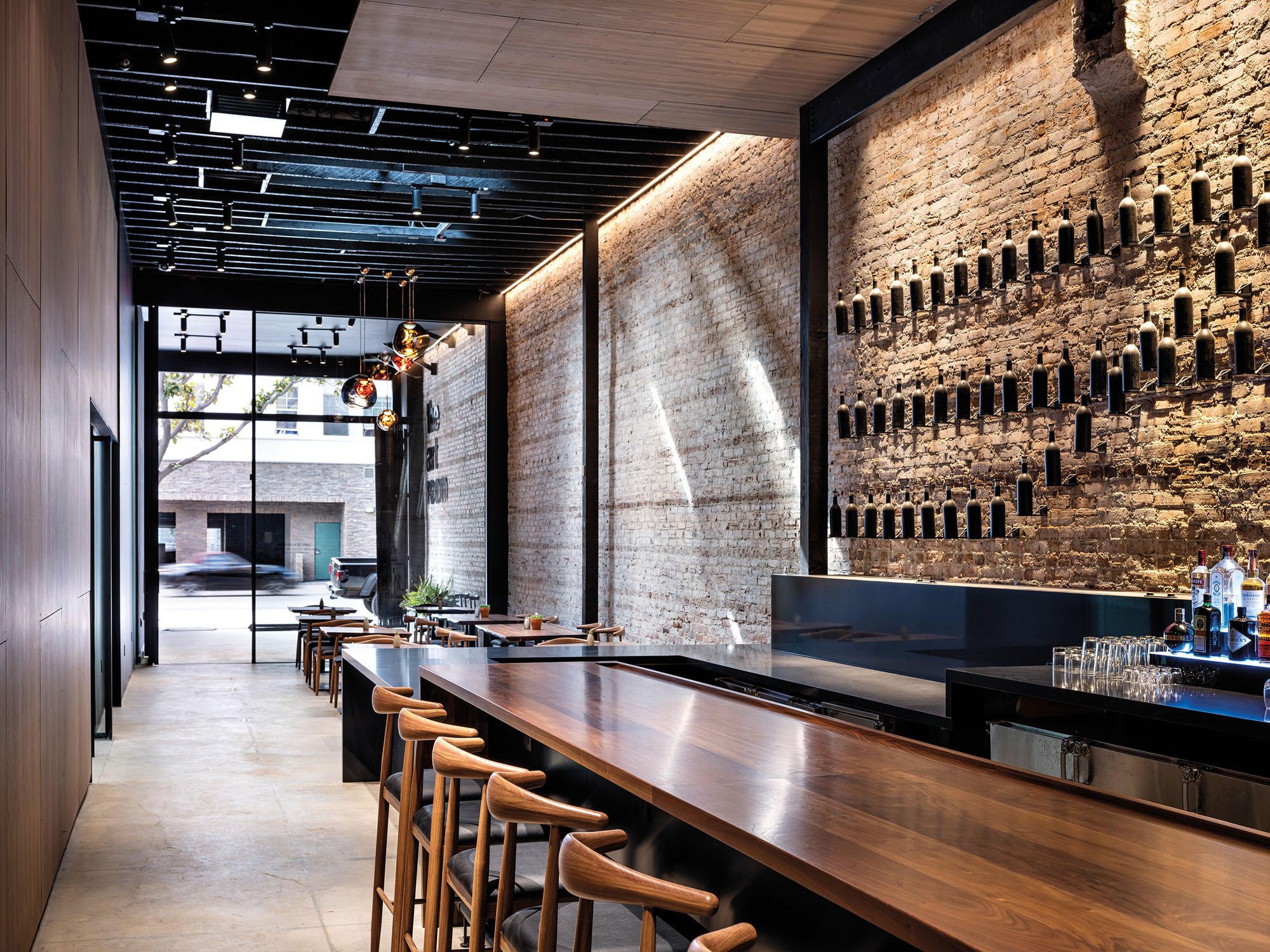 Their grand opening has been a moving target because of supply chain issues. (As of this writing, a necessary piece of equipment is stuck in traffic on the Panama Canal.) Meanwhile, Wickersham's design for dynamic partition walls to expand and contract the indoor/outdoor spaces was out of compliance with municipal regulations because square footage isn't supposed to change with the click of a button. But the team has taken it all in stride. If the pandemic has taught them one thing, it's patience.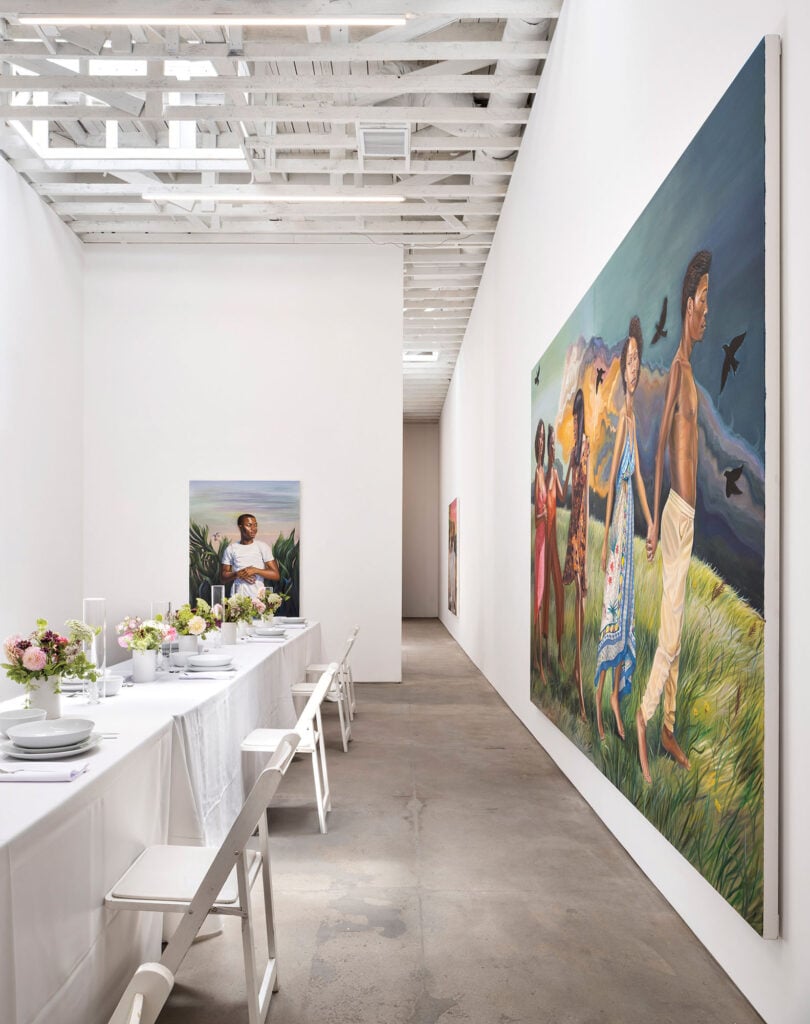 On the restaurant side, chef Walker aims to blur the line between fast-casual service and fine-dining quality. He chose to go fully compostable, reducing contact between staff and diners, which means a $20 breakfast burrito is served on a compostable plate and a $35 steak is cut with a bamboo knife. Eliminating dishes is new for this kitchen, but Walker eighty-sixed the role of the dishwasher years ago. To flatten the kitchen hierarchy, everyone is trained to do everything, including washing their own pots and pans. Staff wages range from $22 to $26 per hour, and universal tip sharing is mandatory. The menu is influenced by what Walker can source from Los Angeles–based Alma Backyard Farms, in an effort to remain "hyper-hyperlocal," he says. "It isn't at the farmers' market. It's right here in the hood." The farm does more than generate fresh produce. "They are turning dirt back into soil, and they're employing folks that are coming out of the prison system," Walker explains. As a culinary educator, he has trained formerly incarcerated people as cooks and hired many past students to work in his kitchens. Now Walker is thrilled that some of the best locally grown produce he can buy is grown by their hands.
At the Hackney School of Food in East London, a teaching garden and classroom-style kitchen connect locals to the dining world's culinary skills and farm-to-table processes.
The school, designed by Surman Weston, provides a unique learning environment for public-school children and adults to grow and cook food and doubles as a community space where residents can host workshops and gather outdoors. Funded by the LEAP Federation and Chefs in Schools, the project sought to bolster student enrollment and address food insecurity in the Hackney district.
In 2018, Surman Weston won the bid to bring its design to life with a meager £300,000 budget—cobbled together mostly from school grants, fundraisers, and private donors. "We are just a small part in a project full of goodwill," says principal Tom Surman, who led the transformation of a two-story, 506-square-foot caretaker's house and 3,300 square feet of grounds into an interactive cookery school and edible garden. After stripping the interior to its bones, the building materials such as the new Icynene roof insulation were left exposed to show how the structure is held together, from rafter beams and lumpy ceiling insulation that kids think resembles cauliflower or lunar cheese to mismatched bricks that map where the caretaker's cottage ends and the School of Food begins.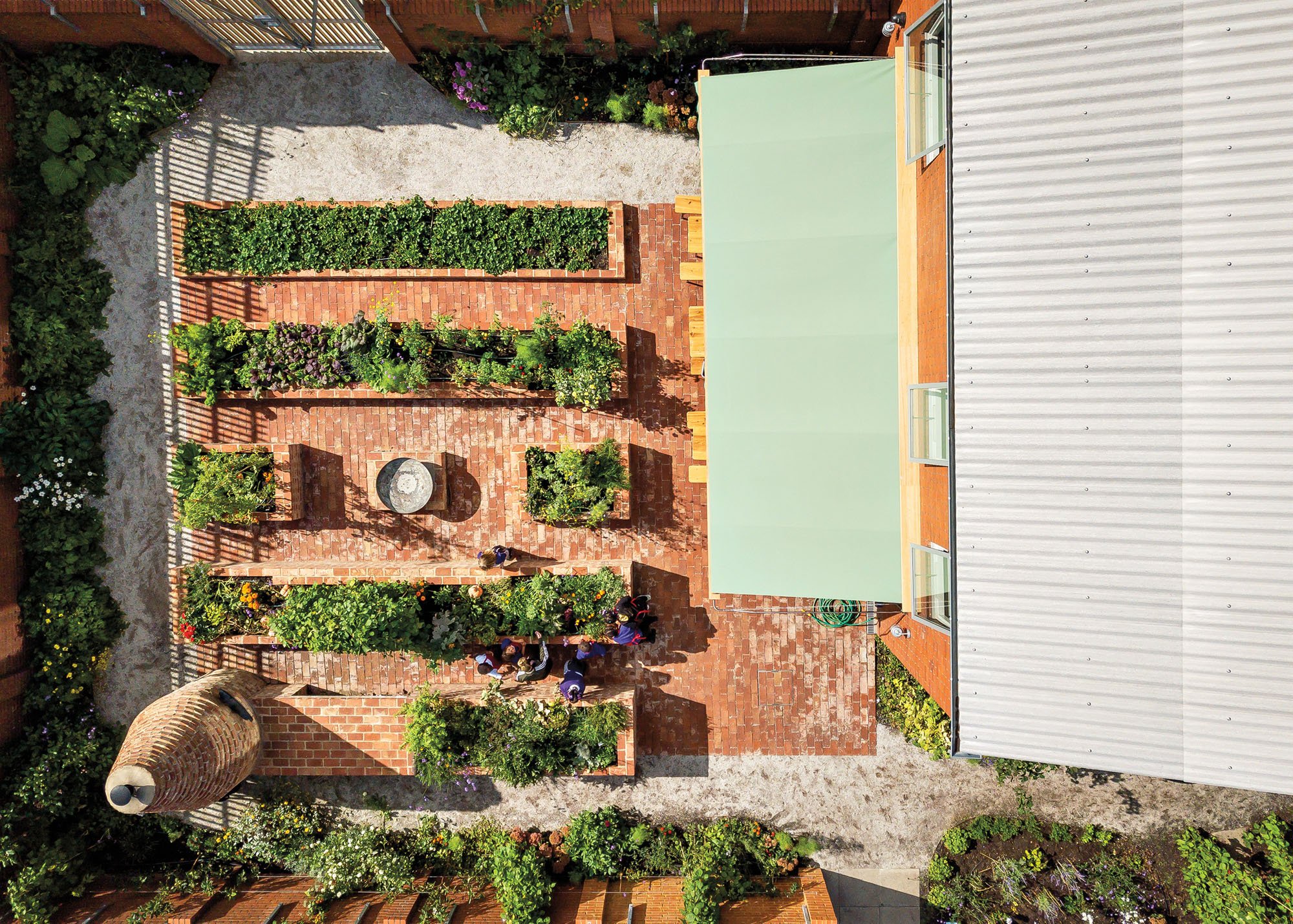 The sterility of commercial stainless steel is balanced with warmth from birchwood and red Viroc flooring. Outside, visible gutters chart the path of rainwater to a metal basin where it is stored for garden irrigation. Everything here can be a learning opportunity: planting seeds in the soil, paddling dough into an outdoor pizza oven, collecting honey from a beehive, gathering eggs from a chicken coop, harvesting wheat grown on-site. Kids and adults with varying mobility can access the space through wide doorways, adjustable counters, and elevated garden beds. Since the inception of the project, the gardens have been substantially expanded, bringing the site to approximately 12,600 square feet. The designers identified an underused area of the school playground adjacent to the site, expanding it into an active, biodiverse green space.
The next phase is an open-source digital toolkit designed by Surman—thanks to funding from the William Sutton Prize for Social Innovation award—that will serve as a prototype for public use, helping other schools and community groups implement their own sustainable food-focused initiatives. For Surman, the idea of sustainability is no longer measured in energy efficiency or renewables. "We now look further into the future, at societal issues as well as how we actually build."
Would you like to comment on this article? Send your thoughts to: [email protected]