July 29, 2020
A Steel Exoskeleton Distinguishes a Suburban London House in a Sea of Tudor Revivals
London architects Surman Weston employs a mash-up style and unexpected materials for a cheeky take on a vernacular building type.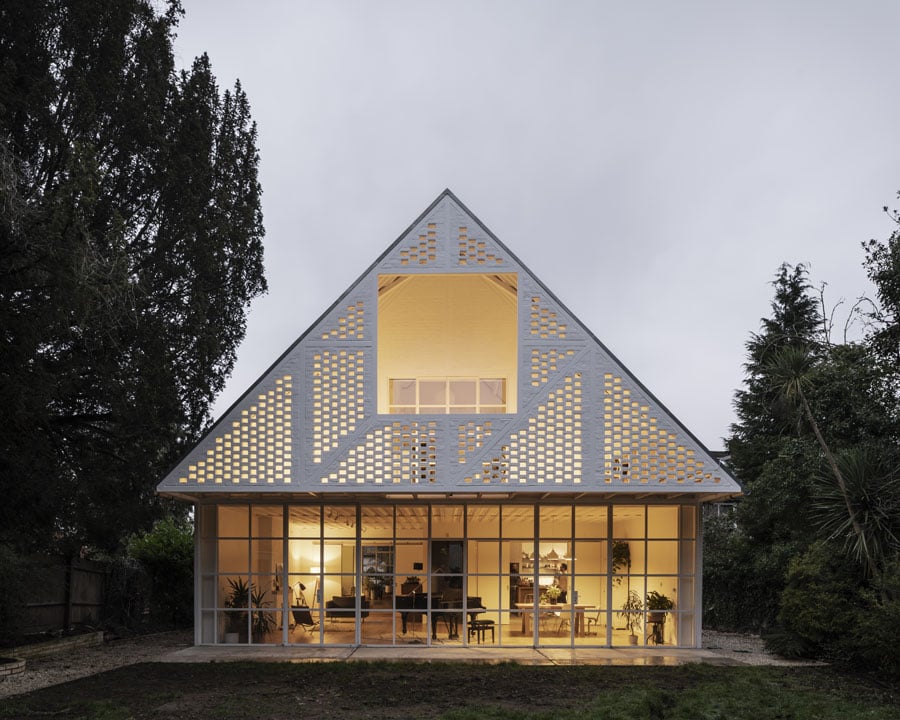 To fully appreciate the aesthetic of Ditton Hill House, its architects, London-based Surman Weston, believe you must be aware of English vernacular architecture in the southwest London suburb where the house is located and the quirky brief posed by its owner.
Surbiton is a neighborhood on the Thames, a 20-minute train ride from London, home to Hampton Court Palace and littered with modestly sized Tudor Revival-style houses. The client liked the exterior charm of that familiar house style, but wanted an interior reminiscent of a New York loft and a Palm Springs ranch combined. (The latter was a practical consideration because the existing house was arranged all on one level.)
"Externally the idea of melding the vernacular Tudor and industrial aesthetic was an important design driver. Internally we created a plan which has a variety of scales," says Surman Weston director Percy Weston.
---
More from Metropolis
---
Fortunately, the firm's philosophy calls for researching styles with the intention of reinterpreting them as an aesthetic mash-up, which is more contextually sensitive and functional. It's an approach the architects have executed in other projects, which feature experiments in cork and other sustainable materials and in mixing historic with contemporary details in their own studio, home offices for clients and in a foray into furniture with an innovative flat-pack, high-density fiberboard table accented with a Craftsman-style through tenon.
"As a young firm, we have the enthusiasm to try things that are risky," says Weston.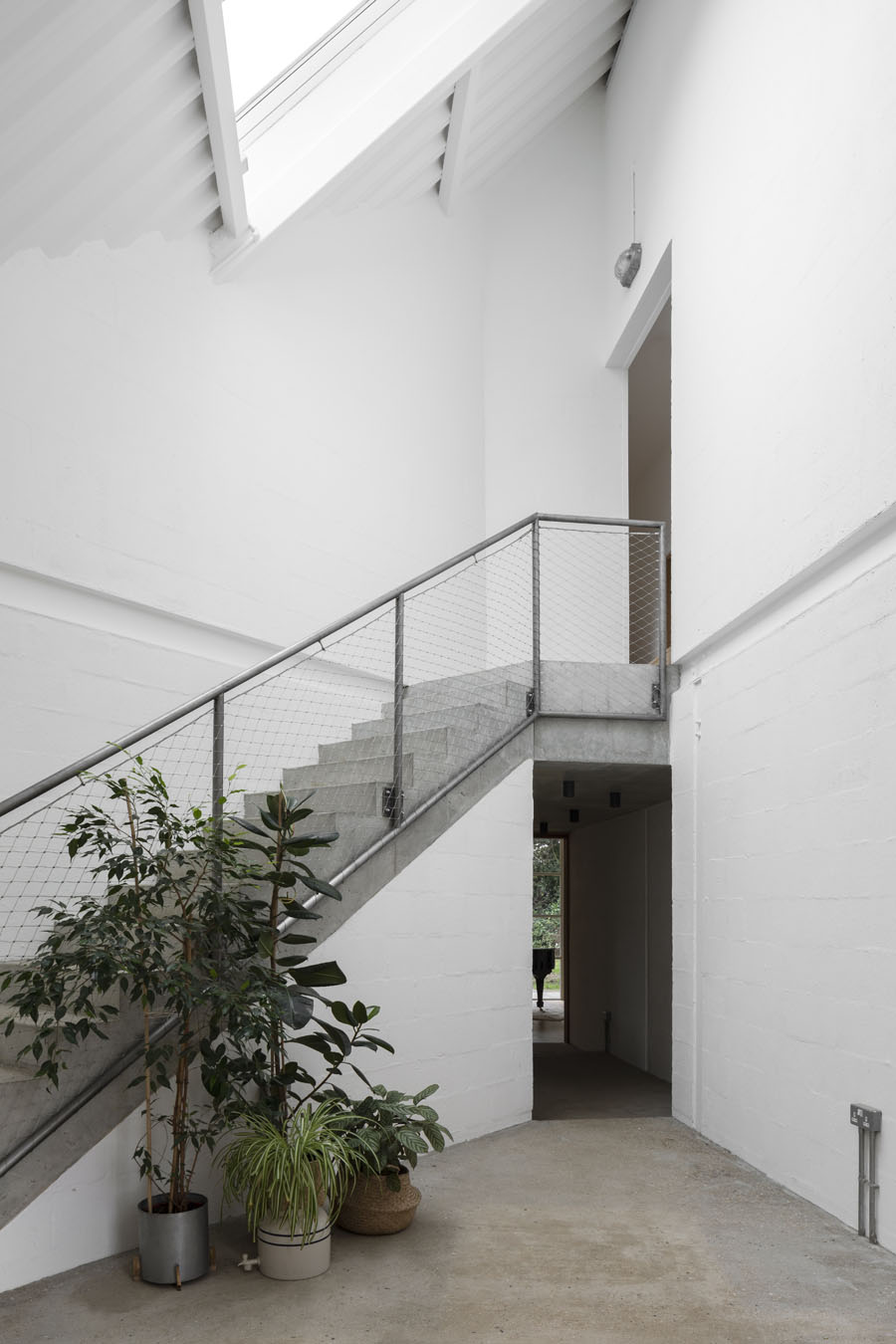 In this case, the risk involved bulldozing the existing cramped cottage, and replacing it with a two-story A-frame reimagined in industrial concrete and steel. The facade borrows the Medieval language of a mock Tudor by expressing its half-timber members in a steel exoskeleton and its classic leaded windows as oversized apertures. Painting the combination white and designing a deceptively thin-looking roof overhang further sharpened the look of its triangular elevations.
"The drip detail along the front makes the roof look thin, even though it's very thick. That's a big part of our graphic façade," Weston says.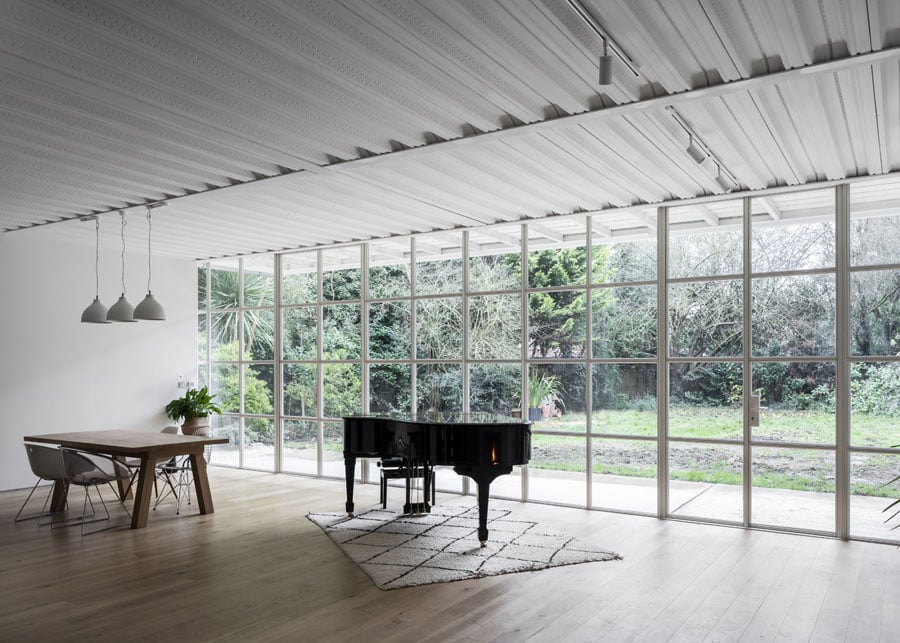 Indoors, scale is the vehicle for the loft-cum-Palm Springs aesthetic: A narrow towerlike entry leads to open living space overlooking the garden through a wall of windows. "It's a deliberately vertical entrance," says Weston, adding that "from the height of the entry you step down into a dark hallway space beneath a concrete soffit, before you move into the more domesticated spaces. Passing from the hallway into the living room, there's a dramatic transition from compression to expansiveness, as the ceiling height increases and panoramic rear windows provide an uninterrupted view of the garden."
Of course, the true value lies in performance, and this is ultimately larger and more efficient than what was there. Says Weston: "We always want to do something we haven't done. Not because it's novel, but because we want to see where it leads us."