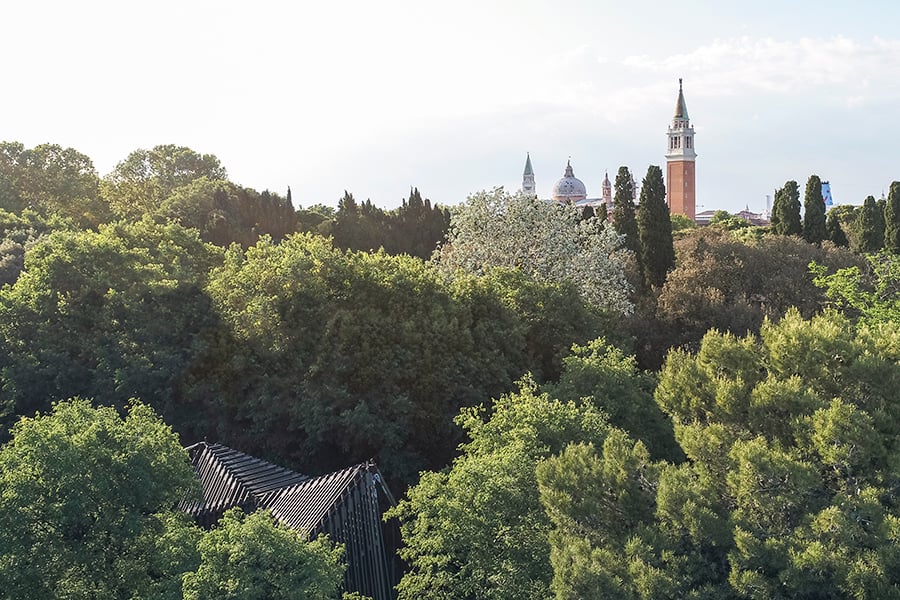 May 29, 2018
Foster + Partners Designs a Delightfully-Intricate Pavilion for the Vatican at the Venice Architecture Biennale
The humble timber structure, part of the Holy See's contribution at the Venice Architecture Biennale, opened to the public this weekend.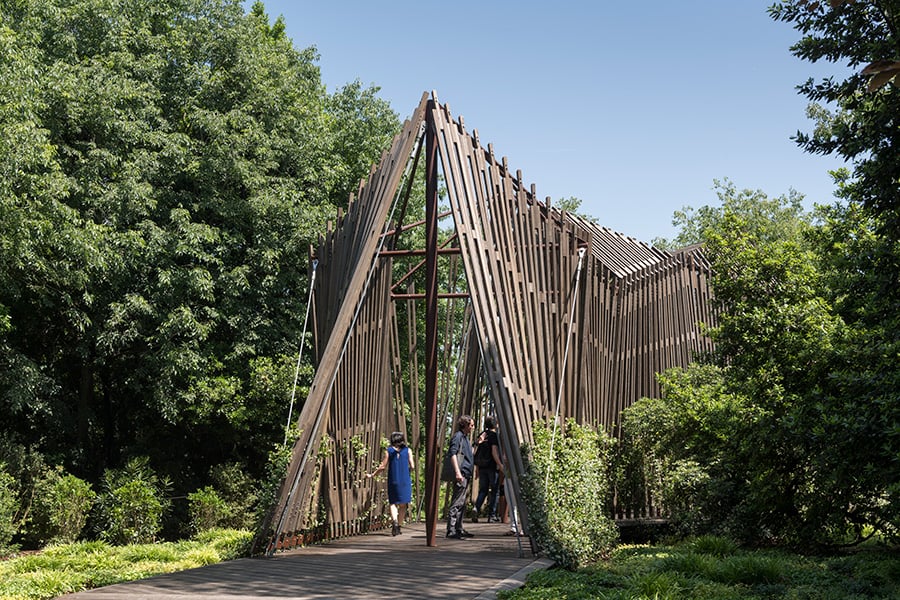 Only divine intervention could divert the attention of Venice Architecture Biennale–goers away from the Giardini and Arsenale last week. Thankfully, Norman Foster was in town.
On the island of San Giorgio Maggiore, an excited hush descended upon a gathered crowd as the (former) Lord arrived. They waited, expectant, for him to bestow the Word upon them: "Shall we have a look then?" he said, brightly.
Norman Foster led the congregation of journalists across the wooded isle, where his new chapel structure had just been unveiled alongside ten others as part of the inaugural Vatican Pavilion at the Venice Architecture Biennale.
---
More from Metropolis
---
The pavilion follows the Holy See's presence at Venice's Art Biennales in 2013 and 2015, and broader, mainstream cultural outreach spearheaded by Cardinal Gianfranco Ravasi, who was recently photographed at New York's Costume Institute's Heavenly Bodies exhibition alongside Anna Wintour and Donatella Versace—quite the trinity.
For the architecture biennale, eleven architects were invited by Italian architecture historian Francesco Dal Co to a secluded forest on San Giorgio Maggiore where they each picked a site to construct a chapel in collaboration with 11 construction companies. The architects—an international bunch including Smiljan Radic, Eduardo Souto de Moura, and Flores i Prats—were given free reign over their designs, each of which only necessitated some form of altar and lectern.
---
"It started with the idea of three symbolic crosses," preached Foster, who was leaning against the timber grillage of his chapel.
Loosely depicted by the steel masts of the building's tensegrity structure, the crosses lead visitors up from the island path to a view over the altar to the Venetian lagoon. Twelve-hundred timber slats lean against the structure, creating simultaneous exposure to the May sun and enclosure within the contemplative space.
"There's a deliberate ambiguity between being enclosed but also being aware of this rather beautiful site," he explained.
It feels unusual to gain the sense of a Foster project in its entirety. We're used to snapshot images of his megastructures, especially in London where the silhouette of the Gherkin or Wembley Stadium are merely iconic and difficult to grasp as designed wholes.
Thus at the chapel, to fully perceive its technically-minded structure (decidedly complex for a project only 70 feet long and 13 feet wide), its sensitivity to site, and its poetic flourishes (such as its view out to the water) is to gain a greater understanding of Foster the designer, as opposed to Foster the brand.
It even serves to humanize his megastructures: on returning to London one notices the same tapering on the masts holding up the roof at Stansted airport as the verticals meeting the ground at the chapel.
"There is no difference between these," Foster told Metropolis. "For me it's all about design. In all of these cases you're working with a site—the site could be a table or it could be a landscape."
You might also like, "The Top 10 National Pavilions at the 2018 Venice Architecture Biennale."