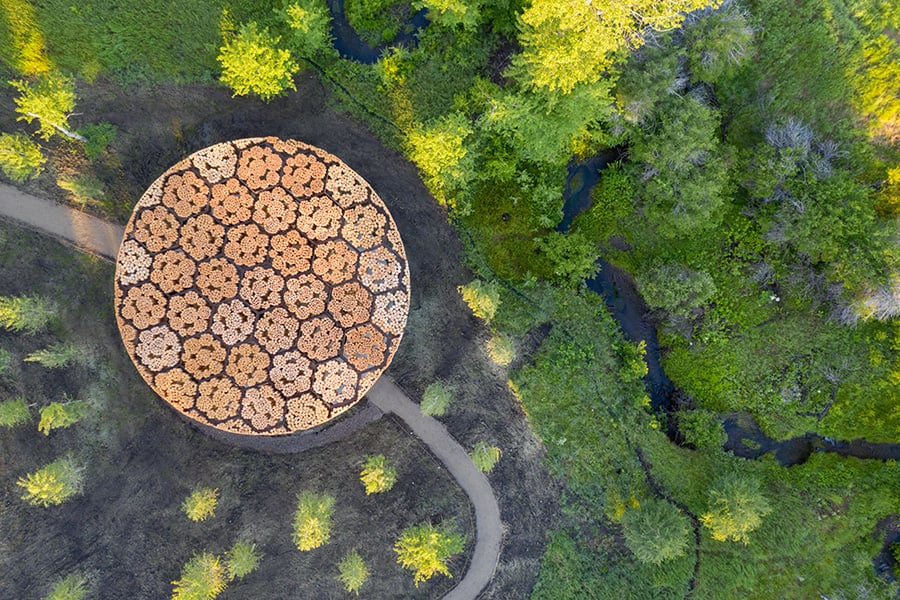 July 19, 2019
Francis Kéré Designs a New Pavilion For Montana's Tippet Rise Art Center
Intended as a place for visitors to pause with nature between concerts, the pavilion draws inspiration from Dogon architecture in Kéré's native Burkina Faso.
Diébédo Francis Kéré's new 2,100-square-foot Xylem pavilion at the Tippet Rise Art Center in rural south-central Montana represents a nuanced synthesis of different climes and cultures. Bundles of local ponderosa and lodgepole pine hang like lamps above lines of curved benches. The sun streams through gaps in the ceiling like a canopy in the forest. According to Kéré's office, the design alludes to the Dogon-constructed wood-and-straw toguna gathering spaces in the hot savanna of the architect's native Burkina Faso. The entire pavilion, which uses no lighting or electricity, becomes a stage set to the Beartooth Mountains in the distance, with a grove of aspen and cottonwood trees in the foreground. Xylem, like Kéré's similarly open Serpentine Pavilion 2017 or Gando School Library, is designed to "protect from the sun but at the same time to allow the ventilation of the shaded space underneath," according to the architect's statement.
Tiered seating allows visitors to easily spread out or slide down onto a different level as they mingle or meditate. Tippet Rise founders Cathy and Peter Halstead intend Xylem to be a place for visitors to pause with nature between concerts (the Center programs an extensive season of classical chamber music each summer), though they also plan to use the space for poetry readings and other performances. It's a fitting addition to Tippet Rise, a place in the landscape which seeks to bring together the emotional strands felt in music, art, and architecture. Just down the road is Alban Bassuet and Arup's Tiara Acoustic Shell (2016), which hovers above musicians and projects sound back toward the audience. Nature can often be a source of inspiration for music, and structures like this and Xylem (see also Ensamble Studio's clifflike, poured concrete Domo, completed in 2016) contain and filter the site's environment like instruments.
That Kéré has designed Xylem as a place for gathering in such an interdisciplinary setting, perhaps speaks to the prominence of education in his architecture. The Tippet Rise pavilion is just one part of a larger collaboration: Kéré has also worked with the Halsteads to fund and construct the Naaba Belem Goumma Secondary School in Gando. Named for Kéré's father, the school will enroll 1,000 students early next year. Through Xylem, a structure that abstracts the idea of learning through conversation, and the Naaba Belem Goumma, Kéré demonstrates his continuing commitment to an exemplary architecture that cites West African culture and responds to need efficiently—creating work that is, as Kéré said in one interview, "sustainable—but sophisticated."
---
More from Metropolis
---
You may also enjoy "4 Innovative Urban Landscape Projects From Around the World."
Would you like to comment on this article? Send your thoughts to: [email protected]