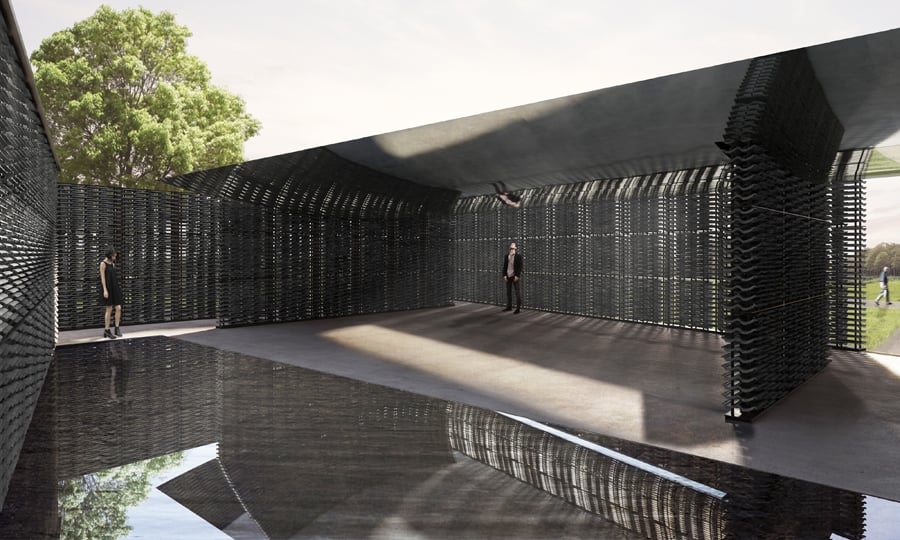 February 8, 2018
Frida Escobedo Adapts Mexican Building Techniques to London for 2018 Serpentine Pavilion
Featuring screen walls and a mirrored roof, Escobedo's design will be "a timepiece that charts the passage of the day."
In a first for London's Serpentine Pavilion, a Mexican architect has been awarded the commission. Frida Escobedo has designed the 18th iteration of the annual program, which was inaugurated at the turn of the millennium by a Zaha Hadid–designed folly.
Based in Mexico City, where she was born in 1979, Escobedo is also the youngest architect to be called on by the Serpentine Galleries for the summer pavilion series. While this may sound surprising to some, 38 is a spritely age in the world of architecture.
In contrast to previous pavilions, Escobedo's design is simple. Semipermeable walls made from dark gray cement shingles enclose a courtyard and reflecting pool. The wall tiles, made in the U.K., look like flattened Ws and have been spaced to let light and the summer colors of Kensington Gardens filter through the screens. The orthogonal pavilion will be topped with a curved, mirrored canopy, which will reflect light bouncing off the shallow pool, to be cast into concrete flooring.
---
More from Metropolis
---
The design references a celosia, a traditional perforated breeze wall often found in Mexico and commonly married to brick, but Escobedo also cites a more local inspiration—the Prime Meridian line at the Royal Observatory in Greenwich, East London. The allusion is only detectable in the pavilion's siting. While Escobedo aligned the outer walls with the Serpentine Gallery, she oriented the inner courtyard north, along the axis of the Meridian line.
In a joint statement, Serpentine Galleries artistic director Hans Ulrich Obrist and CEO Yana Peel emphasized the contemplative quality of the pavilion space: "[It] promises to be a place both of deep reflection and dynamic encounter. With this bold interior, Frida draws history into the present and redefines the meaning of public space." For her part, Escobedo called attention to her use of "materials of light and shadow, reflection and refraction." The building, she said, will act as "a timepiece that charts the passage of the day."
Escobedo is the first Mexican architect to be awarded the Serpentine Pavilion commission and the second from South America, following Oscar Niemeyer in 2003. She founded her eponymous practice in 2006 after spending four years as co-director of the Mexico City-based firm Perro Rojo. Three years after setting up her own studio, Escobedo won the Architectural League of New York's Young Architects Forum and enjoyed further success in the U.S. in subsequent years. In 2017, the league honored her a second time with the Emerging Voices Award. Her installation Randolph Square at the 2017 Chicago Architecture Biennial was one of the event's most visible projects. And this past January the Columbia School of Architecture, Planning and Preservation wrapped up a solo exhibition curated and designed by Escobedo.
The 2018 Serpentine Pavilion will open to the public on June 15 and will remain on display until October 7.
You may also enjoy "Serpentine Pavilion 2017: Francis Kéré's Tree-Like Design Takes Root in Kensington Gardens."