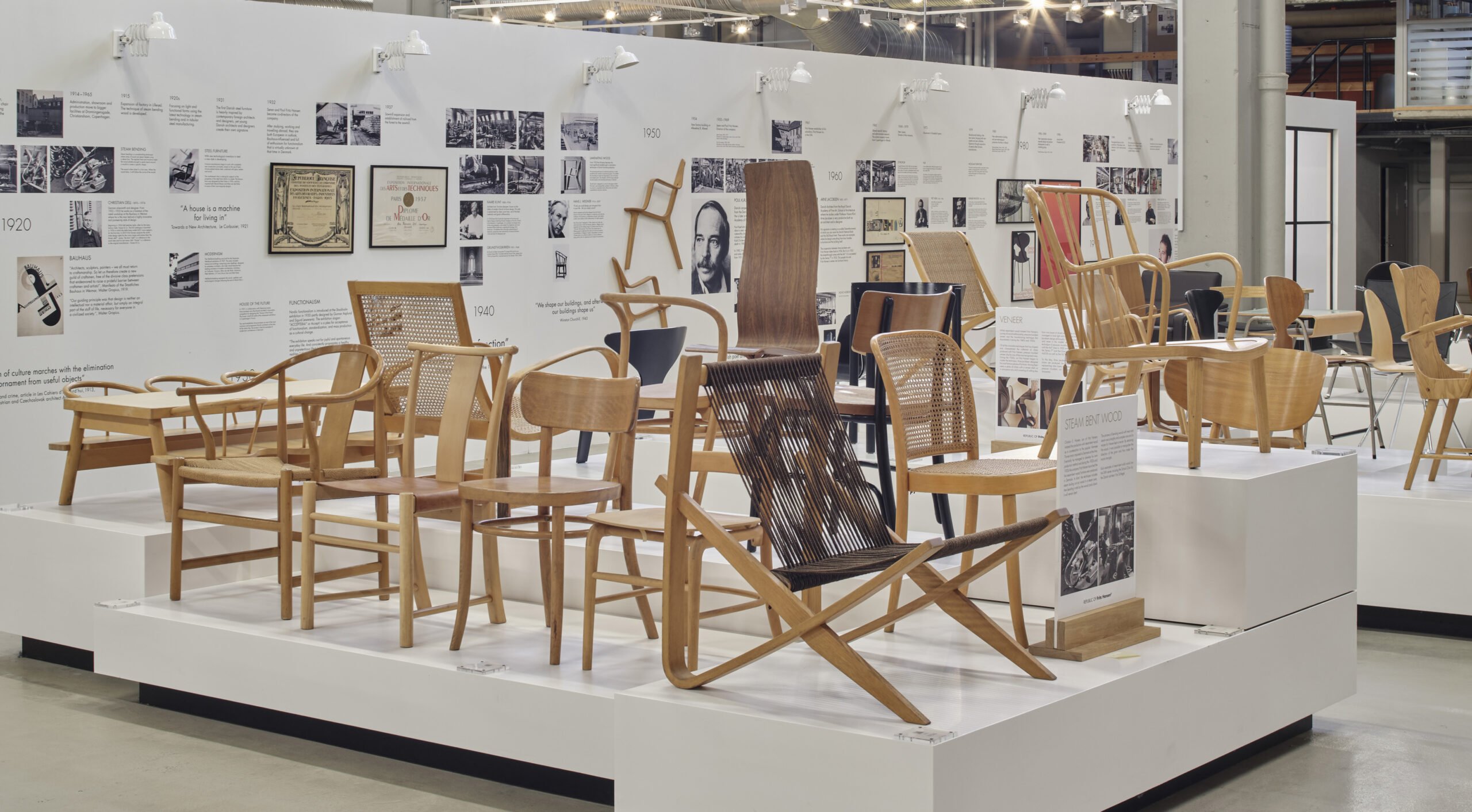 May 29, 2020
Fritz Hansen's Entire Office is Now a Showroom
The Danish furniture manufacturer has upgraded its office into a welcoming space for their 6,000 annual visitors.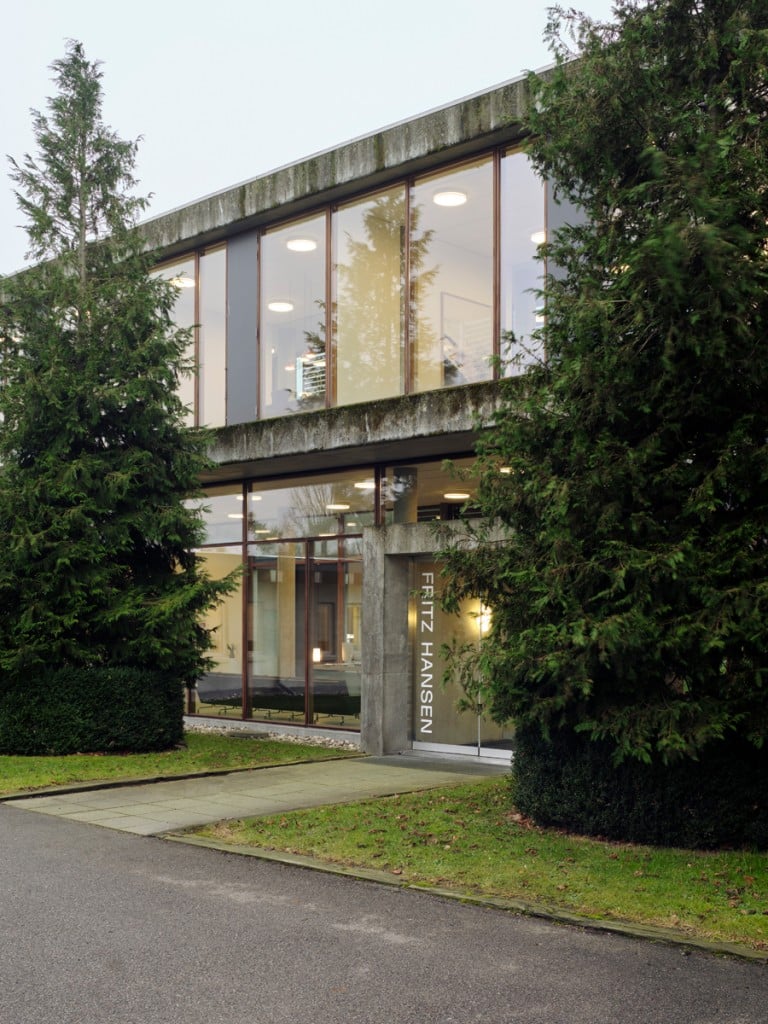 ---
The executives at Fritz Hansen came to one conclusion: The way they work had changed. "More and more we come together in agile teams—whether it's in management, by project, or in the supply chain," explains Christian Andresen, head of design at the Danish furniture manufacturer. Their traditional office interior, pivoting around the allocated desk, was spacious but proved increasingly lacking. Not to mention it was without a unified interior design.
Also significant was the some 6,000 guests the company annually draws, arriving in the form of clients, architects, students, or local clubs of curious design enthusiasts. Wasn't this an untapped opportunity to show off a little? With these challenges in mind, the in-house design team embarked on a refresh.
Nestled adjacent to a pine forest 18 miles outside of Copenhagen, the warren of buildings that makes up the 540,000-square-foot headquarters is the result of somewhat haphazard growth over more than a century. The first building erected on the property in Allerød, Denmark was a sawmill at the end of the 18th century—shortly after the company's founding in 1872 and before lumber was sourced elsewhere, leaving the site's forest preserved. The redesign would tackle 22,000-square-feet of office space spread out among three buildings each very different in their architecture (production, occurs in four expansive warehouses, each more than 100,000 square feet).
---
More from Metropolis
---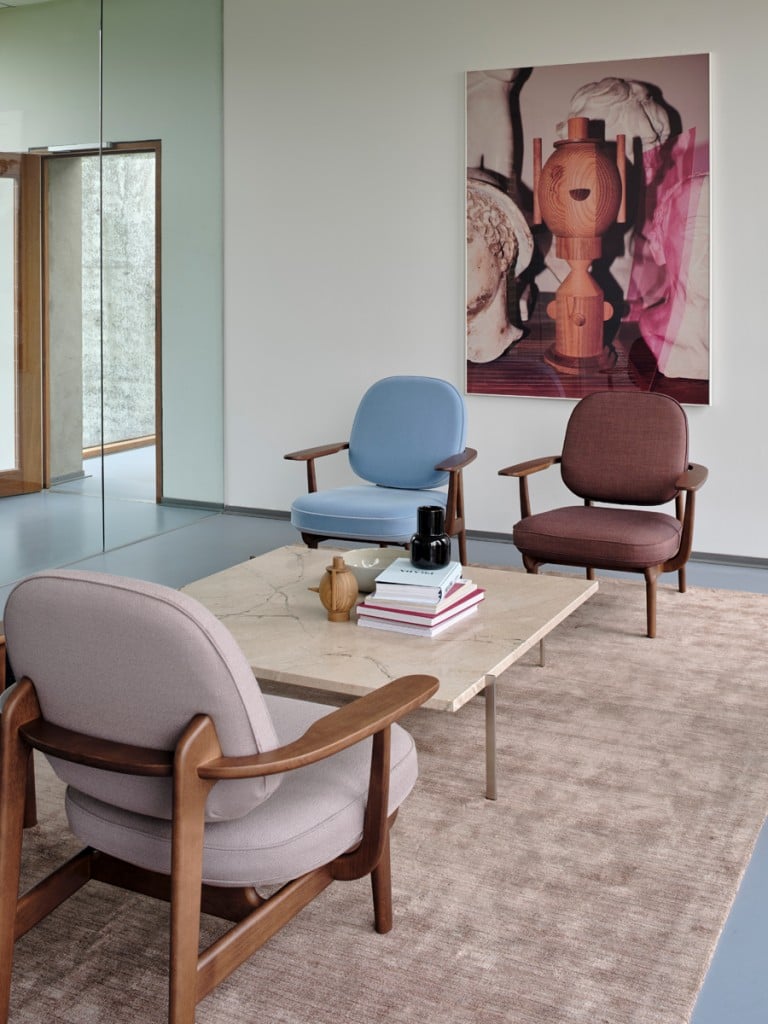 ---
Now this office space meets the demands of a wide variety of workplace activity and offers staff more ways to work. The new layout consists of continuously revolving furniture settings in a wide variety of rooms and zones, from the buttoned-up meeting area to casual lounge or curtained-off and acoustically protected niche to hide away for a phone call. There's also a textile and a material library. Meanwhile the entire office interior acts as a large-scale, functional showroom to the numerous visitors. Next year, those visitors will benefit from the final stages of the renovation—a digital revamp of an existing museum showcasing Fritz Hansen's product legacy, a photo studio, and an auditorium.
Flooring, window sizes, and curtains are unifying elements bridging the three buildings. In a former manufacturing warehouse, glimpses of the company's long legacy in the form of air and water ducts dropping from the exposed ceiling and painted yellow lines and numbers on the concrete floor are strategically left untouched. "Historical curiosities, as well as changing exhibitions, are meant to inspire when people walk about," Andresen notes.
---
Five new meeting rooms with different functions are found in house-like pavilions with large windows, drawing visitors into daily activities. "There's an agile one where you can move tables around, one more like a living room, and one like a dining room," says Andresen. "They sit like small shops on a street."
After acoustics received a major overhaul, the new interior is notably silent. Below an acoustical ceiling in the marketing department, an sound attenuating wall is fabricated from 10-millimeter-thick felt made from recycled PET Coca-Cola bottles. Noise muffling floor-to-ceiling curtains sewn from Fritz Hansen's wool-blend textile Christianshavn offer softness in folds of burgundy, pink, and yellow.  These draw back to reveal hidden seating opportunities, such as a tucked away upholstered sofa or lounge chair. "I think we sewed up almost 1,300 feet of fabric," Andresen comments.
The ripple effects of COVID-19 on the workplace are still settling, but one thing is sure: In this new day, evoking a sense of well-being is paramount and something Fritz Hansen provides.