July 24, 2018
Grimshaw's Innovative Frost Science Museum Has Become a Magnetic Draw in Miami
In development for more than a decade, the project boasts a showstopping aquarium and architecture that breathes in ocean breezes.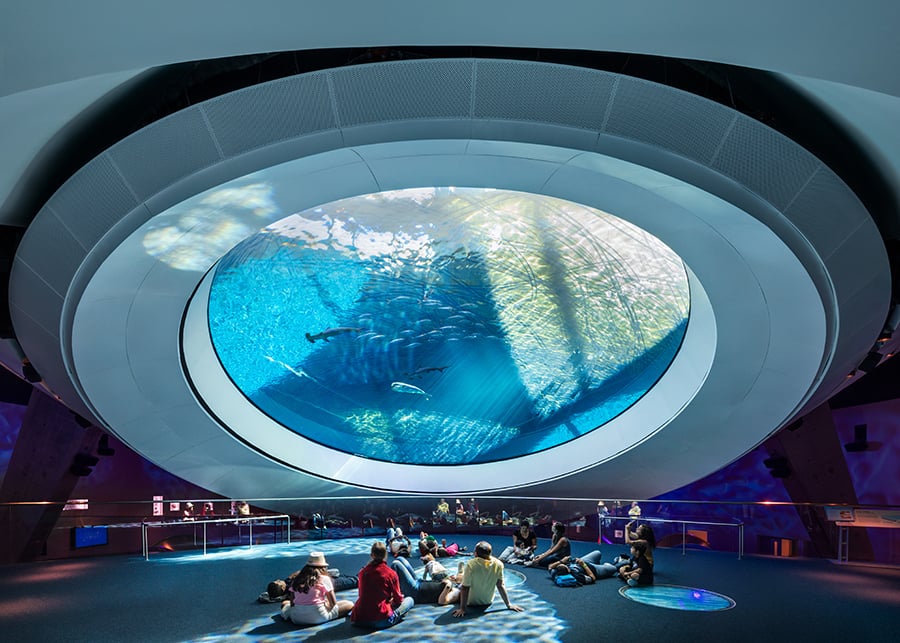 The scene at Miami's Phillip and Patricia Frost Museum of Science on June 20 was festive. Museum staff buzzed and applauded, a local donut shop provided free snacks, a photo and video team was on hand, along with an employee carrying a small bird of prey. It was all for Gisel De Renzo who, along with her two kids, was the one-millionth visitor to the Frost since it opened on May 8, 2017. (Besides A-list treatment, the family also received gifts and prizes.)
Consultants had projected that the $305 million, 250,000-square-foot science museum, designed by Grimshaw Architects, would attract 750,000 visitors a year. That the Frost handily exceeded that target was certainly cause for celebration. It was also a kind of validation for an ambitious, sometimes troubled project that took more than a decade to complete.
"This project is definitely very unique and complex, so it came along with a lot of challenges," Christian Hoenigschmid Grossich, project architect and associate principal at Grimshaw's New York office, tells Metropolis.
---
More from Metropolis
---
For more than 50 years, Miami's Museum of Science and Natural History had been located in a much smaller, albeit beloved space in Coconut Grove. Generations of Miamians visited the old building, experiencing its venerable planetarium and participating in summer camps. "There are people that certainly liked the sort of closeness and smallness," Frost president Frank Steslow says. "It was very approachable."
It also showed its age: the planetarium system was nearly 40 years old, and the building had a musty smell. "There was always this push for something different and something new, and I think that philosophy is what translated into the new project," Steslow added.
Saying the Frost is "something different" compared to the old facility is a fantastic understatement. Located along Biscayne Bay in downtown Miami's Museum Park and tucked against the MacArthur Causeway, the Frost is a hub of four buildings more like a "village of science," as Grossich describes it, than your typical one-building experience.
Approaching the Frost from the highway, the view is dominated by the massive sphere of the new planetarium, a state-of-the art, 250-seat facility that boasts a super-ultra-high-def 8K 3D projection system. From the water and a surrounding park, museumgoers encounter the Living Core, a four-story flipper-shaped building boasting flexible space for both permanent and temporary exhibitions (like smaller aquariums and the human-body-focused MeLab) and an attractive green roof.
But what gives the Living Core its name is the 500,000-gallon, multi-story "martini glass" saltwater aquarium. Visitors can see sharks, rays, and other native marine life from the roof, then get an underwater, fish-eye view of Miami's aquatic life as they descend into the building. (A greenwall of local flora is also shot through the span of the building.) The planetarium and Living Core are the Frost's showstoppers, connected to the other two, more traditional structures via open-air staircases, elevator banks, and walkways. "This building doesn't have a single front door," Grossich says. "In that regard, it is very unique and not very easy to describe for people who haven't been there maybe to grasp and to understand."
The closest to a formal entry point at the Frost are the plaza and parking garage it shares with the Herzog & de Meuron–designed Pérez Art Museum Miami (PAMM). Together, the Frost and PAMM form a cultural center designed to attract locals and tourists alike to a part of town that had previously been bypassed.
Grimshaw secured the commission as design architect in 2007 on the basis of a series of individual concepts—like a lush green roof and elements designed to collect rainwater—that showcased the firm's style of architecture and "provided early ideas of how the overall building could be an exhibit and tell a story of sustainability," Grossich says. (Rodriguez and Quiroga is the architect of record.)
Those elements were incorporated into the plan, but the Frost also required upgraded spaces for school programs and exhibitions, as well as a new planetarium and aquarium—neither of which Grimshaw had done before—with the aim of putting "themselves on the world stage of science museums and facilities," Grossich adds.
To meet that challenge, Grossich and his team embarked on an intense, year-long process of refining its ideas and program, drawing inspiration from Renzo Piano's California Academy of Sciences in San Francisco while also visiting institutions in Monterey Bay, California, New York, and London.
They consulted with Sky-Skan on the planetarium and Thinc Design on the core aquarium and other exhibition spaces throughout the site. Landscape architecture firm ArquitectonicaGEO, which worked on the nature elements at the PAMM, was hired to establish an environmental continuity. "What both of those museums were trying to do was really embrace that outdoor experience," Ben Hutchens, ArquitectonicaGEO project manager, explains. "Miami is a place that does get hot, but the buildings have that passive cooling design which allows them to be used year-round. Both buildings really live and breathe."
Indeed, one of the achievements of the Frost is that this museum, full of native marine life and flora, is itself a kind of organism. Beyond the whiz-bang amenities inside—laser arrays, permanent and traveling exhibitions, responsive digital displays, and tactile encounters with underwater wonders—this "village of science," as Grossich describes it, was built to harness the undisturbed prevailing ocean winds that sweep over the site. That cool air courses through the campus, turning the outdoor areas into an architectural respiratory system, inhaling fresh ocean air and expelling the stagnant heat you'd otherwise suffer through in Miami. This, in turn, lures visitors into extended stays in the outdoor walkways, balconies, and exhibit spaces. (Unique views of the city, beach, and nautical activity, as well as a dynamic green roof, help too.)
Further animating the Frost are three-inch, custom-designed glazed ceramic circular tiles, applied in a random concave-flat-convex pattern to the Living Core building, creating a shimmering, scale-like quality that alters appearance based on light conditions. "Having a component of the building that has a clear relationship to the human scale, and you see people just walking up there to touch it, slap it, stroke it—it's, for me, a huge success and something I'm just really happy seeing," Grossich says.
He had to wait a while for that experience. Grimshaw was awarded the Frost in 2007, and ground was broken in February 2012. But in 2014, the Frost fired its original contractor, Suffolk Construction, replacing it with Skanska; this was followed by funding gaps that opened in 2015 and 2016. To get the project over the finish line, healthcare investor Phillip and Patricia Frost, who donated the initial $35 million for the museum, gave $10 million more while Miami-Dade County kicked in $205 million. During construction, the old museum was shut down for two years, depriving Miami of its treasured science center, which only added to the sense of urgency.
Seventeen months after finally opening, there are still lingering issues. In April, for example, Skanska filed a lawsuit against the Frost alleging incomplete payments and scaled-back work caused by a budget crunch. In an interview with the Miami Herald, Steslow described the suit as "a little bit of background noise to me, for what was otherwise a very successful year."
But the architects, designers, and museum couldn't be happier with the reception the Frost has received. Attendance is above projections, it has attracted a greater number of young adults and Millennials than anyone anticipated, and the museum has more tools than ever before to create exceptional, engaging content and programs.
"I think nobody knew what to expect here," Steslow says. "But we've been able to carry through the relationship [the old building had] with the local audience and build something bigger and grander that Miami, as an international destination, can be proud of."
You might also like, "Super-Sustainable Dwelling, Built to Push the Limits of Self-Sufficiency, Goes on View at U.N. Headquarters."