October 11, 2019
Berlin's Futurium Shines a Sophisticated Light into a Drab Corner of the City
Designed by young local firm Richter Musikowski, the museum seeks to contemplate and spark conversation about the nature of the future.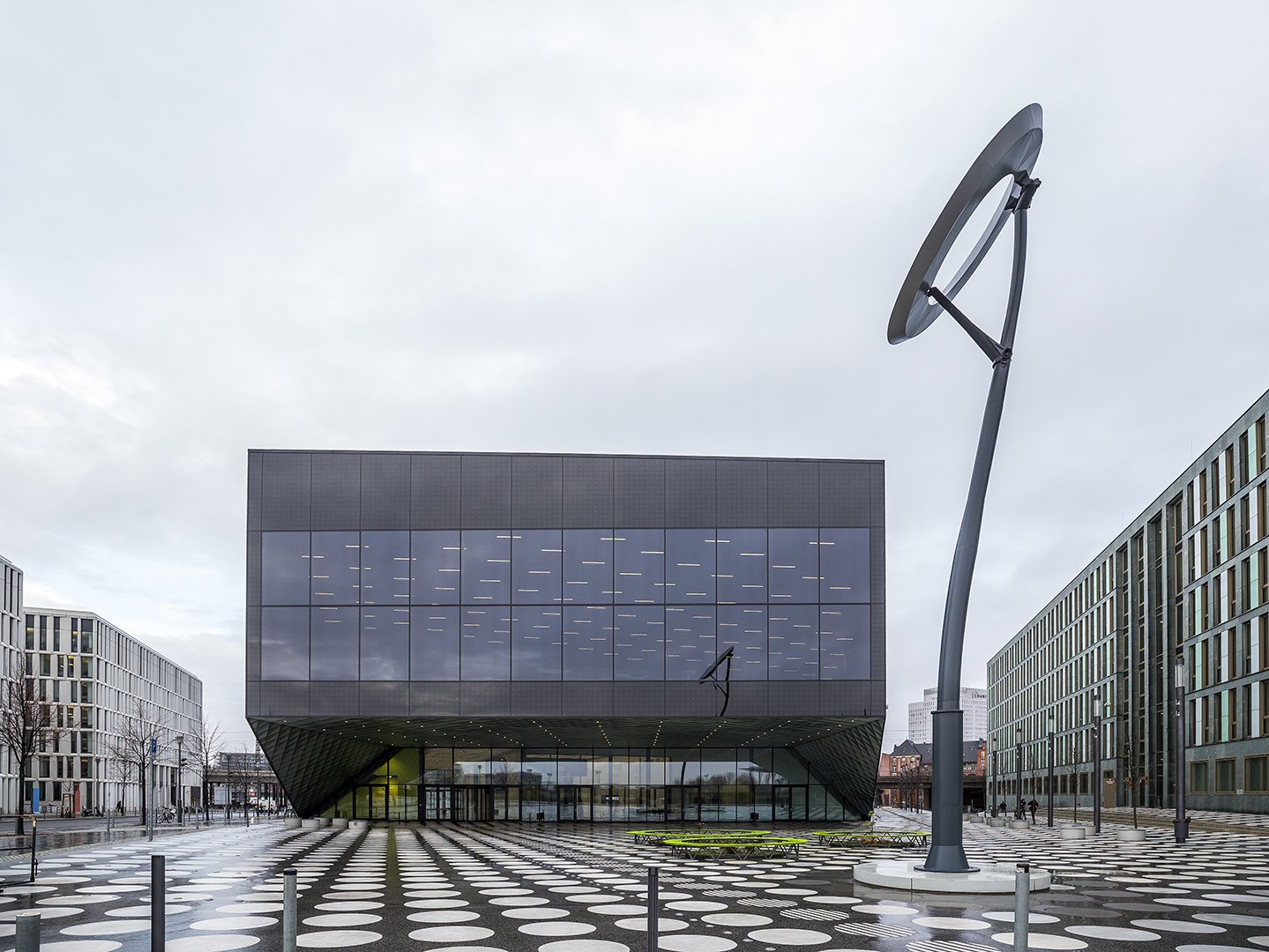 If you are interested in good architecture, I'd advise you to avoid the area around Berlin's Hauptbahnhof—its central train station—at all costs. Over the past few years, legions of profit-seeking investors have transformed this area from what was once a wasteland surrounding the Berlin Wall into what is now a wasteland of late-capitalist commercial high rises and cubic, uninspired hotels. But the newly opened Futurium may have what the area needs, shining a rather sophisticated light into the vicinity's architectural darkness.
Designed by the young Berlin architecture office of Christoph Richter and Jan Musikowski, the Futurium is a brand-new museum that invites visitors to consider questions of the future in all its forms. Its exhibitions present scientific debates and current discourses culled from a range of disciplines and professions, aiming to make complex issues understandable to a broad audience, foster public discussion, and sharpen our collective decision making. With flying cars and green high-rises swirling about, you can explore playful installations, speak with AI, and learn about how cities like Dresden, Seoul, and Belo Horizonte navigate growing population and civil participation—all with an emphasis on direct interaction. The premise, it would seem, is all in the vein of Abraham Lincoln's roughly adapted quote: "The best way to predict the future is to create it."
Richter and Musikowski created a shiny facade cladding the structure's twisted volume, giving it a certain spaceship-like look. As it rises from the ground, the Futurium forms two chunky cantilevers above its two main entrances to the north—where a main railroad line passes—and to the south, where the Spree river slowly runs. Both cantilevers terminate with oversized panoramic windows—each 28 meters wide and 11 or eight meters high—that loom over the dotted-pavement public space beneath. "Normally, you would place such a glass facade on the ground because of the strong wind forces," explain the architects. "Yet we wanted them to hover over the entrances. So we included steel girders, each two meter high, above the windows from where we could hang the entire windows." 
---
More from Metropolis
---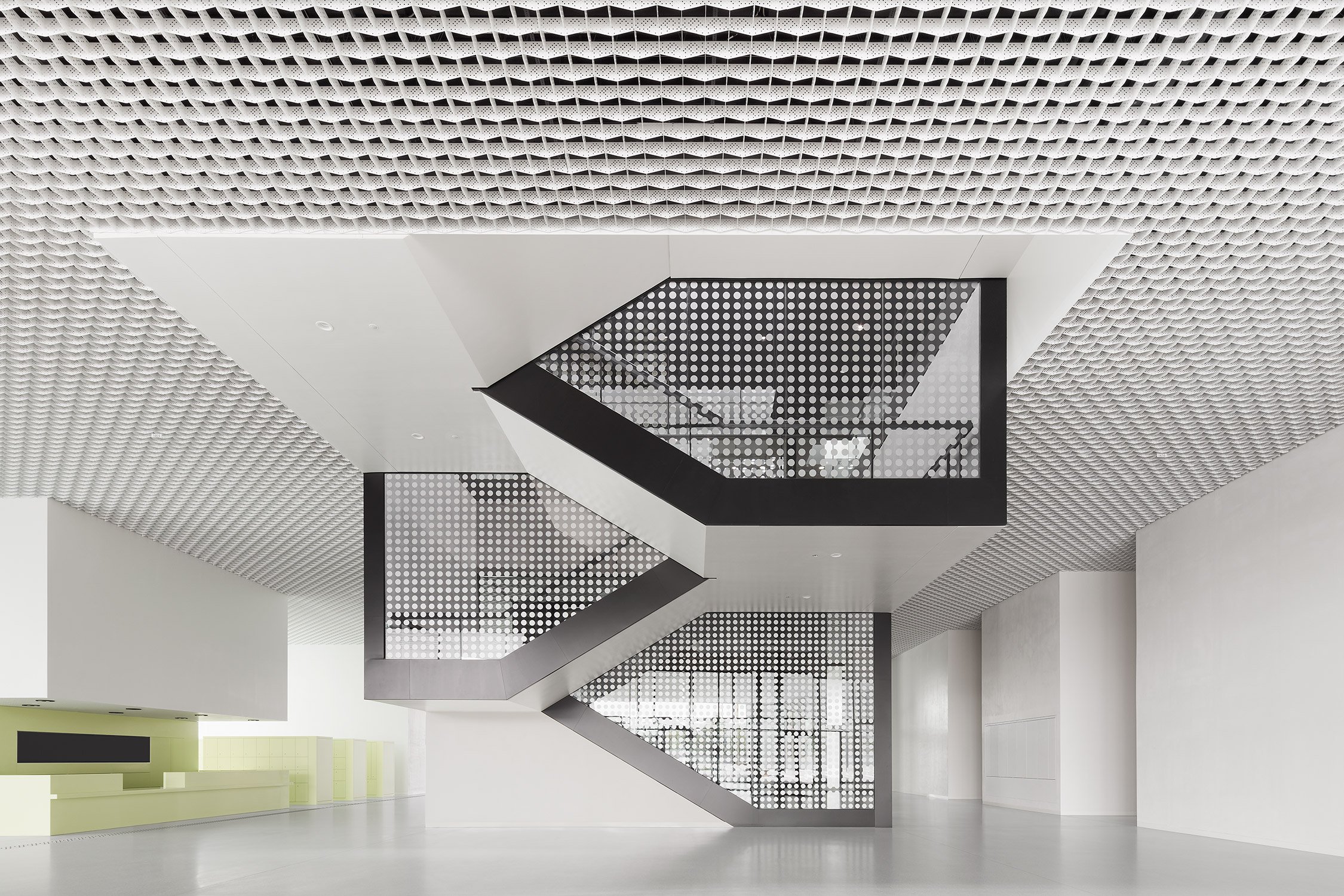 It's an enormous effort, one that attracted some criticism about the building's ecological prowess. Beside these windows, the building exterior remains closed under a skin of 8,000, 70-by-70-cm elements made of folded stainless steel and cast glass. Reflecting light, movement, and the sky, the facade is continually changing its color and look. Small offices under the museum's skin become visible when the lights are activated.
The museum's design was determined by way of an open competition in 2011; when Richter and Musikowski first submitted their proposal, the interior's program was left completely undecided. Structurally, the result is a stack of wide, empty volumes, with a main, 3000-square-meter exhibition hall sandwiched between the two giant windows. On the ground floor, a large foyer connects the two entrances with ancillary spaces like a wardrobe, counter, cafeteria, shop, and an auditorium for public events. Underground is a second exhibition hall, the so-called Futurium Lab, a mysterious 600-square-meter dark cave, and an impressively lit ceiling that looks lifted from a James Bond movie. "Of course, while designing the building we checked the images of 'future' that we carry in our own memory," says Christoph Richter. "Yet it was never about a direct transfer of a certain image, but about versatile, rather emotional connections with the general idea of 'future'."
"We hope that the building allows everyone to find his or her own associations and images," adds Jan Musikowski.
You may also enjoy "The Reach at Kennedy Center Excels Where It Counts—Acoustics."
Would you like to comment on this article? Send your thoughts to: [email protected]