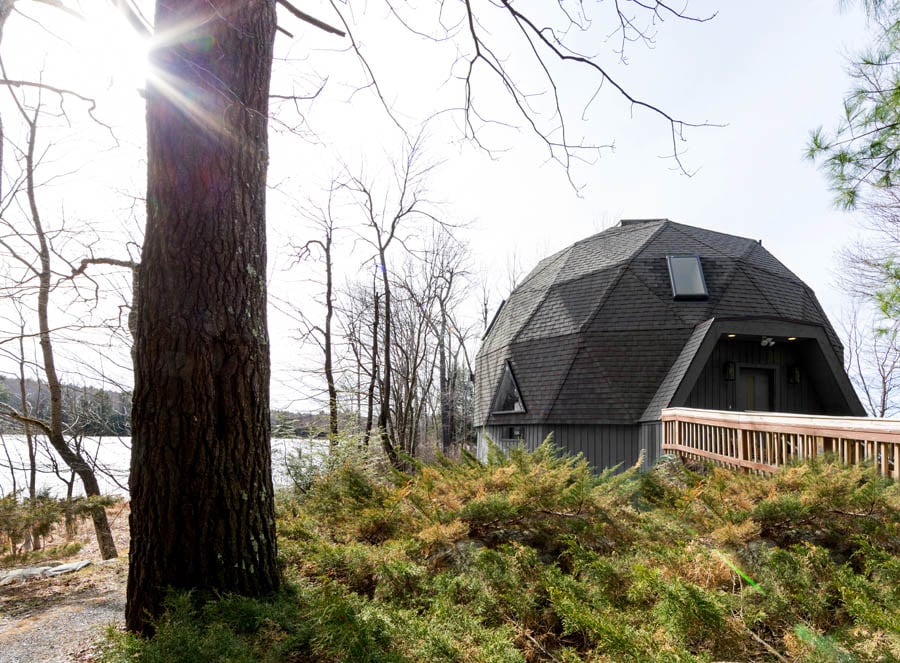 September 18, 2019
A Geodesic Dome in Massachusetts Gets a Modern Makeover
Jess Cooney Interiors renovated the 1980s structure, which hews to one the 20th century's most recognized architectural concepts.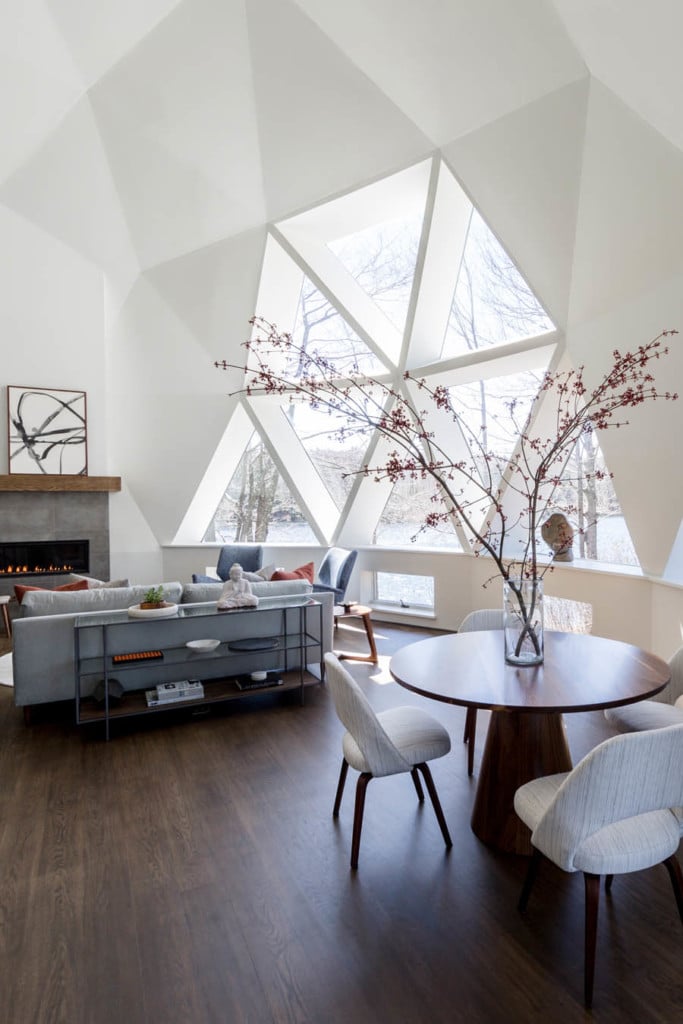 Compact, angular and—above all—energy-efficient, Buckminster Fuller's geodesic domes are some of the 20th century's most recognizable architectural design concepts. But in Becket, Massachusetts, set among the scenic pines of the Berkshires, one of the late master's domed creations has undergone a strikingly modern upgrade fit for the new millennium.
Situated on a secluded peninsula off a tiny lake, the 2,567-square-foot waterfront house boasts an exterior of wooden shingles and triangular facets that shield the formation from the elements and help balance weight within the tight structure. Its interior consists of a significantly-sized main level with two bedrooms, a bathroom, home office, living space, bar, and kitchen area, while above sits a lofted open-walled master bedroom and, below, a basement, crowned by soaring ceilings and framed by the original windows, which flood the structure with light and reveal waterfront views.
Renovated by Jess Cooney, a Massachusetts native whose five-person team works out of nearby Great Barrington, the home's original wall-to-wall carpeting and dark wood–paneling have been replaced by hardwood floors, while its outdated heating and electrical system has been converted to radiant heat, warming the home directly through the walls and floors. With the dome's new open plan, courtesy of a full gut renovation, Cooney was able to reimagine the interior spaces. "An open floor plan means you can insert or remove walls almost anywhere," she says, explaining that such a unique structure needs no interior framing. After constructing a spiral staircase in the center to connect levels, there was still space to add a pantry, mudroom, and even a three-quarter bathroom.
---
More from Metropolis
---
In the kitchen, the team installed new bamboo cabinetry finished with calming grey-blue paint, with counters now topped by slabs of white quartz, while glass pendant lights hang over a modern island outfitted with bar stools. The main dining space features a long, wooden table, created by a local furniture maker, encircled by leather chairs and a farmhouse bench. "It's really important that in a structure like this nothing is too imposing or heavy," says Cooney, in reference to the color palate and chosen floor plan. "It feels like a beautiful, airy space that functions well." Cooney also explained that the final kitchen design hinged on the ability to create the pantry, the home's dome shape presenting something akin to "a puzzle that you're working on." Once the team placed the pantry, which now sits behind the kitchen, the rest fell into place. "Then we had just one flat wall in the kitchen to work with."
Bathrooms, meanwhile, feature Caesar-stone quartz details and shower tiles in neutral blues and greens. "Even though we're using color, we're still using a very soft tone everywhere so that it doesn't overwhelm you in such a big, open space." In the initial planning stages, the team considered different dome layouts to see if the fireplace could be relocated (it couldn't), ultimately deciding on a work around. "Due to the home's construction and unique vaulted ceilings, radiant heat was crucial," says Cooney, who mentions that the team chose to preserve the floor-to-ceiling fireplace, now clad in limestone tiles with a floating mantel of oak, to add a focal point to the space.
While the windows still retain their original triangular design, an additional aperture has been added in the lower level to maximize views of the lake. But despite the extensive renovation, the space retains the futuristic feel of Fuller's iconic vision. "We were thinking we were going to plaster the whole dome, but we ended up just doing very high-level sheetrock detail," says Cooney, acknowledging the work that went into turning retro-interiors into something that feels modern, light, and wholly liveable. "Ultimately, my favorite thing to do is take a building and bring it back to life."
You may also enjoy "This Alpine Escape Was Built for Entertaining and Enjoying Mountain Views."
Would you like to comment on this article? Send your thoughts to: [email protected]