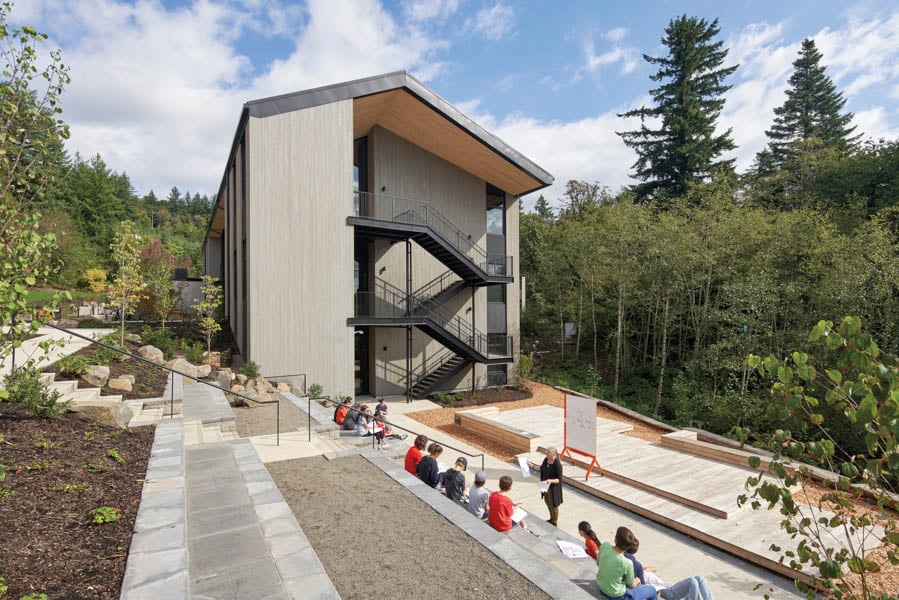 April 23, 2020
How Hacker Architects Put a Middle School on the Path to Net Zero
The Gilkey International Middle School in Portland, Oregon, makes the most of its forest site, harnessing natural light, fresh air, and biophilia.
Although the French American International School in Portland, Oregon, enjoys a gorgeous hillside setting on the edge of an evergreen-covered forest canyon, the preschool-through-eighth-grade campus has long needed improvements.
For years, the school existed as modular buildings and little else. It lacked a cafeteria, meaning students ate at their desks. And with no faculty offices and limited classrooms, instructors were forced to share spaces: one of them teaching, the other preparing for the next class
For sixth-, seventh-, and eighth-grade students attending French American International, however, that has all changed thanks to the campus's new Gilkey International Middle School building, completed this past fall and designed by Portland's Hacker Architects.
---
More from Metropolis
---
Intended as the first in a series of new buildings for the French American International School, the project delivers 14 new classrooms as well as much-needed administrative space for teachers and a flexible commons that can act as a cafeteria, an auditorium, and a hangout area.
Compliant with AIA 2030 guidelines and the Energy Trust of Oregon's Path to Net Zero program, the Gilkey building uses natural ventilation strategies to keep the school's operating costs low, as well as minimize its carbon footprint. Eliminating the need for air-conditioning, Hacker's design uses a combination of operable windows and louvers embedded in interior walls to cross-ventilate the building. To maximize energy efficiency, an automated outdoor temperature monitoring system tells staff when to open or close the windows. A three-inch concrete floor also acts as a basement like heat sink, passively regulating internal temperatures.
Just as importantly, in the Gilkey building one never loses sight of the towering Douglas firs or the verdant ferns and mosses just outside the school's walls. Studies have long shown that students achieve higher average test scores in naturally lit spaces, but for kids enduring their tumultuous teen years, the presence of nature can also be calming. "We did talk about forest bathing quite a bit, actually," says Hacker associate principal Sarah Post-Holmberg, referring to the Japanese practice of meditative retreat into nature. "How do we invite the forest back up the hill, and make that interaction a primary and primal part of the student experience?"
The three-story building spills down the hillside, thus appearing smaller in scale when viewed from its residential street front; its angular sloping roof and large overhangs even recall many of the nearby midcentury Modern houses. Boomerang-shaped in plan, the design places clusters of class – rooms and teacher pods at either end of a single-loaded corridor. Each of the pods and classrooms is treated like an individual "cabin" and is clad in cedar. But the key material is glass, for no matter where one stands—in a classroom, teacher pod, or corridor—there are views to the outside, either directly or through the different glass-enclosed spaces. Deer sightings are not uncommon.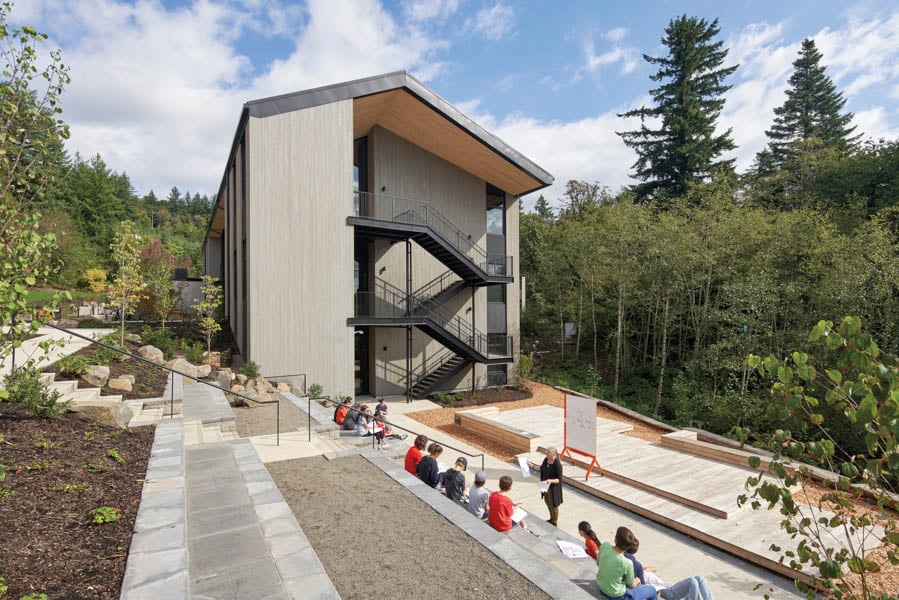 In the middle of the building, where the timber ceiling soars to its greatest height, the two wings converge on a more wide open central space for a variety of activities, from collaborative study to lounging. The second floor peels back, making room for a double-height common space that looks out at the forest.
Emmanuelle Burk, who heads the middle school division, appreciates the design's impact on its occupants. "I think this place is fostering community in a different way," Burk explains. "It's created a series of separate spaces, but they all relate back to public areas where we can meet each other, both kids and teachers. We have more space for teachers to work together, and we have more spaces for parents to come in and speak with us. We have spaces for all the people we're hosting."
You may also enjoy "Sustainability is a Nonnegotiable at Sharon Davis's Bayalpata Regional Hospital"
Would you like to comment on this article? Send your thoughts to: [email protected]
---
Register here for Metropolis Forums Webinars
Connect with experts and design leaders on the most important conversations of the day.