November 21, 2019
Giovanni Vaccarini Architetti's Powerbarn Treads Lightly—While Making a Big Impact
The facility produces ecomass-fueled energy while mitigating a former industrial site near Ravenna.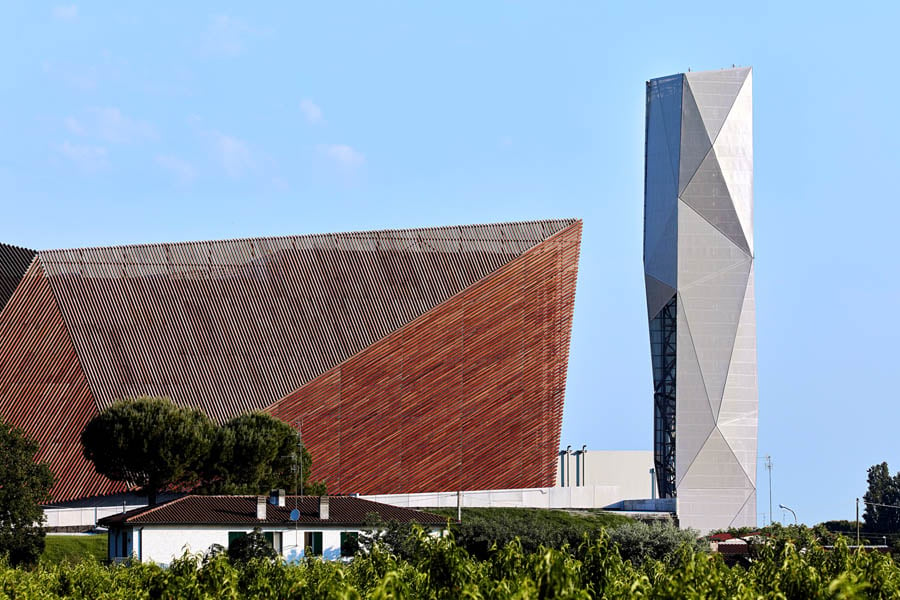 Emerging from the earth like already refined ore, Powerbarn is a bioenergy power plant that opened this spring, dedicated to the production of electricity from renewable sources. Located on a former industrial site near Ravenna, Italy, and designed by Giovanni Vaccarini Architetti (GVA), the plant's structures and landscaping are defined by two characteristics: its strong formality and its demonstration that industry, agriculture and community can co-exist harmoniously. 
The 222 GWh plant produces electricity from livestock bio-gas, supply-chain scrap wood chips, and residues from activities like mowing, pruning, and the river bank clean-up. It also includes an 11,000 square-foot photovoltaic array; altogether, these facilities are expected to produce renewable energy for an estimated 84,000 families. In building it, GVA aimed to create a structure that treads lightly in terms of its visual and environmental impact, while also rehabilitating or "renaturalizing" industrially damaged areas of the site. 
GVA's environmental mitigation plan manifests in a series of ten- to 33-foot dunes, which the firm built from earth excavated from the site, and which they covered with fresh soil, trees, and other vegetation. The dunes form an embankment around the site, lending the industrial structures a more human scale. Threaded with walking and bicycling paths that invite the community in, they become a membrane between the factory, the land, and their neighbors. 
---
More from Metropolis
---
Vaccarini explains that in starting a project, his first concern is always the concept. "When I start to design," he says, "all ideas are on the table." As it develops, the design evolves into a field of triangular faces punctuated with keen angles that command attention from a distance. In the case of Powerbarn, the architect developed imposing structures clad in faceted planes of wooden slats in high-contrast tones. This skin represents "the decomposition of the volume," explains Vaccarini. It wraps the 410-foot long and up to 98-foot high boiler and furnace rooms, taking its cues, in part, from the WWI Cubist-inspired Dazzle camouflage technique, which used disjunctive, graphical patterns to obscure the direction, speed, and vector of massive battleships. 
Likewise, the 164-foot smoke stack is as irregularly angular as a crumpled piece of paper. It, too, makes several visual references: to Dazzle ships, crystalline forms bursting from the ground, the region's barn vernacular, weaving, and nomadic architecture. Facing multiple directions, the triangular wooden planes give the building an entirely different appearance depending on the direction, light, and time of day or season from which they are viewed. "The material, too, was a derivation of the idea," says Vaccarini. "Wood is the biomass used to power the plant. The piles of shredded wood chips 'design' the whole agro-industrial landscape of the plant. So the wood was a simple choice."
You may also enjoy "At MoMA's New Expansion by DS+R, "There's No Perfect Circulation Route""
Would you like to comment on this article? Send your thoughts to: [email protected]