March 23, 2021
An Immersive Installation Brings the Goodnight Moon Room to Manhattan
On view at Fort Makers gallery on the Lower East Side, Goodnight House showcases 14 artists and designers inspired by the children's classic.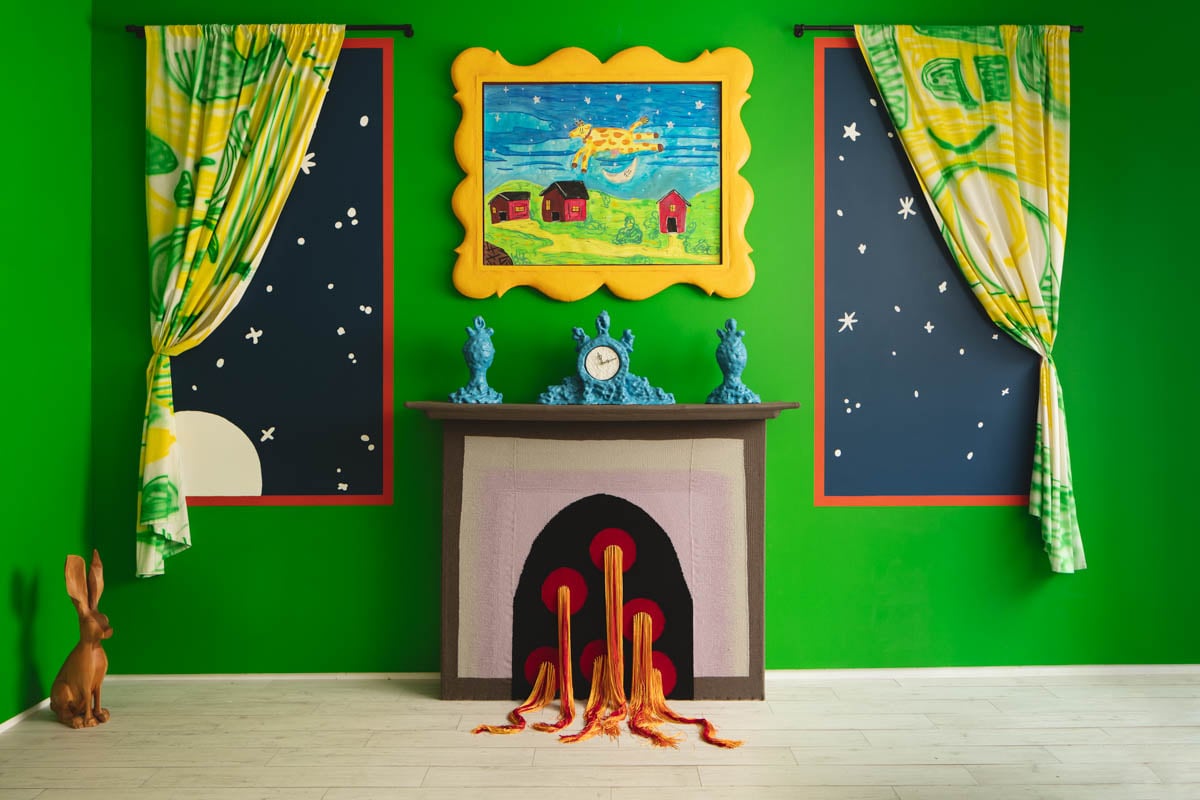 ---
"Goodnight moon. Goodnight Zoom. Goodnight sense of impending doom," so read a viral meme that circulated during the early months of the pandemic. Over the past year, Margaret Wise Brown's beloved children's book quickly became the subject of parodies everywhere from New Yorker comics to skits on The Late Late Show and multiple satirical book deals. It's just one of the ways that the 1947 classic is ingrained in our collective imagination, providing us with a lighthearted rhyme to lean on during a global tragedy.
Goodnight House, a new exhibition at Fort Makers in New York City takes a closer look at how the book has shaped America's cultural understanding of comfort, sleep, and compassion. "I think the book, like a person's baby blanket, is something I always wanted near me," explains Fort Makers cofounder and creative director Nana Spears. Building off of the multidisciplinary design studio and artist collective's playful philosophy and inventive approach to American craft, Fort Makers transformed their Lower East Side gallery into an immersive group exhibition filled with contemporary reimagining's of Clement Hurd's vibrant illustrations. The objects on view were commissioned for the show and asked to be created "uninhibited by the horrors of adulthood."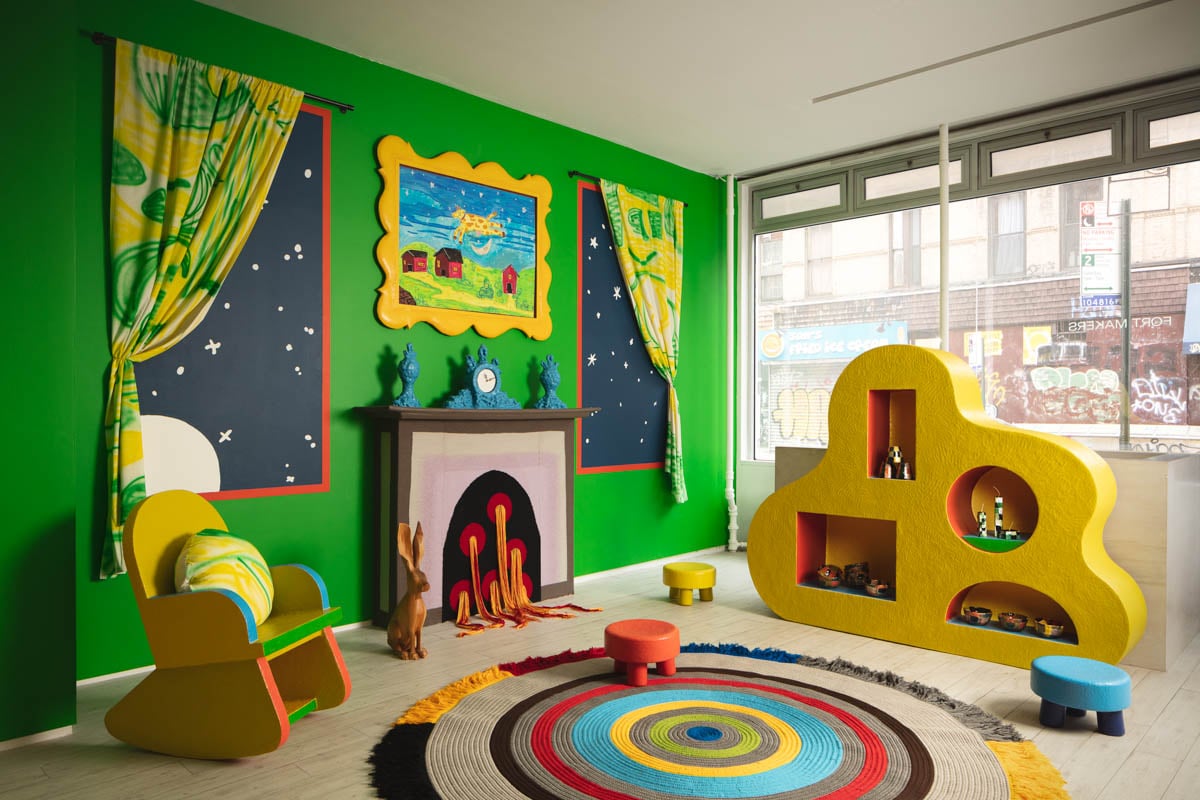 ---
"Since the advent of kindergarten, artists and designers have been absorbed with the power of play and the role it has in fostering creativity in both children and adults," said Noah Spencer, Fort Makers cofounder, in a press release. "This power has always been at the forefront of Fort Makers' design philosophy and is a tenet we try to reaffirm in new, innovative ways with each exhibition we produce." By reinterpreting the bunny's bedroom, the work of the 14 artists and designers on view embraces childlike curiosity.
---
More from Metropolis
---
Stepping into the space, visitors will immediately recognize the familiar scene. Bright green walls situate viewers in the warmth of the book's cover complete with a window framing a starry night and a cozy fireplace below a painting of a cow jumping over the moon. But here in the gallery, the painting is made by Marcel Alcalá with a papier-mâché picture frame by Nick DeMarco, the simple green and red bed has been reupholstered and covered in handwoven textiles by Liz Collins, and the yellow bedside table that holds the imaginary bowl of mush is replaced by a cloud-shaped table designed by CHIAOZZA. Painted silk curtains designed by Fort Makers cofounder Naomi S. Clark block out Manhattan's busy sidewalks so that guests can get lost in their imaginations and memories.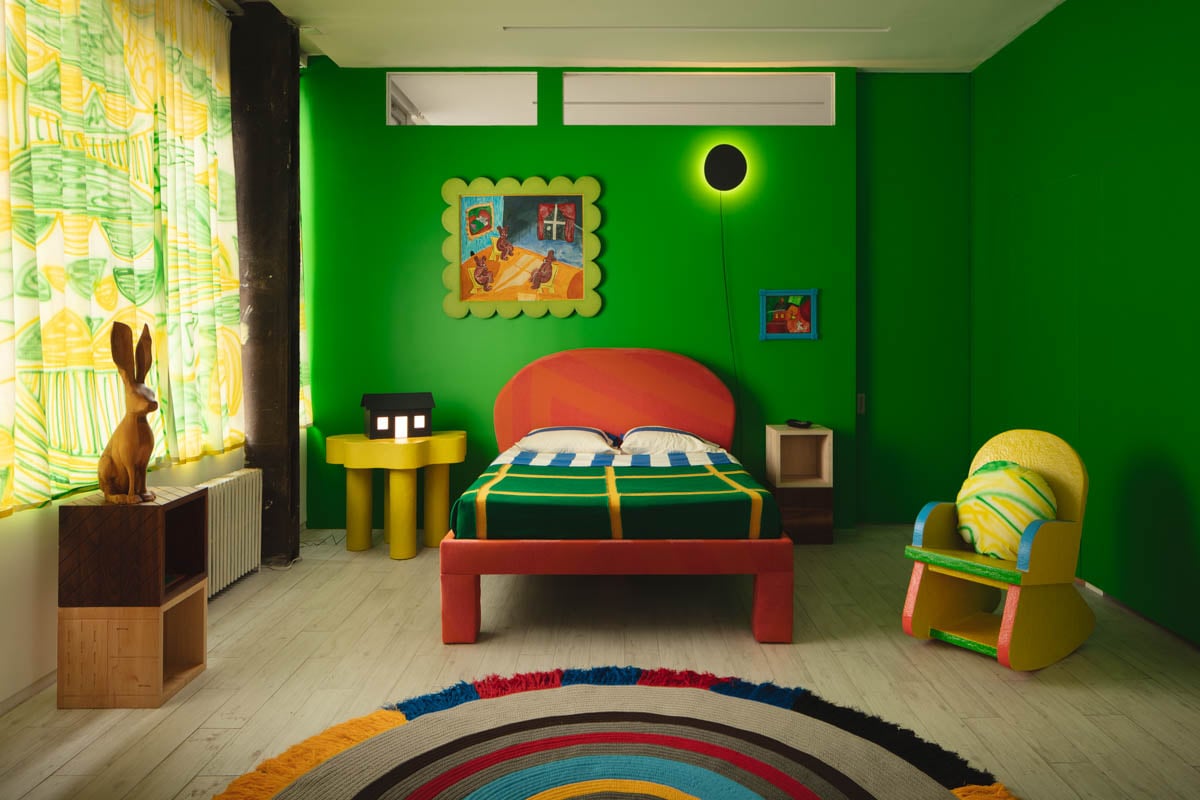 ---
The centerpiece of the exhibition is the hearth, where textile artist Liz Collins represents the fire with a handwoven orange and red tapestry. On the mantlepiece, artist Keith Simpson created a blue ceramic clock that sits in between two painted windows. With a one-year-old at home, Simpson is intrigued by his son's fascination with the book. "I was really drawn to the clock and the urns that bookend it. It's such a strange and proper object," he says. "The illustrations are not like diagrams—all of the items in the scene seem to wiggle between their separate illustrations. I love the idea of objects that resist definition in the way this clock does."
In a way, resisting definitions is what the book—and the exhibition—does so well. Both depictions challenge viewers to rethink how we prescribe stories to and interact with the objects around us, a familiar feeling given our increased time spent at home.
For every exhibition put on at Fort Makers, it comes down to collaboration. And play is key to how each maker contributes to the collective. "Collaboration is like a game," says Spears, "I love how the rabbit says goodnight to everyone—he doesn't leave anyone out. I think joy and love—things that often occur when people are 'playing'—are so important in creating good art."
Goodnight House is on view by appointment only at 38 Orchard Street in Manhattan through May 27, 2021.
You may also enjoy "The Fantastic Architecture of Niki de Saint Phalle"
Would you like to comment on this article? Send your thoughts to: [email protected]
---
Register here for Metropolis's Think Tank Thursdays and hear what leading firms across North America are thinking and working on today.