April 18, 2019
Google Used Sensors to Connect Neurology and Aesthetics at Milan Design Week
The tech giant's installation, A Space for Being, studied visitors' neurological responses to different interiors. The project was a collaboration with architect Suchi Reddy, furniture brand Muuto, and John Hopkins University International Arts + Mind Lab.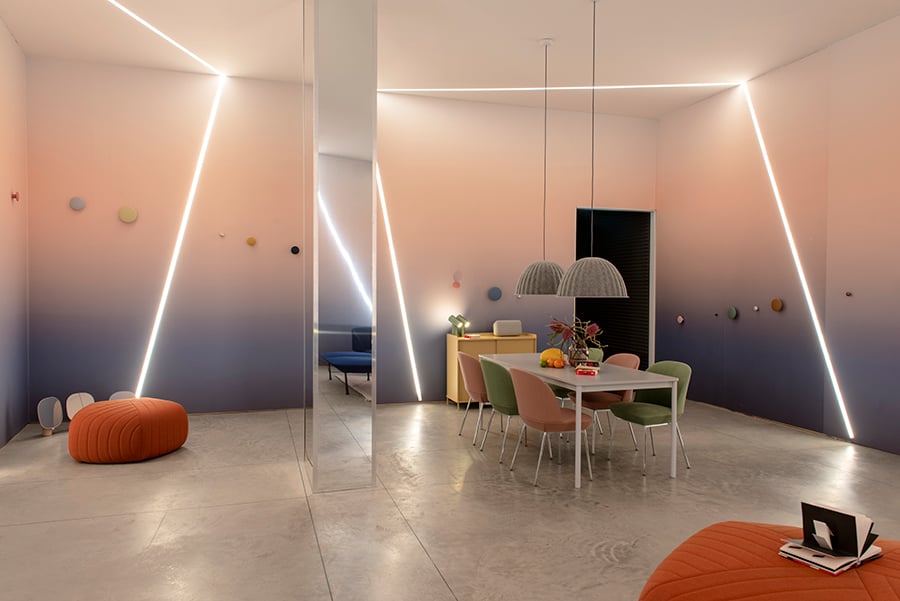 ---
Faced with audiences that rely on digital devices for immediate satisfaction, many of today's pop-ups and installations resort to gimmickry and spectacle. However, few offer anything more than Instagrammable moments. In contrast, Google's A Space for Being installation (mounted at this month's Milan Design Week) engaged its guests in a fully captivating sensorial experience. Its interiors provided visitors with the controlled time and space to cut away from the hurried pace of the massive global design event. Moreover, through the use of sensor-based technology, it allowed visitors to gain a new understanding of how their unconscious minds respond to different spaces and interiors.
A Space for Being was designed by Ivy Ross, Google's vice president for hardware design, UX, and research, in collaboration with Muuto design director Christian Grosen, architect and Reddymade founder Suchi Reddy, and Johns Hopkins University International Arts + Mind Lab executive director Susan Magsamen. The site-specific installation comprised three sequential yet distinct interiors. Equipped with Google wristbands, visitors were brought through the rooms in complete silence and without the ability to use their phones. The wristbands, meanwhile, analyzed sweat levels, skin tension, and heart rates to reveal (via a graphic readout) the spaces where each individual felt most at ease. Metropolis spoke to Ross and Reddy about the reasoning for and design of this project.
Metropolis: How did this collaboration and project come about?
---
More from Metropolis
---
Ivy Ross: A few months after showing at Milan Design Week last year, Muuto approached us about working together. We both acknowledged that we shared a similar aesthetic but weren't sure how to move forward. At Google, our goal in Milan is never to sell our devices but rather foster an ongoing dialogue about what we do. We didn't just want to display our products on Muuto furniture. At the same time, Susan Magsamen, with whom I've collaborated in the past, asked me to suggest an architect who could help her develop a different speculative interior project. One of our principles at Google is to understand the importance of how all elements in our surroundings can impact our experience. As designers, we know this intuitively, but Susan is able to prove it on a scientific level. Suchi Reddy's architecture is about form following feeling and so it seemed like a perfect fit to suggest her as a candidate.
With these links established, I began to think about the idea of creating rooms that could measure people's emotions. I asked Susan to help validate this concept with healthcare-based algorithms that could actually give feedback to visitors experiencing these space through the use of wristbands. I then asked Suchi if she could join the team and help us develop tranquil, reflective, and strategically calibrated interiors by using Muuto furniture. The project was underway.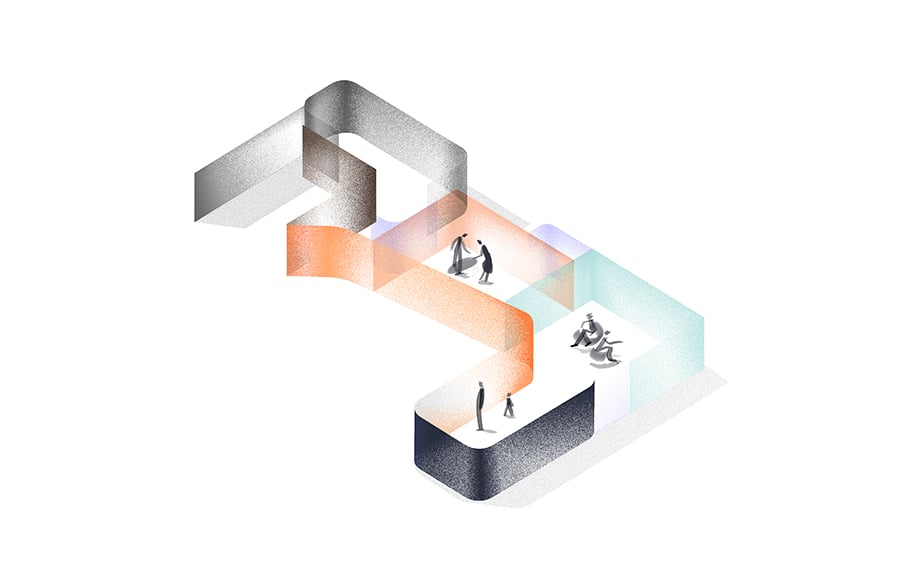 ---
Describe the design process.
Suchi Reddy: Eight months ago, Ivy, Susan, and I began to discuss what feelings we wanted these rooms to evoke. As an architect, I immediately go to material, shape, and light, but in talking to the others I was able to grasp what aspects needed to be amplified. Throughout the process, Susan offered suggestions based on her knowledge of neuroscience while Ivy was able to maintain the overall vision.
Halfway through the project, Google mounted a mock-up in Sunnyvale, California, which allowed us to test out different scenarios and gauge what worked and what didn't. What we discovered early on is that, as much as our culture is image-driven, people are still drawn to objects. People come to the Salone del Mobile for this reason. However, their perspectives are often based on consumption rather than experience; a mode that technology normally forces us to adopt. They are rarely sensitive to the quality of how these objects affect them in the long run. This realization influenced how we designed the installation and idea of offering the visitor to Milan Design Week a chance to step back and reflect.
How were you able to calibrate the right elements and program the installation to accommodate the responses you were looking for?
I.R.: We determined that ten people at a time was the right number [to avoid] an adverse effect on each individual and that five minutes in each space was the minimum … to achieve a valid readout. We also realized that each space needed to have the same layout as a dining/living room space [to] not trigger radically different emotions. We learned that if a table is not evidently presented as a dining table it automatically suggests work. Though diverse in its range of furniture products, Muuto's aesthetic is very tight, which helped level the playing field in this regard.
S.R.: With this structure in place, we were able to play with different colors, lighting schemes, scents, and textures to create different moods in each room. In the first "Essential" room, we decided to evoke a primal look by using raw natural materials and fibers. The second "Vital" room emulated a more energetic feeling by implementing an angular lighting element and a bright color scheme. It was important that the last room evoke a more ethereal and classical aesthetic while still including tactile surfaces.
What is Google's goal with this installation?
I.R.: It's important to state that the personal information we collect during the experience is deleted after being given to each visitor. If this technology was implemented on a larger scale and if we withheld this information for other purposes, it would be game-changing in terms of what Google could achieve. However, that was never our intention with this project. As I mentioned, our goal with the A Space for Being installation is to continue a dialogue and to show what we at the Google Design Studio do; how we think and our approach to design. Our only gauge of what room fared better than the other is based on anecdotal conversations we've had after the fact. Less than half were surprised by their results.
You may also enjoy "A 3D-Printed Installation, Made With Sustainable Bioplastics, Debuts at Milan Design Week."
Would you like to comment on this article? Send your thoughts to: [email protected]