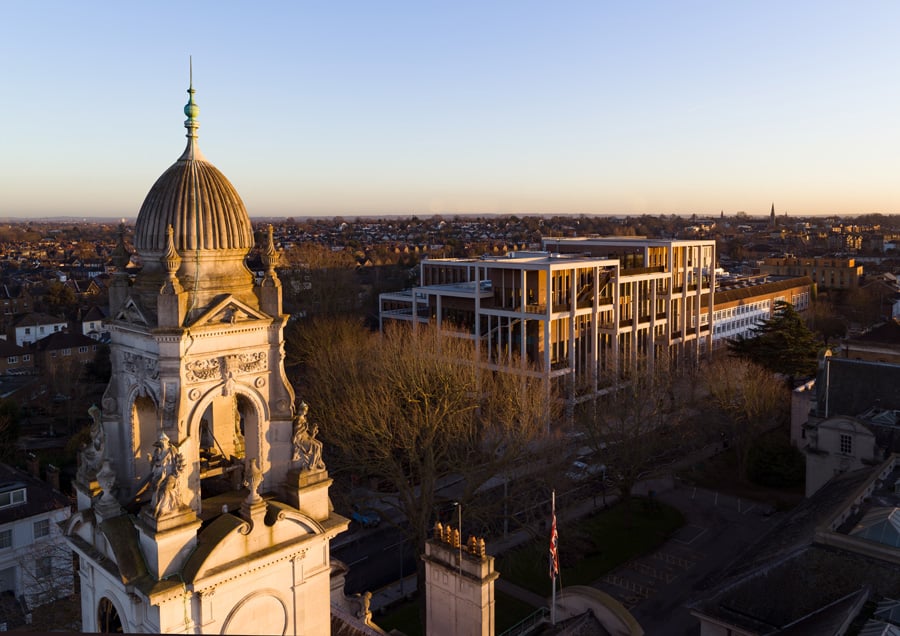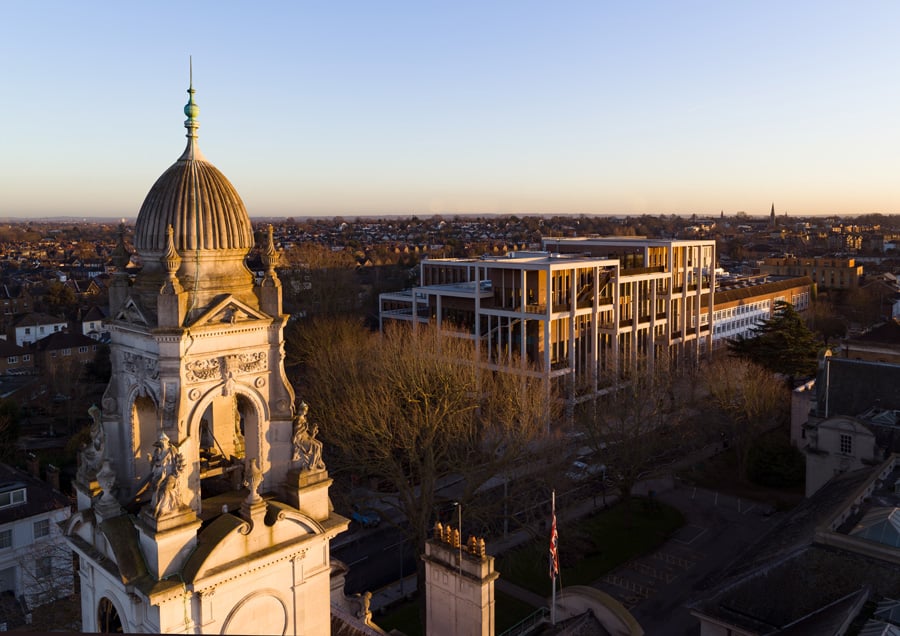 January 29, 2020
Grafton Architects Completes its First Building in the U.K., Kingston University's Town House
The Dublin-based firm worked with a somewhat radical program that juxtaposes dance studios with a library and lecture area for the southwest London university.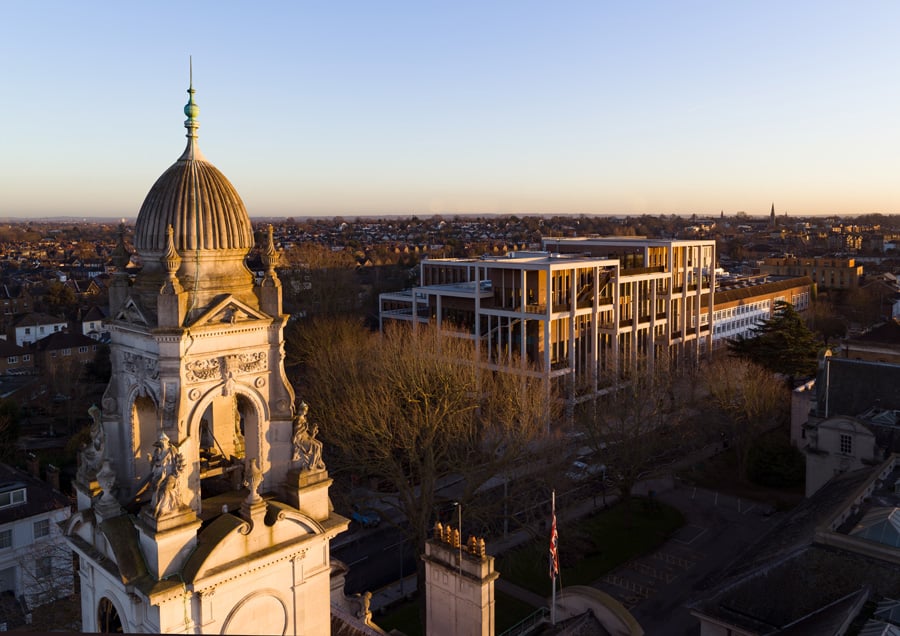 In almost everything in life, first impressions are crucial; get that right and you're onto a winner. Given that the newest building at Kingston University is barely a week old but already teeming with students, it's fair to say it's doing well so far.
This shouldn't come as a surprise, though. The architects behind the project are Grafton Architects, the multi-award-winning studio from Dublin with a penchant for university buildings. Led by Yvonne Farrell and Shelley McNamara, the firm has bided its time in arriving on British shores, though it has already gained international acclaim from projects in Peru and Italy. 
Their first building in the U.K. rises in Kingston, southwest London. Named the Town House after the building which previously occupied the site, the new facility's immediate success can be attributed to the first impression it makes. At $65 million, the Town House is a literal heavyweight as concrete abounds, a throwback to the heroic glory days when the material formed many of the U.K.'s pioneering post-war university buildings. Unlike the more recent, similarly weighty Universita Luigi Bocconi in Milan or University Campus UTEC Lima in Peru, both by Grafton, Town House's mass, which hosts dance studios, a library, archive and lecture hall, is hidden behind reconstituted stone frame which echoes the Portland stone of its neighbors, creating a colonnade threshold in the process. 
---
More from Metropolis
---
From the street, the Town House doesn't leap out as a conventionally spectacular piece of university architecture; the real moment of magic at Kingston University, however, comes when you step inside.
Entering the foyer, the first place you look is up—like a concrete Hogwarts, hefty staircases vault overhead, full of students chatting and trotting. It's a powerful display of architectural drama and an arresting sight to behold, not to mention a thrilling introduction. 
Inside the foyer, the building's main locus, views of almost every level—of which there are six—can be seen, while a café and help desk also occupy the space. It could be overwhelming, with so much to take in, but the overriding sensation is one of order and purpose.
If the foyer was the building's primary space, then the auditorium, or, "courtyard" as the architects like to call it, is a close second. While only being a few paces from the bustle of the foyer, the auditorium is calm and quiet. 
For Farrell, who described the project to Metropolis, the space is like a Greek amphitheater, being "democratic" through the use of benches (and not seats) to allow people to lounge. (The 21st-century student will be pleased with the plug sockets that line each seating level, too.) What's surprising about this auditorium, however, is how much that can be seen around it. Like the foyer, views onto other levels can be glimpsed, and further views into the surrounding dance studios can be seen as well—the visual aspect of the term "courtyard" begins to make sense.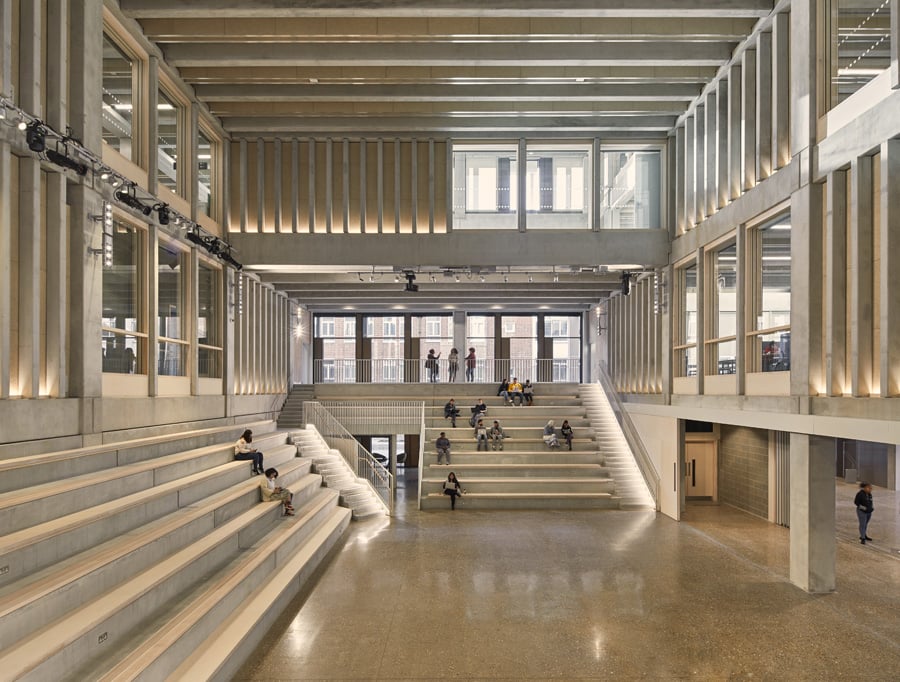 On the floors above, more traditional university facilities—such as library areas, an archive, and areas for silent study—can be found. But these all maintain a partial visual link to spaces programmed for much louder activity, such as dance. As a result, there is a constant dialogue between spaces which typically would never be found in such close proximity. Gerard Carty, director at Grafton, describes it as one of "communication," but that this linkage remains only visual is a testament to the building's acoustics.
The visual connections linking Town House's ambitious program with its surroundings create a strong sense of place throughout the building. Beyond internal views, vistas onto the street and sky also abound and are omnipresent ("that's how the light gets in," as Leonard Cohen would say). Building on this, Grafton has honed in on views of the nearby Surrey County Hall. On the rooftop, meanwhile, Henry VIII's old haunt, Hampton Court Palace, can also been seen. 
"When you build a building, there's an architectural responsibility to heighten where you are on the earth," Farrell tells Metropolis. It's a bold ethos, one that produces accordingly bold buildings and one that's fitting of Grafton, which manages to let this approach manifest across the world, from Milan to Lima and, now, London.
You may also enjoy "A Poetic Respite in Abu Dhabi Blends Cultural Tradition With Contemporary Design."
Would you like to comment on this article? Send your thoughts to: [email protected]