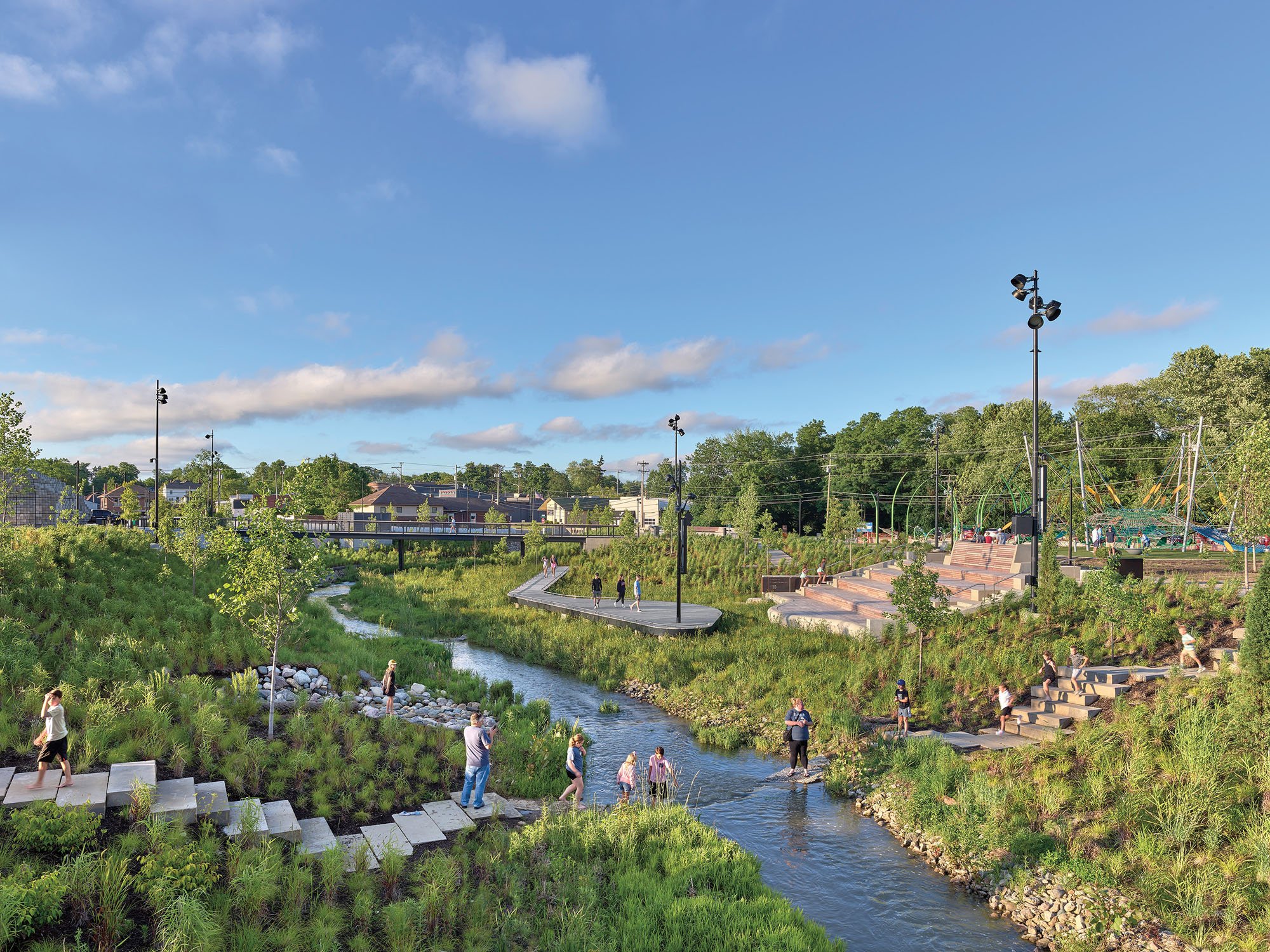 March 31, 2023
Grand Junction Is the Rust Belt's First Climate-Resilient Park
When you think of areas most likely to be affected by climate change–induced sea level rise, you probably imagine scenes of flooding in Bangladesh, images of storm-ravaged coastal Florida, or perhaps Lower Manhattan succumbing to the Hudson River. The American Midwest might not be the first place that comes to mind, but the reality is that almost any water-adjacent area is prone to increased inundation. In recent years, major rivers like the Mississippi, the Rhine, and their many tributaries have overflowed, wreaking havoc on regions that might be described as landlocked.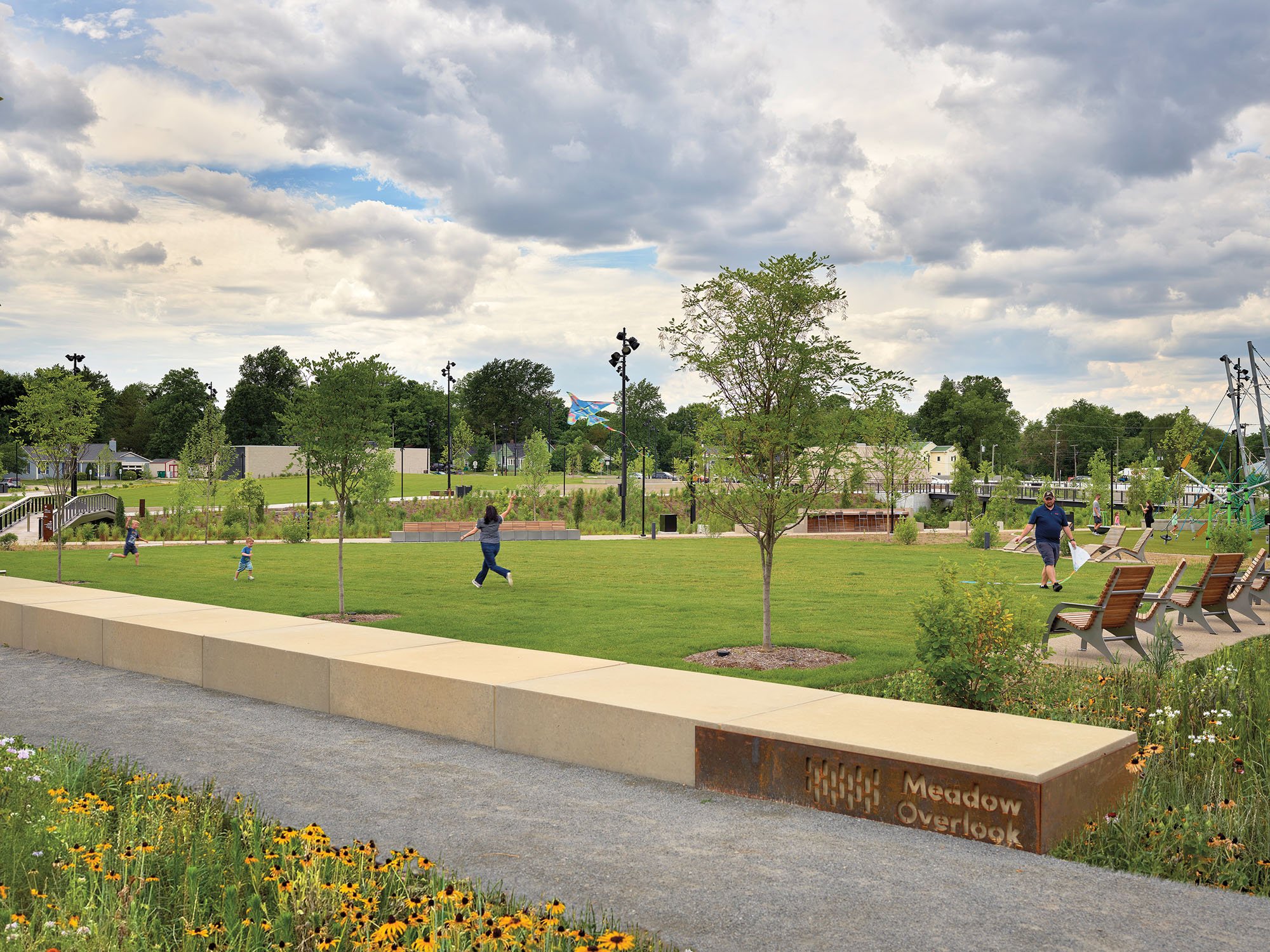 Restoring Cool Creek
One such river is Westfield, Indiana's seemingly docile Cool Creek, which spilled over its channelized banks in 2013 during a 500-year storm and caused significant damage to hundreds of properties and much of the Indianapolis suburb's downtown.
Not long after the floodwaters receded, local officials began plans for Grand Junction Park and Plaza, a new green-blue infrastructure project that provides a suite of amenities to local residents while mitigating extreme weather patterns and reviving neglected ecosystems. Spearheaded by DAVID RUBIN Land Collective, the new multimodal green lung works to contain the volatile brook within 7.8 acres of graded landscaping.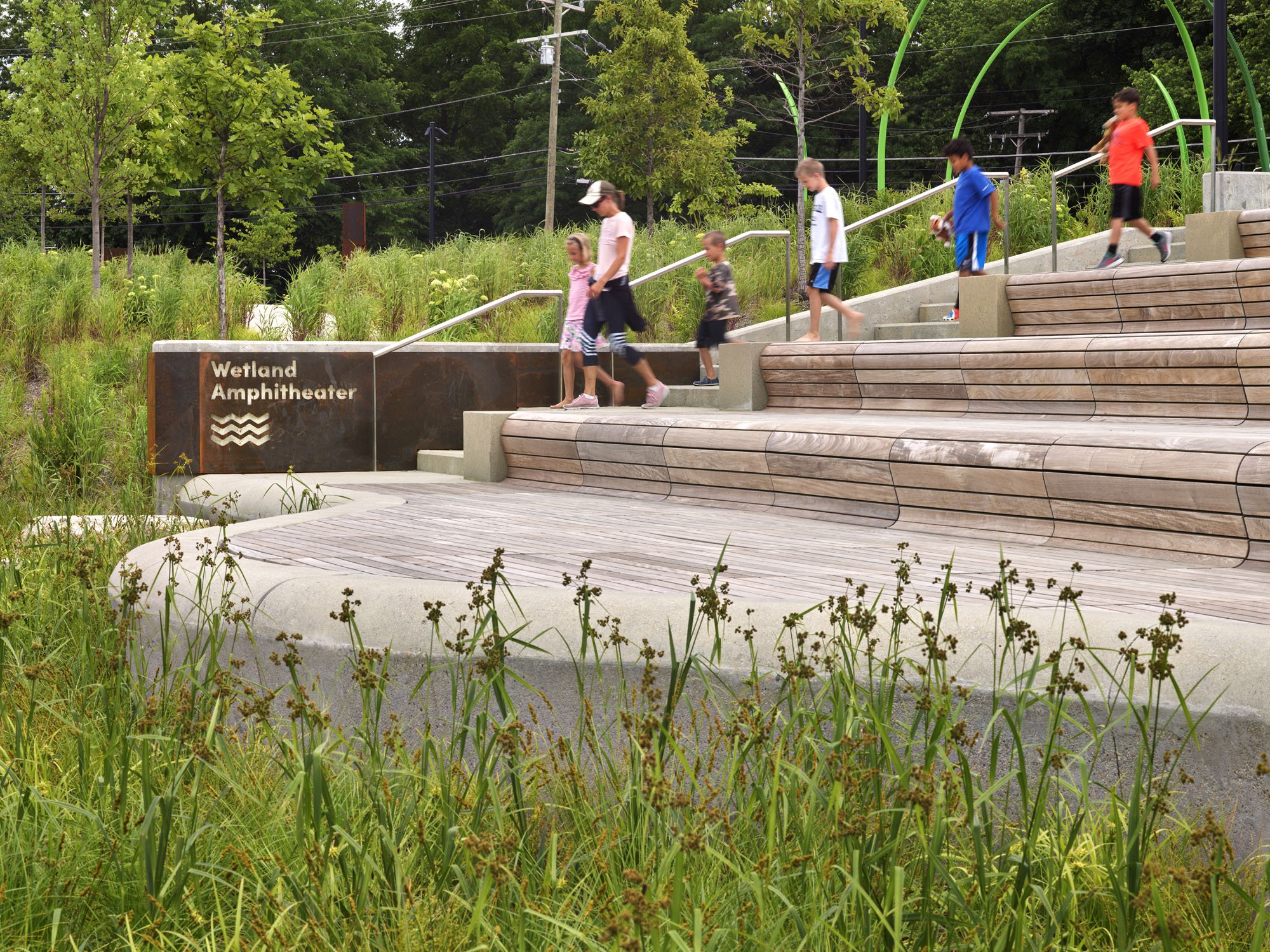 Developed in partnership with New York's HWKN Architecture, Toronto-based Bruce Mau Design, and local firm RATIO Architects, the holistic intervention has revitalized the long-neglected riparian corridor as a recreational asset for the town and as flood protection for the surrounding community. Like wetlands throughout the country, the landscape surrounding Cool Creek was drained for farmland because of the Swamp Act of 1850, which had the ultimate effect of hemming in the waterway, destabilizing the wetland ecosystems, and making the creek more prone to damaging floods.
---
More from Metropolis
---
Correcting a Legacy of Detrimental Land Use Decisions
The consortium of architects sought not only to make the river and its surrounding parkland a focal point for the town but to counteract more than a century of disastrous land use decisions. They stabilized and redirected vulnerable areas of the tributary in a fashion that mimics natural patterns, allowing the river to flow evenly and without intrusion. Cool Creek's channelized, V-shaped profile was redefined as a bankfull waterway with space to safely overflow its bounds during flood events. Native plants line a series of stepped terraces, helping to keep these slopes in place and buffer the water when it reaches critical levels. A riprap—rocks installed in a ribbon pattern—operates as an additional line of defense.
A 48-inch storm pipe that often clogged during heavy rain, causing walls of water to reach Westfield's downtown, was removed and an overflow dam put in its place. The slanted wall that captures rainwater doubles as an interactive climbing structure, while J-hook vanes were installed throughout to disperse potential inundations.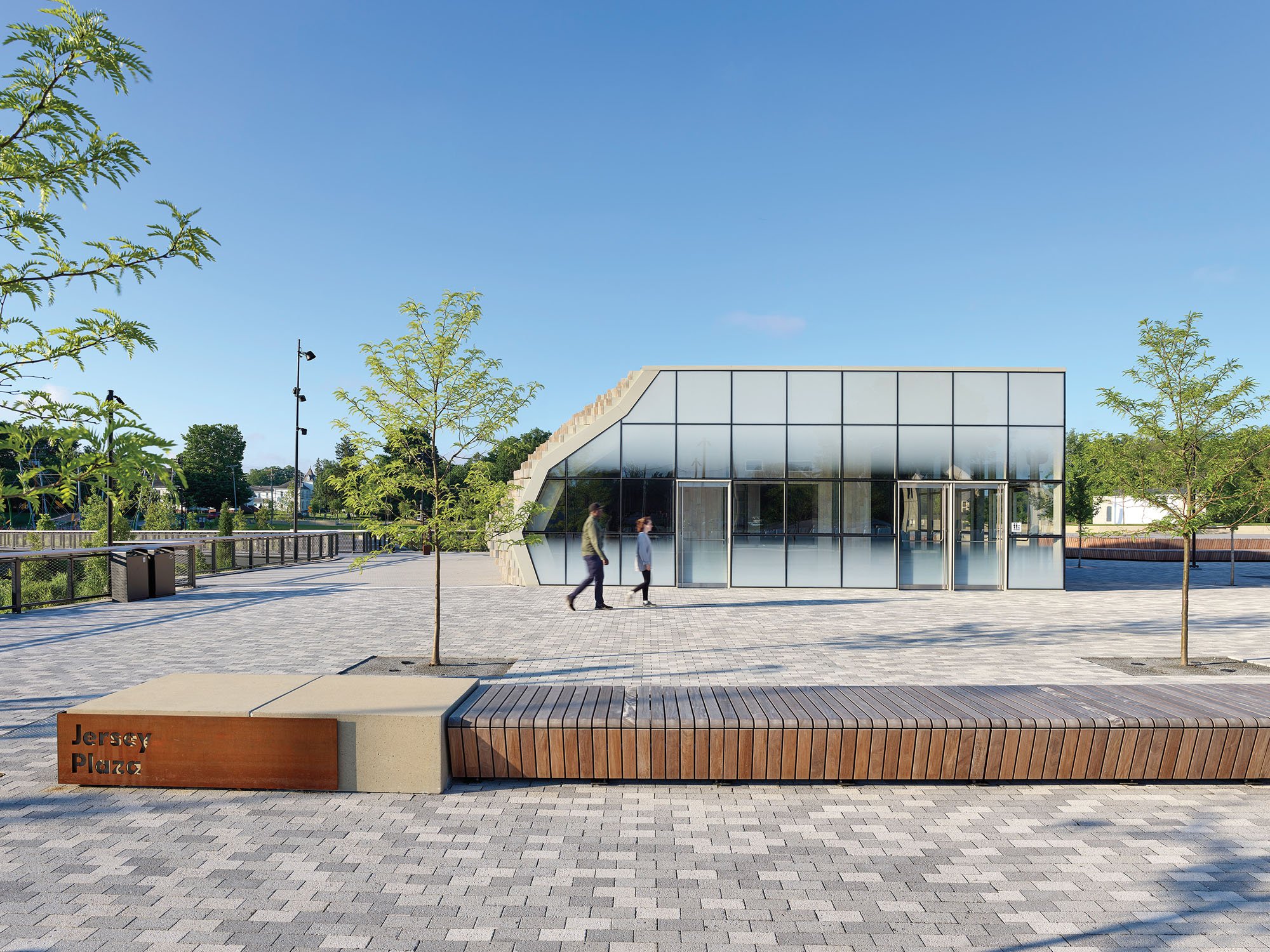 "The frequency and intensity of severe weather is a clear and present danger that is not subsiding, and no area is immune," says David A. Rubin, founder of the eponymous firm. "Cities and states should be seeking opportunities to ameliorate potential threats within the fabric of our connective tissue. Infrastructure cannot be 'out of sight,' but ought to be integrated in a manner that supports safety and social engagement."
The new public venue is crisscrossed by nine intersecting trails that wind through its undulating landscape, making it a popular place for joggers and cyclists. The park also includes several HWKN-designed pavilions clad in a topographical layering of limestone block—sourced locally—as well as a café, an ice rink, a winter skate rental facility, a children's playground, and a soon-to-be-realized outdoor stage.
A Model for a More Resilient Landscape
The overall concept was as much about ensuring longevity as it was site-specific integration, taking into account the different facets of the site's history while facilitating its auspicious destiny as a beloved public space. "With this project being the first of its kind, a lot of details are novel but, at the same time, have already informed work we've done in other projects," says Matthias Hollwich, HWKN founding principal.
Hollwich believes that the team's approach to finding climate resilience in preexisting natural systems can be a model for urban placemaking and revitalization in other cities as well. "It's about creative programming that enables people to do things they want to do, and identity-generating architecture that makes a place recognizable—and filled with future memories," he concludes. Today residents can engage in the park's layered infrastructure that programs around, across, and above Cool Creek, making the waterway a source of joy rather than destruction
Would you like to comment on this article? Send your thoughts to: [email protected]