August 3, 2021
100 Years After the Tulsa Race Massacre, the Story of Greenwood Continues
Opening on August 4, the Greenwood Rising Black Wall Street History Center attempts to tell the full story of Oklahoma's Black Wall Street.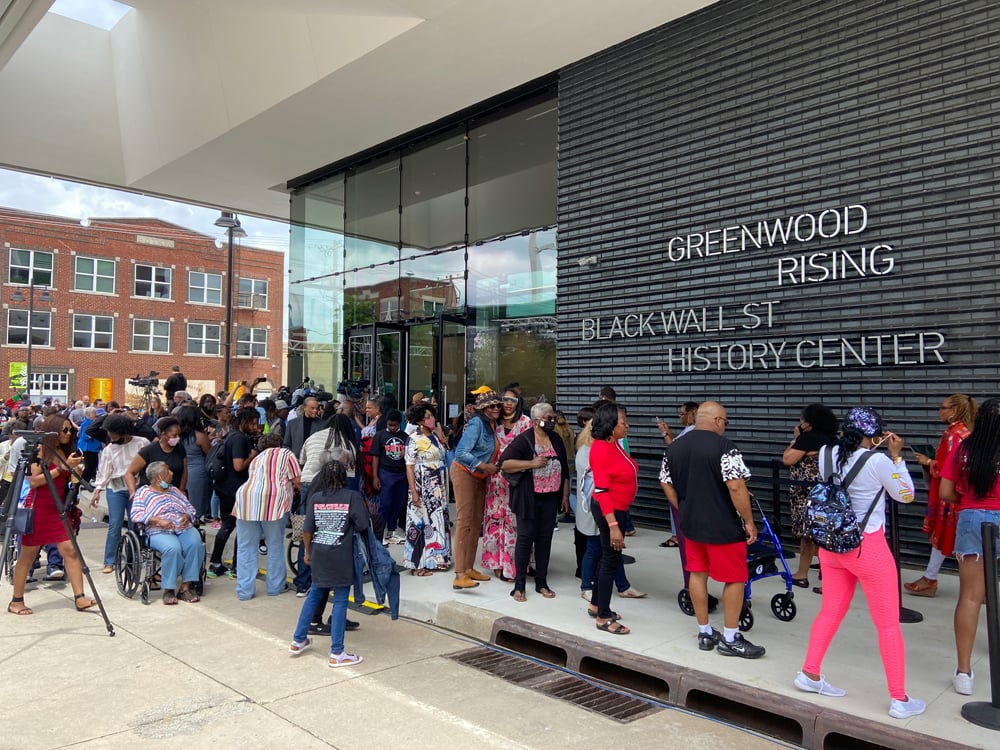 ---
The story of Greenwood was one about community and enterprise and resilience, but in the spring of 1921, it morphed into a story about racism, crime, and crushed dreams.
In the early 1920s, the Greenwood District in Tulsa, Oklahoma was an affluent Black-owned neighborhood commonly referred to as Black Wall Street. But on May 31 and June 1, 1921, growing tensions in Tulsa, and centuries of systemic racism in the United States sparked the worst incident of racial violence in American history, the Tulsa Race Massacre. When a white mob invaded, looted, and burned Greenwood to the ground, an estimated 300 people were murdered and 10,000 were left without homes.
Today, a new museum seeks to tell the full story of Greenwood: before, during, and after the bloodshed. Opening on August 4, the Greenwood Rising Black Wall Street History Center is the culmination of the Tulsa Race Massacre Centennial Commission, which was founded in 2016 to educate all citizens about the massacre.
---
More from Metropolis
---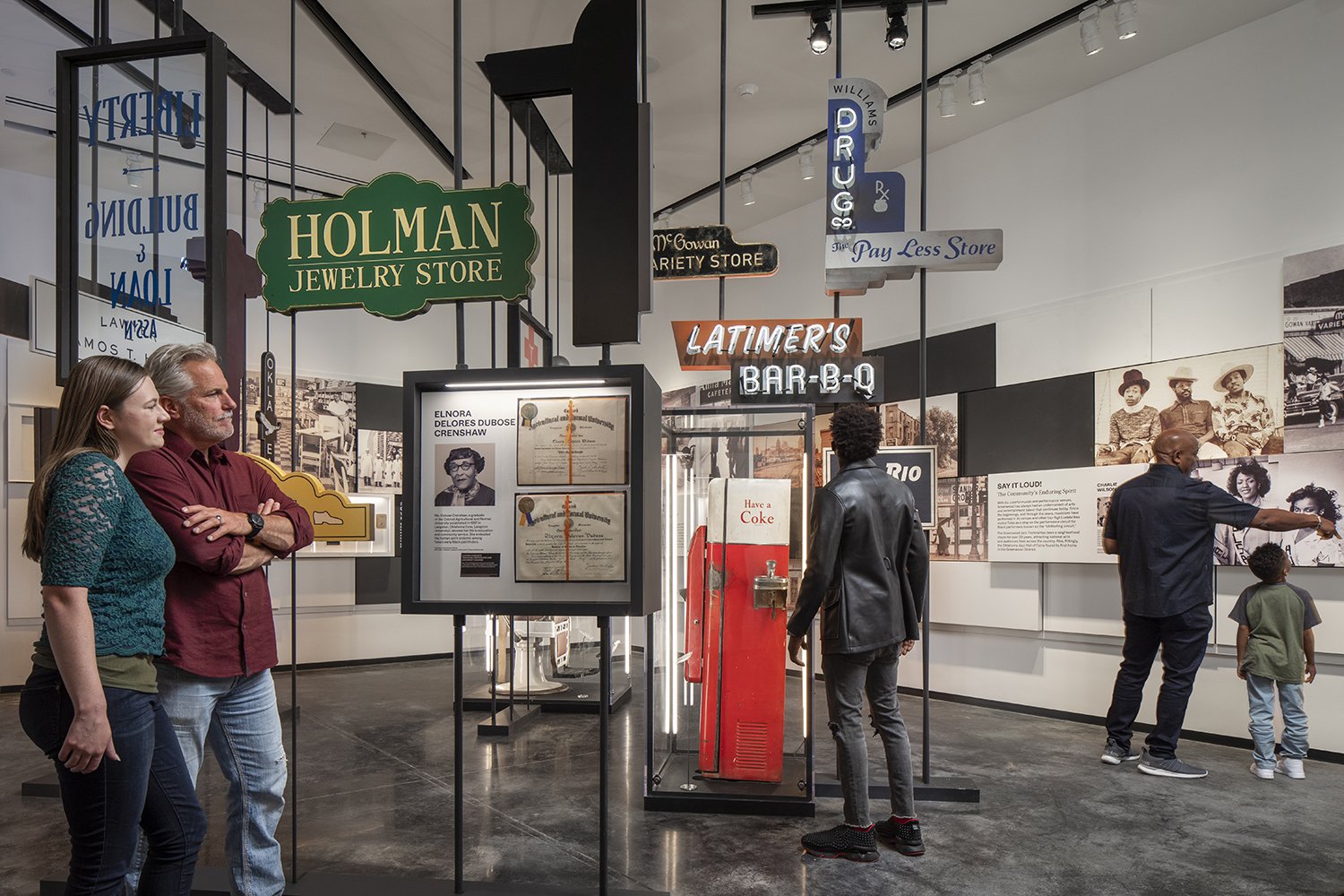 ---
Designed by local firm Selser Schaefer Architects (SSA), the one-story, 11,000-square-foot corner building is located at the gateway of the historic Greenwood District. Jutting over the sidewalk, a generous awning beckons visitors and a recessed skylight—punctuated by a stencil that casts a "1921" shadow on the ground—invites reflection. "It's about looking upward," says Stephen Dinnen, project architect and lead designer from SSA.
The building's patterned facade is dressed in glass-reinforced concrete panels with cavities for LED lights that can be animated and controlled as needed. "Part of this project is about using modern technology and pushing this idea that it's not about the past, it's about moving forward," says Dinnen.
The museum experience begins when Greenwood was born. First, visitors enter a dark room and step over replica train tracks to learn about Greenwood's early economic rise. "That's very reminiscent of many Black towns in this nation—when you cross the train tracks, you cross over to the Black part of town," says L'Rai Arthur-Mensah, project director at exhibition and media design firm Local Projects. Following an immersive experience where you can listen to banter in a period barbershop, the exhibit takes a darker turn.
---
"There's a bit of fork in the road," says Arthur-Mensah. As you enter this new room, you are offered a choice to bypass potentially triggering content by going through an "Emotional Exit" that provides key historical information and tools for coping with racial trauma. "I'm very much a supporter of not retraumatizing Black people because we hold trauma in our bodies," says Arthur-Mensah. "Our hope is that, if you do choose to go that way, you will take a moment to breathe and determine whether or not you can come back around and go through the other galleries."
Said galleries retrace the political, economic, and social systems of anti-Blackness that sowed the seeds for the massacre. Amidst educational panels that retrace cotton gin and its impact on slavery in the South, or the "Red Summer" riots of 1919, the exhibit features collected artifacts of control and violence like shackles, a whip, and a Ku Klux Klan cape.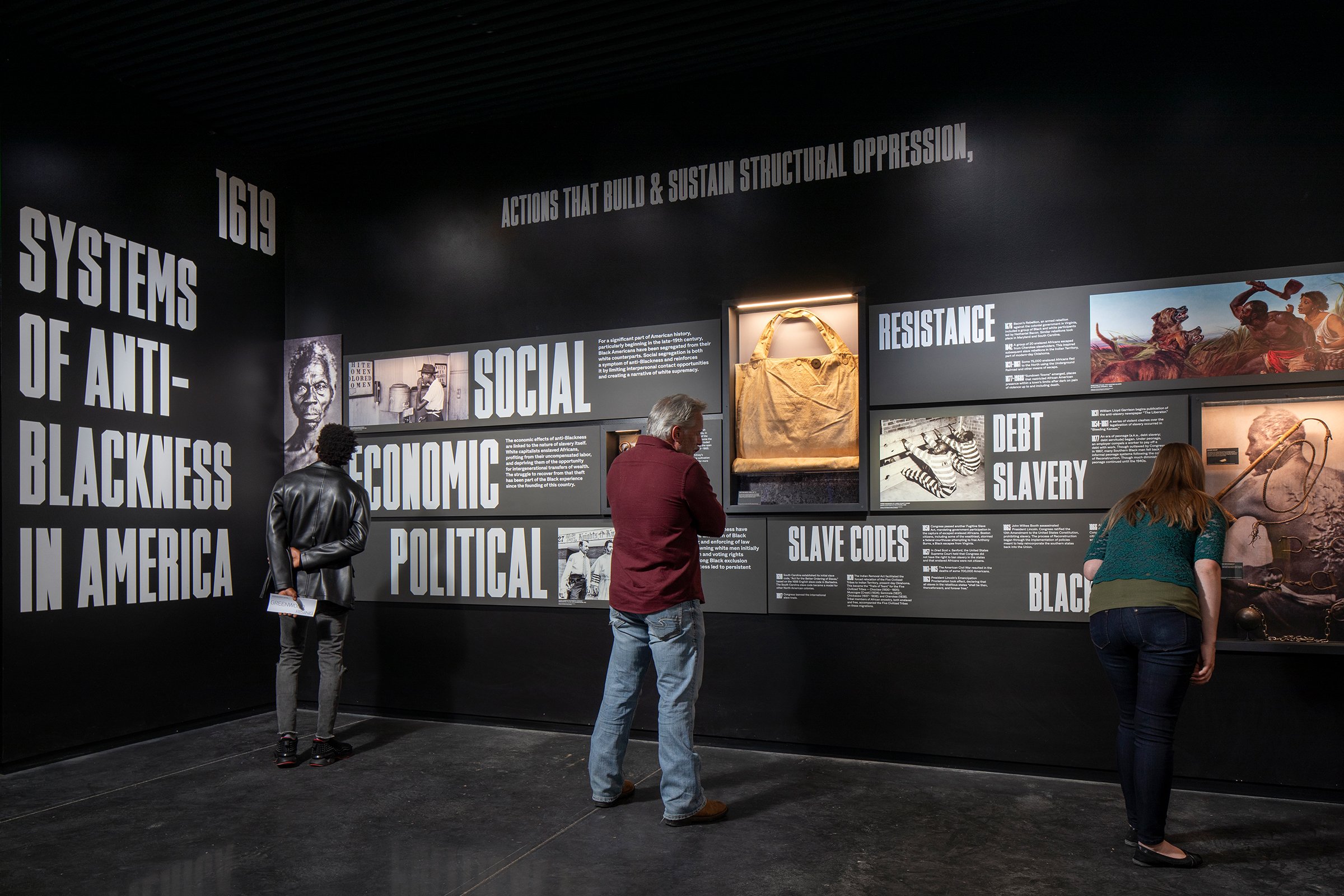 ---
Framed in the national context, the siege of 1921 comes alive in the next gallery where environmental motion graphics immerse visitors in the harrowing night of the massacre. Projected onto five rough-edged walls that appear to be crumbling in the flames, the story of Greenwood burning is told alongside recordings of memories recounted by survivors.
After it was leveled, Greenwood rebuilt itself, and by 1942, the district boasted over 242 Black-owned and Black-operated establishments. The community's rebuilding efforts, however, were impeded again, once by the consequences of desegregation in a deeply segregated city, then by urban renewal, when much of the neighborhood was razed to make way for Interstate 244 in the 1970s. This tension is portrayed through a "push and pull" exhibit wall that references the peaks and valleys that the Black community had to navigate.
---
Tulsa has a painful history of racial discrimination, but Greenwood Rising paves the way for truth in a city that buried the facts of the massacre for decades. At the end of the exhibition, a curved, LED brick wall invites visitors into its coil, where one is encouraged to make an actionable pledge toward racial reconciliation.
After you write a few words on a tablet, the pledge lights up on a brick, radiates out, then fades away until approved by a moderator. Dubbed the "Commitment Space," the call for action reads like a prod for the city of Tulsa, where gentrification continues to spread, and where sustained demands for reparations remain unanswered.
One hundred years later, the story of Greenwood continues.
You may also enjoy "David Hartt's A Colored Garden is in Full Bloom at the Glass House"
Would you like to comment on this article? Send your thoughts to: [email protected]
---
Register here for Metropolis's Think Tank Thursdays and hear what leading firms across North America are thinking and working on today.