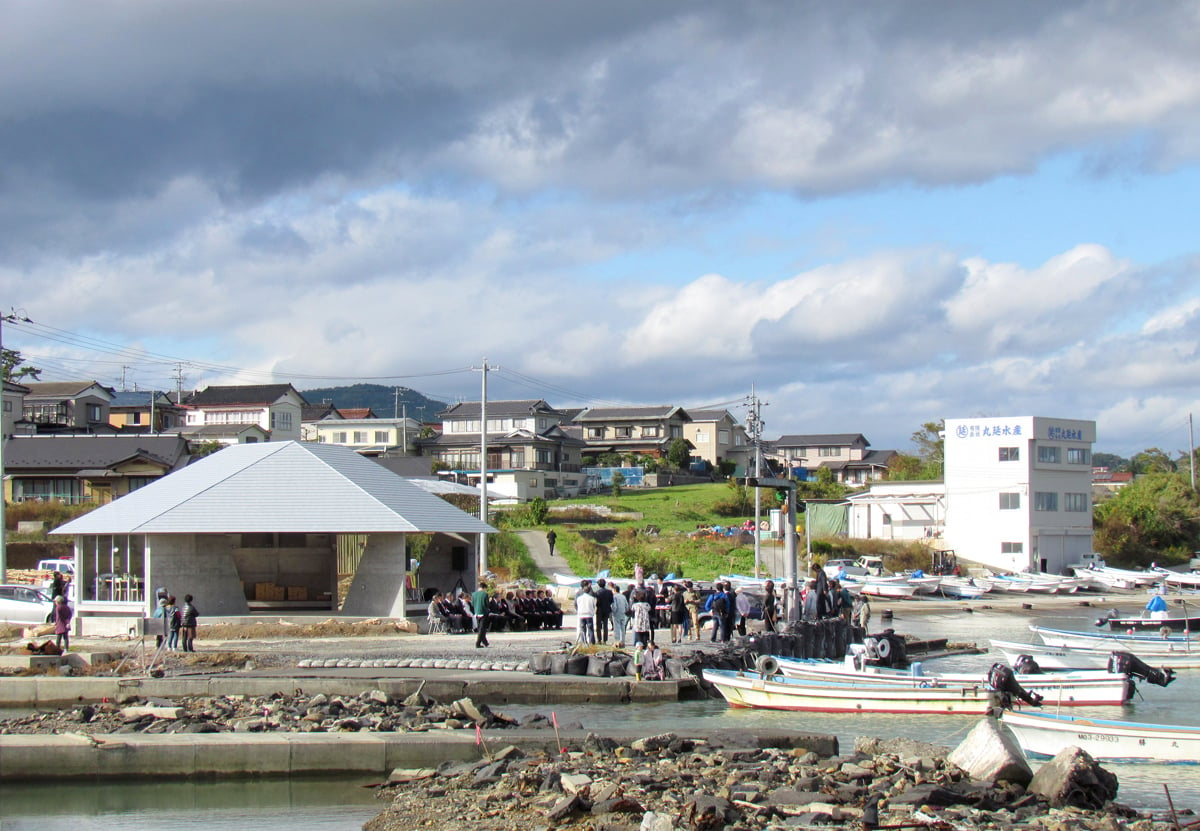 March 5, 2014
Guided by Kazuyo Sejima, Yang Zhao Designs for Tsunami-Ravaged Town
Mentored by Kazuyo Sejima, Yang Zhao creates a Japanese community center.
Because architecture is a profession in which visionary thinking collides directly with pragmatic realities, it benefits greatly from the mentor/protégé relationship. New talents need a chance to engage in real-world problem solving and execution. But usually that relationship involves low-paying (or even unpaid) internships for overworked and underappreciated young professionals. So in 2013, when the Rolex Mentor and Protégé Arts Initiative included architecture as one of the creative disciplines covered by its renowned mentorship program, it was very welcome news. The pairing chosen was Kazuyo Sejima, from the Pritzker Prize–winning duo SANAA, as the mentor, and Yang Zhao, a young Harvard graduate and a promising talent from China, as the protégé.
One of the first impressions when meeting Zhao is his measured enthusiasm unusual for his age. When he heard of being selected to work with Sejima, whom he's long admired, he says he was thrilled. But he also immediately started to think about the year ahead, aware that it would entail a lot of work. "It is a job; it's not just a prize that is given to you," he says. "You have a really tough, challenging job to do."
The job he refers to was the building that Sejima suggested he design under her supervision for one of the locations of the Home-for-All initiative. Developed by Toyo Ito and including several top architects like Sou Fujimoto, Kumiko Inui, Akihisa Hirata, and SANAA, the initiative aims to create places where the victims of the 2011 tsunami can gather and reestablish their lost sense of community.
---
More from Metropolis
---
One of the challenges Zhao faced while designing his Home-for-All building at the Oya fishing harbor in the town of Kesennuma, Japan, was that—as a foreigner—he had to gain the confidence of a fishing community that was not used to dealing with architects. But his ability to relate was one of the qualities that Sejima said helped her select him for the program in the first place. "Yang is very open minded; he listens," she says. "That was very important, because establishing trust with the user was essential to this project."
That openness is also expressed in his buildings, where space is fluid and seems unbound by the architecture itself, flowing in every direction. The Kesennuma pavilion fulfills its purpose, creating a space for a multitude of uses, from basic fishing-related activities to community meetings and events. But the space remains open to the bay and the sea, to the town behind it, and even to the sky (an important feature for the locals). The building invites you in, shelters you, and then connects you back with the surroundings. Interestingly, one of the things Zhao says he has always admired about Sejima's work was that, in her buildings, " the space tries to be generous, tries to be friendly…to be an environment for life to take place."
Kazuyo Sejima herself is very aware of the relevance of having a mentor when starting to develop and refine one's architectural thinking. She speaks of the time when, early in her career, she worked with Toyo Ito. There she learned—in very practical terms—how to build a real structure while still thinking abstractly. "It was not enough to just make a building," she says. "It also had to have a vision."
And that—a vision—Zhao certainly has. When asked how he sees the role of architecture today, he says he believes in a broader reach for the profession: "Architecture is an instrument for thinking about our lives, to question the status quo and propose solutions for it."