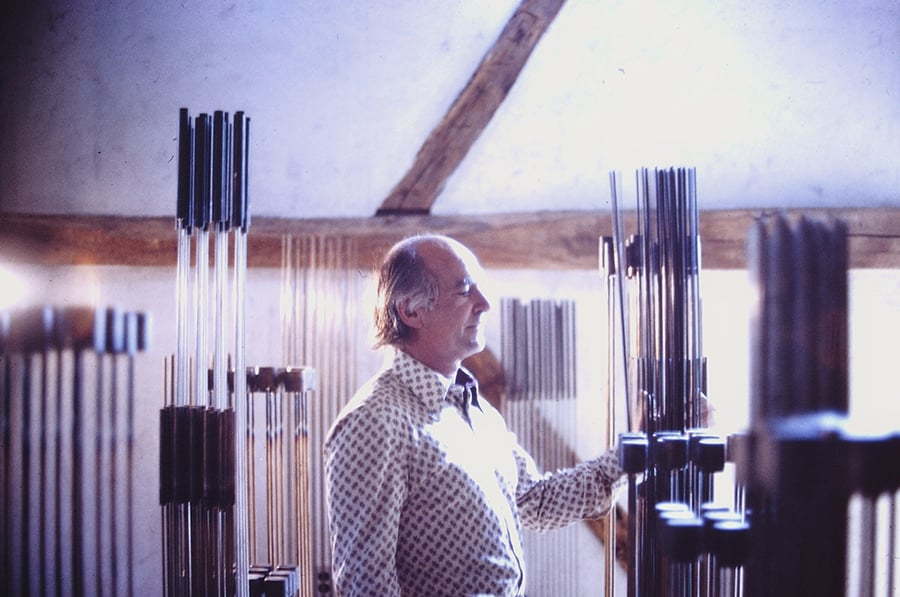 August 16, 2018
Designer Harry Bertoia's Resonant Sound Sculpture Recordings Find a Crowdfunded Second Life
While he may be most famous for midcentury furniture, chairs were only one part of the famed designer's multi-hyphenate career.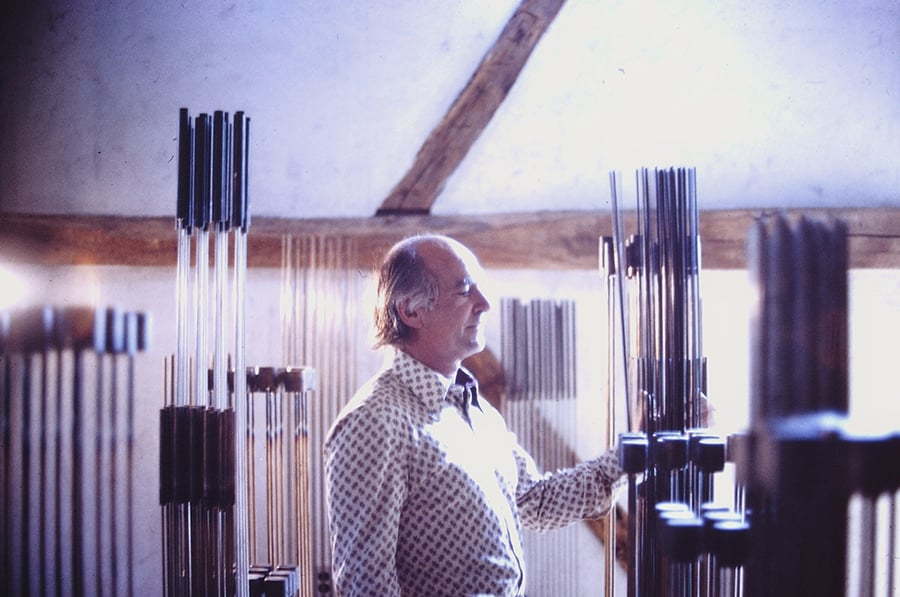 ---
In a secluded barn in Bally, Pennsylvania, the din of approximately 91 sonic sculptures chiming together could've been mistaken for sounds of alien life.
The sculptures were the creations of Italian-American Harry Bertoia, who designed famed modern furniture, like Knoll's diamond chair, but also created sound art and sculpture.
Bertoia's sculptures, much like his furniture, revolved around the manipulation of metal and space—his pieces vary from clusters of vertical rods to flat gongs in every size. He curated a selection of aural sculptures in his renovated barn-turned-studio, making recordings that resulted in 11 vinyl LPs that were released in the last years of the artist's life and shortly after his death in 1978, all dubbed "Sonambient," a term he coined and trademarked.
---
More from Metropolis
---
The records enjoyed a recent moment back in the limelight. In 2016, after acquiring the recordings from the Bertoia family, Important Records released a CD set with all 11 of Bertoia's original Sonambient records. Now, the label is running a Kickstarter in hopes of releasing a deluxe 11-LP box set, remastering Bertoia's original recordings onto vinyl again.
Though the campaign began a little over two weeks ago, it's fulfilled roughly 45 percent of its $53,000 goal (at the time of writing). The money will go towards pressing 500 copies of the LP box set. Many customers were asking for the set on vinyl, says John Brien, owner of Important Records, but the costs for such a set were prohibitive. The campaign was his solution.
"Beyond being a well-known furniture designer, [Bertoia] also happens to be a crucial first-generation sound artist," Brien tells Metropolis. "He's such a pioneer in the world of sound art and drone music, and it grew so organically from the art he was celebrated for—[Bertoia's work] is undeniable."
The Sonambient sculptures themselves were a happy accident, according to Shannon R. Stratton, the Museum of Arts and Design Chief Curator who organized a 2016 show on Bertoia's sound art in New York.
While working on sculptures, Bertoia realized that the materials made resonant noise when they struck each other. "From his jewelry to his sculptures to the furniture he designed to Sonambient, the thread that's running through them is the material and the desire to capture something quite fluid with a rigid material," says Stratton. "He was challenging himself to make something that communicated with the natural world."
Beyond the recordings' musical appeal, there's also a precious quality to them—the orchestra of original sculptures Bertoia curated doesn't exist anymore.
---
In 2016, a three year lawsuit between two of Bertoia's children split up the sculptures used to create the LPs. Sixty of the original sculptures from the barn went to Celia Bertoia (who founded and directs the Harry Bertoia Foundation), 19 stayed with Val Bertoia (a sculptor who maintains the Pennsylvania estate, including the barn), and 13 are kept with the Foundation as a traveling exhibit for other museums, according to Celia Bertoia.
Both siblings maintained that they were representing their father's wishes—Celia wanted to sell the collection to a museum for public viewing, while Val wanted to keep the set in their original condition at their father's studio, also open to the public, albeit in a more secluded location.
"[The Sonambient barn] was his laboratory, where he was like a mad scientist and would experiment and concoct all kinds of sounds," says Celia Bertoia. "One of his wishes all along was that everyone could experience his work, he really wanted for people not only to hear the album, but to be able to experience it live."
The barn wasn't accessible enough to execute her father's vision of letting the masses experience his work, explains Celia Bertoia. The 60-piece set, enough to give the "same feeling and sensation that the original grouping gave," is currently up for private sale at Sotheby's. But the purchase comes with caveats. One of the stipulations, Celia Bertoia says, is that the collection has to be purchased by a museum; the other is that the instruments must be part of performances several times each day.
Though the Sotheby's team has a shortlist of American art-focused museums that they are approaching privately, Celia speculates the sale will happen within the next few years. "When the Sonambient collection finds its home and opens its doors publicly for the first time, I'll be drinking some champagne," she says. "I think Harry would be happy about all of this, too."
Val Bertoia, who worked alongside his father in his studio from 1972 to 1978, keeps the 19 sculptures crafted by his father on the right side of the barn, while the left side houses a growing collection of about 25 of Val's own sculptures.
---
Only Val's pieces are for sale, though he cites one design he created in particular, a bronze plate based on Harry's design, that Val turned into a gong. After someone offered to buy it, he hesitated. "The price, even at $100,000, is too cheap—it's priceless," says Val Bertoia. "I'd rather just make them a new one." The gong stayed in the barn.
When the estate was divided after the lawsuit, about $30 million worth of sculptures went to Celia, says Val. He doesn't know the exact value of his share of the work, but considers them priceless and akin to a historical landmark, saying his father wished to keep the original set together in the barn. Still, the barn is open for tours, and he compares the experience of visiting it to "walking through a forest of sound works."
With 15 days left to go in the campaign, it remains to be seen whether Bertoia's otherworldly LP soundscapes will get to be shared with the world again in their original form.
You might also like, "Frank Gehry Reveals Design for New L.A.-Area Youth Orchestra."