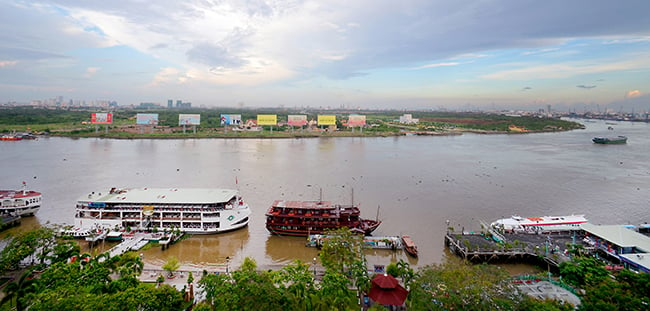 September 3, 2013
Ho Chi Minh City's Architectural Time-Out
The recent downturn in Ho Chi Minh City may—in the long run—be good for its architectural heritage.
The Thu Thiem Ferry Crossing on Ho Chi Minh City's meandering Saigon River. The towers of downtown, most of them constructed in the past 15 years, loom in the distance.
Courtesy Derek Hoeferlin
---
More from Metropolis
---
Over the past 15 years, as Vietnam finally left its long years of war behind, the former capital of South Vietnam—Saigon—became the country's economic powerhouse. Until fairly recently, Ho Chi Minh City (HCMC) was a boomtown. Even before touching down at its busy international airport, I see new buildings rising up through the sprawling and tightly packed suburbs, splayed across the city's surrounding delta landscape and muddy meandering rivers.
Off in the distance along the wide Saigon River, where the spires of the city's French Colonial Roman Catholic cathedral once dominated downtown, an impressive silhouette of high-rises reach to the tropical sky. The city's twenty-first-century feel continues through its sweeping new terminal (designed by GWA) and then down a wide boulevard past contemporary office buildings and shops. Eventually I reach the intimate tree-lined streets of old Saigon, the residential quarter created by the French more than 150 years ago.
In the city I first knew in 1964—before large numbers of U.S. troops arrived and the war intensified—Saigon's French Colonial buildings endured with a seedy and languid charm. Monsoon mildew crept up plastered walls no longer whitewashed every dry season. Huge fans whopped away overhead, stirring up a breeze and keeping the mos-quitoes away. At day's end, nothing beat sitting in rattan chairs for drinks on the vast open-air terrace of the Continental Hotel, nicknamed the Continental Shelf, or on the rooftop of the Majestic Hotel along the Saigon River, with the incongruous sounds of war booming in the distance.
In their colonial stay of fewer than 100 years in old Saigon, the French left behind a rich architectural heritage refiecting shifting trends from the Second Empire and Third Republic to, even later, art deco and Le Corbusier. With high ceilings and fans, louvered doors and windows, the colonial buildings were ideally suited to Vietnam's muggy climate. By the 1930s, the French had developed a unique Indo-Chinese architecture, fusing Western and Asian elements, a style refiected in the Vietnam History Museum and the botanical gardens. They also created broad, tree-lined boulevards and dense, walkable side streets.
During the South Vietnamese government's brief 20-year reign, very little was added to downtown Saigon beyond the modernist Caravelle Hotel, the National Library of South Vietnam, and the infamous Presidential Palace, where North Vietnamese tanks crashed through the gates at war's end in 1975. The city's wartime population swelled with refugees from the countryside and sprawled out in a muddy landscape barely one meter above high tide on narrow-fronted blocks.
For the first ten years after the Communist victory, the depressed economy, war in Cambodia, and the massive fiight of refugees abroad all contributed to the city's continuing deterioration. But by 1986, Hanoi's hardline policies gave way to a Chinese-style market economy to which the more capitalist-minded south quickly readjusted. Growth rocketed along at seven to eight percent annually; today some ten million of Vietnam's population of 92 million live in HCMC.
On my first return in 1995, I found a city virtually unchanged. But over the past decade and a half, HCMC's prosperity has fueled a building frenzy of new malls and shopping centers, office and apartment buildings, and huge infrastructure projects. Despite a recent economic downturn, the city is still in the midst of a massive facelift. Once it's completed, no one knows if this one-time Pearl of the Orient will have any personality left.
The architecture today is a perplexing blend of generic new buildings, overwrought renovations, and the ever-threatened old. Money and influence trump whatever flimsy preservation guidelines exist. After being given half a public park for a large high-rise, Vingroup's Pham Nhat Vuong (described by Forbes magazine as "Vietnam's Donald Trump" and worth $1.5 billion) demolished an entire city block in the heart of downtown. The resulting office complex and mall, according to former U.S. diplomat James Nach, "looks like a monstrosity choppered in from the West." Inside is an air-conditioned maze of brand-name shops with few customers.
Designed by Carlos Zapata, the 68-story Bitexco Financial Tower opened in 2010. That's a helipad on the 52nd floor.
Courtesy Derek Hoeferlin
"There doesn't seem to be any limit on what developers can build here," says Jim Okuley, a longtime resident and attorney. Since opening in 2010, the Bitexco Financial Tower has dominated the skyline. Designed by the American-based architect Carlos Zapata, the banana-shaped 68-story building soars above the city's financial district. But its massive curtain wall of untinted glass and wildly askew venetian blinds inside give the building an unkempt appearance. The tower looks like a disheveled giant. And what inspired that 52nd floor helipad? (Perhaps the fall of Saigon.)
"Most of the colonial buildings were designed cognizant of climate, with deep verandas, balconies, gracious overhangs covering the sidewalks, landscaped courtyards—not just to shade, but also protect from downpours," says Derek Hoeferlin, an architect and historian at Washington University in St. Louis's Sam Fox School of Design & Visual Arts. "The tree-lined streets also dropped the temperature a lot. All of the new high-rises completely reject this."
The pattern has been repeated all over this now-vast city. "While there was a certain inevitability about new towers in a city bereft of modern office space in the 1990s, the process has been anarchic, with little regard for heritage or the creation of public space," says Mark Bowyer, cofounder of Travel Indochina, who first visited in the late 1980s. "Perhaps more damaging has been the rush to build low-quality office space all over the city on small, narrow blocks. In many cases, villas and shop houses have been destroyed to create them. The city's soul has paid a high price for their construction."
The HCMC People's Committee (or city council) has commissioned important civic improvements. The once-odorous Ben Nghe Canal from the city's Chinatown was cleared of squatters, walled and landscaped, and the pleasant East-West Expressway installed. (The project included a much-needed upgrade to the French-era sewer system, both funded by Japanese foreign aid.) The five-mile boulevard from the airport into the city was widened and replaced with modern frontages, again with sewerage upgraded.
The city's downtown—where most tourists stay and locals zoom through on motorbikes—has been revamped and, banal new buildings aside, never looked better. Boulevards are lined with manicured lawns, hedges, and trees with colorful lights for Christmas and the Lunar New Year (Tet). Traffic is less chaotic; people stop at red lights now and parked motorbikes no longer clog sidewalks.
To ease population pressure, the city expanded into the surrounding rice paddies and swamps where Vietcong guerrillas once fired rockets into wartime Saigon. The most successful project here is a SOM-designed master plan for Saigon South. But an ambitious proposal to create a version of Shanghai's Pudong across the Saigon River from downtown lies derelict, despite $800 million spent moving out 60,000 residents. The Sasaki Associates master plan is now begging for foreign investors.
At the same time, officials have shown a greater willingness to preserve iconic buildings from the French Colonial era, such as the 1891 Hotel des Postes. Government-owned hotels, the 1880 Continental and the 1925 Majestic, have also undergone restoration. But these projects have "nostalgie" slapped on with a trowel. Birdcage elevators have disappeared and bedrooms halved to double occupancy rates. The Continental's famous terrace is now glassed in. Once open to the climate, old villas have also been sealed off and turned into upscale restaurants. Everything is air-conditioned and the pleasant whop-whop-whop of overhead fans is a distant memory.
Private projects have done a better job transforming low-rise apartments and factories—still threatened by demolition, of course—into popular restaurants and cafes. On a recent trip, Hoeferlin discovered a nicely renovated six-story building converted into the Saigon River Boutique Hotel, with a quirky decorative screen over its narrow facade. Verandas and a quaint rooftop bar are accessed by a restored open-riser terrazzo staircase. The city's most innovative architecture is found in narrow-fronted private homes, the so-called "tube houses" just four meters wide.
Much still remains of Saigon's architectural heritage and, partic-ularly outside downtown, visitors can stumble onto real treasures: the early 1900s fine arts museum near the central market, the former Banque d'Indochine (1875) in the financial district, or old Archbishop's Palace from the late 1800s. But nothing is truly safe. Old villas and shop houses can disappear literally overnight as developers clear lots and make way for their monstrosities.
For now, however, HCMC's haphazard building boom, driven mostly by easy credit to state-owned enterprises, has gone spectacularly bust. The Bitexco and other new buildings and apartments are all suffering from low occupancy rates. Downtown is dotted
with empty lots and half-built structures. "This should provide breathing space for some planning when the next wave of invest-ment arrives," Bowyer says. "With Vietnam's economy still in the doldrums, that might be a way off."
Some breathing space might also awaken authorities to an even more pressing issue. "This delta landscape is delicate and threatened by climate change, sea-level rise, urban flooding, and subsidence," says Hoeferlin, who attended the recent DELTAS2013 Conference in HCMC on coexistence with such ecosystems. "Designers and cities need to turn these challenges into opportunities. The overuse of asphalt, sealed-off glass towers, and super-pumped air-conditioned shopping—everything we've seen in Ho Chi Minh City—will only further stress the challenges ahead."