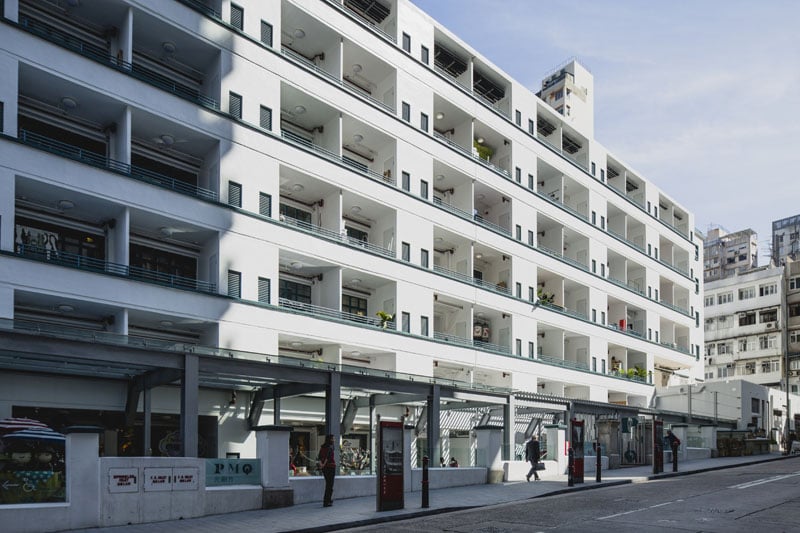 March 10, 2015
Hong Kong's PMQ Is the City's Newest Design Incubator
A historic site in Hong Kong that once housed its married police officers finds new life as a cultural hub and incubator for young designers.
PMQ, as seen from Bridges Street, has been transformed into a dining and creative destination while retaining the colonial building's historic aesthetic, and all studio units feature a small balcony. Forensic analysis of the original paint used for railings and windows revealed a distinctive teal color that was used in the revitalization project.
---
Don't be fooled by the understated colonial facade of PMQ. What lies within Hong Kong's new creative enclave—perched between the fast-gentrifying neighborhood of Sheung Wan and the city's retail and financial center—is anything but dated.
What is now PMQ, a vibrant cultural hub and incubator for emerging designers, was originally the site of the Central School, the first government school to provide Western education to the Chinese, with alumni including some of Hong Kong's most successful business tycoons. After it was destroyed in World War II, the 64,583-square-foot site was developed as the first dormitory for married Chinese police officers and their families, with two seven-story buildings housing single and double rooms accessed off an open-air corridor.
---
More from Metropolis
---
Architecturally, the highly functional design of the blocks, along with historic retaining walls, granite steps, and relics have been retained, with the residential units converted into an eclectic mix of boutiques, studios, and cafés. Interiors remain highly functional, with simple concrete and white painted walls, while window frames and railings have been restored to their original teal color. A newly constructed bridge linking the two parallel buildings over a central courtyard doubles as an indoor event space and rooftop garden.
The project emerged through an unusual collaboration between the government—who restored the two historic buildings— and the nonprofit Musketeers Foundation, established by a trio of local billionaire businessmen whose HK$100 million donation and business expertise are focused on creating a home for the city's nascent design scene. "Creative hubs are not a new concept in other countries, but this is a first for Hong Kong—where extremely high rents mean it is very rare for young designers to find opportunities to build their design brands in prime locations," says PMQ's creative and program director, William To.
The site comprises three buildings: two blocks that provided around 196 quarters for police officers, and an ancillary Junior Police Clubhouse that is now home to Aberdeen Street Social, a casual restaurant and bar, with interiors designed by Shanghai-based architects Neri & Hu.
---
The hub opened its doors in April 2014 with 100 retail-studio units and 15 pop-ups of around 430 square feet each, along with a multifunction event space called The Qube. It kicked off a series of special projects and temporary installations, including weekend and evening design markets, alongside high-profile cultural events by the likes of Hermés, Swarovski, and Van Cleef and Arpels.
Meanwhile, PMQ's well-connected founders lured in retail big guns such as Hong Kong's Goods Of Desire, fashion designer Vivienne Tam, and, most notably, the Japan Institute of Design Promotion's first store. These join a carefully curated mix of local designers producing a range of creative products across food, fashion, jewelry, furniture, and stationery. "The solution was to create a delicate balance between more established businesses that pay full-market rent thereby "sponsoring" subsidized rental of units for younger designers," explains To.
The Antiquities and Monuments Office found the site's boundary walls retained historic elements that reflected PMQ's history. The existing retaining walls and trees along Hollywood Road have been preserved.
---
PMQ's emerging talents are offered discounted rates and business support to help kick-start their own brands, subsidized in part by the larger commercial tenants such as Hong Kong entrepreneur Yenn Wong and British chef Jason Atherton's Aberdeen Street Social restaurant, bar, and deli.
For those more accustomed to design districts developing organically, a ready-made creative center may seem incongruous. But the project has already spawned numerous success stories while drawing some 2.3 million visitors in its first eight months, while regular pop-up events and exhibitions also help to maintain interest.
And there's more to come. Part of a government-led "Conserving Central" heritage conservation project, PMQ is the first in a triangle that will include the performing-arts hub at the Central Police Station, and the Central Market. But regardless of what lies ahead, it's clear that creativity will be nurtured in every way possible.
PMQ's top design talent
---
---
Michael Young's Bramah Pendant light features more than 100 extruded fins and is created from a solid block of aluminum.
British-born, Hong Kong–based designer Michael Young's ultra minimalist studio—smooth white walls and a dark concrete floor set the tone—showcases some of his most interesting product-design work. Included is the industrial-chic Orsted writing desk featuring a folded aluminum desktop and "Chair 4a," Young's deceptively simple, contemporary interpretation of the classic chair in recycled aluminum. The designer, whose works are crafted by skilled Chinese craftsmen in nearby Shenzhen, says PMQ offers many benefits beyond its prime location. "It's great to have a place in Hong Kong where design minds can gather and a community can be created," he says. "It's good for new generations to see that such a life is possible."
Each block within PMQ reflects the colonial architecture of the day with individual units accessed via a common open corridor that overlooks the central outdoor courtyard. White plaster walls and raw concrete floors evoke the building's original functional style.
---
---
Ling Wong designs her ladies accessories and shoes in her studio that doubles as a boutique, an arrangement she says provides for unique interaction with her customers.
Local Hong Kong designer and London College of Fashion graduate Ling Wong is a rising star in PMQ with her comprehensive wardrobe of beautifully constructed geometric and asymmetrical dresses, delicate monochromatic separates, and graphic accessories like clutch bags sporting whimsical phrases, and black leather loafers with distinctive futuristic prints. The designer, who honed her design skills with stints at Jens Laugesen, Katie Judith, and Agnès B., works from her ethereal PMQ studio-workshop where she also produces idiosyncratic custom-designed pieces, including footwear handmade by local artisans. Wong keeps her airy atelier deliberately understated yet enlivened by rustic timber shelves and tables with contemporary steel rails for hanging her designs, the main attraction.
"I always change the silhouette and the fabric, and add new elements to my design so the final product is usually totally different from my initial sketch," Wong says. "I find that the most fascinating thing about design."
---
---
aogp founder Maggie Tse says she and her fellow PMQ creatives provide a supportive environment for one another. "It's like a village where we inspire each other."
Maggie Tse might not yet be a household name in the fashion world, but that's just a matter of time. Since setting up her aogp (An On Going Project) label in PMQ, the Hong Kong Polytechnic University graduate has experienced significant success with a debut collection of avant-garde draped accessories, which exude a distinct architectural quality and can be worn as scarves or tassels. The young designer says her studio-store—an elegant essay in black and white—provides a unique interface with customers. "The chance to talk with customers is very valuable, because the interaction is very direct. It makes you think and move on." Tse designed the interiors with change in mind. Mannequins and display tables on wheels sit alongside a constantly changing collection of whimsical pieces, spanning design books to quirky ornaments on simple wall shelves, which help keep the shopping experience fresh and interesting. Nearby, her covetable designs are presented on artist canvases or within monochrome frames.
The designer's collection of delicate "body" pieces is all about wearable art.
---
---
Cofounder Eunice Cheung says they spotted a gap in the local market for a concept paint shop that offered "superb quality and artisan craftsmanship."
Hong Kong's first concept paint shop, founded by Elsa Jean de Dieu and Eunice Cheung, is hard to miss in PMQ. The exuberant emporium features a cornucopia of interior and fashion accessories reflecting the duo's design explorations in paint, which include regular painting workshops and ongoing experiments in developing an unusually wide range of colors. Their newest paint collection, "Voyage," offers a striking palette of four colors inspired by nature and travel, complemented by a new line of scented candles and velvet cushions. The space itself is a charming blend of traditional shop cabinets, industrial lightbulbs, and vintage rugs. A marble table is topped with utilitarian bags, brushes, and paints displayed in bell jars. Meanwhile, their bespoke service offering environ- mentally friendly custom-made tones for interiors has already made the tiny studio the go-to destination for interior designers in the region.
Rags sit above the sink in the shop. All 513 paints are VOC-free, toxin-free, and ideal for use in the home. The studio also offers regular creative furniture- painting workshops.
---
---
Found Muji products reflect the brand's focus on beautifully crafted daily- use products that offer durable functionality at a reasonable price.
Muji's first independent Found store outside Japan presents a collection of unbranded, reasonably priced, handcrafted household objects "found" around the world by Muji. All typify the iconic Japanese company's minimal functional aesthetic that marries raw simplicity with domestic practicality—minus all the usual retail trappings. The serene gallery-like space designed by award-winning designer and Muji associate Naoto Fukasawa features dark timber shelves, while benches offset minimalist stone-gray brick walls. Signature pieces include delicate silk scarves hand decorated by Yokohama-based artisans, as well as traditional cypress wooden-box cups from Gifu Prefecture, Vietnamese Bat Trang clay tableware, and blue- and-white porcelain produced in China's Jiangxi province.
Japanese designer Naoto Fukasawa says that, where appro- priate, the "found" artisanal products are adapted to meet Muji's high-quality standards.