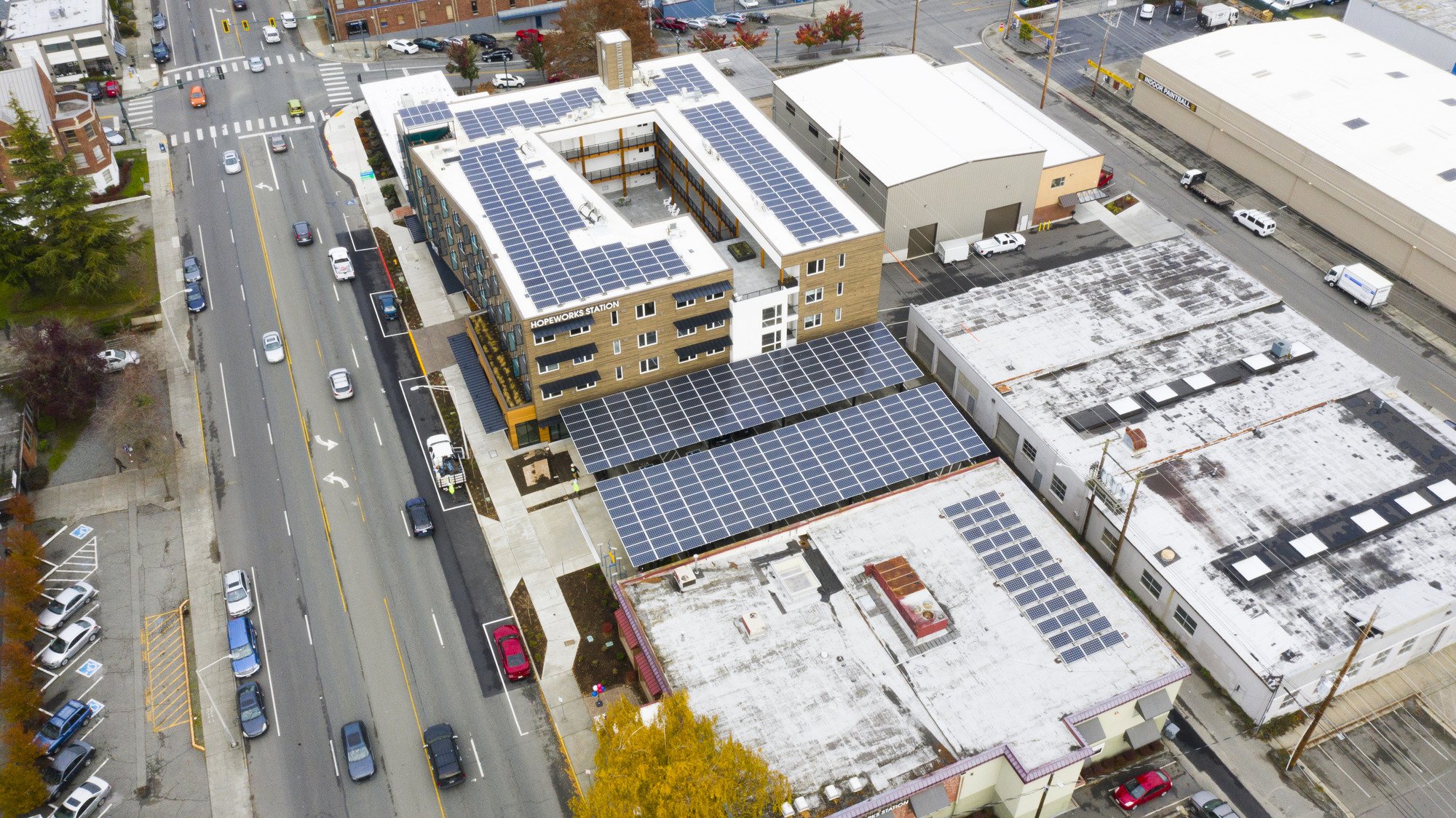 May 27, 2021
HopeWorks Station Offers a Sustainable Slant on Transitional Housing in the Pacific Northwest
The LEED Platinum mixed-use complex designed by GGLO combines housing with social services for a net-positive community hub.
At HopeWorks Station in Everett just north of Seattle, a new 65-unit affordable housing development with on-site social services offers a restorative live/work community for those transitioning from homelessness. Designed by the Seattle offices of GGLO and Dykeman Architects, and managed by HopeWorks Social Enterprises, the 67,000-square-foot complex provides housing alongside on-the-job training for residents in its street-level retail businesses. Combining ambitious sustainability goals with a holistic approach to social services, the innovative new development powers its community in more ways than one.
HopeWorks is the first structure in Everett to achieve LEED Platinum certification. Commissioned by Washington-based housing agency Housing Hope, the complex is targeting net positive energy use with 531 solar panels blanketing the roof and adjacent parking canopy. The project was an early case study in the Living Building Challenge Affordable Housing Pilot Program, which the International Living Future Institute (ILFI) launched to understand how its Living Building certification program could apply to affordable housing projects. ILFI's Living Building Challenge goes beyond LEED's checklist-based sustainability certification, promoting regenerative buildings that heal people and the environment.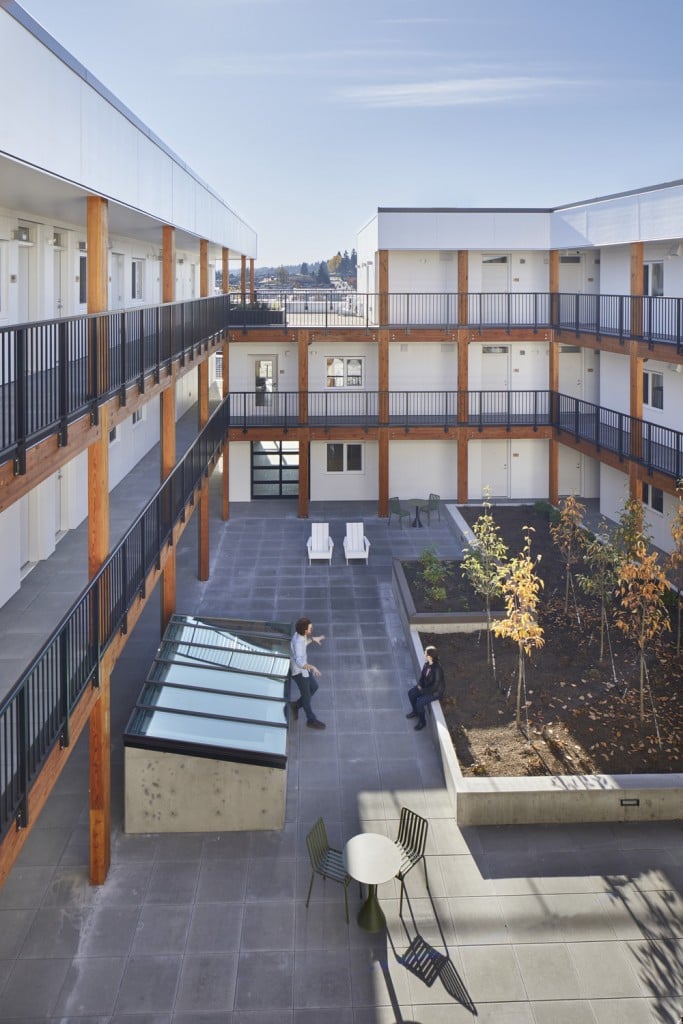 "Knowing the impacts of climate change hit underserved populations hardest, and that affordable housing often comes with special challenges and funding limitations, HopeWorks is helping define a sustainability framework for these projects," explains Jon Hall, principal at GGLO. Designed to produce 105 percent of its residential energy use, HopeWorks is anticipated to achieve ILFI Living Building Certification's Energy Petal, which requires a year's worth of energy-use data to assess performance.
---
More from Metropolis
---
The four-story building is organized around a central, cedar-clad public lobby bookended with ground-level retail, community meeting space, and a workforce development training center. Also managed by HopeWorks, the three social enterprise businesses—a café, landscaping company, and retail shop—provide job training programs, helping residents build sustainable pathways to self-sufficiency. "HopeWorks has a unique mission in that they recognize we need housing first, but we can't have housing only," says Hall.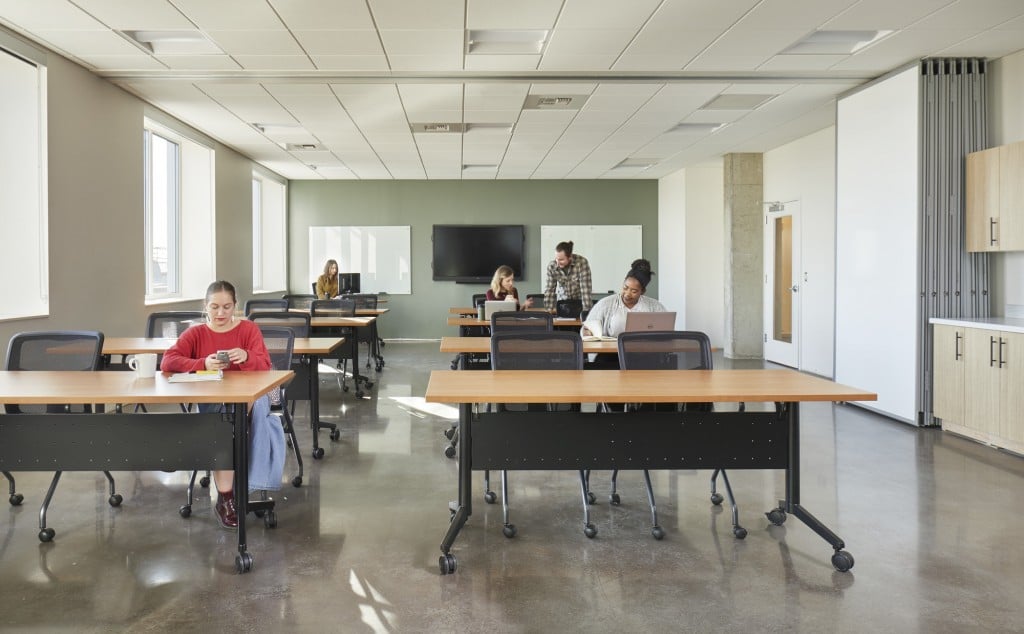 Residences are a mix of studios and one- and two-bedroom units with exterior corridors encircling a central greenspace. "The inner courtyard is the mixing ground for everyone," explains Hall. Intended to help reduce energy loads, the open-air hallways had the unexpected benefit of providing ad-hoc, outdoor meeting space during the pandemic.
As HopeWorks enters the data collection phase for Living Building's Energy Petal certification, important lessons are emerging about sustainable design for affordable housing projects. For example, residential units are outfitted with seven-day programmable thermostats designed to economize energy use, but for residents who have previously been houseless, controlling their environments through technology can be a foreign concept. "We've heard stories of residents cranking the heat up and opening windows when they get hot. Or, turning off the system completely and using their oven for heat," says Hall.
To ensure the building optimizes energy efficiency, a group of HopeWorks staff and residents called the Green Team helps educate residents on implementing all aspects of the project's sustainability goals. As Hall notes, "It's a reminder that as designers, we have to do everything we can to put ourselves in the shoes of the user and deeply consider where they're coming from."
You may also enjoy "Orange Architects Unveils Stacked and Staggered Private Housing in Rotterdam"
Would you like to comment on this article? Send your thoughts to: [email protected]
---
Register here for Metropolis's Think Tank Thursdays and hear what leading firms across North America are thinking and working on today.