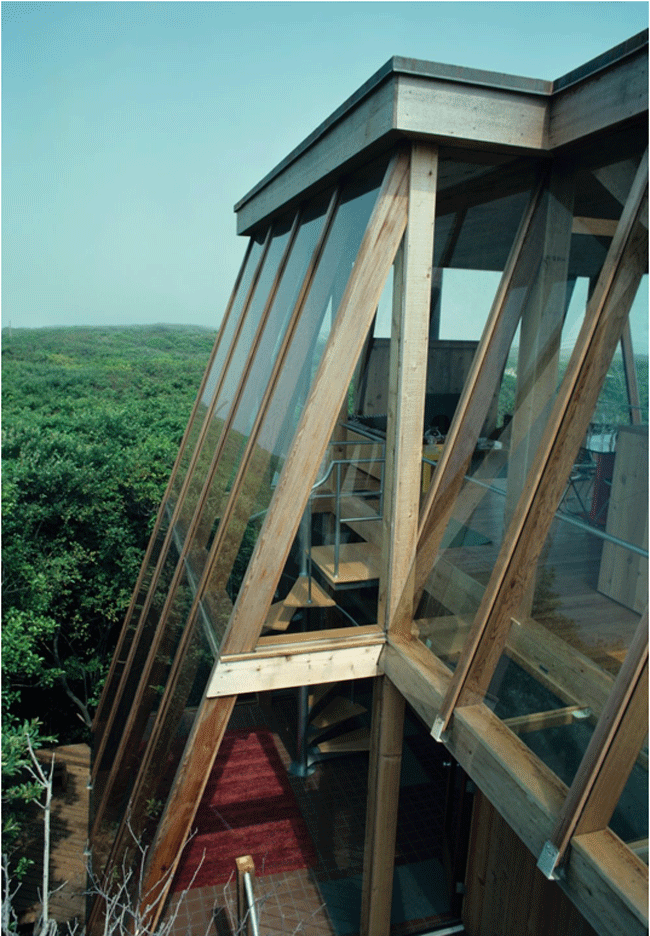 June 11, 2013
Horace Gifford's "Architecture of Seduction" Is a Portal to a Lost Generation
New book discovers a more carefree moment in a Long Island beach community when sustainable modernism took root
The following text is excerpted from Christopher Rawlins's new book Fire Island Modernist: Horace Gifford and the Architecture of Seduction (Metropolis Books), about the architect Horace Gifford. Those who spend time in the Pines on Fire Island may know that Gifford built 40 modest modern homes there between 1961 and 1981.
---
"There are two things you should know about me. I'm gay, and I'm manic depressive."—Horace Gifford
---
More from Metropolis
---
Something kept drawing my eye through that particular tangle of holly trees. A meandering wooden bridge, suspended high above a hillside, threaded its way to a house seemingly floating among the treetops. By night, attenuated slivers of illuminated glass confirmed that the place was inhabited. Other odd and seductive homes invited exploration with the hook of a soaring roofline, a breezeway cut through the middle, or a dance of platforms artfully dodging the trees. None looked alike but all seemed to be part of an extended architectural family. I began knocking on doors.
"Who designed this place?"
"Horace Gifford."
"Who?"
I was a student of modern architects. Why didn't I know this one? In every case, homeowners offered alternately poetic and salacious accounts of the young, handsome, and fiercely talented architect who once had the run of this island.
I was exploring the Pines, one of eighteen coastal communities dotted along the narrow slip of land known as Fire Island, which protects the south shore of Long Island from the Atlantic Ocean, forming the Great South Bay. It is thirty-one miles long, barely a quarter of a mile wide, and rewards the effort of reaching it with car-free boardwalks and expanses of protected dunes. Fire Island Pines—often just called the Pines—is accessible only by ferry or seaplane, and it is hard to imagine a setting more removed from the skyscrapers of Manhattan that loom fifty miles to the west.  Yet the Pines is very much an urban invention, possessing a rustic-chic aesthetic that only a city dweller could conjure. In fact, the entire island is a place where urbanites of every conceivable stripe have perfected very particular takes on the weekend getaway.
As journalist Albert Goldman put it in 1972, "Fire Island appears to be designed by the cunning hand of nature to allow New Yorkers to escape the Melting Pot … Hot Jewish girls rub shoulders with coy gentile fags. Hot faggot queens bump up against chilly Jewish matrons. It's always Forbearance Week in New York City … Like a refracting prism, Fire Island takes your glaring white New York light and bends it into eighteen neatly demarcated bands, ranging from the bright pink of Cherry Grove and the lovely lavender of the Pines to the suburban Dutch Boy of Seaview and Ocean Ridge to the grungy shades of Ocean Beach and Fair Harbor, until the spectrum ends in the sterling-silver, goyim-gray of Saltaire and Point O'Woods. "
Soon, I found myself renting a Horace Gifford home in the Pines, a slightly rundown affair that still managed to delight with its clutch of cedar towers that spun around a glass-walled living room. A drafting table and a monogrammed T-square revealed this to have been Gifford's own residence. Yet no one outside of the Pines seemed to know anything about him. How could an architect of such evident appeal have vanished from the collective consciousness? I was feeling rather overlooked myself at the time, and fussing over someone else's career proved to be an agreeable distraction. Many months of snooping delivered me to the snowy driveway of Edward DiGuardia, a Long Island artist who befriended Horace Gifford in his final years. Edward led me to a garage packed with thousands of drawings, magazine clippings, and slides. Here sat a life's work, hastily rescued from the bloodless ministrations of estate liquidators during the chaotic nadir of the AIDS epidemic. That evening, under the flicker of an old-fashioned slide projector, dozens of ingenious homes flashed before me, tucked into lightly settled, utopian dunescapes. I was smitten, and determined to introduce this work to a broader public.
Horace Gifford built his first Fire Island beach house in 1961. As the 1960s became the "Sixties," a remarkable series of beach houses performed a transformation of terrain and culture. Growing up on the beaches of Florida, Gifford forged a deep connection with coastal landscapes. Pairing this well of sensitivity with jazzy improvisations on modernist themes, he perfected a sustainable modernism in cedar and glass, as attuned to natural landscapes as our animal natures. His biography and that of his clients are essential to decoding the work. In rediscovering Gifford's architecture, I also found a portal to a lost generation, truncated by AIDS and winnowed by the passage of time, but still resonant with artistic and cultural significance.
I learned that Marilyn Monroe, Elizabeth Taylor, Diahann Carroll, and Montgomery Clift once spurned Hollywood limos for the rustic charm of Fire Island's boardwalks. Truman Capote wrote Breakfast at Tiffany's here. Diane von Furstenburg showed off her latest wrap dresses for an audience that included Halston, Giorgio Sant' Angelo, Calvin Klein, and Geoffrey Beene. Jerry Herman's piano reverberated with the crashing surf. Composer Ned Rorem was moved by the staccato rhythms of the new, modern beach houses "architected by Horace Gifford so that you live simultaneously indoors and out."  Today, an equivalent talent roster evokes the aloof, gated compounds of the Hamptons or Malibu. But these celebrities lived in modestly scaled homes alongside middle-class vacationers, all with equal access to Fire Island's natural beauty. For both the famous and the obscure, Gifford turned heads as he strode down the beach from meeting to meeting "wearing a Speedo and carrying an attaché case," an amused client recalled.
The beach house might seem an unlikely vehicle for social change, but Gifford's little homes exerted a considerable influence upon their inhabitants. His architecture resisted the creeping acquisitiveness of midcentury America, and his injunctions to clients reflected Gifford's respect for the inherent fragility of America's coastlines. Unlike many architects, Gifford attempted to reduce the size of his structures. "Sometimes the client's ideas must be challenged … Usually they can be reduced in cost and size, and still satisfy them."  In the car-free milieu of Fire Island, he choreographed a ritual of stepping down off of the public boardwalk, physically reconnecting with the landscape, and proceeding through a winding path before entering a home. He resisted fences. He left doors off closets to limit the stockpiling of possessions. He discouraged washers and dryers. He urged clients to tote little baskets of toiletries to the bathroom. He loathed painted surfaces, clipped lawns, and all of the brute force involved in tending a typical suburban home. There was a conspicuous lack of accommodation for televisions. Bedrooms remained small to focus activity within the public spaces. Life in a Gifford home prescribed an artful form of camping.
Some clients balked at Gifford's enforced simplicity. Others reveled in the generosity of his liberated and libertine spaces. Graciously appointed, open-plan kitchens invited group participation. Interior space passed almost imperceptibly into, or cantilevered thrillingly over, the dunes. Soaring ceilings extracted grandeur out of the smallest footprints. Sleek "piano" hinges eliminated lumpen displays of hardware while keeping doors exceptionally stable in houses that drifted with the sands. Light switches positioned knee-high on the walls minimized their visibility. Grooves between horizontal and vertical surfaces created shadow lines that allowed each plane to float in space. Exposed ceiling joists spun precise and elaborate traceries.
Over time, an element of seduction entered into his work. The majority of his clients were homosexual men, a demographic that came into full visibility for the first time during Gifford's twenty-year reign as a prolific beach-house architect. These two decades were roughly bisected by the Stonewall Rebellion of 1969, the Greenwich Village revolt against pervasive police harassment at gay establishments. Out of this watershed moment, the Gay Pride Movement ascended and social constraints fell away. Gifford's serene 1960s pavilions provided refuge from a hostile world, while his exuberant post-Stonewall, pre-AIDS masterpieces orchestrated bacchanals of liberation. Sculpted outdoor shower stalls evoked cedar orgasmatrons. Cushions on Gifford's built-in sofas sidled into their adjacent conversation pits to create tailored love nests. In the early 1970s, Gifford carved a sheepskin-lined pit into his own 1965 residence, a fitting surface for a wolf on the prowl. The Make-out Loft entered the architectural lexicon via Horace Gifford. Such embellishments were of a piece with the broader countercultural currents that ran through his work. Bathrooms that traded mirrors for glass walls invited prurience on occasion, but they also drew the inhabitant's gaze away from himself toward an increasingly threatened nature.
Gifford's grounding in both the natural world and the art of construction buffered him against the more bombastic tendencies of his field. A series of revolutions in taste marked the history of architecture in the twentieth century, and each revolution required the abandonment of all that the previous generation had wrought. Gifford practiced in an evolutionary spirit, transcending an earlier beach-shack vernacular while maintaining the virtue of simplicity. He did not fetishize the notion of originality, and freely borrowed from mentors, colleagues, and the local vernacular on his journey to realizing a unique body of work. Of his beach houses, he required only that "They must excite me" and "Let them look undated in twenty years."  It was the agenda of a man with sufficient confidence to be modest.
Living in a Gifford home, as I did, invites certain psychological assumptions about the man who invented it: a light-flooded interior; a thoughtfully conceived plan; a symbiotic connection to all around it; everything in its place. But the resemblance of the man to his architecture is illusory. Horace Gifford was haunted by specters personal and political. His life followed the operatic arc of repression, liberation, and despair that befell a lost generation. Through it all, he responded with optimistic, forward-looking dwellings that "reach out and grab for light." The seventy-eight modern homes that he created between 1961 and 1981, for an audience that would perish before properly recognizing his achievements, constitute a unique contribution to twentieth-century domestic architecture.
Gifford's beach houses are revealing artifacts of their time and place. But they also speak to the perennial notion—dating back to Hadrian's Villa and perhaps before—that crafting a more direct relationship with the natural world will lead to a restorative existence. The fact that this notion, and this architecture, is often sustained by the artificial and acquisitive life of the city remains one of its many paradoxes. But the longing for Eden persists, and the work in these pages bears the mark of a restless search for that illusory place. So perhaps the architecture reveals the man after all. Gifford liked to say that "someday we will learn to live with nature instead of living on nature."  In their simplicity, sustainability, and sensual delight, the beach houses of Horace Gifford ennoble that wish and speak to us today with renewed power and purpose.