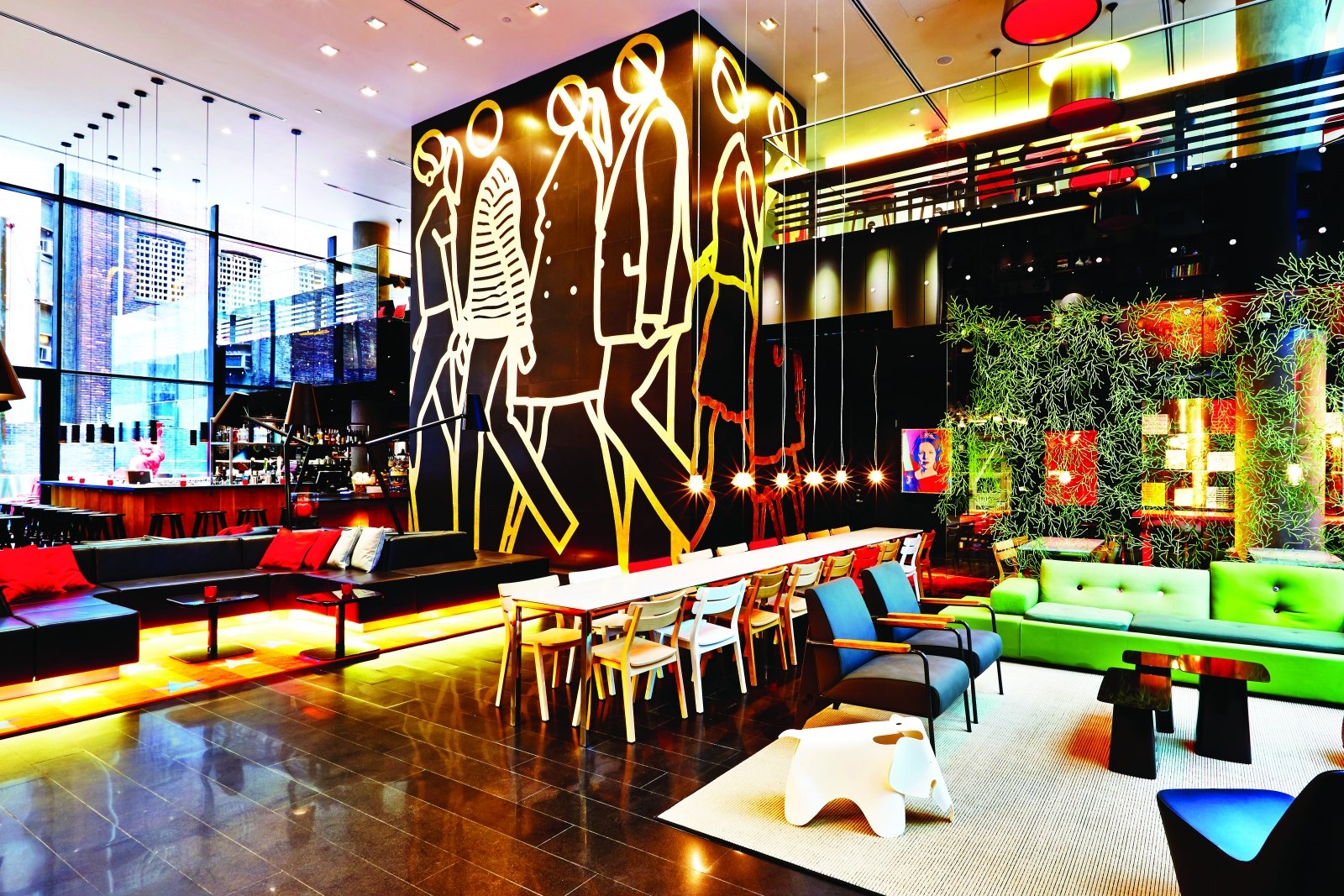 May 15, 2014
Hotel Concept Emphasizes Common Spaces Over Guest Rooms
A New York hotel entices guests out of their rooms with a spectacular, welcoming communal space.
The citizenM lobby has multiple areas for guests to gather, work, and relax, such as a long table with Frame stacking chairs designed by Paola Navone for Very Wood. Conversation areas are defined by a Karboxx hanging lamp and intimately grouped furniture.
Courtesy Richard Powers
---
More from Metropolis
---
Step into the lobby of New York's citizenM hotel, which opened last month, and you're greeted with the busy hum of what could be a hip new bar in a trendy neighborhood. As one of those in the know, you spend the afternoon on your laptop, later grabbing a cocktail and relaxing on the back patio. You'd never guess you're in chain-store-ridden, gawking-tourist-filled Times Square.
Headquartered in Amsterdam, citizenM is the brainchild of Rattan Chadha (who founded the fashion label Mexx) and his son Robin, who sought to create a hotel that embraced the idea of affordable luxury for business travelers. The New York property is the fifth the company has established since its inception in 2008. The reasonably priced rooms are small but well thought out, with amenities such as custom mattresses on king-size beds, Hansgrohe power rain showers, touchscreen Moodpads, and digital screens from Sedition that allow guests to choose which art to display on them. But the real triumph lies in the communal area, designed to be just as important to the guests' experience as the rooms.
The large communal space in the hotel's lobby is subtly split up into different zones, including a reading and recreation corner (on the left).
"How much time are you really spending in the room?" asks Robin. "Even if you spend a lot of time there, it's a bit of a lonely thing to do. We wanted to facilitate a more engaging experience in the lobby."
Based on both research and personal experience, the team concluded that business travelers—and nearly anyone else for that matter—want all the luxuries that come with a five-star hotel, but don't want to pay for it. "Business travelers would rather spend that additional money on a nice dinner in these great cities of the world than pay $600 for a place to sleep," Robin says. "It's a very expensive bar of soap, we always say."
The guest rooms at citizenM are compact, but don't stint on amenities—including digital displays from Sedition, a striking red DAL chair from Vitra, and a small writing surface equipped with a bespoke light and stool from Polcom.
A collaboration between Montroy Andersen DeMarco architects and the Amsterdam-based architecture and interior design firm Concrete, citizenM's New York lobby is a showcase of art and design. Under a soaring 26-foot roof, it has floor-to-ceiling bookshelves that extend from the outside through the lobby, and two commissioned artworks—a Julian Opie lobby installation and a Jen Liu exterior piece wrapping around the facade of the building. Classic furniture from Vitra—as well as works by Andy Warhol, Daido Moriyama, Florian Süssmayr, and David LaChapelle—populates the space. In a nod to the hotel's Dutch roots, the lobby also has a bookshop curated by Mendo, the Amsterdam store that is a creative book lover's paradise. A casual food-and-beverage outlet, canteenM, provides an easy place for guests to grab a drink or bite to eat at any hour of the day or night.
"It's almost like an all-suite hotel," says Robin. "We have one type of room, but we have this communal space where our mobile citizens can gather to work, eat, drink, or even just watch TV. We're focused on their behavior and what is important to them—what luxuries they do not want to compromise on and what they can live without."