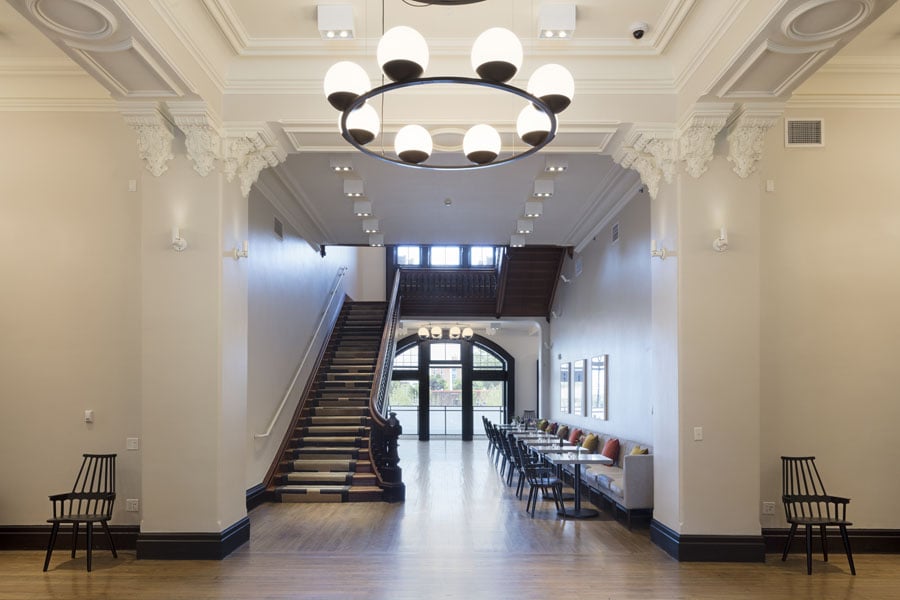 September 21, 2017
Deborah Berke Partners Transforms a 19th Century Asylum into an Elegant Hotel
Berke coalesces 19th and 21st Century design in Hotel Henry through a sensitive rehabilitation of an H.H. Richardson complex in Buffalo.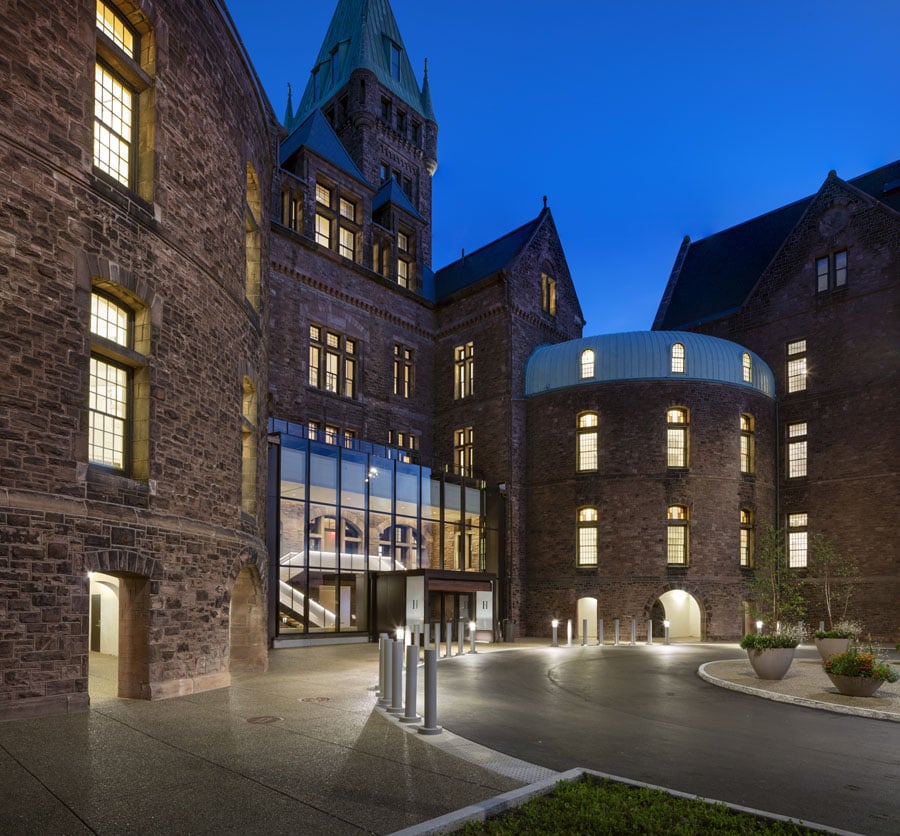 For more than 40 years, the Richardson-Olmsted Campus in Buffalo, New York, a turn-of-the-century state psychiatric facility designed by H.H. Richardson, sat vacant. Much of its massive interior, arranged in modular units spread out like a bat wing, remains frozen in time. An abandoned ward is littered with paint chips, and a shopping cart in the ward kitchen is loaded with film reels. Bicycles are propped as if only momentarily stowed. The white tin ceiling in the kitchen is rusting, and a few collapsed panels dangle precariously.
The heart of the campus, however, is sunlit and renewed—a metaphor for the ongoing revitalization happening throughout Buffalo. The city is seeing many vaunted properties such as Babeville, a live arts venue set within an 1876 Gothic Revival church owned by Ani DiFranco, and the Alleyway Theatre, a former Art Moderne Greyhound Bus depot, retooled as community generators. The Hotel Henry Urban Resort and Conference Center is a capstone to these developments.
Designed by Deborah Berke Partners, the 88-room complex occupies the former administration building of the hospital, distinguished from the two adjacent wards by two regal 180-foot towers. (Plans for the remaining two-thirds of the 42-acre campus are under review.) In studying Richardson's design, Berke felt she had made a breathtaking discovery: the architect's extraordinary handling of proportions. Describing the site as "profoundly Richardsonian in its character and massiveness," she insists that "these are volumes of space that people should experience now." Richardson's august use of scale is preserved in the former upstairs chapel, now a 4,200-square-foot ballroom with 40-foot ceilings; in 200-foot-long corridors where patients recuperated bathed in sunlight; and throughout each of the guest rooms that feature 18-foot-high ceilings. "We respected the vigor and the idea, and honored that within our own design process," she explains.
---
More from Metropolis
---
That process, retooling one typology to another, necessarily entailed demolition. Project lead and senior principal architect at Deborah Berke Partners Stephen Brockman worked closely with structural engineers to gauge the range of acceptable demolition according to seismic codes, and to determine the masonry's capacity for load bearing. (Other members of the reuse team include Flynn Battaglia of Buffalo as executive architects, and Goody Clancy, for historical consultation and exterior rehabilitation.) Walls between erstwhile patient rooms were then knocked down to create the hotel rooms, which, he says, "revealed that there was a lot happening through time, through the layers of materials uncovered."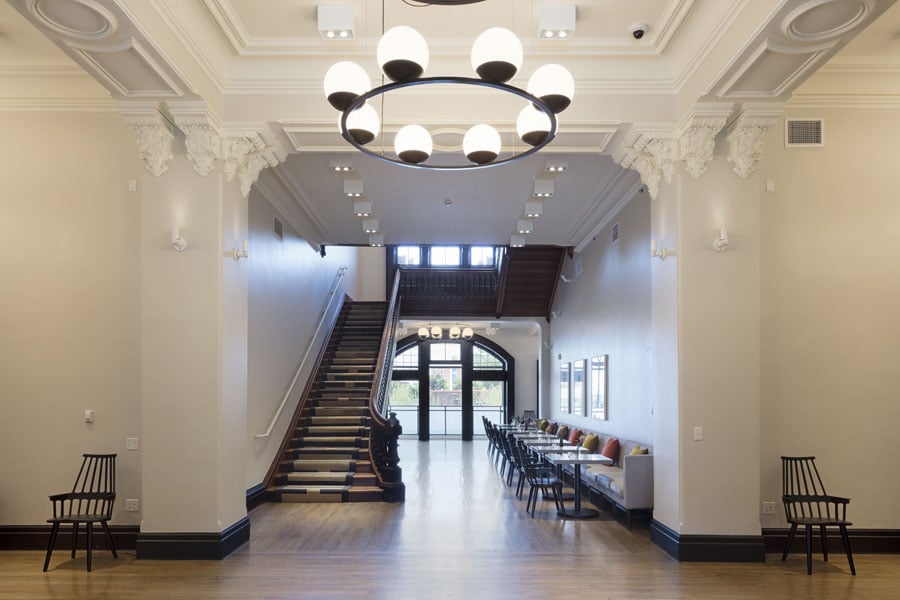 Physical layers of the structure, as well as surface materials, are incorporated within guest rooms and communal spaces in unexpected juxtapositions of past and present. This is particularly evocative in a new glass-and-steel atrium at the north entrance, where the glass pleasingly contrasts with the aged masonry, ashlar-cut Medina sandstone. No longer quarried, this local sandstone (from Medina, New York, an hour's drive from Buffalo) is bright salmon pink when harvested, changing over time to its brownish purple hue. Original crossbeams, pillars, and fireplaces, as well as floor tile, stained glass, and wallpaper, are all preserved. Cutouts in the walls offer glimpses of old wallpaper. The green carpets in the corridors are splotched with grey and emulate the layers of peeling paint and wallpaper in the vacant wards. But Brockman clarifies, the intention was "not to re-create or mimic."
Rather, these features are accents and rarely feel excessive. The architecture has been respected, with the new additions actually serving to cohere the giant complex. For instance, 100 Acres: The Kitchens at Hotel Henry, reconnects separate alcoves and offices in the former administration building by weaving dining areas throughout. It summons a new sense of cohesion and flow "in spaces that once might have seemed private," says Irene Hwang, of Deborah Berke Partners.
The sprawling floor plan was designed according to guidelines set forth by Dr. Thomas Story Kirkbride's progressive Moral Treatment plan, which called for abundant exposure to sunlight and the outdoors. Typically, Kirkbride asylums—the Richardson-Olmsted Campus was formerly known as the Buffalo State Asylum for the Insane—had a succession of east and west wings, attached by interstitial curved corridors. The Buffalo facility operated with less than 300 patients between its opening in 1880 through 1889, though was soon beset with funding and capacity concerns. With 20th-century advances in outpatient treatment, new pharmaceuticals, and psychotherapy, the patient population gradually decreased, the last departing in 1974.
Substantial state funding supported the construction of Kirkbride asylums, and as such, preeminent architects designed them. State funding has also made possible the renewal of the Richardson-Olmsted Campus. Governor George Pataki formed the Richardson Center Corporation in 2006; chaired by newspaper publisher and preservationist Stanford Lipsey, the group secured historic tax credits and state monies essential to this newly completed first phase of rehabilitation. Within its mission is the long-term goal of establishing a multi-purpose site with "architectural, educational, cultural, and recreational activities." The Lipsey Buffalo Architecture Center will open on the hotel's lower level in early 2018—a meeting place for designers and architects to pursue new ideas, and a home for permanent exhibits that detail Buffalo's profound architectural history. At the turn of the twentieth century, when Buffalo was the eighth largest city in the world, architects such as Frank Lloyd Wright, H.H. Richardson, Louis Sullivan, and many visionary local firms, designed properties that are now iconic, and that are treasured by locals. "Buffalo," Berke notes, "is aware of and proud if it's architectural heritage." She observes, "The complex was conceived with positive intentions—to make people well. It now provides the opportunity for people new to Buffalo to discover its architectural richness and complex history."