September 19, 2018
The Mixtape Magic of Robert McKinley's Hotel Joaquin
The eclectic motor-lodge-turned-boutique-resort, scheduled to open next month, takes its cues from Joni Mitchell, Serge Gainsbourg, and Pérez Prado.
---
In architecture, muses come in many forms. Violins. Machines. Trash cans.
For Robert McKinley, the New York–based designer of Ruschmeyers, Surf Lodge, and a slew of other popular venues, every project starts with music.
McKinley's latest endeavor is no exception. Hotel Joaquin, a 22-room hotel from hoteliers Auric Road occupying a former motor lodge in Laguna Beach, will open this fall. When it does, it will offer guests chic, Mediterranean-inspired digs infused with Left Coast cool. But what does that sound like?
---
More from Metropolis
---
"Pérez Prado, next to Serge Gainsbourg, next to Joni Mitchell," according to McKinley.
For the designer, this aural approach acts as a sort of editing mechanism—a useful tool, given McKinley's cunning for eclectic interiors. Like a good mixtape, design should be cohesive, yet surprising.  "If it doesn't work musically, then maybe it doesn't work visually," he explains.
This mashup of California and Capri isn't as far off as it might seem: The rocky Pacific coastline, with its fragrant bougainvillea, oleander, and rosemary, sensorially recalls the Mediterranean. Making use of its close proximity to the ocean, the hotel will offer resort-like amenities—including access to an "Adventure Garage" outfitted with surfboards and hiking gear. Like in several of his other projects, McKinley himself had a hand in curating the hotel's programming, which promises to be an attractive asset to the wanderlust set still in search of a boutique hospitality experience.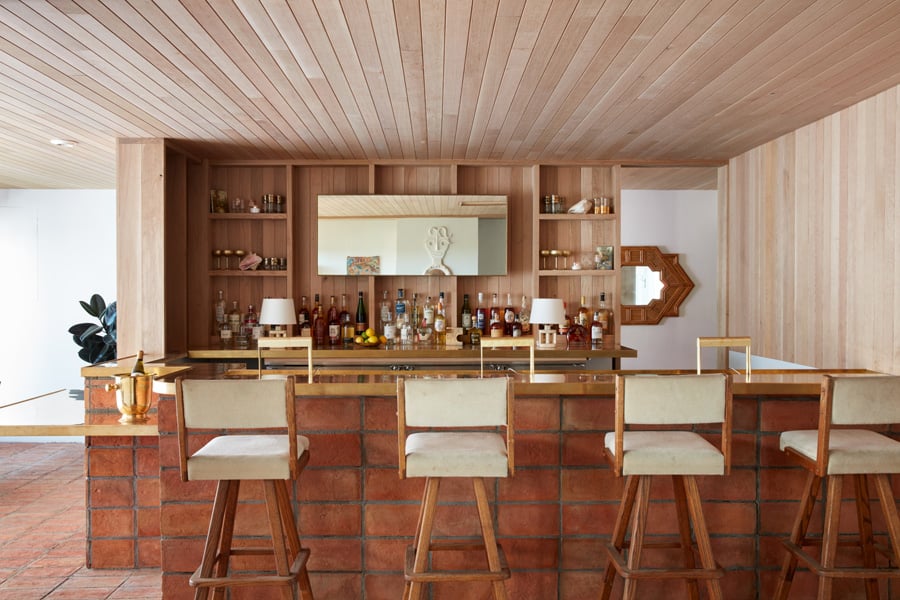 With fewer than two dozen rooms, Hotel Joaquin is a cozy property. Still, it packs in a restaurant (Saline, which will offer French-Mediterranean cuisine), a bar, a generous patio peppered with teak furniture, a pool, and a communal living room that frames striking ocean views.
Because the hotel's previous configuration as a 1930s-era roadside lodge was kept nearly entirely intact—the reconfigured public spaces notwithstanding—each of the guest rooms varies slightly from the others. In them, McKinley has put his mixmaster skills on full display, outfitting interiors with a combination of vintage furniture (sourced from a buy in France) and low-slung, contemporary built-in units. Nearly all of this new furniture was made locally, as was much of the art on the property, like the atmospheric surf photography of Los Angeles's Daniel Fuller.
Materials throughout tend toward the organic: wood predominates in guest rooms, where natural linen shades crown lamps, and cane lines the doors of armoires. Bathrooms are dressed up in handmade Mexican clay tile and dramatic, veined marble. For the latter, McKinley sourced unusual, diverse varieties—in one, the stone resembles a melted cone of cookies-and-cream; in another, the marble is closer to tea-stained paper.
"We wanted you to feel this exhale when you walked through the door, but we also wanted to have some interest, and some soul, and some texture," says McKinley.
The importance of mood setting is clearly not lost on this designer. "When we go on vacation, we want to feel like we're in a movie," he says. And for McKinley, music—whether it's at the root of an interior scheme, or pumping through the in-room stereo—is at the center of that experience. Come October, when the hotel opens to the public, it seems many travelers will be California dreaming.
You might also like, "David Chipperfield's New Mixed-Use Tower Brings Beauty and Brains to New York's Bryant Park."