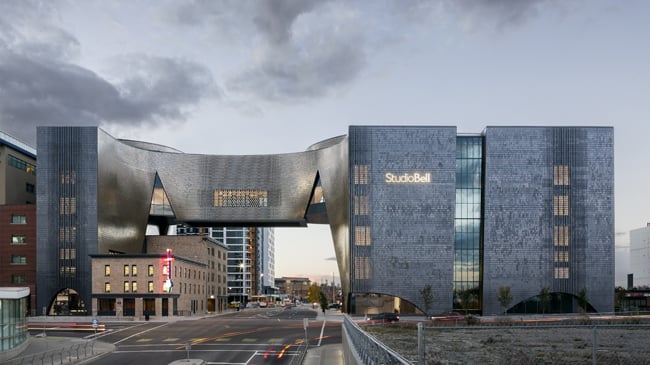 February 21, 2017
How a Pawnshop Trombone Inspired Canada's National Music Centre
For Canada's new National Music Centre, Allied Works Architecture crafted sculpture-like models. "It's an art exploration," says principal Brad Cloepfil. "I've avoided saying that forever, but it's true."
Calgary's new National Music Centre (NMC) by Allied Works Architecture.
Courtesy Jeremy Bittermann
---
Showing off the 300-seat performance hall of Canada's new National Music Centre (NMC) in Calgary, Brad Cloepfil exudes quiet enthusiasm. The Portland, Oregon, architect and principal of Allied Works Architecture (AWA) saunters to the edge of the second-floor concert stage, which overlooks a wide lobby of interlocked arches. "I want the piano to sit right here," he says. The space opens fully upward; music performed here fills the lobby and all five stories of the building, branded Studio Bell through a corporate partnership. Sound travels up curved walls of shimmering terra-cotta tiles that are tuned just so for light and acoustics. "The building," Cloepfil explains, "is an instrument."
Studio Bell is a lot of things: museum, venue, incubator for musicians, and home to a handful of Canadian music halls of fame. Encompassing 181,400 square feet, it straddles a street in East Village, a long-neglected area on the east end of downtown. A decade ago East Village was mostly empty lots and derelict buildings, with the NMC site hosting a locally beloved but condemned masonry hotel and blues bar called the King Eddy. Today, the area is being remade as a walkable urban village thanks to municipal investment—and Studio Bell forms a commanding gateway to the neighborhood. "There was no architecture, no buildings, when we first started," says Cloepfil, "so it had to hold its own."
---
More from Metropolis
---
That it does. Built one block north of a railway, Studio Bell rises from the Alberta flatlands like a futuristic grain elevator, shiny and immense. Clad inside and out with earthen-hued glazed tiles that change color with light and seasons, the $191 million complex's east and west blocks are connected by a sky bridge high over the road. Inside, programming is spread throughout nine towers influenced by prairie landforms. Beneath the sky bridge, the King Eddy has been torn down, rebuilt, and incorporated into Studio Bell, containing recording studios and a radio station.
Being from the West, Cloepfil is drawn to midsize cities like Calgary that punch above their weight. "There's a greater affinity to risk in the West," he says. "If you look at the projects we've been able to do, the most innovative ones are not in major metropolitan centers."
The completed building is clad with more than 200,000 glazed terra-cotta tiles (manufactured by Moeding) both on the exterior and interior. The curved elements of the model (see below) are reflected in the building's silhouette and in the way it meets the ground.
Courtesy Jeremy Bittermann
---
In Denver, a perforated concrete ceiling in the Clyfford Still Museum floods intimate galleries with natural Colorado light—what one visitor described as "liquid light." At the Dutchess County Residence, a rural commission in upstate New York, the guesthouse sits in a boxy steel frame woven into the surrounding forest. In Columbus, Ohio, the National Veterans Memorial & Museum (under construction, with a projected opening in 2018) is envisioned with an outdoor processional ramp circling up to a rooftop space for ceremonies.
After coming across the Calgary design competition in 2009, Cloepfil googled the National Music Centre. Nothing came up. The NMC existed only as the aspirational vision of a small western Canadian arts organization. Cloepfil was intrigued and daunted both by the nascent state of the institution and the immensity of the Canadian prairie, with its striking light. "You really sense the infinite every time you fly
in," says Cloepfil. "How do you make a building in a place like that?"
He does not hurry past that question. Cloepfil has described AWA's process as akin to investigation, and arriving at answers requires time and patience. He begins with charcoal sketches, which eventually give way to models that are not so much representations of a building as sculptures. "We're not looking for an image, we're looking for an idea," he says.
For the Clyfford Still Museum, a key concept model was a beam of reclaimed Douglas fir wood, routed at the top into stubby rods and blocks. Other models have used everything from porcelain to crayons. AWA's concept models are artworks in themselves, curated into the exhibit Case Work at the Denver Art Museum in 2016. "It's an art exploration," says Cloepfil. "I've avoided saying that forever, but it's true. It's more of an art practice."
In the case of the National Music Centre, AWA ran with a musical theme. The architects found a trombone at a thrift store, cut it up, and cast the brass into a series of concrete blocks—and brought the model to the Calgary design competition. "To show a client a model that's not a building is pretty challenging," Cloepfil says. "Boards want to go, Is our $20 million going to build that? And you go, No. Well, what's it going to build? We can't tell you. We don't know yet."
Allied Works Architecture's initial models aimed to evocatively depict the museum design, scooping arched voids out of orthogonal blocks. Made with pieces from a pawnshop horn instrument, the curved brass elements were realized in the lobby's interlocking arches.
Courtesy Allied Works Architecture
---
In Calgary, the sales pitch worked. Cloepfil found an eager co-investigator in Andrew Mosker, the NMC's visionary president-CEO. "We didn't want a sensational, trendy architectural style to just come to Calgary," says Mosker. "If the building's going to be in Calgary, it has to have some connection to the city and its ethos and history. They brought that." Working together, Mosker and Cloepfil developed the institution's architecture and programming in tandem.
Mosker's vision of a home for Canada's music wasn't easy to embody architecturally. Concerts, education, collections, artists-in-residence—what idea tied these all together? He remembers Cloepfil pacing back and forth in a design development meeting, in search of an answer. "And I just said to him, 'It's like being at a festival. That's what the experience has to be,'" recalls Mosker. It was a breakthrough moment; the metaphor clicked and held. Visitors to Studio Bell walk from stage to stage (the NMC's preferred term for its galleries), lingering in between for conversation and quiet. Cloepfil looked to the hoodoos of southern Alberta in particular for inspiration. He was familiar with these sandstone formations through Clyfford Still, who spent part of his childhood in the province. Some of the Abstract Expressionist's early works portrayed hoodoos, and Cloepfil sought to reflect the monumentality of these landforms with the interior towers of Studio Bell.
But the building's true power is in the spaces between these vessels, including the two helical staircases at each end of the building. In such intervals, Cloepfil sought to reconnect visitors to the landscape and the structure itself before they enter the next gallery of sound. Here they can see the dizzying curved walls of the building's interstitial spaces, along with vistas of the land outside, including the Bow River to the north and the railway to the south.
"There's also the classic museum fatigue of just going through all of these galleries—and where am I and how do I get out of here?" Cloepfil says. "The interval does all of those things: reconnection
to the world and separation of sound. It then allows you to step back and see the whole building." The intervals can also double as standing room for concerts in the performance hall, which can be viewed even from upper levels and the stairs.
Leading a handful of writers on a press tour, in each of the exhibit galleries Cloepfil keeps his hands stuffed in his blazer pockets. But each time he exits onto a bridge between galleries, he becomes animated, pointing out things he hasn't noticed before: a peek at the sky here, a glistening crevice there. The overcast skies please the Portlander, who comments that he's never seen this quality of light on the tile before. "You get glimpses you can't possibly anticipate," he says. "There are so many new views. The quality of light on the surface, that kind of richness of experience and variety, is what keeps the place alive."
Photography courtesy Jeremy Bittermann
The National Music Centre's unique massing was the result of an idiosyncratic form-finding process and a knotty program. Nine towers containing performance, exhibition, and recording spaces were joined to form an urban whole.
Courtesy Allied Works Architecture