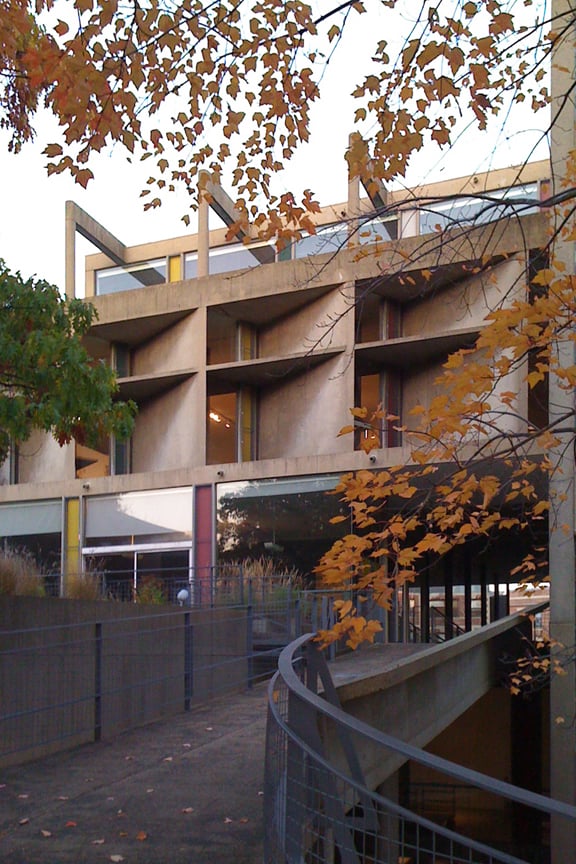 May 15, 2014
How New Media May Save Modern Architecture
'Icon or Eyesore' returns to ponder the existing legacy of concrete modern buildings.
Concrete modern buildings have long faced critique as hulking monstrosities rather than cultural icons. But today, we are beginning to recognize the value of these often vast and imaginative complexes anew. A fresh wave of advocates cares about these massive structures, including so-called "brutalism": a monumental vernacular that aimed to stand out against glass-walled "fishbowls." We rally around the masterworks of Le Corbusier, Paul Rudolph, and Josep Lluis Sert, though others still fall into the dustbin of history. As wider appreciation for modern concrete lurches forward and the wrecking ball swings on, new discourse promises a broader lens to curtail future demo-remorse.
The sweeping concrete ramp and brise-soleil of the Carpenter Center, Harvard University
---
More from Metropolis
---
Courtesy David Turturo, Bruner/Cott
Since we last wrote, interest in modern concrete has rekindled. Diverse publications reported on the Carpenter Center's anniversary (Le Corbusier, 1963) and related celebrations that brought communities together in Cambridge, MA. The world continues to watch an imbroglio settle over the neglected concrete landscape of Peavey Plaza (M. Paul Friedberg, 1975) in Minneapolis, MN. And a wider debate echoes about whether the demolition of the bodacious Prentice Women's Hospital (Bertrand Goldberg, 1975) inspired a new Penn Station moment for preservation in Chicago. These expressions of concrete love also resonate through a new wave of Brooklyn zines such as Project and the more established CLOG, whose best-selling issue is titled—what else—"Brutalism" (2013). It seems that bold concrete is no longer the gray elephant in the room.
The Richard A. and Susan F. Smith Campus Center (formerly Holyoke Center) at Harvard University
This renewed vigor for concrete buildings isn't limited to a few news headlines. Institutions like Harvard University continue to help distinguish and hang onto what we might consider the "good ones," often with the help of community activism. Harvard's Carpenter Center is now considered so precious that its signature ramp was thoroughly protected during nearby construction work—a response to community outcry. Shortly thereafter, the Harvard planning office commissioned a detailed report on former GSD Dean Sert's campus influence. Then Harvard announced plans to transform Sert's Holyoke Center (1958, 1966) into the Richard A. and Susan F. Smith Campus Center, to be designed by Hopkins Architects with Bruner/Cott. But while these 1960s structures remain in good hands, more recent treasures continue to disappear.
Fortunately, the sea change reaches beyond isolated news stories and the local appreciation of Brutalism. After author Michael Allen drew an analogy between Prentice and Penn Station, writer Alexandra Lange rebutted in Architect magazine that "something more beautiful must go." Lange's dissident voice is far reaching. It reverberates with the same effect as when New York Times critic Michael Kimmelman and Chicago architect Jeanne Gang proposed their own better alternative to Prentice's demolition. Kimmelman and Gang formed a dialogue to attract a wider audience and succeeded. Lange and Allen did the same. These dialogues live on and champion wider support through interconnected media campaigns.
Designer Gabriella Morrone at the former American Folk Art Museum during preparations for demolition, April 2014
Courtesy Nilus Klingel
Despite exciting new dialogues, more recent jewels like the American Folk Art Museum (Tod Williams Billie Tsien Architects, 2001) in New York continue to disappear. This time, resonant voices at least helped to save the Folk Art facade. But what will fall next? And how can other recent gems fare better? If these examples are an indicator, then internet activism works. It is a space for viral advocacy where voices merge and resonate. Multi-media collaborations can distill good design into cities woven from the best of each era. Should it weed out the worst, too? And who should ultimately decide? I look forward to your comments!
---
Icon or Eyesore? is Metropolis blog series organized by Bruner/Cott & Associates, a Cambridge, MA, architecture and planning firm for which the adaptive reuse of 20th century modern buildings is a core area of expertise. This series offers an insider's look at the push-pull of saving historic buildings when public and professional sentiments are mixed. Drawing on the firm's long-term experience in giving modern buildings new life, the series includes observations—both technical and experiential—about news-making structures as they reach and exceed the fifty-year "tipping point" at which historic value is re-assessed.  Follow Bruner/Cott on Twitter: @BrunerCott.
David Turturo is designer and researcher at Bruner/Cott & Associates. The firm works with clients and contractors to shape ideas, whether transforming an existing building or designing a new one, Bruner/Cott makes buildings that communicate with their surroundings—each with its own identity, each in response to program, place, and time; buildings that are a pleasure to experience.