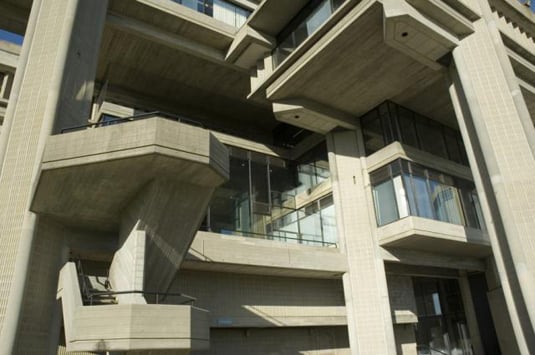 December 5, 2012
How to Restore Glazing on a Brutalist Building
Glazed concrete can be a complicated material to restore, and it's present in many brutalist buildings.
University of Massachusetts Dartmouth, Paul Rudolph, completed 1966. Brutalist architecture used smooth, transparent, monolithic glazing in large openings to emphasize mass and textured concrete surfaces.
All contemporary images courtesy Bruner/Cott
---
Our preceding post, Concrete – The Offending Material, explored the expressive potential and construction-related problems common to the monolithic architectural concrete of mid-20th century. Here we focus on the typical fenestration of these concrete buildings and the issues inherent to their windows' preservation and restoration. Brutalist architecture exploited the visual potential of monolithic glazing in large openings as part of a materials dialog with concrete surface textures and mass.
---
More from Metropolis
---
Frameless, non-operable butt-glazing developed along with concrete construction, introducing a new scale of transparency into large areas of massive structure. It allowed for extreme simplification—concrete building facades could be conceived as the architectural elaboration of a single material…plus glass.
Green Building, MIT, I. M. Pei, completed 1964. Frameless glazing minimized distraction from the sculptured contours of concrete building facades.
Concurrently, conventional steel windows were an operable counterpart to these large panes of fixed glass. Designed for small single panes and not thermally broken, their narrow frames emphasized the contrast between glass and concrete. New massing approaches allowed for the repetitive assembly of these windows, knitting multiple building stories together to form intricate fields of solid and void.
Boston University School of Law and Education, Josep Lluis Sert, completed 1964. Repetitive window assemblies combine to create multi-story fields of architectural detail.
Courtesy Boston University
---
Glazing strategies advanced rapidly through this period of inexpensive fossil fuels and comfort standards less demanding than those of today. Insulated glazing units ("double glazing" or IGUs) were relatively rare—their fabrication was based on deposited metal and soldered seals. Low-emissivity glass was not yet available. Initially, neither type of glazing guaranteed leak proof windows. Early sealants were more rigid and short-lived than their successors, and many contained dangerous PCBs. Often, only the thin edges of steel window frames were in contact with concrete at openings, sealed with a single bead of Polysulfide. When the single bead failed, the windows leaked.
Today, the presence of Polysulfide can trigger major disposal and remediation costs during the restoration process. A frequent response of facilities departments to rising energy costs in buildings of this period and character has been to cover the glass with an adhesive film. Typically, this makes glazed areas highly reflective, and the transparency that was so significant to their architectural composition is compromised. Happily, such treatments are reversible.
Holyoke Center, Harvard University, Josep Lluis Sert, completed 1965. Story-height glazing lacked solar control coatings. The owners' retrofit of applied solar films increased the clear glass panels' reflectivity, altering the interplay between the clear glazing and other façade elements.
---
The Secretary of the Interior's Standards for Rehabilitation were written to foster the retention and preservation of authentic historic material. These conventions concentrate recommendations on ways to repair architectural assemblies and finishes, stipulating that replacement-in-kind should be a last resort. Often, the large monolithic panes of the modern period exceed the sizes typically available for insulated glazing units today. In several current projects, our firm is studying the addition of a second exterior pane to create a sealed unit incorporating a desiccant. Steel window frames with single panes installed in buildings between 1950 and 1975 pose two problems for building owners: maintaining painted finishes and reducing energy expenditures.
The detailing of window openings and the narrow steel frames or butt-glazing on mid-century modern buildings make it very difficult to add storm windows compared to the utility of the wooden frames and sashes of traditional construction. The window area of traditional buildings was typically about 40 percent of the building envelope, while the greater expanse of glazing in Brutalist structures makes heat loss and solar gain much more significant. Arguments mount for replacing steel window assemblies with thermally broken aluminum replicas, sized to accept insulated glazing units with a low-emissivity surface. Aluminum is less vulnerable to corrosion than steel, and its maintenance is minimized by using polymer-based architectural coatings rather than conventional paint. Well-designed replacements retain the narrow sightlines of steel frames while delivering a significant improvement in thermal performance and weatherproof construction. Today, unless their size is unavailable, owners have the ability to re-glaze frameless windows with IGUs and leave the architecture unharmed.
Have you experienced similar challenges in your own work? How have you addressed them? Our next post will address the exterior enclosures of mid-century modern buildings, with emphasis on issues of thermal performance.
Peabody Terrace Married Students Housing, Harvard University, Josep Lluis Sert, completed 1963. Window technology has advanced dramatically since mid-century. Today's replacement windows can achieve the narrow sight-lines of steel frames with a significant improvement in thermal performance and a reduction in maintenance.
---
Henry Moss, AIA, LEED AP, is a preservation expert and principal at Bruner/Cott & Associates, a Cambridge, Massachusetts, architecture and planning firm. This is the seventh in a series of Metropolis blogs written by members of Bruner/Cott's restoration team that focus on the challenges and solutions for converting, rehabilitating, or reusing mid-century buildings. Upcoming posts will explore issues associated with this conservation, drawing on the firm's long-term experience working on the repair, enhancement, and continued use of this architecture. Mini-case studies of buildings will include the MIT Stratton Student Center by Eduardo Catalano; Harvard University's Peabody Terrace Apartments and Holyoke Center and its Gund Hall for the Graduate School of Design by John Andrews; and Boston University's School of Law and Law Library by Josep Lluis Sert. Design and technical problems associated with these projects as well as user/owner issues inherent to mid-century modern design will be explored.