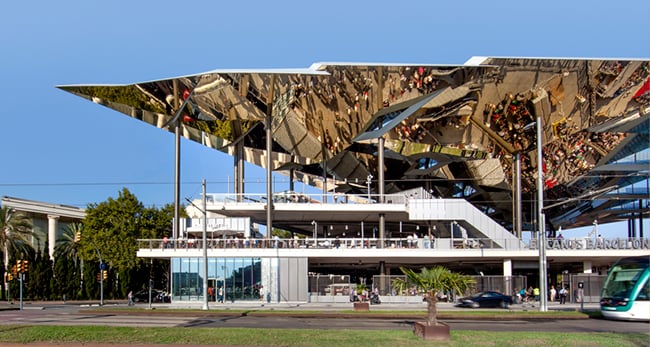 November 4, 2013
Iconic Architecture Finds a Place at Barcelona Flea Market
A flea market that dates back to the Middle Ages finds a modern home.
Despite the presence of a handful of important buildings, the Plaça de les Glòries Catalanes, in the eastern section of Barcelona, has always been considered a bit of a mess. Jean Nouvel's colorful Torre Agbar is here, and L'Auditori and the Teatre Nacional de Catalunya—by the prominent Spanish architects Rafael Moneo and Ricardo Bofill respectively—are nearby. But the area is dominated by an ugly ring of expressways and Els Encants Vells, the city's flea market whose origins date back to the Middle Ages.
Els Encants Vells, whose official name is Fira de Bellcaire—the popular name comes from the Spanish verb cantar (to sing) in reference to the cries of the stall owners— is as cherished in Barcelona as Les Puces de Saint-Ouen is in Paris. Until very recently, it was situated in a vast and dusty plot that was open to the elements and the roar of traffic overhead. The local studio b720 arquitectos, headed by architect Fermín Vázquez, was put in charge of designing  a new home for the market—and the result is a stunning exercise in civic architecture.
---
More from Metropolis
---
The architects were determined that Els Encants Vells  should remain an open public space while simultaneously providing the stall owners with a dignified working environment. Although the main entry points are an extension of the surrounding sidewalks, the structure unfolds both above- and below-ground, connecting the different levels via gently sloping ramps. The stalls themselves are mostly housed in uniform, side-by-side modules surrounding an area given over to a rummage sale, and the floor below is reserved for public parking and service areas. The new market measures 381,473 square feet—more than twice the size of the old plot, big enough to comfortably accommodate all its functions.
The entire area is protected by a glittering metal canopy made of two layers—the upper one in zinc and the lower one in stainless steel. Unfolding with surprising grace, the panels of the roof are perched 269 feet above the ground on slim polls. Their shiny sur-faces reflect the market and the activity on the surrounding streets, creating beguiling, watery images that are reminiscent of a Monet painting and are visible on approach to the marketplace. The idea behind this, explains Vázquez, was to bring the realm of the Els Encants to the street and vice versa. The canopy also creates a recognizable symbol for Els Encants, and raises the flea market to the same level as the cultural palaces that surround it. "I am all for iconic architecture when it's appropriate," declares Vázquez. "And probably only in Barcelona would a designer flea market ever take shape."